Convincing people to purchase from your WooCommerce shop takes more than just high-quality products and great prices.
For any business, lead generation can mean the difference between success and poverty.
When you start an online store, a blog, or even a small agency online, you need to convince the people that come to your website to stay in your sales funnel.
Unfortunately, an attractive website is just the first step. You're also going to need to keep interacting with your leads over time to make them feel more comfortable buying from you. In fact, statistics show that it takes between 7-8 "interactions" to generate a sale.
Lead generation is how you convert one-off visitors to your site into people who actually hold value for your company. And while all organizations need some kind of strategy for lead generation, your plan may differ slightly depending on your goals.
Today, we're going to focus on lead generation tips specifically for WooCommerce companies.
What Is Lead Generation?
Lead generation is a digital marketing method intended to help increase sales opportunities on your website. Lead generation is the top priority for many businesses today, as it's the key to converting visitors into customers.
When users land on your website, they're not necessarily going to want to buy something straight away. However, with lead generation, you can capture potential leads by opening a communication channel between your site and your user.
The communication channel you create could be based around your customer liking your page on Facebook or following you on Twitter. For instance, on Meridian Themes, we always connect each of our blog posts to our social media pages: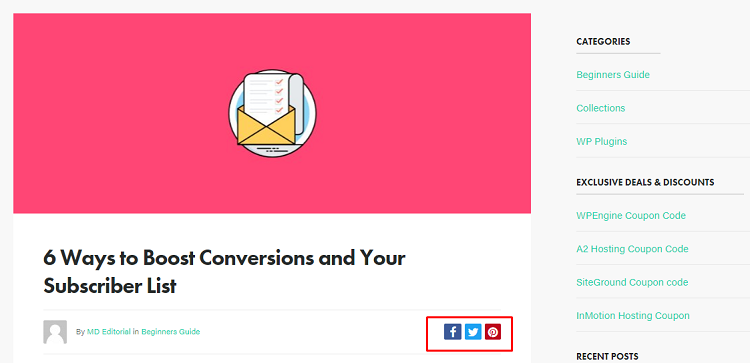 Lead generation could even involve asking people to sign up for your email newsletter. The point is that you get your customer to stick with you and continue their journey through the buyer funnel.
Lead generation is crucial at every point of the customer journey, including:
Awareness Stage: when they know they have an issue, but don't know how you can help yet.
Evaluation Stage: when they're looking for solutions and considering your business.
Conversion Stage: when they're ready to decide if they want to work with you.
So, how do you use WooCommerce lead generation strategies to support your company's growth? The following tips will help.
1. Collect Those Emails
Email is one of the most common lead generation options.
When someone visits your website, you can ask them to sign up for your email in exchange for instant access to high-quality content. Alternatively, you can use lead magnets like discount codes or free eBooks to increase your chances of a customer wanting to hand over their details.
The key to success with collecting emails on you WooCommerce site is using the right plugin.
OptinMonster is probably the most popular lead generation and email marketing tool in the market for WooCommerce users today. With it, you can reduce cart abandonment and improve your chances of collecting customer information with beautiful and engaging lead capture forms.
OptinMonster even allows you to create multiple form types for your website, enhancing your ability to connect with your audience.
For instance, you can use floating bars, create popups, or even use full-screen overlays. There's also access to useful tools for psychological selling. For instance, OptinMonster countdown timers can inform your audience that they only have so long to sign up for a deal, which means you get to take advantage of FOMO (Fear of Missing Out).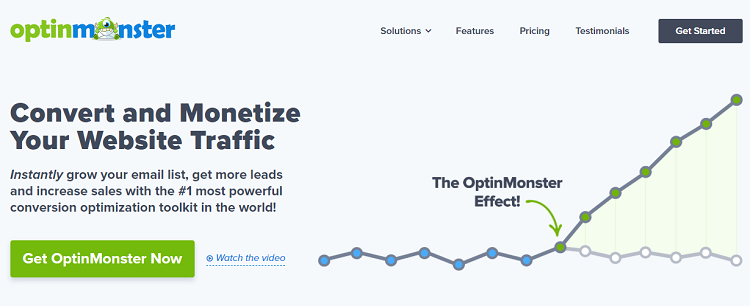 Getting an email address instantly is also hugely beneficial for reactivating customers who might abandon a basket before they follow through with a purchase.
2. Build Your Social Following
Another way to capture and generate leads with WooCommerce is to focus on building your social presence.
Social media is an excellent tool for connecting with your followers on a regular day-to-day basis. Sometimes, when your audience isn't quite ready to hand over their email details yet, they'll feel more comfortable simply "liking" your brand or sharing details of their purchase on social media.
Even if a customer just "likes" and follows your brand, you're unlocking new opportunities to engage with that person and teach them more about whatever you have to offer.
Once again, WooCommerce plugins can help with building your social following. If you just want something basic, then you can use the Social Buttons for WooCommerce plugin to add buttons to all of your landing pages, blog posts, and any other content that your audience might want to share.
However, if you want to improve your WooCommerce lead generation and take advantage of word-of-mouth marketing at the same time, then you might want to check out the "Share for Discounts" plugin. This plugin allows your audience to share their purchases on social media and show off what they've just bought to their followers.
Obviously, that's a great thing for your word-of-mouth marketing strategy, and it boosts your chances of keeping the original customer engaged too. What's more, the fact that you can reward your customer with a discount on their next shop means that you boost your chances of a repeat purchase and further interactions with your brand.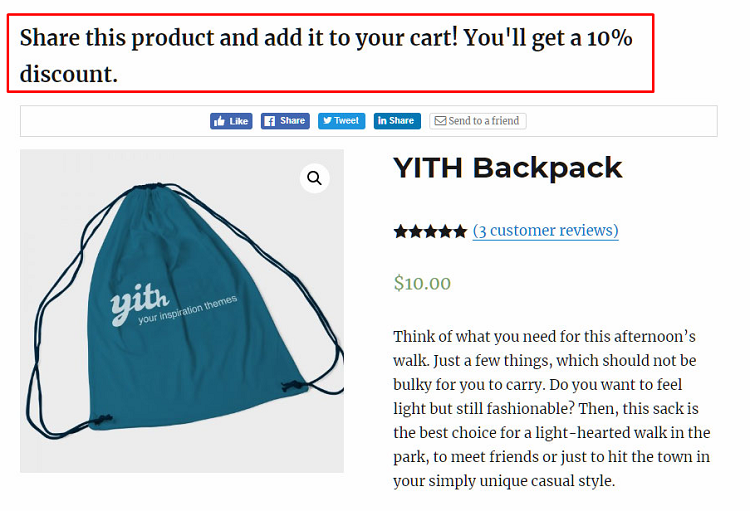 3. Handle Your SEO
Before you can accomplish anything with your WooCommerce lead generation strategy, you need to actually get your customer to your store. After all, lead generation tactics like collection email addresses and sharing on social media won't work if people can't find you to begin with. One of the best ways to drive people to your store is with SEO.
SEO is all about optimizing your website to ensure that you have the best possible position in the search engines. While the rules of SEO are constantly evolving and changing, there are plugins out there for WooCommerce to help you out.
For instance, the Yoast WooCommerce SEO plugin is probably one of the most popular tools in the market for companies who want to rank higher with their store on Bing, Google, and even Pinterest. You can use the Yoast plugin to ensure that you're targeting keywords correctly and making the most out of your product descriptions and meta data.
The more you optimize your site, the easier it will be for your customers to find you. From there, your chances of converting visitors into sales increases dramatically.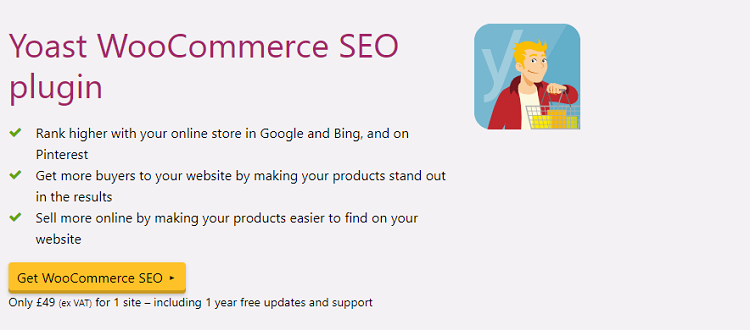 4. Offer Deals and Discounts
Converting visitors on your website into paying customers means convincing them that your item is worth their money. Unfortunately, many customers just don't want to spend cash on an unfamiliar brand or product.
That's why discounts and deals can be a powerful aspect of your lead generation strategy, as they help to remove some of the risk involved in converting with you.
Your discounts and deals don't have to be huge to make a difference. Something as simple as a 5% discount or free delivery could be enough to push your users off the fence and into your shopping cart. One excellent way to boost your chances of sales and increase your WooCommerce lead generation opportunities, is with a plugin like WP Optin Wheel.
Designed for WooCommerce and WordPress, this opt-in wheel plugin brings fun and gamification to the popups on your website.
When the wheel appears, it gives your customers a chance to spin for a chance to win money off their purchase in exchange for an email address. With this feature, you're boosting your chances of a sale instantly, while collecting email addresses at the same time. It's a lead generation win/win.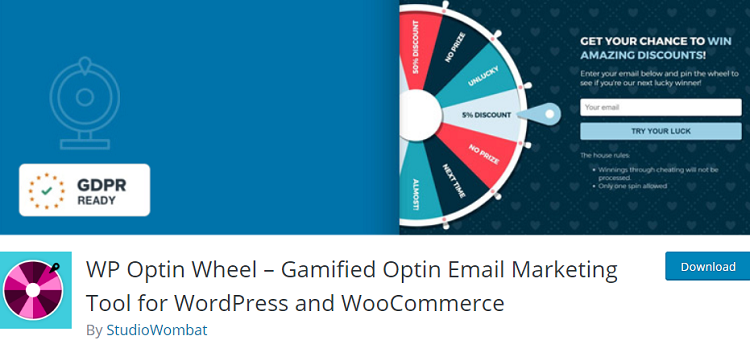 5. Design for Lead Generation
Finally, when the aim of your eCommerce game is lead generation, there are a few steps you can take with your website design to improve your chances of success.
For instance, throughout your website, you're going to need to incorporate call-to-action buttons, slide-in forms, pop-up forms, and anything else that could convince a visitor to become a lead.
There are a lot of tools that can help you to enhance your WooCommerce design for the purpose of lead generation. Thrive Leads is one of the most popular choices in the market. Similar to OptinMonster, this tool will allow you to populate your website with forms, scroll mats, slide-ins, lightbox popups, and CTAs.
More importantly, the Thrive Leads plugin will also allow you to A/B test different elements of your website, so you know which components are having the biggest impact on your subscription rates and repeat purchases.

Tracking and A/B testing the different parts of your website will ensure that you can consistently optimize and improve your WooCommerce strategy for better lead generation outcomes.
Ready to Generate More Leads?
Lead generation is one of the most crucial goals of any business in the modern eCommerce landscape. Fortunately, with tools like WooCommerce, WordPress, and the right plugins, you can make capturing and nurturing potential customers easier than ever.
If you're ready to bump up your lead generation efforts with email marketing, be sure to check out these effective ways to build a bigger email list.
Do you run an online shop and use any of these WooCommerce lead generation tips? If so, we'd love to hear all about it in the comments below!