Are you investing in SEO link building? If not, then you could be missing out on valuable traffic and credibility for your blog or website.
Links are the backbone of the digital world. They're how Google and other search engines make sense of the huge clusters of information that are available online. However, while all links have a purpose, not every link will be valuable to you and your brand-building strategy.
When it comes to learning how to build links for SEO, you'll need to understand that different links work in unique ways. While internal links strengthen the connections between different pages on your website and help the search engines to crawl through your content, external links can improve the authority of your domain.
Additionally, while the right kind of links can enhance your reputation, the wrong kinds can completely tank your image online.
So, how do you do link building right? Keep reading to find out.
What Is SEO Link Building?
SEO link building is the process of collecting hyperlinks from other websites that connect to your own site. Some experts also see things like internal linking for your SEO map as a part of the link-building process. However, for SEO purposes, it's often more important to focus on external links.
Hyperlinks are a way for users to navigate between different pieces of information on the web. While your customers might use a link on your blog to find out more information about a topic, the search engines use links to crawl the entire online ecosystem.
You can usually see links highlighted in a different color text on a blog post or website copy:

If, when crawling through the links on the web, search engines like Google find numerous high-authority companies connecting to your website, they'll assume that you're a high-authority domain too.
As a result, your website value increases. All the while, the more backlinks you get from other companies, the more exposure your business gets to other customers, improving your ability to gain traffic. It's a win-win.
Why Learn How to Build Links for SEO?
So, why do you need to be concerned about SEO link building for your website?
Well, there are two main reasons.
First, Google bots will discover your content by following the links on your site. Without any links heading to your website, your content is less likely to be found by the search engines.
Sure, you can improve your chances by submitting a sitemap, but external links also have another purpose.
Links are also one of the most important ranking factors in the SEO world. For instance, the more high-quality links you gain from other authoritative websites, the more Google will associate you with reputable brands. This means higher rankings in search results and more organic traffic that comes your way.
For your SEO, the value of link-building relies heavily on the concept of authority. An authoritative link is one that comes from a website that is trusted by Google, your audience, and any other visitors that might happen upon it.
High-authority websites have a lot of "link juice" to offer. This basically means that they can transfer value and credibility from their website to yours when they link to your content. In contrast, low-quality links can harm your ranking, by convincing Google and other search engines that you're associated with low-quality brands.
Building Links for SEO
There are three kinds of links that are valuable for your SEO link building strategy:
Internal links which connect the pieces of content on your site
Outbound links from your website to other sites
Inbound links which link from other sites to you
One thing to keep in mind with SEO link building, is that before you can begin doing anything, you need to make sure that you have great content.
You don't want people following links to your website and then immediately bouncing away because they don't like the material that you have to share. Building links to content that's relevant and interesting will help to improve your reputation online with both the search engines and your customers.
If you're not sure what kind of content to create, you can try:
Speaking to your customers or finding out what kind of questions your sales team gets
Researching your competition and finding their highest-ranking content
Checking sites like BuzzSumo for trending topics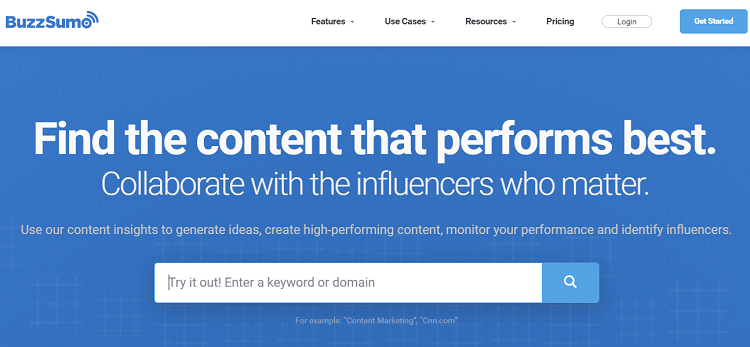 Remember, you can also improve your chances of people wanting to link to your content by:
Including plenty of useful statistics and actionable content
Using attractive images to illustrate your material and add context
Adding lead magnets like checklists, cheat sheets, and eBooks
Sharing links to your highest-ranking content on social media
Prompting your content through email campaigns, PPC, and other methods
3 Tips for SEO Link Building
Excellent link-building isn't easy to do.
You'll need to think carefully about what kind of companies and websites you want to be associated with, as well as which topics you'd like to be listed as a "thought leader" for.
While finding the right strategy for link building will take some time and testing, there are a few things that you can do to get started.
1. Ask for Backlinks
The most obvious way to start generating links back to your website is to visit a few authoritative sites that you'd like to be associated with and ask for a backlink.
To start, write an email to the author of a blog or the marketing manager of a website and tell them that you think you have some useful information that they can share with their readers.
If you have an infographic or image that people can use on their blogs, or share on social media, that would be even better. This type of content allows you to provide instant value to that other company in exchange for a link. You could also try to exchange value by offering to share their blog post on social media after they've added your hyperlink into the mix.
2. Try A Directory
Another excellent way to get backlinks for your SEO link building strategy is to list your website in a trustworthy directory for your industry. There are countless online directories that offer real value to customers in search of things like software, marketing experts, and even branding tools.
Applying to appear in a directory will help you to get the links you need, while also ensuring that you can reach a wider range of customers from different environments. You might even find that appearing in the right directory gives you some extra credibility, as it shows customers that you're willing to invest in your business, and it associates you with other leading brands.
Remember, the directories that you choose for your link building need to be directly connected to your business and industry. You won't be accepted for just any old website. You're going to need to find a company that's appropriate for you.
For instance, the Databox.com directory lists SEO experts, marketing officials, branding companies, and more: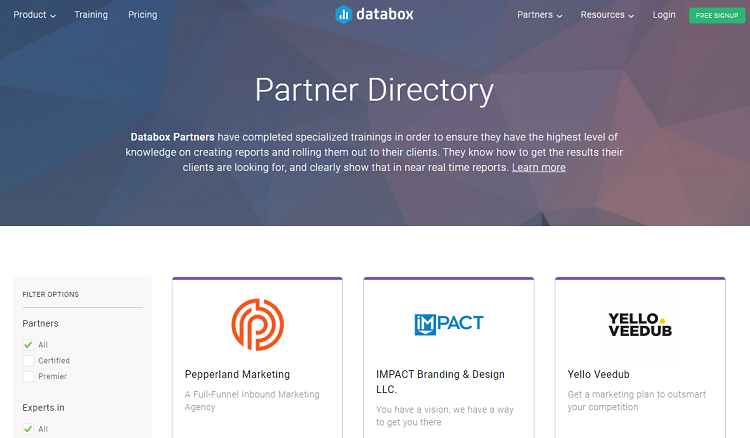 Do a quick Google search for "Your Niche" + Directory and see what you can find.
3. Explore Guest Posting and Content Syndication
Finally, one of the most popular methods for SEO link building is definitely guest posting. Content is one of the most valuable things on the web today, and many leading businesses just can't get enough of it.
If you can offer other brands in your industry some high-quality and valuable content that appeals to their target audience, then they'll reward you with backlinks and promotion.
What's more, if you can successfully publish a guest post somewhere, you also boost your chances of sharing your thought leadership with a wider selection of customers.
Before you submit an application or a guest post, make sure:
You check the guest-blogging guidelines written on the website
You know what kind of audience you're appealing to
The website you're writing on is relevant to your niche
You remember how important the quality of your content is
If you're concerned that you can't write original content for every website that you want to be featured on, there's always the option to try content syndication instead.
Syndication is very similar to guest posting, except you just use a copy of a post that you already have on your website, along with a disclaimer that says your piece was originally published elsewhere.
Building Your Backlink Strategy
Once you've started to learn how to build links for SEO, make sure that you don't let your campaign fall to the wayside.
For example, you can use SEO link building tools like Ahrefs and BuzzStream to keep a close eye on how your efforts are playing out, and make sure that you set up link alerts to ensure that you don't end up with any broken links on websites that don't lead back to the right content.
In the end, creating an effective SEO link building strategy is a process that requires time and focus. You'll need to understand your audience, find the right companies to connect your business to, and constantly update your link portfolio. However, if you can get your linking strategy right, then result could be a stronger reputation online, more traffic, and higher conversions.
Are you ready to begin your SEO link building strategy and want to make sure other components of SEO are covered too? Then check out this roundup of the top website speed tools for WordPress to monitor speed and performance.
Do you have any other tips for implementing a successful SEO link building plan? We'd love to hear all about it in the comments below!