Does your business rely on customers booking appointments or reservations?
Want to give your customers the option to book online?
A WordPress booking plugin can help you do just that.
More and more people are using the web nowadays. Having a simple booking system in place can make your service more efficient and your customers happier. You can sync the plugin with your own calendar, too, meaning your schedule and availability stays up-to-date.
In this article, we'll go through the reasons why you might need a booking plugin. We'll also list the 5 best WordPress booking plugins.
What Are the Benefits of Using a WordPress Booking Plugin?
Aside from letting your customers actually book through your WordPress website, a booking plugin has other advantages, too. It can manage all of the data that's inputted in your booking form and sync them to your calendar. Your schedule will stay up to date automatically, so you'll only have to add bookings that come through the phone or email.
All kinds of businesses can benefit from a booking plugin, such as restaurants, salons, event venues, rentals, hotels, and many more. If your business provides a service and needs to allocate time slots for that service, a booking plugin could make your life a lot easier.
It's possible that you could get more bookings, too. When potential customers visit your website, a simple form may persuade them to make a booking — because it's easy. If you would prefer people to book through your website, you could offer a discount for online bookings.
Customers will be happy in that they don't have to rely on using an email or phone booking system. Some businesses are so busy, their customers can't even get through on the phone and it could take a while for you to reply to them via email. Plus, customers could even make a reservation after business hours and it'll automatically be added to your calendar.
The Best WordPress Booking Plugins
BirchPress Scheduler lets you add a professional online booking system to your website. It comes with a lot of options and your customers can make direct bookings through your website easily.
The plugin comes with a built-in form editor so you can design your own booking form. You can then embed your booking form into a page or post via shortcode. If preferred, you can also set it up to take payment for bookings as customers make them.
All of your bookings can be synced with your calendar, and your customers will be able to see availability when making a booking. You can also send email notifications or reminders about bookings to your customers.
Embed booking form into a page or post
Show availability
Sync with different calendars, such as Google, Outlook, iCalendar, and many more
Export appointments automatically
Set up email notifications to confirm bookings, rescheduled bookings, and cancellations, as well as friendly reminders
Build your own booking form with the built-in editor
Accept payments online via PayPal integration (other payment gateways are available with WooCommerce integration)
Price: BirchPress Scheduler has 3 plans available and they are all covered by a 1-month money-back guarantee. There's also a BirchPress demo you can use to take it for a spin.
Personal: $99 for 1 site
Business: $199 for 1 site, includes PayPal integration and cancel/reschedule by customer
Business+: 249 for 1 site, includes WooCommerce integration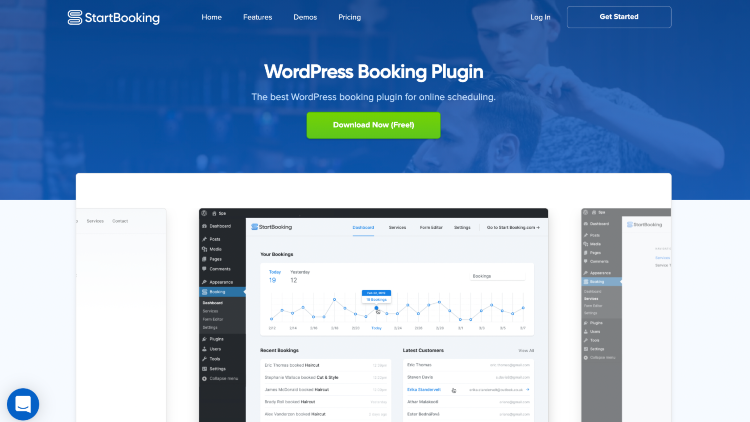 StartBooking is another WordPress calendar plugin that allows you to build a dedicated booking page on your website. It's especially good for businesses that have more than one service or appointment type available, such as a salon.
Your dedicated booking page is fully customizable. You can take your customers through a process such as selecting the service that they want, choosing a date and time for the appointment, and entering their details.
It's possible to add durations for services to ensure that enough time is allotted for each appointment. You can assign particular staff members to certain bookings. Customers can also book multiple services or appointments. If needed, you can also assign specific rooms or locations for appointments, so they don't get double-booked. Availability is automatically shown and the plugin comes with an integrated calendar.
Design a dedicated booking page to include all possible services
Assign staff member to bookings
Designate rooms, locations, and so on to bookings
Book multiple services and appointments
Customer management including profiles and appointment history
Add time duration to services
Integrated calendar, as well as Google Calendar integration
Automatic availability updates
Stripe payments integration
Customizable emails
Classes and group bookings
Limited free version available
Price: StartBooking has 2 plans available and there's also a 14-day trial available. Both plans can be used for unlimited sites and allow unlimited appointments.
Individual: $12 per month (billed annually), includes basic reporting
Business: $28 per month (billed annually), includes advanced reporting and designated booking rooms

The Amelia WordPress booking plugin is perfect for any kind of business, especially if it has multiple services and employees. From law consultants to beauty salons to repair garages, this plugin has got everything you need for a seamless booking system. There are even demos on the website for different industries.
You can list multiple services for customers to book, as well as additional extras. You can also accept group bookings, which is perfect for fitness groups. Customers can pay directly on your site. Real-time SMS reminders can be sent to both customers and employees for booked, rescheduled, and canceled bookings.
You can easily create a step-by-step booking process and even provide a search interface so your customers can find what they need. Plus, it's fully customizable, so you can match your site's theme and branding.
The admin dashboard allows you to track appointments in a calendar view, manage employees, and keep an eye on performance.
List multiple services and extras
Create a step-by-step booking process
Integrate booking forms into pages and posts with shortcode – 4 different front-end views available
Search function for available appointments
Real-time notifications for customers and employees
Group bookings
Supports multiple employees
Integrate with Google Calendar
Accept payments through Stripe or PayPal
Can be integrated with a WooCommerce installation
Manage everything in the admin dashboard
Limited free version available
Price: Amelia has 3 plans available and they're all covered by a 15-day money-back guarantee. All plans include unlimited appointments and employees.
Basic: $59 annually or $189 lifetime for 1 site, does not include packages of services
Pro: $109 annually or $389 lifetime for 3 sites
Developer: $249 annually or $589 lifetime for unlimited sites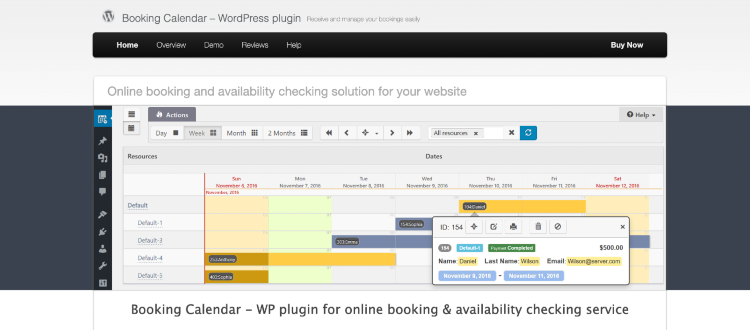 Booking Calendar is one of the most versatile and powerful WordPress booking plugins available. It's suitable for any kind of booking style, but it's extremely useful for rentals and the like due to its extra options — literally too many to list.
The interface is clean and smooth. What options you get will depend on the plan you choose, but it includes features such as:
Show availability on calendar
Customers can check availability
Unlimited number of booking resources
Each booking or service can have its own availability calendar to prevent double bookings
Design your booking form with text fields, drop-down lists, check-boxes, and much more
Configure different email templates
Easy to manage your bookings
Sync bookings with .ics feeds
Works with Google Calendar, Airbnb, Booking.com, and many more
Online payments via PayPal, Stripe, Sage Pay, and more
Include change over days for check-in/out
Take deposits and give discounts/offers, including early/late bookings
Advanced hourly bookings
Limited free version and live demos available
Price: Booking Calendar has lots of versions available, so we've popped its prices into a table below. It's a one-time cost, though, and you can request free updates for the first 6 months.
| | | | | | |
| --- | --- | --- | --- | --- | --- |
| | Personal | Business Small | Business Medium | Business Large | MultiUser |
| 1 Site | $79 | $149 | $249 | $349 | $649 |
| 2 Sites | $119 | $199 | $399 | $499 | $799 |
| 5 Sites | $149 | $299 | $499 | $599 | $899 |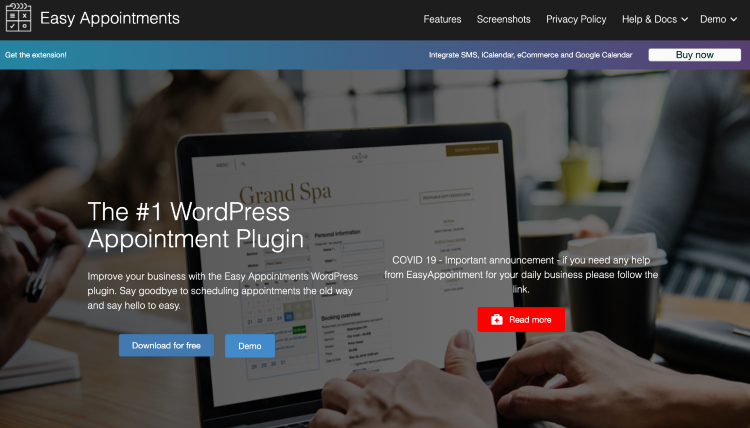 The Easy Appointments WordPress plugin is completely free, so it's great for anyone starting out. It's easy to use and flexible. There are enough options to have a pleasing booking system on your website — whatever industry you're in.
It allows you to add multiple locations and services, as well as send email notifications to your customers and employees. You can create custom fields for your booking form, create time slots, and add your booking form to any post or page with shortcode. It also supports translation.
Integration with Google Calendar, iCalendar, and other calendars can be added through a paid extension. The extension also includes integration for WooCommerce, PayPal, and SMS support.
Multiple locations and services
Flexible time management
Email notifications
Responsive and easy to use
Create custom time slots
Customize booking form
Supports translation
Live demos available
Paid extension available which includes calendar, WooCommerce, and PayPal integration
Price: The Easy Appointments plugin is completely free. The paid extension starts at $39.
How to Choose the Right WordPress Booking Plugin
We hope our list of the best WordPress booking plugins has helped you choose a suitable one. Having a booking system on your website means your customers can easily book an appointment, reservation, and so on, easily. Plus, the booking plugin will handle everything for you. It'll also sync with your calendar to ensure availability, etc., is up to date.
BirchPress is great for adding a standard booking system to your website and works with many business types.
However, if your business has more than one service or appointment type available, then StartBooking would be a better option.
Lastly, if you're low on funds or are just starting out, Easy Appointments is the best option. It's free and has everything you need to start taking bookings.
Let us know what booking plugin you use in the comment section. If you want to showcase your work, check out our best gallery plugins for WordPress roundup, too. Thank you for reading.