Imagine this scenario: you happen to come across a website you like. However, it turns out that it was in a language you don't understand.
You'd immediately bounce back, won't you?
Translating your WordPress website into multiple languages is a significant part of website localization. It's especially important if you want to reach a broader audience base.
This is where WordPress translation plugins come into play.
Benefits of Translating a WordPress Website
If you're creating a new website, and hoping to reach an international audience, it's better to make it multilingual.
A multilingual website provides many benefits, including:
Expanding Your Brand's Reach: if you're targeting a global audience, then you'll have to cater to their language preferences. Moreover, translating your site into multiple languages will help you engage a diverse audience.
Boosting SEO: translating your site helps you rank higher in search results. As a result, you'll gain more traffic and experience a boost in conversions.
Let's take a look at some of the best WordPress translation plugins.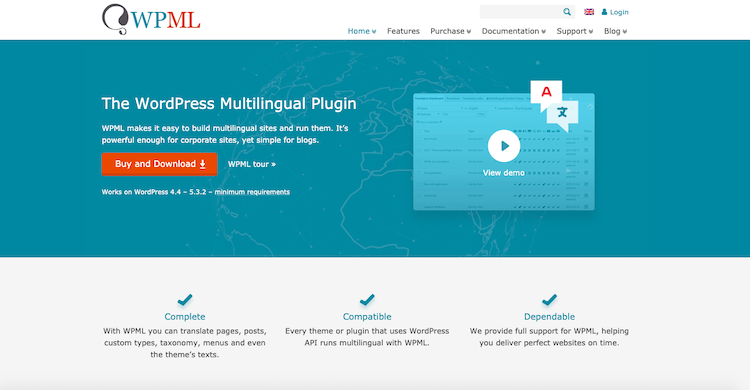 WPML is one of the leading multilingual plugins in the market and is ideal for both a large global website or a small WordPress blog. The plugin allows website owners to translate posts, product descriptions, menus, and much more. It's also compatible with numerous themes, page builders, and other plugins.
Pros:
Compatible with most WordPress themes and plugins
Capable of translating web copy content through drag and drop builders
Offers end-to-end WooCommerce support to translate all site content efficiently, including product listings, checkout details, confirmation emails, and more
Outsource translation to a professional translation service directly
String Translation feature promises to reduce page load times by over 50%.
Offers multiple plans, which cater to the different needs of website owners and visitors
Helps boost SEO and attract more traffic

Cons:
Conflicts with some WordPress themes
More costly than other translation plugins in the market
Majority of premium features only available on higher priced plans
Price: WPML's Multilingual Blog and Multilingual CMS versions are available for $29 and $79, respectively.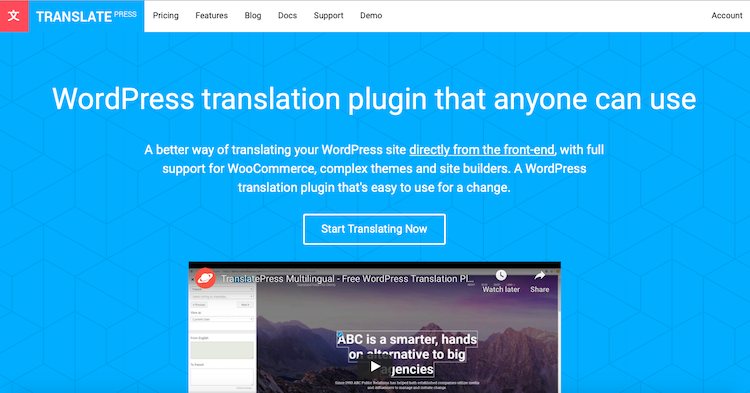 TranslatePress is one of the most efficient multilingual plugins for WordPress. It translates all written content on a website, including posts, pages, metadata, and more.
Pros:
Enables the translation of content from the frontend of your WordPress website, so you can view the translation in real-time
Allows site owners to translate content by themselves or also assign a unique Translator user role
Provides SEO-friendly URLs for all languages to help you with local search rankings
Own the translated content forever since TranslatePress is self-hosted
Modify/translate dynamic strings (get_text) included in themes, plugins, or WordPress core
Get customer support in 221 different languages
Cons:
Free version doesn't offer any SEO support and comes with limited features
There's no way of tracking the translation of pages on large websites
Price: Apart from the free version with limited features, TranslatePress offers three premium plans. The 'Personal' plan is €79, the 'Business' plan is €139, and the 'Developer' plan is €199.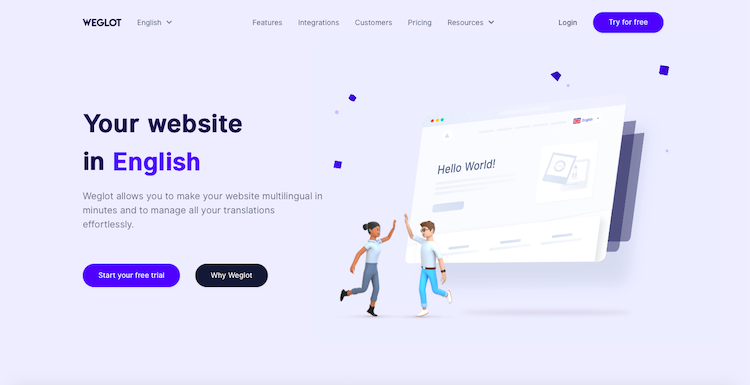 Weglot can take the translation of your website to a premium level. Plus, it's a far better translation tool than the Google Translator. The best part is that it's compatible with any WordPress theme, including Meridian Themes themes, FancyThemes themes, and many more.
Pros:
High ticket clients, including Microsoft and Polaroid use it, which makes it one of the most trusted WordPress translation plugins in the market
Comes with customer support in over 100 languages and allows users to manage all of the languages through a simple dashboard
Has both machine or manual translation options or the option to get a balanced blend of both translation capabilities
Offers efficient integration with page builders, WordPress plugins, and WooCommerce
In-context editor features let you translate the content straight from the website
SEO-friendly and offers a separate URL for each translated page
Comes with free translation services for up to 2,000 words
Cons:
Has the potential to slow down page loading times
Is quite expensive
Price: It comes with five pricing plans, starting from $11 per month and ranging up to $558.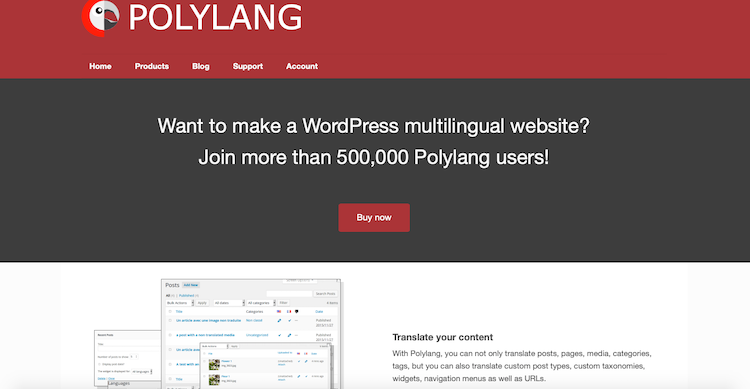 Polylang allows users a simple way to create a multilingual WordPress website. It offers an intuitive and user-friendly solution that can be implemented quickly. All you need to do is add a language switcher to start translating right away.
Pros:
Automatically downloads and updates WordPress languages meaning support for unlimited languages
Compatible with all major SEO plugins, including Yoast SEO and All in One SEO
Supports all multilingual SEO features, including HTML href_lang tags and open graph tags
Users have the option to choose one directory, one subdomain, or one domain per language
Equipped with a frontend language switcher as a widget or menu bar to enable visitors to easily switch between multiple languages
WordPress website owners can provide translation for pages, media, categories, post tags, posts, menus, and widgets, and more.
Cons:
No support available for the free version
Lacks automatic translation support
Price: The Polylang Pro version is available for $111. For basic functionality, you can try out the free version as well.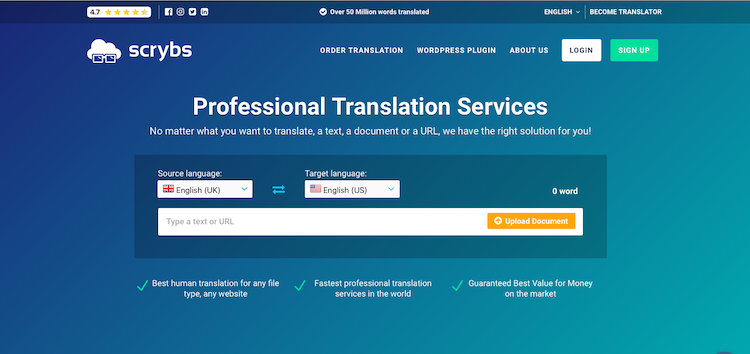 Scrybs ensures a faster setup with either machine or automatic translations. It's also one of the premier translation plugins that offers smooth and reliable functionality. And the best part is, you have the option between manual, automatic, or professional translations.
Pros:
Provides a free 15-day trial
Offers a simple dashboard where users can make edits string by string
Creates a separate URL for all the translated content to ensure the website gets SEO benefits
Automatically syncs the translation of edited content on any page
Comes with a faster load time with translated content
Provides professional translation services at $0.6 per word in over 60 languages from one convenient location
Works with any WordPress theme
Can use it on unlimited WordPress websites with unlimited languages
Cons:
Machine translation needs improvement
The user interface also needs improvement in terms of functionality and usability
Price: After your 15-day free trial, plans start from $39 and range up to $99 per year.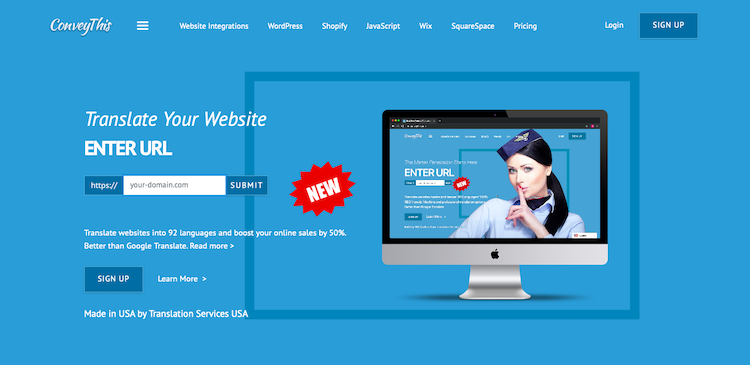 ConveyThis Translate is one of the simplest WordPress plugins available. It has been in the market for over a decade now. It translates websites into 92 languages and claims to boost your eCommerce sales by 50%.
Pros:
Provides a freemium plan,making it affordable for all budgets
Built-in URL prefixing feature ensures that translated pages are cached directly on the user's server and indexed by Google and other search engines
Executed translations are displayed on the page instantly
Users get the flexibility to tweak, edit, or get the translation entirely rewritten by a professional translator
It's compatible with any WordPress plugin or theme
Translated copy of any edited post or page is available automatically in real-time
Capable of handling larger CMS websites with loads of content
Cons:
WordPress users have reported occasional lags in translations
Price: After the free version, the paid plan is $4.99 per month.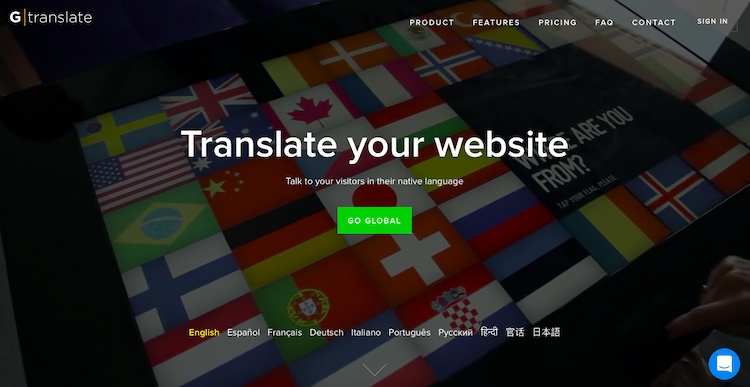 Gtranslate has something to offer everyone thanks to its versatile pricing plans. The premium service provides efficient translation solutions to all the WordPress websites.
Pros:
Offers automatic machine translation in over 90 languages
Comes with end-to-end compatibility with WooCommerce
Capable of translating pages, categories, tags, posts, menus, widgets, and more
Automatically translates the site content
Hosts entire translated content on the GTranslate cloud network
The service leverages automatic human-level neural machine translations
Ability to manually edit pages on the frontend of your site
URLs are translated to boost SEO
Enables users to view detailed statistics
Cons:
The free version of GTranslate is not SEO friendly.
Users will lose the translated websites if the subscription is terminated
Manual translation option not available with free version
Price: After the free version, premium plans starts at $7.99 per month.
Wrapping Up
And there you have it! Some of the best WordPress translation plugins in the market.
If after checking out these WordPress translation plugins you still find yourself confused, here are some features to consider making a final decision:
Maximum language translation compatibility

Capability to translate automatically and manually

Faster page load times

Compatibility with WooCommerce

Competitive pricing
Are you ready to build a bigger, and more international, email list? If so, check out these 7 email verification tools for cleaning up your list and campaigning to interested subscribers.
Have you used any of the above-mentioned WordPress translation plugins for your multilingual WordPress site? If so, we'd love to hear all about it in the comments below!