Are you having trouble finding the best contact form plugin for your site? Don't worry! You're in the right place.
Having regular and transparent communication with your website's users is crucial for building long term relationships.
That's why businesses are leveraging contact forms to allow users or customers to fill in their required details to gain access to a service or establish contact with the support or sales team.
Over the years, contact forms have evolved a lot and have become more intuitive, user-friendly, and complex.
Moreover, most organizations are now using them to increase interactions with prospective customers, reduce spam, and create new opportunities.
And this is where contact form plugins come into the game.
What Is a Contact Form Plugin?
Businesses need to become more approachable. And contact forms work as an efficient bridge between customers and businesses through which both the parties can easily establish contact and take their communication forward.
A functional contact form includes various form fields, including customer name, phone number, email address, location, payment option (though you can check out our list of the best WordPress invoicing plugins, too), upload file option, and many more. You will generally see contact forms in sales funnels and on website landing pages to ensure customers can easily reach out with questions or concerns.
However, businesses are also leveraging contact forms to take payments, files, and other utilities.
Simply put, a contact form plugin is a tool through which WordPress website owners can easily integrate contact forms on their blogs, webpages, sidebars, and widgets, among others.
A capable contact form plugin allows website owners to easily create highly functional and intuitive contact forms without the need for coding.
However, some contact form plugins require elementary knowledge of plugins. So, keep that in mind before choosing the right plugin.
What to Look for in a WordPress Contact Form Plugin?
WordPress contact form plugins are user-friendly and allow WordPress website owners to create and integrate contact forms on their websites easily.
However, before diving into the specifics of each and every WordPress plugin, it is essential to consider some basic things that your plugin needs to have.
Let us take a look.
Customization: Look for a WordPress contact form plugin that is easy to customizable and allows you to create contact forms as per your business' requirement.
Auto Response: Look for a contact form plugin that is capable of sending automatic notifications every time a user posts any query on your website through a contact form.
Spam Prevention: Look for a contact form plugin that can adequately filter out spam submissions.
With these essential points in mind, you can take a more critical look at all the WordPress contact form plugins mentioned below in the list.
Best Contact Form Plugins for WordPress
Here's a list of 10 of the best contact form plugins for WordPress, along with their key features, pros, cons, and pricing plans.
Simple Basic Contact Form
WPForms
Ninja Forms
Gravity Forms
Jetpack
Contact Form 7
Formidable Forms
Kali Forms
Contact Forms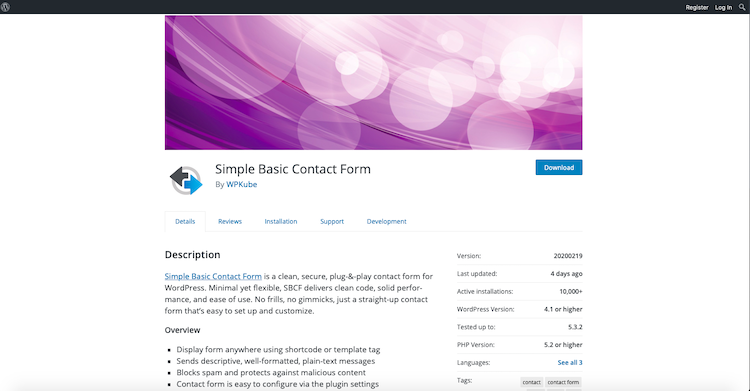 Simple Basic Contact Form is one of the most simple contact form plugins for WordPress websites. The plug and play plugin offers a clean and secure option for website owners.
If you are looking for a simple contact form and doesn't need a lot of options to customize, this plugin is for you.
It also offers solid performance, clean code through SBCF, reliable performance, and is decidedly easy to use.
Pros:
Allows you to leverage custom CSS to customize the form in the settings screen easily
You can send a customizable confirmation message to multiple customers
Easily use WP's wp_mail() or PHP's mail()
Its code is highly compliant, lightweight, and flexible
Prevent malicious content by efficiently blocking spam
Leverage template tag or shortcode to display text from anywhere
Works fine without any JavaScript
Easily customizes, enable, or disable default SBCF styles
Simplifies the opt-in form by leveraging the option to hide message fields
Efficient protection against bad bots, malware, and other cybersecurity threats
Cons:
You need some practice beforehand to leverage all its functionalities
Its spam filter is not as good as expected
Price: Free (no upsells)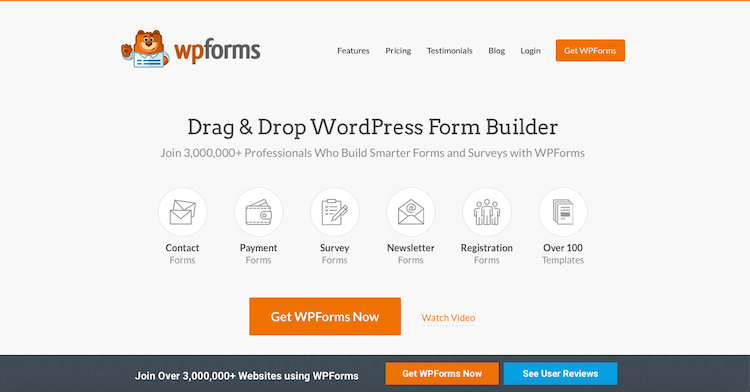 WPForms is an efficient drag and drop form builder that enables users to create highly functional and intuitive forms easily. It also comes equipped with pre-built templates to help you create engaging forms instantly, without any hassle.
Pros:
Offers pre-built form templates, designed to help WordPress website owners save time while building forms
Leverages smart conditional logic to build highly capable forms efficiently
WPForms are completely responsive and work seamlessly on desktops, smartphones, and tablets
It sends instant form notifications to the sales team to ensure quick follow-ups to leads
Gain access to all the leads at one point to streamline the workflow in a better manner
No need to deploy a developer to collect payments, online orders, and donations, among others
Easily embed WPForms in sidebars, widgets, pages, blog posts, and footers
Prevent spam submissions through honeypot and smart captcha
Offers smarter workflows to save more time
Ensures end-to-end customization with HTML blocks, section dividers, and custom CSS
Cons:
The free version offers limited features
It doesn't allow to build smart contact forms in the free version
Price: The paid plans start from $39 and go all the way up to $299. You also get a freemium plan for basic functions.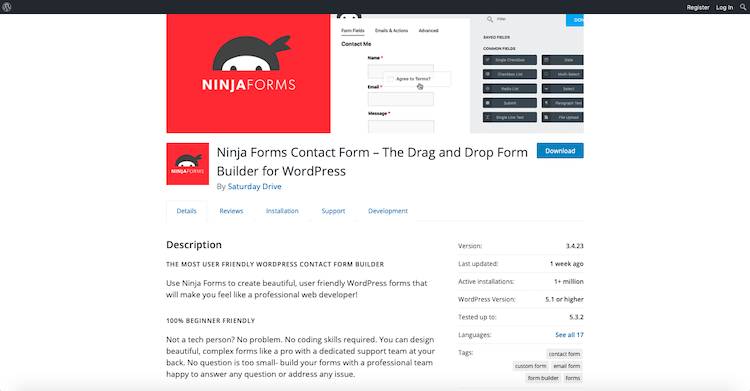 Ninja Forms enables you to build simplified and stunning WordPress forms within minutes. The best part is that you don't need to have any technical knowledge to build your own contact form with Ninja Forms. All these features make it one of the most preferred options for website owners with limited technical expertise.
Pros:
Allows you to create multi-page forms and conditional forms through drag and drop
Offers intuitive row and column layout
You can export or send submissions in Excel, Google Sheets, and PDF formats, among others
Accept payments or donations from credit cards and PayPal with single payments or subscriptions, variable, fixed, or customized amount payment options
It offers robust integration with tools like Constant Contact, Mailchimp, Salesforce, Zoho, Insightly, and Campaign Monitor, among others
Also allows integration with premium extensions, including Freshbooks, Salesforce, and SMS notifications, among others for added functionalities
It has a robust and interactive community that is always happy to help with any queries
Cons:
You will have to pay more to leverage some of its premium features
It is costlier in comparison to other plugins
Price: Its A La Carte pricing plan offers flexible pricing in the range of $29 to $129, depending upon the number of features you select. Ninja Forms' other subscription plans include Personal, Professional, and Agency that cost $99, $199, and $499, respectively.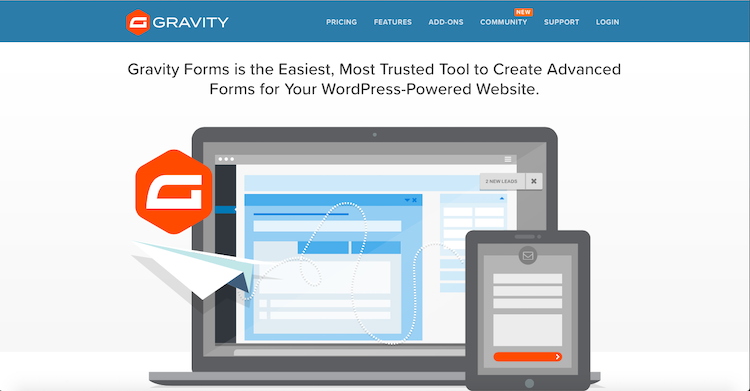 Gravity Forms is one of the most trusted tools to help you create highly functional forms. It comes loaded with tons of time-saving tools and features. Moreover, all the functionalities ensure that you build and publish WordPress forms within a short span of time.
Pros:
Allows you to select fields easily, configure options, and embed forms on the WordPress website
It offers over 30 ready-to-use form fields to create highly intuitive forms easily
You can leverage Conditional Logic to configure forms, show or hide pages, sections, fields, and submit buttons
The email auto-responder instantly sends email notifications to help you take a follow up on leads efficiently. It also helps you boost your conversion rate and subscriber list
Allow file uploads and save the files on your server
It is also capable of doing advanced calculations as per submitted field values
You can complete a form partially and continue working on it any point in time
Leverage front end forms to easily create WordPress posts
It offers a mobile-friendly responsive design
It efficiently filters out spam queries through Really Simple Captcha, Google reCaptcha, and Akismet options
Cons:
Doesn't offer any free plan
It is an expensive plugin than other offerings in the market
Price: It offers three paid plans, including Basic, Pro, and Elite, that cost $59, $159, and $259, respectively.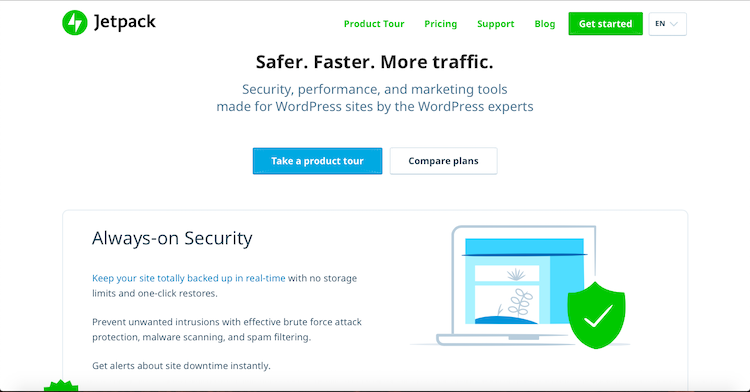 Jetpack is one of the most capable WordPress website plugins that offers a plethora of modules to meet different business requirements.
It comes powered with a built-module to help you create WordPress website forms quickly. That means if you already have Jetpack installed, then you are not required to install an extra plugin.
Pros:
Allows you to activate the contact form module to create stunning forms easily
Also offers easy customization of forms to meet a specific influx of content
Sends automated emails to the sales team after each and every query to ensure swift follow-ups
Compatible with all types of devices, including desktops, tablets, and smartphones
Customers can easily upload files
Efficiently embed the contact forms on blogs, widgets, pages, and sidebars
Cons:
It is not a specific contact form plugin. Hence, you can't create advanced contact forms through it
Due to several modules, it tends to slow down the speed of the website
Price: It comes bundled with the Jetpack suite.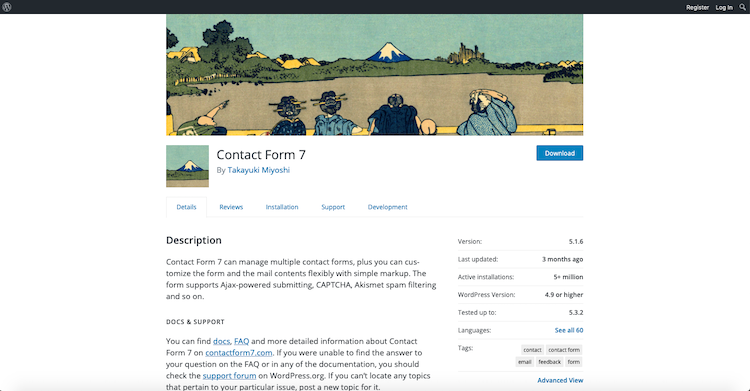 Contact Form 7 offers several capabilities to create highly customized and intuitive forms for WordPress websites. On top of that, this plugin provides features like spam filtering, Ajax-powered submitting, CAPTCHA, and so on.
Pros:
Allows you to leverage simple markups to customize mail contents and the form itself easily
It supports CAPTCHA, Akismet spam filtering, and Ajax-powered submitting, among others
You can also save submitted messages received through contact forms in the database pretty easily
You can use this free WordPress plugin on numerous websites at once
Offers simple, functional, and engaging designs
Enables you to leverage third-party plugins to add several functionalities
Cons:
The plugin could be more user-friendly for beginners
You can't create advanced contact forms
Price: It is available for download free of cost.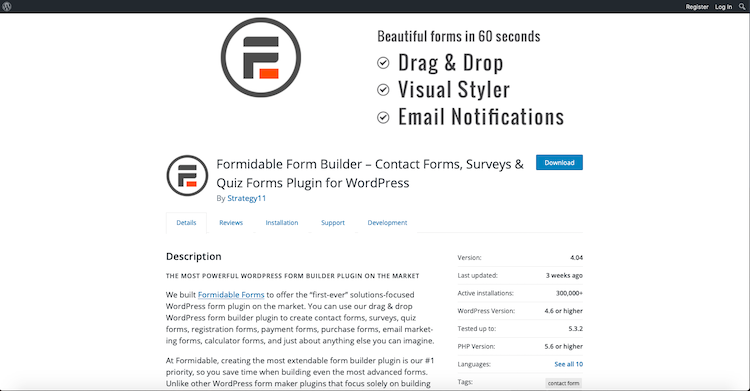 Formidable Forms is one of the most advanced plugins that offers several great features. It provides more than just a collection of data and helps you create engaging contact forms, along with surveys, quizzes, and more.
Pros:
Leverage its drag and drop feature to create complex forms in a shorter span of time pretty easily
Allows you to create advanced forms, including registration forms, payment forms, quizzes, registration, and profile forms
It offers robust integration with third-party email marketing tools and popular payment gateways
You can create powerful order forms and smart calculators, including smart calculators like request a quote calculator, car payment calculator, and mortgage calculator, among others
Also allows you to leverage Formidable Views feature to format, filter, and display user-submitted data
Easily collects multiple sets of data, including work history, events, and the team data
Enables you to customize your contact form as per your branding needs
Easily install over 30 add-ons for greater customization
Cons:
It requires some technical knowledge to use its advanced features
It is not as intuitive as its other competitors in the market
Price: It offers three paid plans, including Basic, Business, and Elite, that cost $99, $199, and $399, respectively.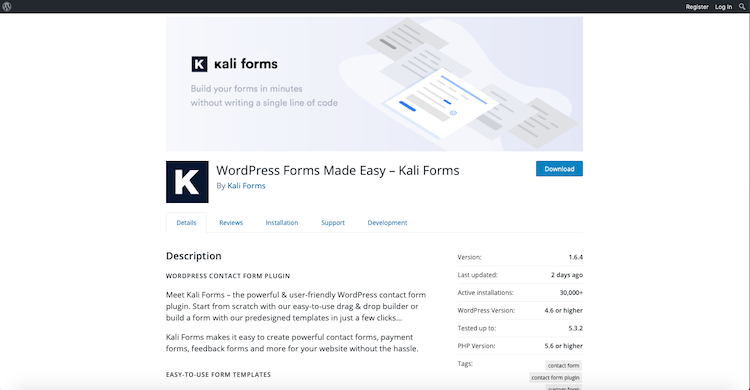 Kali Forms comes loaded with a lot of advanced functionalities that are modern and intuitive enough to meet the needs of new-age WordPress websites. Moreover, the WordPress plugin is built to focus on performance while delivering highly complex forms in a simple manner.
Pros:
Allows you to create highly functional forms through its Core version that is free to download
Comes with a 14-day money-back guarantee to help you validate its features without any headache
You can also leverage its easy to use virtual form builder to create intuitive forms instantly
It comes with several additional templates, including job, appointment, feedback, contest, GDPR-friendly form, and tournament forms, among others
All the forms created are highly responsive to deliver an omnichannel experience
It also leverages the efficient combination of reCAPTCHA and honeypot to filter out the spams
It complies with all data security norms
Cons:
The free version comes with limited functionalities
It could be more intuitive
Price: The paid subscription is available in four plans, including Starter, Freelancer, Small Business, and Agency, that cost $19, $39, $59, and $99, respectively.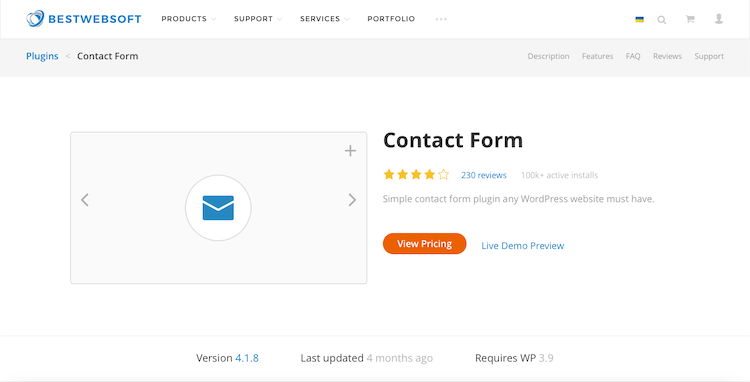 Contact Form by BestWebSoft is an excellent option for beginners who are looking to create clean and simple forms for their WordPress websites. It is a capable solution that enables website visitors to connect with the business efficiently.
Moreover, the highly customizable plugin offers a plethora of customization options to help businesses meet their branding guidelines without any compromise.
Pros:
The WordPress plugin is entirely GDPR-compliant
Allows you to easily embed the contact form on widget, page, or any post
Also capable of validating the data before submission
Attaches additional data of the sender in the email, including IP, referrer, user agent, and so forth
Enables you to embed custom code through its setting page easily
The setup process doesn't require any technical know-how
Also offers detailed documentation for beginners
Cons:
The interface requires technical knowledge to operate it efficiently
The free version has limited features
Price: Its annual subscription costs $30 per year.
Conclusion
So, these were some of the best WordPress contact form plugins.
All the plugins mentioned above can help you create capable contact forms that you can easily embed on your website.
If you are looking for free, albeit a highly functional contact form plugin, then you can consider using plugins like Simple Basic Contact Form and Contact Form 7.
However, if you are looking for premium features and exclusive customization options, then go for options like WPForms, Gravity Forms, or Formidable Forms. All these plugins offer robust customization solutions and integration with third-party email marketing services and applications.
At last, the choice to choose the best contact form plugin depends on your business. Therefore, make sure to carefully analyze all the pros and cons, along with their pricing plans. It will help you decide which tool offers the best value for money.
Also, if you enjoyed our guide on best contact form plugins, make sure to check our post on best LMS plugins for WordPress.
Which of these contact form plugins did you like the best? Let us know your feedback in the comment section below!