When it comes to the WordPress content management system, WordPress.org is usually the more popular choice over WordPress.com.
Self-hosted WordPress sites give you complete control over every aspect of your online presence, which means that you get to ensure your site runs fast, performs well, and delights visitors.
However, there are benefits to WordPress.com too – such as the ability to access crucial site stats on your dashboard and update performance with image caching.
So, which one should you use?
The good news is there is a way to have the best of both worlds.
The Jetpack WordPress plugin connects your WordPress.org experience to your WordPress.com account, giving you the features that you need, without the headaches.
The Jetpack plugin is so enormous that it's difficult to cover everything you can do with this solution in one review. There are countless modules to explore, each offering a range of features that you can add to your site.
Because of that, we're just going to take a look at some of the leading features that come with Jetpack, to help you make the right decision about your WordPress experience.
What Can The Jetpack Plugin Do?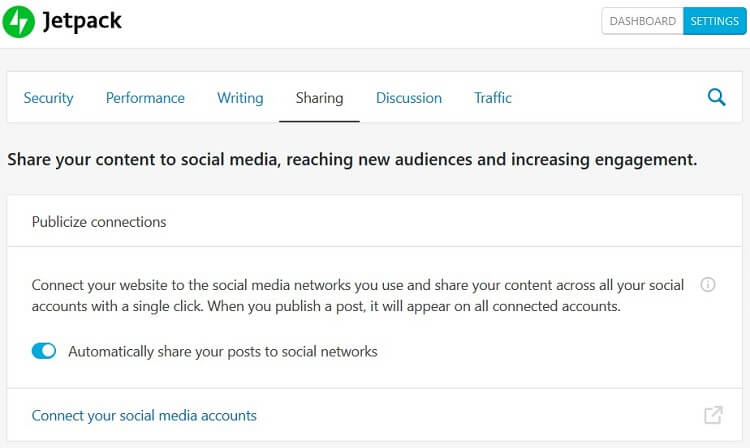 Let's start simple, by looking at the various features of the Jetpack WordPress plugin.
As mentioned above, this plugin is absolutely massive and brimming with great features.
Just some of the available capabilities include:
An Image CDN to help your website load faster
Automatic content backup and a 30-day archive with unlimited space
High-performance delivery with constant uptime monitoring
Site statistics to help you determine which posts are most popular
Automatic publishing to your preferred social media channel
Related posts to help your users find the right content
Social sharing buttons to boost your chances of viral fame
XML sitemaps that support your position with Google and help you rank better
Brute force attack prevention and bulletproof spam filtering
Sidebar customizations to dynamically change the appearance of your website
Comment enhancements to support your community
Contact forms to convert more of your visitors into paying customers
Custom CSS editing and convenient widgets for developers
Plugin auto-updates and overall automatic updates
Our bullet point list could go on forever.
So, what are you going to pay for all of this functionality?
Is Jetpack free to use?
There is a free version of the tool that gives you access to a lot of the leading features, minus things like advanced search and video hosting. On the other hand, you can also upgrade to either:
Personal: $3.50 per month
Premium: $9 per month
Professional: $29 per month
Even at it's most expensive, the Jetpack plugin is a relatively affordable way to access things like unlimited archiving, real-time automated backups, spam filtering, automated malware scanning, and so much more.
Let's take a look at some of the main features that give Jetpack its value.
Built-in Security Features
One of the most important things to website owners is site security.
That's why the Jetpack plugin is committed to improving the security of your WordPress website. It comes with a Secure Authentication feature, which allows you to switch your login strategy over to WordPress.com and forces users to access secure passwords.
There's also access to two-factor authentication, which can help to add an extra layer of protection to your business.

Your login system can be protected even further with Jetpack using its Brute Force Attack protection. This basically means that malicious IPs attempting to access your website with common username and password options will be blocked automatically.
You'll even be able to whitelist valid IP addresses to ensure that none of your users end up on the blacklist too.
The Jetpack plugin even displays the number of prevented attacks you've been protected against on your WordPress dashboard, to keep you informed.
Performance Enhancement
In addition to improving the speed of your website, Jetpack helps reduce your page loading times.
In the performance settings area, you'll see a feature called Site Accelerator, which automatically resizes your images for mobile devices. What's more, static files are optimized and sent through a content delivery network to support users around the world.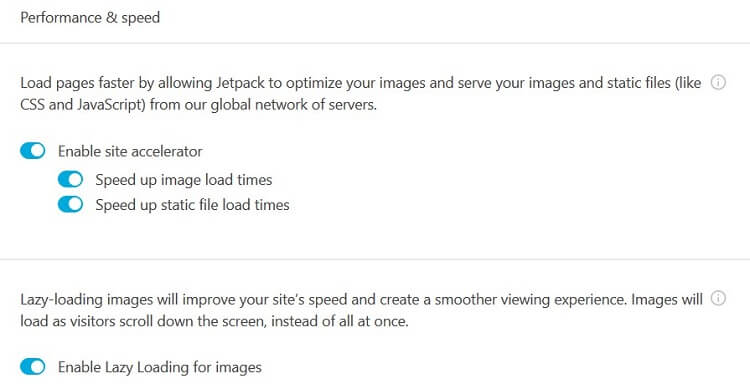 The Jetpack WordPress Plugin simultaneously improves your site speed and reduces your bandwidth costs automatically.
What's more, other features like lazy loading can delay the loading of image files in your content to the point when a user scrolls down to them. This means that everything runs a lot more smoothly for your users, without having a huge impact on your hosting resources.
The Jetpack plugin also accelerates site performance for you and your users by enhancing the search experience too. Powered via Elasticsearch, Jetpack search delivers faster, more relevant results, while reducing MySQL timeout errors.
Lastly, the Jetpack Search widget significantly improves search functionality for website visitors by adding tag filtering, relevancy and date sorting, and more. There's even access to the ElasticSearch API for developers who want to customize the offering.
Access to Site Statistics
One of the easiest ways to make sure that you're getting the best value out of your website is to track your performance.
Since the Jetpack WordPress plugin launched, one of its most attractive features has been the ability to offer in-depth insights into your WordPress performance via the admin area.
Businesses can use Jetpack plugin site stats to better understand their readers by monitoring which content is performing best on their website. Stats include leading search engine terms to visitor location, social media followers, and even top posts and pages.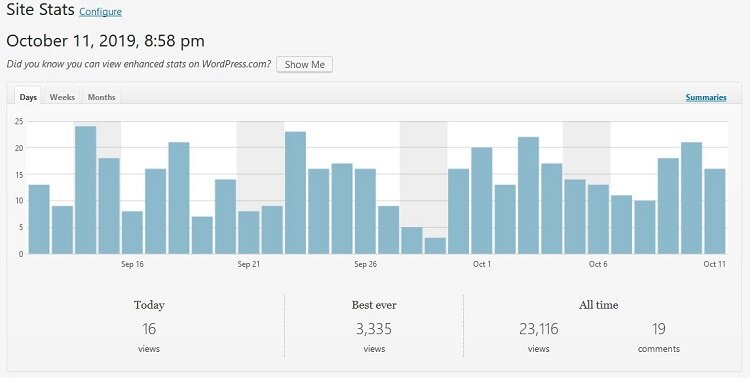 Site stats are an excellent supporting partner to the other analytic tools you might be using for your business, such as Google Analytics. What's more, it's extra convenient to be able to see how your site is doing from your WordPress admin area.
Content Enhancements
Finally, the Jetpack WordPress plugin improves the way that you share and deliver content to your target audience.
For instance, you can allow your customers to subscribe to your website for instant email updates as soon as new posts are published. There's also the option to post your content via email by sending new articles directly to an email address generated by the Jetpack plugin.
The Content Embeds feature from the Jetpack plugin uses shortcuts to improve the process of embedding video, documents, audio, and even social media buttons into your website. You can even display your images in carousels and galleries depending on your preference.
For those who need to format content, Markdown is available to highlight specific parts of text. What's more, there's a related posts section that allows business leaders to drive more activity on their site by showing customers other pieces of content relevant to their interests.
The Jetpack WordPress plugin also improves the process of interacting with your audience by delivering an upgraded comment form, which users can access using a range of social media tools.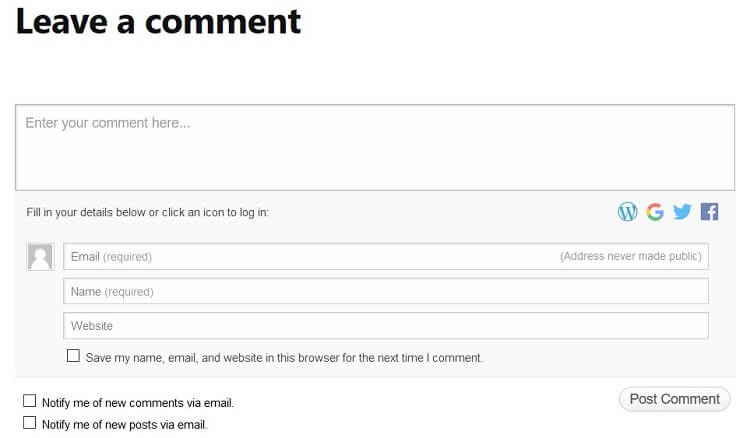 The Pros and Cons of the Jetpack WordPress Plugin
So, is the Jetpack plugin right for you?
Well, it depends on the kind of site you want to run.
The Jetpack WordPress plugin is an excellent way to give more functionality and features to your standard WordPress experience. You can use it to add essential features to your website in a quick and easy way, without having to worry about complex coding.
Additionally, the core functionality of Jetpack is free to use, so you don't need to spend a fortune on upgrading your online presence.
Unfortunately, Jetpack isn't perfect either. There's a heated debate online about whether this plugin seriously slows down your website. The huge number of different modules available with the Jetpack plugin means that it's hard to keep your site running quickly if you enable a lot of functions at once.
Additionally, some people believe that there are risks involved with connecting your WordPress.com account to your WordPress.org environment.
Pros:
Plenty of amazing ways to upgrade site functionality
Great for boosting user experience with faster speed
Fantastic comment solutions and social media buttons for engagement
Easy to use widgets and modules
All the functionality of WordPress.com in your WordPress.org environment
Frequent automatic updates
Wide range of security and safety features
Endless customization options for website owners
Cons:
Can make your WordPress site slow and bloated
Might take a while to get used to all the new features available
Possible risks in linking your WordPress.com and WordPress.org sites
Final Thoughts
Only you can decide whether the Jetpack WordPress plugin is a good investment for you and your business. Before you start plugging this tool into your self-hosted WordPress site, ask yourself how many of the modules you're likely to use. If you're only going to use one or two features, then you might be able to get the same functionality from individual plugins, without the extra bloat.
On the other hand, if you're looking for a wide range of ways to update your WordPress experience with new security solutions, better speed, and a host of ways to connect with customers, then the Jetpack plugin could be a great all-in-one solution.
If you're already using Jetpack and taking advantage of its built-in performance features, check out this roundup of the top website speed tools for monitoring the speed and performance of your WordPress site.
So, how do you feel about Jetpack? Let us know in the comments below!