According to the Nielson Norman Group, the first 10 seconds someone spends on your site are the most critical in gaining and keeping their attention.
Adding to that, recent research by MachMetrics confirms that the average page loading time is 8.66 seconds, but that the recommended load time should be less than 3 seconds.
If your website takes longer than 3 seconds to load, the likelihood of someone leaving your page increases by 53%. That means you need to ensure your WordPress site is functioning at a peak performance or risk losing out on valuable opportunities.
But how can you tell how long your site takes to load?
After all, it's only after knowing how fast your site loads for site visitors that you can make site speed improvements and monitor its progress.
Today I'm going to share with you the 5 best WordPress site speed tools to optimize your website's performance.
Your WordPress Site's Loading Time
WordPress is one of the largest platforms for online business owners out there. Many users will agree one of the best features of WordPress is how customizable it is. The downside to this, however, is that generally, the more customized your site is, the slower it will run.
Finding the best tools to test and improve your WordPress site's speed will allow you to:
Convert leads into sales
Rank higher in Google search results
Improve your overall site performance
Create a better user experience
Google rates the quality of your website, not by the content that's on your site, but by how efficiently your site is performing. Without a good ranking from Google, your site will not be recognized by the top of search engines. And that means your website will not appear in relevant search results where your target audience is looking for what you have to offer.
Because of this, it's crucial you routinely test your site's speed and performance to make sure it's functioning the best it can for site visitors. Let's take a look at how you can do just that.
Top Website Speed Tools

One of the most popular website speed tools on the web is Pingdom. Overall this tool is easy to use and understand, making it great tool for beginners.
Pingdom tests your website by using a Google Chrome web browser to replicate what an actual user experiences when they arrive on your site. Results include detailed data that lets you know how big your site is and how fast it loads. In addition, you'll see helpful charts that give you a snapshot of how your site is performing and where you can make improvements. Not to mention, you'll also receive a site performance grade.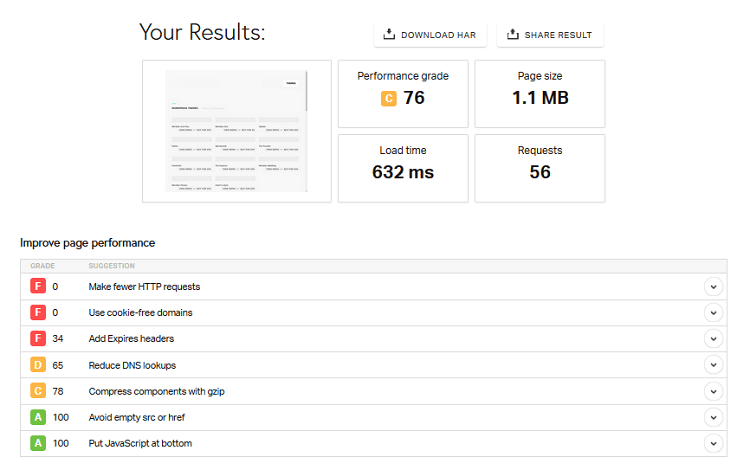 Pingdom also has a unique (though premium) notification system that immediately alerts you if your site is under-performing or has gone offline. It will also let you know if your site requires any critical updates.
To run general speed tests, Pingdom is free to use. However, Pingdom also offers a 14-day free trial to get familiar with the platform if you want advanced features like email notifications. From there, plans start at just $11.95 per month.

The GTmetrix site speed tool produces similar results to Pingdom, but with additional data from supporting speed tests. The report page neatly summarizes your page performance speed along with additional analytics from Google PageSpeed, Yahoo, and YSlow.
When you run a speed test, you'll receive an overall page performance score, from A (excellent) to F (fail), that's based off of your load time, page size, and total number of requests. The results are highly comprehensive and the tool is easy to use, making it another great tool for tech newbies.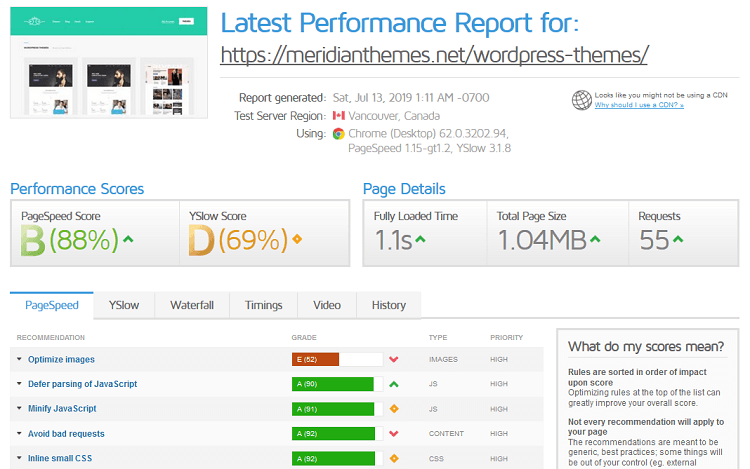 The basic GTmetrix tool is free to use, but doesn't include all of the features. If you want additional features such as priority access, video capture for alerts, monitoring from remote locations, hourly monitoring of URLs, you'll have to invest in GTmetrix Pro. Pro packages start at $14.95/month and increase based on the number of API credits, saved URLs, and monitored URLs you have.
Google PageSpeed Insights is a phenomenal tool for learning how well your website is currently performing and how you can improve your site to rank higher in Google. This tool differs from GTMetrix and Pingdom because it does not actually test your website's speed. Instead, it tells you what Google thinks of your site based off various analytics.
One of the best things about this WordPress site speed tool is that it checks both your mobile and desktop site performance.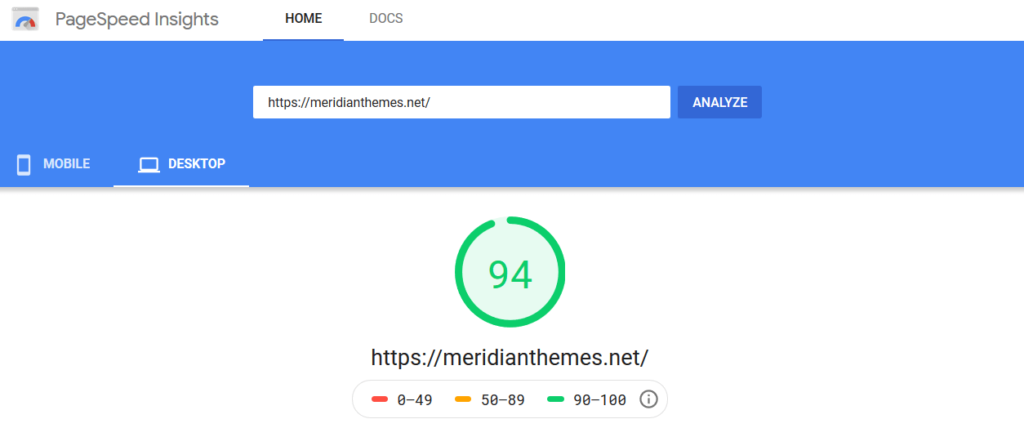 Since this tool is not a speed testing tool, it doesn't give you a site speed score. It does however, measure how your site is performing within Google. In fact, the data will show you:
If your browser caching plugin is working
Specific details on how you can improve your speed
Which CSS and JavaScript files are in a render-blocking position
It's important to note that the score from Google PageSpeed Insights is not 100% accurate, so don't take that number to heart. Instead, use GTMetrix or Pingdom to test your speed more accurately. Then, use Google PageSpeed Insights to identify problem areas so you can make improvements to the overall performance of your website and help it rank higher.
This is one of the only WordPress site speed tools in our roundup that's free to use and has no premium version. And it makes sense that is because Google's main goal is to help website owners give site visitors a seamless user experience. Having a well-performing website just happens to be one of the best ways to do that.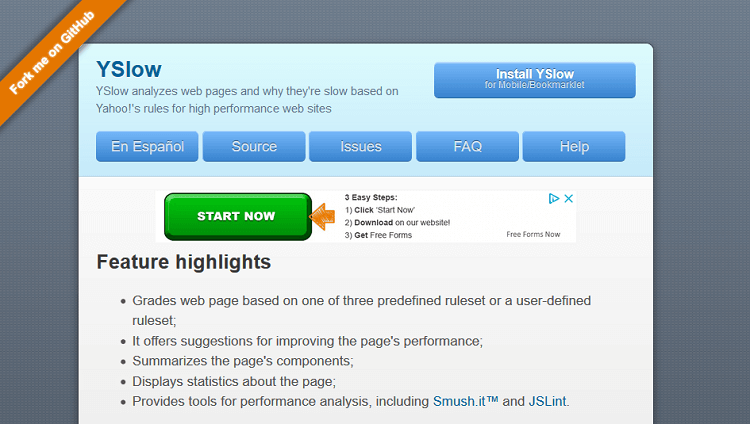 YSlow is very similar to Google PageSpeed Insights, as it is not a site speed measurement tool. Instead, it is a web analyzing tool that checks out your site's speed based off of Yahoo's rules for high performance websites. The results come up as a checklist of recommendations for improved site performance.
This website speed tool is free to use, but it does require you installation as an add-on to your browser to work. If you prefer, you can also use the GTmetrix site speed tool, click the YSlow tab, and see what is recommended you fix.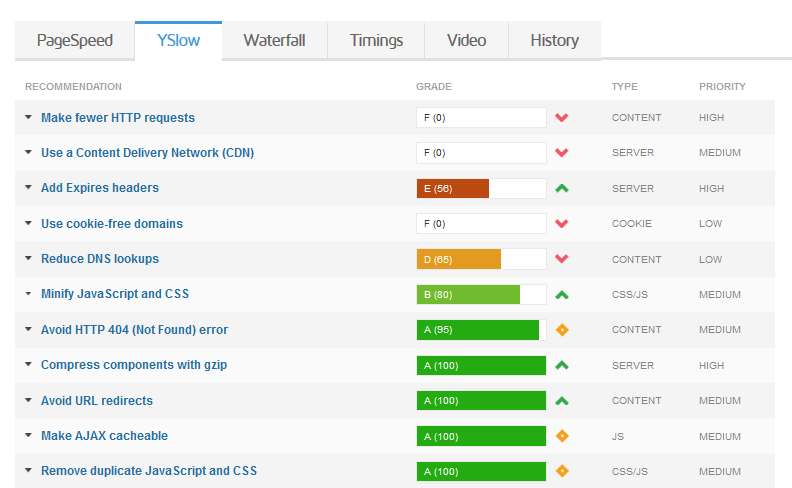 Keep in mind that while this used to be one of the most favored WordPress site speed tools around, the YSlow project is no longer maintained. This means that for some, accessing the tool itself will be tough. That said, it still exists in GTmetrix, and continues to provide helpful information for improving site performance.

Web Page Test is a free website speed tool that tests your site speed from multiple locations around the globe using real browsers, at real connection speeds. You can run simple tests or advanced tests, depending on your needs. Tests include content blocking tests, video testing, multi-step transactions, and much more. Results are displayed using waterfall charts, pie graphs and grades based off median test scores.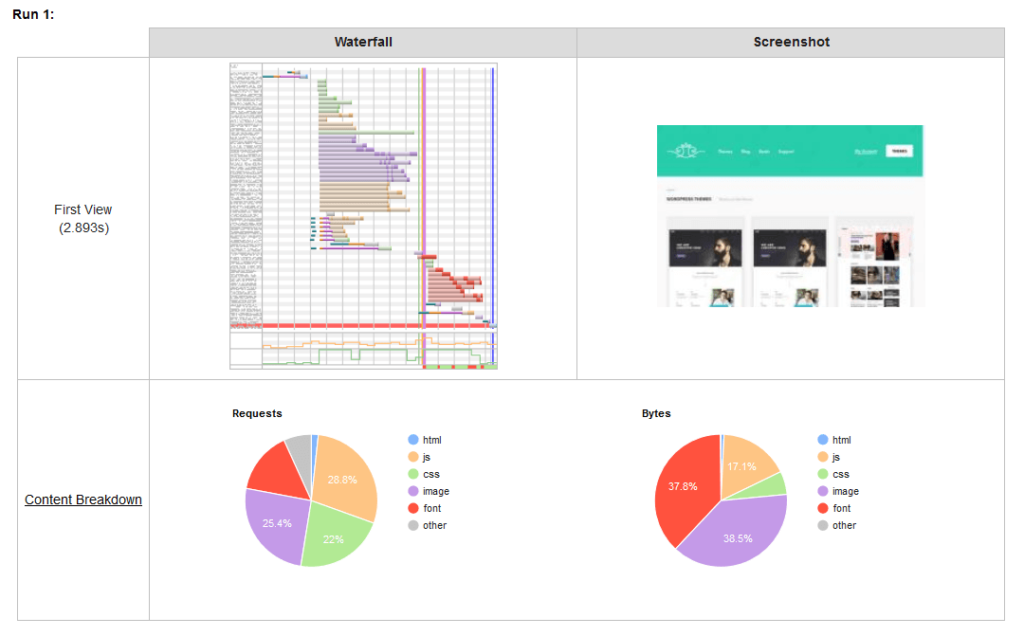 WebPageTest.org's test results are based off average connection speeds around the world. It also lets you choose a location to run the main test from, as well as a browser. This means that you may score a bit slower than you would with GTmetrix or Pingdom, but your speed is more representative of "real world" speeds.

The best thing about WebPageTest is that once the test has been run and you have your results, the tool will give you advice and recommendations for fixing your site performance.
Bonus WordPress Site Speed Tool: Load Impact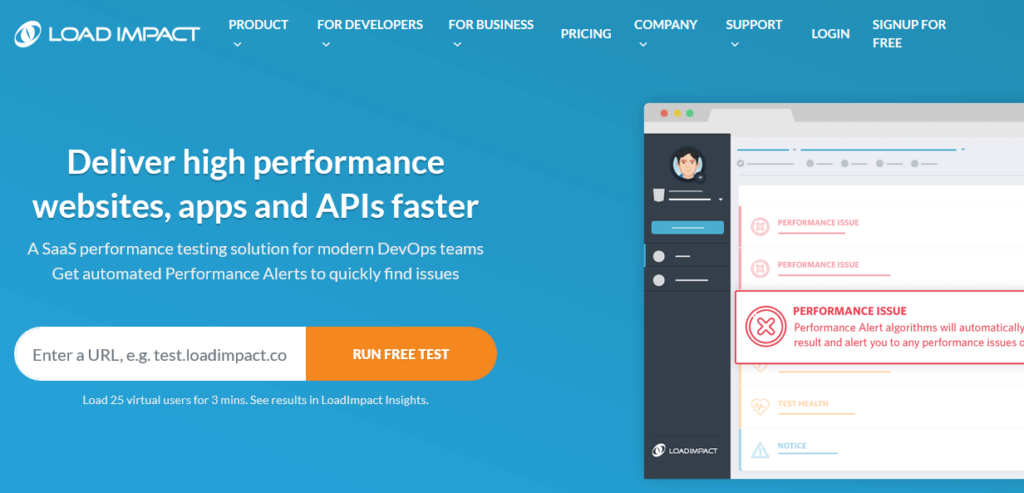 Load Impact is unlike the other WordPress site speed tools on this list because it doesn't test your website's speed. Instead, it measures your site's server performance.
In other words, Load Impact is designed to let you know if your site can handle multiple users browsing your site at the same time without slowing your site down.
The test takes up to 12 minutes to perform (you choose the duration) and tests a maximum of 50 virtual users at once. You also get to choose the load zones for more accurate results. From there, you'll have access to data such as the average response times, number of requests, request rate, and even failures. The data appears in an easy to view graph so you can see exactly how your site is performing when lots of people visit it at once.
Load Impact is free to use for the first 50 load tests you run. If you need additional virtual users, load zones, tests, and team member access, you can pay for their $49/month or $299/month plans.
Wrapping Up
If you find your site speed and performance is lacking, there is one exceptional solution that can give you immediate results. Adding a simple caching plugin on your WordPress site may be enough to help you bump up your loading times. I recommend using WP Super Cache or W3 Total Cache to improve your site's caching and speed up your loading times.
And if you're worried about the loading times of your website's images, be sure to check out our guide to resizing images for faster loading times.
That being said, the WordPress site speed tools mentioned above are some of the most powerful in the market right now.
They're effective and highly rated by WordPress business owners and are easy enough that anyone can use and understand them. When it comes to site performance, you speed needs to be as quick as possible in order to keep your audience engaged and convert them as subscribers or customers.
Have you tested your WordPress site speed using a different online tool? If so, we'd love to hear all about it in the comments below!