You need your website loading as fast as possible. After all, that's how you keep your site visitors engaged.
Not to mention, site speed is an important ranking factor.
One of the best ways to improve your site's speed and performance is to reduce the file sizes of your images. However, the key is to not only compress your images into smaller files, but maintain their quality too.
Here's a quick guide on different ways to resize an image for faster loading, without losing quality.
What's the Problem With Image Resizing?
Some people will say that you should never resize animage for faster loading because it sacrifices their quality. And the truth is, they're right. If you don't handle image resizing the proper way, you'll start to see pixelation. In addition, your images will look blurry for site visitors.
Fortunately, technology is so advanced that images can now be downsized and still retain their quality.
That said, you should take care not to compress your images too much, as it would be unreasonable to expect images to retain their full quality when images resized too much.
Now let's take a look at some of the best ways to resize an image for faster loading.
How to Resize an Image in Photoshop
Adobe Photoshop and Lightroom are still the best tools for those times you need to resize an image for faster loading. Both applications have ways to make batch resizing a cinch if you need to compress more than one image definitely helps.
In our example, let's use Photoshop to resize an image.
Photoshop has a Save for Web option that lets you control the quality of the photos you're going to export after they've been resized.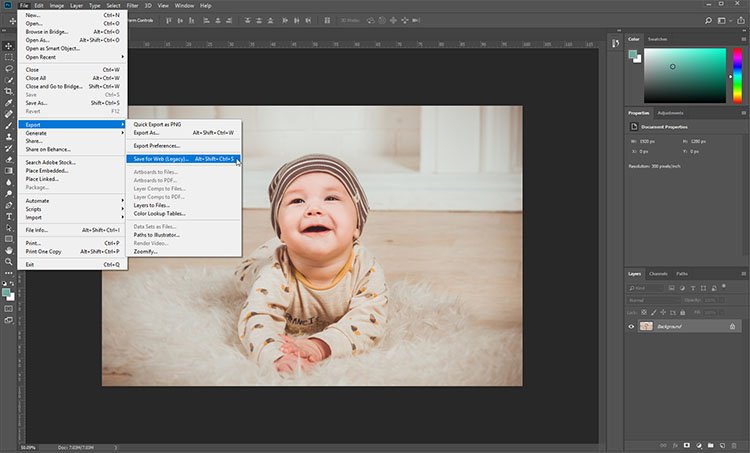 To export images from Photoshop using Save for Web, go to File > Export > Save for Web. You can also use the keyboard shortcut Alt + Shift + Control + S to access the menu quicker.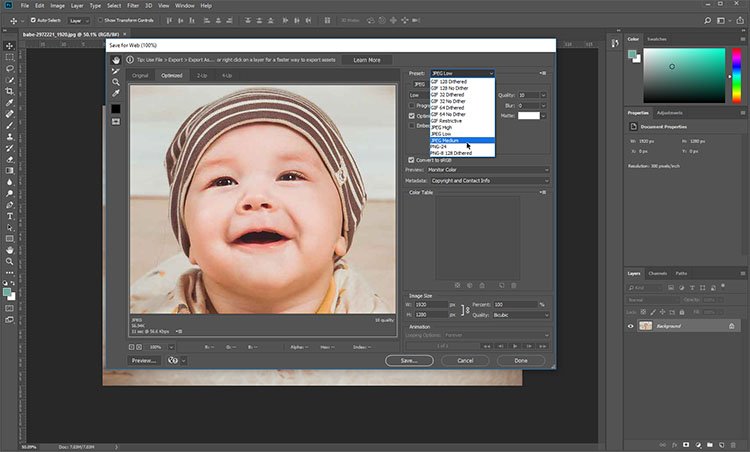 Once the pop-up menu opens, you'll see many options.
You can choose to manually set the quality of your image or select one of the presets. It's best to use JPEG as your file format, since they have a smaller file size. It's also advisable to keep your file quality above 75 so the details in your image aren't lost. However, depending on the image, you might be able to lower the quality a bit.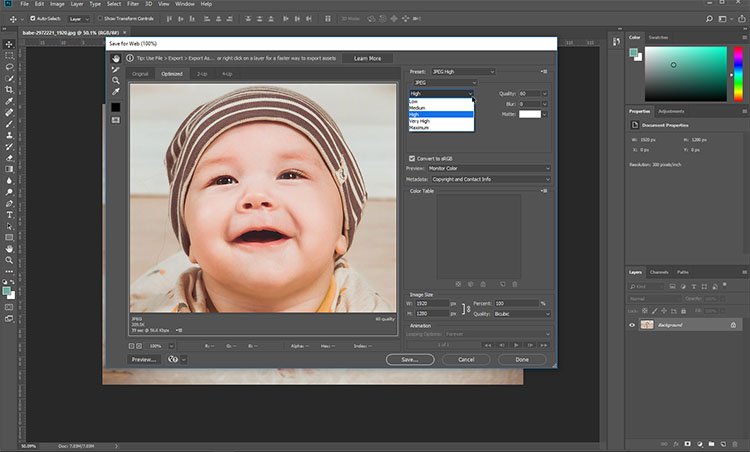 Down below, you'll have the option to reduce your image size depending on your needs. When you resize your image, just make sure that the width and height are linked to keep the correct aspect ratio. If you don't do that, the image will be stretched and look off.
When you're done making your changes, save your document.
How to Resize Images Without Losing Quality
Not everyone can afford Photoshop or Lightroom. And if you're not going to use them for anything other than resizing images, you're better off looking at more affordable applications or tools.
That leaves you with two options: either resize an image online or download resizing applications. No matter which method you choose to use, you can resize images without losing quality, and still maintain fast loading times.
How to Resize an Image Online
If you can't afford to download web applications or simply need a quick fix, you can easily resizeand compress images on your browser. Below are some sites that let you do just that.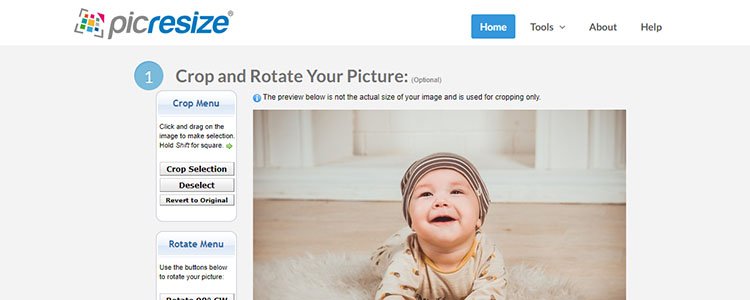 Price: Free
PicResize is an easy to use online image resizing tool. Once you're on the site, simply upload your picture from your computer or a URL. It will then take you to a page where you can crop the photo, resize the picture, and save your work. You can even choose a special effect if you want (e.g., add borders, blur sections, etc.).
You can save your pictures as a JPEG, PNG, BMP, or GIF with PicResize. The site supports bulk resizing and can be added as a browser extension for easier access.
Price: Free
ResizeImage is another fabulous way to resize an image for fast loading if you're looking for a free online tool. After uploading your image, you have the option to crop it. The tool lets you crop your image normally or retain the fixed aspect ratio.
You can then set the quality of your final image. Reducing the percentage reduces the image size. Her you also have the option to fill in the background of the image should the proportion of the image change. Fill it with black, white, or a custom color (you can also make it transparent).
Save your images in one of the available formats: JPEG, PNG, GIF, or BMP.
Finally, optimize your image using one of three customization options: Best Image Quality, Normal Compression, or Progressive Compression.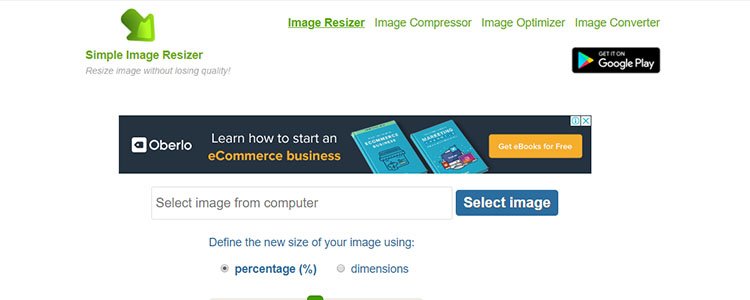 Price: Free
It doesn't get any simpler than Simple Image Resizer, which makes this tool perfect for anyone who's new to resizing images for their website.
There are four Image modes to choose from:
Resizer: resize images without losing quality. Define the new size of your image using percentage or dimensions.
Compressor: compress images to reduce the size. Select a custom width and height.
Optimizer: optimize images for the web. Select a custom width and height.
Converter: convert your images to a different file format. Choose from PNG, JPG, PDF, GIF, BMP, or TIFF.
Using the Image Resizer, upload your image and use the built-in slider to set how compressed you want your image to be. Hit Resize when you're done. When the resizer is finished, you'll be prompted to download your image.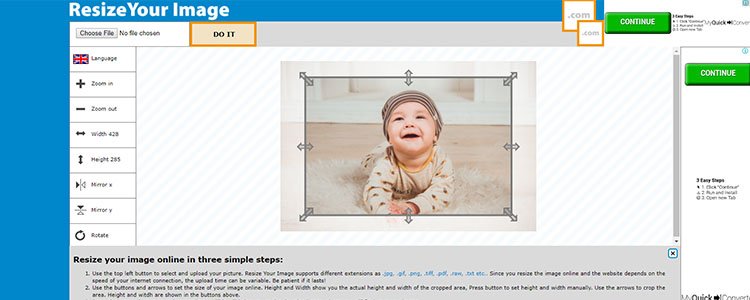 Price: Free
The first thing you'll notice when you go to the Resize Your Image site is the demo image they've put in place. This allows users to test the tool and see how easy it is to use. You can then upload your image and edit it right away. You can crop the image, flip it, rotate it, and more.
It's also worth noting that images can be saved in more formats than the other tools mentioned in this list. Not only can you save as a JPEG, GIF, and PNG, they claim you can also save as TIFF, PDF, and RAW.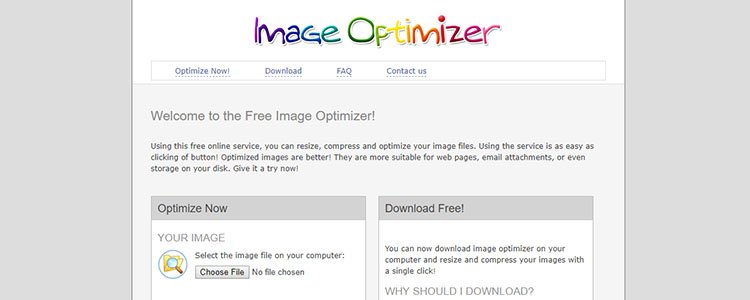 Price: Free
Image Optimizer has been around a long time. This tool is easy to use and perfect for beginners. In fact, using it is as simple as uploading an image and selecting a quality. The site even has an application you can download to your computer.
Image optimizer gives you a download link once it's done optimizing your image so you can save it and later upload to your WordPress site.
How to Resize an Image on Your Computer
If you're looking for another way to resize an image for faster loading that doesn't involve Photoshop, Lightroom, or an online tool, there are always web applications. This method is best for those who resize a lot of images.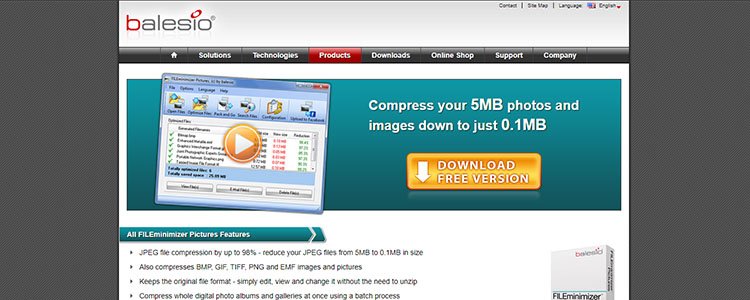 Price: Free (premium version $108)
FILEminimizer is a free program you can download for Windows 7 and 10. It claims to compress JPEG files up to 98% without losing any image quality.
Additional features include:
Compression of BMP, GIF, TIFF, PNG, and EMF file formats
Edit, view, and change images without the need to unzip (keep the original)
Batch process image resizing
Facebook integration for resizing and automatic upload to Facebook
Integrated search function for finding images easily on your PC
Drag & drop files into resizing tool
There is a premium version if you want more features such as the ability to work with PowerPoint, Excel, and Word documents. In addition, you can run PDF scans, integrate with Microsoft Outlook, and use it for commercial purposes.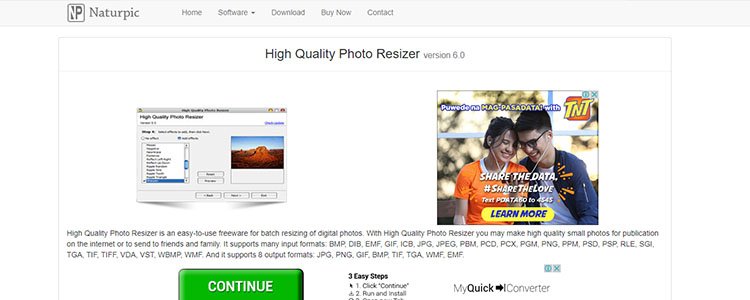 Price: Free
This tool is great for batch resizing images. It's surprising how many input formats this supports. You can upload images in BMP, DIB, EMF, GIF, ICB, JPG, JPEG, PBM, PCD, PCX, PGM, PNG, PPM, PSD, PSP, RLE, SGI, TGA, TIF, TIFF, VDA, VST, WBMP, WMF.
From there, export images in JPG, PNG, GIF, BMP, TIF, TGA, WMF, EMF file formats.
You can also use the tool to edit your images in 37+ different ways. Some examples include:
Sharpen
Mosaic
Colorize
Emboss
Blur
Flip
And many more
This tool is compatible with Windows 2000, XP, 2003, Vista, and Windows 7/8/10.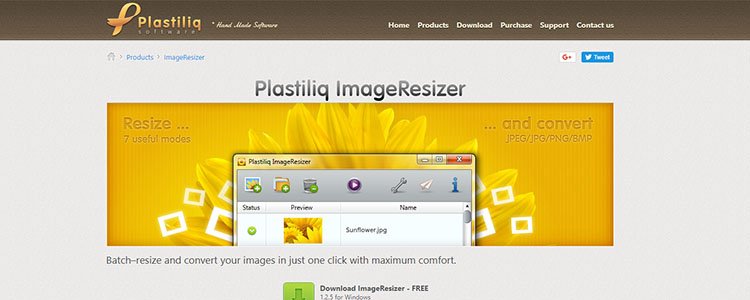 Price: Free
Plastiliq ImageResizer can alter your image's width and height as well as the resolution during the resizing process. More importantly, it allows you to change the JPEG compression ratio.
Its drag-and-drop style makes uploading images to the tool simple. Add in the real-time image preview as you resize, and you'll never lose any quality.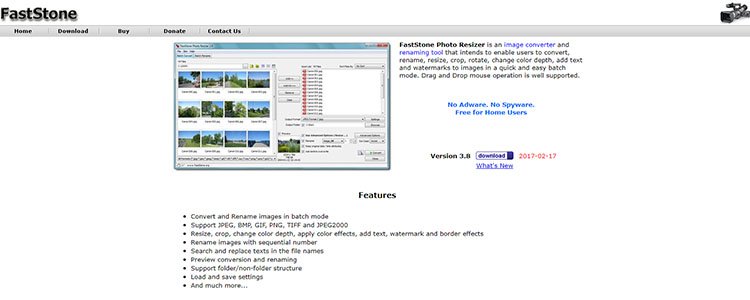 Price: Free
FastStone Photo Resizer does not have image compression. But if all you need is to resize an image to make it smaller, this might be the right tool for you.
With this web application, you can:
Convert and rename images in batches
Support JPEG, BMP, GIF, PNG, TIFF and JPEG2000 file formats
Rename images with sequential numbers
Resize, crop, customize colors, add, text, include watermarks, add borders
Search and replace text in file names
Load and save settings for future use
Support multithreading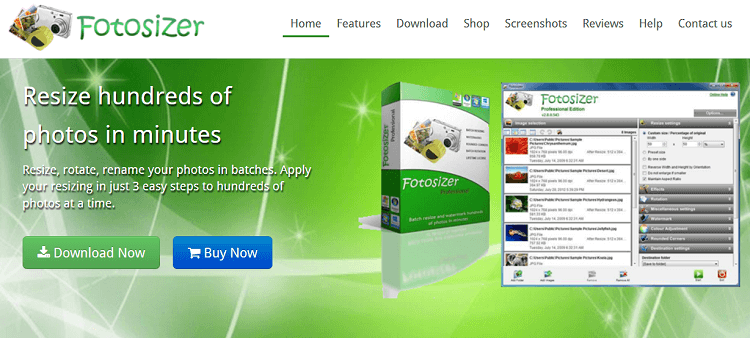 Price: Free (Pro version $15.95)
Fotosizer is a powerful and free image resizing tool that will get the job done. Not only can you resize images, you can add color effects like black and white and sepia tones. Plus you can add watermarks to image batches, include text overlays, change between light and dark color schemes, and watch your customizations using the live preview.
This tool outputs formats like BMP, JPEG, PNG, GIF, WMP, EMF, and TIFF. It can also copy EXIF information, which is fantastic for photographers.
Which Image Resizing Tool is Best?
The great thing about needing to resize an image for faster loading is that it's not going to cost you anything. In fact, these options all available for free. That means there's no risk in trying each one out to see which works for you.
That said, if you're only editing images in small quantities, you can stick to using a online image resizing tools. And don't worry, resizing this way won't negatively affect the quality of your images.
If however, you find yourself needing to resize a lot of images on a regular basis, you might consider a web application instead. This way you can easily access it from your computer, whether you're online or not.
Want another way to make your image-heavy WordPress website load faster? Check out this roundup of the fastest lazy load image plugins for WordPress.