These days, teaching your target audience something that's complex is a cinch thanks to the wide world web. In fact, using one of the best WordPress LMS plugins makes it easier than ever for site owners to create and sell online courses.
With the advancement of digitalization and technology, education is now more accessible than ever before.
Gone are the days when a student had to trudge through 10 feet of snow to get to a ballet session or brave the relentless sun to attend a course on music.
Now, everything is available at the simple click of a button. In addition, thousands of people worldwide are able to share their expertise with others who want guidance on any subject under the sun.
And this where WordPress LMS Plugins come into play.
But before we talk about the best WordPress LMS Plugins, let's see what LMS actually is.
What Is LMS?
An LMS (learning management system) helps people wanting to share educational courses online take a step in the right direction.
Adding to that that, WordPress LMS plugins help people set up and run their own digital websites. These digital websites are akin to classrooms. And the best part is that an LMS doesn't require the physical attendance of students. Hence, anyone can learn anything from any part of the world.
Apart from this, it also helps you make money online without any much hassle.
There are various WordPress LMS plugins available, but their core functionality remains the same. Over the years, LMS has become popular in schools, universities, NGOs, and industry training centers across the world.
The Difference Between a Basic Membership Site and an LMS
The simple answer: progress tracking.
With a proper LMS in place, you can track the exact headway made by each student, the number of questions attempted or skipped, chapters completed, and much more.
Furthermore, real-time evaluation is becoming essential across all industries and is highly valued in domains like consulting and sales. And an LMS plugin can help you do just that.
It also acts as a feedback system for the trainers and evaluators and aids their decision making.
However, with so many options in the market, it can be tough to choose the perfect one for yourself. So, let's take a look at some of the best WordPress LMS plugins in the market to help you make an informed decision.
Best WordPress LMS Plugins
Here's the list of some of the best WordPress LMS plugins that are available in the market right now:
In this article, we'll put light on the most prominent features of these LMS plugins. Moreover, we'll talk about their pros, cons, and pricing plans.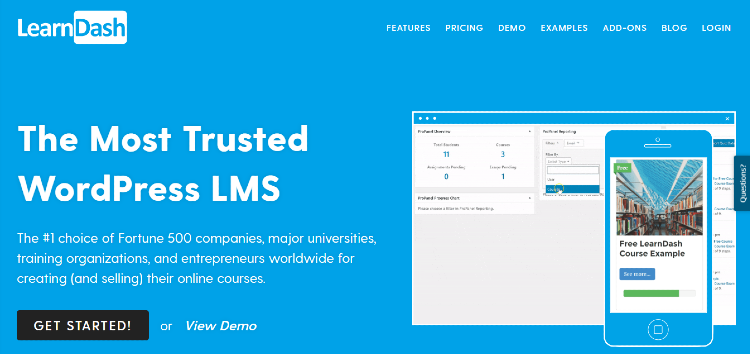 LearnDash is one of the leading LMS plugins for WordPress. It is used by multiple Fortune 500 companies, as well as educational organizations, universities, and entrepreneurs. It's a great choice for anyone wanting to sell and manage their online courses. It also includes features to make the experience more manageable.
Plus, LearnDash's recent update includes Focus Mode. The feature is unique in LMSs, and basically provides users with distraction-free learning. You can apply it to particular pages or lessons, and it gets rid of unnecessary clutter on the web page, such as sidebars. Users can still see the progress bar and have the option of collapsing the navigation bar, too.
Pros:
Easily create and sell an unlimited number of courses and quizzes
Drip-feed lessons etc. by a schedule
Award users with certificates and points
Drag and drop interface, and lots of settings and controls
Multiple selling choices; one-time purchase, subscription, shopping cart, memberships
Integrates with multiple payment gateways, such as PayPal for recurring payments
Library of official and unofficial add-ons, and integrates with other plugins
Manage users easily and users can track their progress
Download detailed reports
Mobile compatible
Cons:
Tons of features included in the core plugin, but that can be overwhelming
The best reporting features are not included in the basic plan
Price: LearnDash's Basic package costs $159 per year for 1 site. If you want the use of the ProPanel dashboard for reports, you'll need to choose one of the higher packages, though. The Plus package costs $189 per year for up to 10 sites, and the Pro package costs $329 per year for up to 25 sites. There's a 30-day money-back guarantee, too.
Don't forget to use our exclusive LearnDash Coupon to get 40% OFF.
👉 Get Started with LearnDash Plugin
See this full review of LearnDash for more information.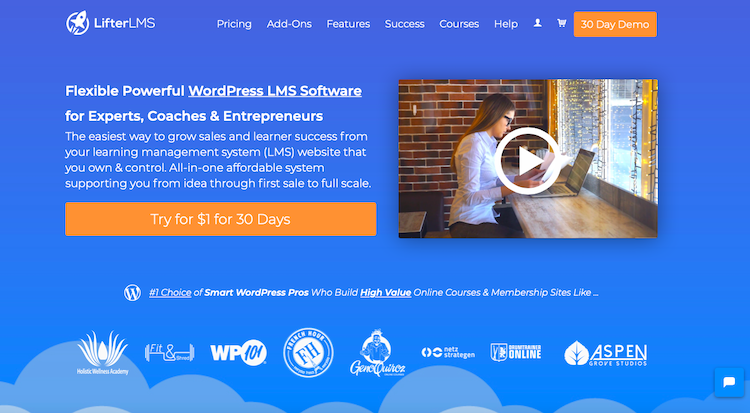 LifterLMS comes with complete WooCommerce integration. Moreover, it provides an easy to use drag & drop course builder, making it a sought after choice in the market.
Pros:
The core plugin is free
Built-in Beaver Builder and Divi integration
Integrated with payment gateways like Authorize.net, PayPal, and Stripe
Provides holistic content management tools
Gamification by providing end-of-course certificates and badges
Highly scalable
Cons:
You have to purchase the payment gateway
The add-ons are some of the most expensive in the market
The lack of intuitive user interface makes it difficult for beginners
Large websites may face performance issues
Price: The core plugin is free to use. For extra features, there are separate add-ons you can buy. However, they're costly, and you'd be better off opting for one of the bundles.
The cheapest bundle includes all of LifterLMS's add-ons and costs $99 per site, per year. After that, there's the Universe bundle for $299 per year for 5 sites, and the Infinity bundle for $999 per year for an unlimited number of sites. Each of those comes with more features, too. You can also try the service for $1 for 30 days.
👉 Get Started with LifterLMS Plugin
See this full review of LifterLMS for more information.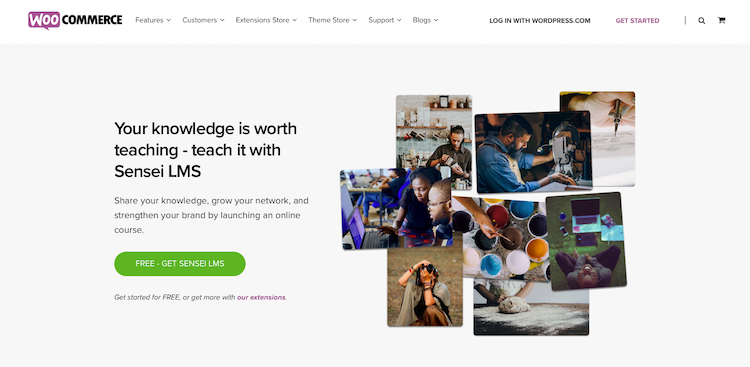 Sensei is a free WordPress LMS plugin brought to you by Automattic, the company behind tools like Jetpack, WordPress, and much more. It claims to help you grow your network and strengthen your brand by launching an online course. The good news is that you can get started for free.
Pros:
It's decidedly effortless to use, even for a beginner
Integrates effortlessly with your WordPress website
100% compatible with all WooCommerce themes
Offers in-built simple course analytics that provides information on students enrolled, courses completed, and more
Provides plenty of template options
Allows a great deal of automation
Cons:
Many users have faced some issues regarding integrations with WordPress themes
Although it's free, you need to add additional features and extensions to make it function properly, thus increasing the cost
Has to be used along with membership or eCommerce plugins for selling access
Price: This is a free plugin. However, for proper functionality, you need to purchase add-ons. Some of those are free, too. Others range from $29, all the way up to $249.
👉 Get Started with Sensei Plugin

Namaste! LMS is another WordPress LMS plugin that you can download for free. It supports unlimited courses and lessons and allows flexible access to all of them. Moreover, it allows you to publish the course curriculum on your site to attract more attention from potential subscribers.
Pros:
Easy creation of certificates that can be assigned to students upon completion of courses
Create assignments and approve or reject them
Comes with a built-in powerful tool for analytics and statistics
Offers a feature-rich PRO module (grading metrics, task completion badges)
Ensures protection of files
Integrated with impressive third-party tools like Moola Mojo, Optin Forms, and more
Cons:
Can be challenging to use for a beginner
The free version doesn't provide essential features like delayed course material access
Price: The basic version of the Namaste! LMS plugin is free. But you can opt for the Pro version, which comes in 3 packages, depending on your needs. It costs between $67 – $137. It's a one-off fee, as your license will never expire. However, upgrades and support are only included for one year. After that, you have the option of paying 40% of the full price to receive updates and support for another year.
👉 Get Started with Namaste! LMS Plugin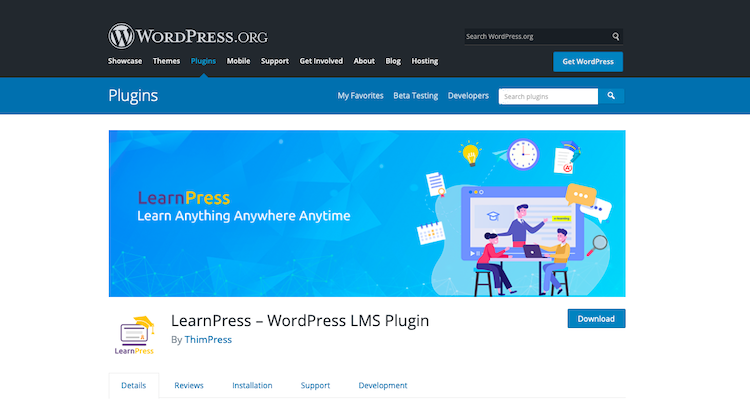 LearnPress is one of the most user-friendly WordPress LMS plugins available in the market. Despite being free, this plugin comes loaded with plenty of rich features. Moreover, since it is continuously developed, it stays up-to-date.
Pros:
It's fully compatible with any WordPress theme
Supports multiple sites
Provides holistic management for your course (sharing it, management, statistical analysis, and more)
Built-in support with multiple payment platforms like PayPal and Stripe
Allows you to have effective communication with students (BuddyPress support)
Offers plenty of free add-ons
Makes learning more exciting by gamification (points system and badges system)
No yearly recurring fees
Cons:
Customer support could be better
Tends to slow down with too many users
Price: LearnPress has a free version, but also offers three premium pricing plans, ranging from $49 to $249.
👉 Get Started with LearnPress Plugin
See this guide on how to setup LearnPress for more information.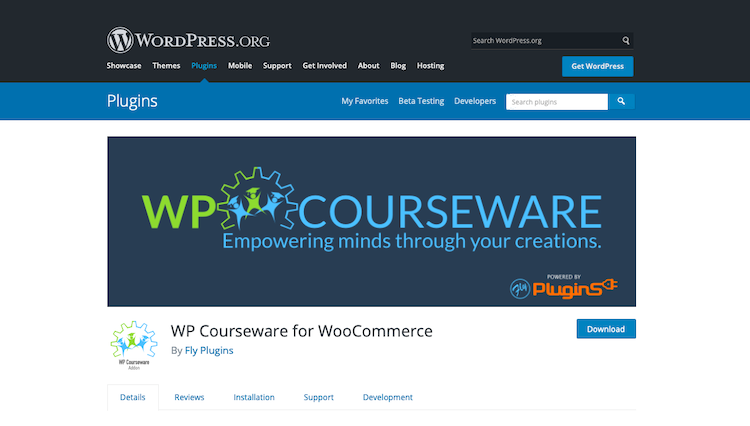 WP Courseware is one of the most user-friendly WordPress LMS plugins available in the market. It is perfect for professionals who want to add online courses to their eCommerce websites.
Pros:
Has a built-in drag and drop builder
Creates different types of quizzes for students, namely blocking and non-blocking
Built-in feature for adding a new user called Instructor
Enables you to review the progress and performance of every student in real-time
Fully integrated with payment gateways like PayPal and Stripe
Prevents theft and ensures the integrity of the courses you create
Allows you to view grade-books for better student management
Cons:
Integration with an eCommerce platform is necessary to sell courses
Some cases need membership plugins to protect the content
Price: Prices range from $99 to $199 per year. You also get a bonus of a 2-site license for the package at $99. You can try WP Courseware risk-free for 30 days, too.
👉 Get Started with WP Courseware Plugin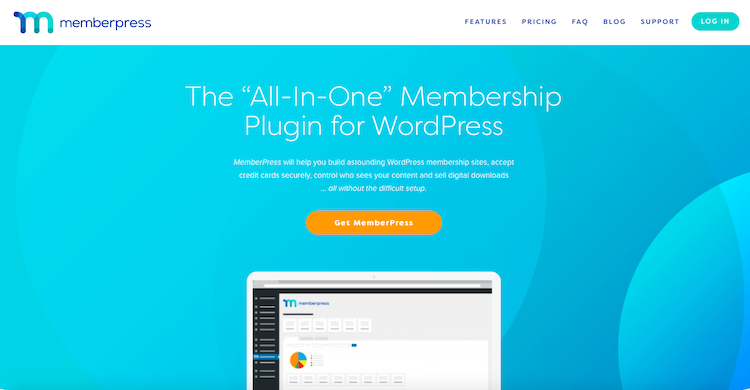 MemberPress is a very user-friendly WordPress LMS plugin. It can be used to create online course materials, protect content, and as a platform for interaction. Coupled with powerful add-ons like LearnDash, you get a holistic, 360-degree membership and online learning solution.
Pros:
Protects and controls access to content
Allows unlimited members, memberships, and content
Built-in content dripping
Provides built-in transaction management
Integration with multiple payment gateways
Offers an affiliate program
Provides excellent customer support
Users can interact with each other, download information, and get real-time updates
Cons:
The front end could be more visually appealing
No WooCommerce support
Works better in tandem with an LMS plugin than individually
Most packages provide a low number of active installations
Fake countdown timers displaying 'limited time offer'
Price: Prices range between $149 for 1 site and $349 for up to 5 sites annually. The top package also includes an affiliate program. You can try it with the 14-day money-back guarantee, too.
👉 Get Started with MemberPress Plugin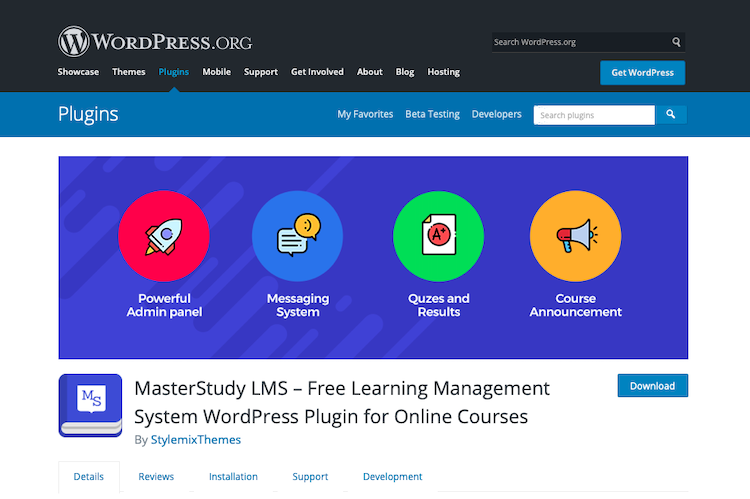 MasterStudy LMS is one of the newest WordPress LMS plugins in the market. It is also straightforward to use, has an intuitive user-interface, and is highly customizable. Moreover, the core plugin is free and works excellently with other WordPress themes. They also offer ready-to-use demos for a practical demonstration.
Pros:
User-friendly and interactive interface
Integrated with PayPal and Stripe, which is easy to set up
Allows for recurring payments
Provides built-in course rating feature for feedback
Certificates upon course completion
Built-in message board feature that connects students with course creators to solve problems in real-time
Offers options for multiple quizzes and countdown timers
24/7 customer support
Comes with a questions module with comprehensive FAQs
Offers an affiliate program
Lessons offered via video, text, and presentations
Cons:
Gamification features could be improved
Price: The core plugin is free for download. However, the 'Premium' plugin has 3 packages to choose from. It costs $39 for a single site, $69 for 5 sites, and $129 for 25 sites. All packages get 1 year of support and updates. It also comes with a 30-day money-back guarantee.
👉 Get Started with MasterStudy Plugin (free version)
👉 Get Started with MasterStudy Plugin (premium version)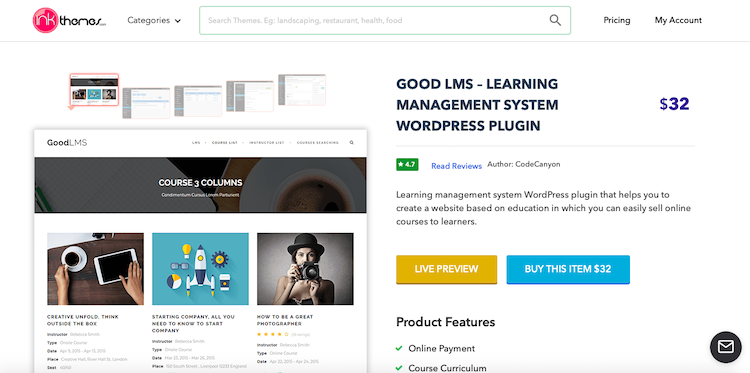 Good LMS is one of the best WordPress LMS plugins in the market. With features like course ratings available, it's excellent for people who want to design a course marketplace. It is also one of the most inexpensive LMS plugins available.
Pros:
Extremely intuitive and user-friendly
Offers gamification with features like badges and course completion certificates
Create unlimited courses, quizzes, and certificates
View real-time scores, completion rates, and generate feedback
Easy modification of quiz taking methods, allowing diversity and retakes
Widely integrated with payment gateways like PayPal, Authorize.net, and Stripe
Lots of demo pages available for hands-on experience (student, instructor, and transaction backend)
Cons:
Checkout process could be improved
Sometimes loading times are slow
Customer support needs to be more effective
Price: The permanent license for this plugin costs $32. It includes automatic software updates and customer support for 6 months. You can extend the customer support to 12 months, but that'll cost a little over $10.
👉 Get Started with GoodLMS Plugin
The Best WordPress LMS Plugins: Summary
So, there you have it — some of the best WordPress LMS Plugins in the market right now.
With all the LMS plugins available, it might get a bit confusing to choose the right one. However, if you consider all the features and functionalities you require, it gets easier to choose one for yourself.
Some of the typical focus areas you should consider while considering an LMS plugin are:
Course builder page
Course progress information
Student enrollment and management
Content dripping
Tests and quizzes available
Automation & gamification
In the end, you should make sure to choose the LMS solution that best meets your budget and needs.
For a great all-round option, though, LearnDash has everything you need to start selling your courses now.
However, there's no free version. If your budget won't stretch that far, you could use the free LifterLMS plugin. If you move to the paid version, keep in mind that it can become costly once you start buying add-ons, so it's best to invest in a bundle.
LifterLMS is a great choice because of its complete WooCommerce integration and drag and drop builder.
If you want to add a FAQ section to your WordPress site to help students signup for your online courses, make sure to check out these top 10 WordPress FAQ plugins.
Have you ever created a website that supported an online learning environment? Did you use one of the above-mentioned WordPress LMS plugins? If so, we'd love to hear all about it in the comments below!