Creating a FAQ page for your WordPress website is often the best way to answer customers' burning questions. That's why you need to invest in one of the many WordPress FAQ plugins available to you.
Running a website is no easy feat, especially if you get a lot of site visitor inquiries in your inbox every day. After all, customers often have questions before making an online purchase. And if they can't find the answers they're looking for on your website, you can bet they're going to reach out directly to you.
There's no doubt that FAQ pages are highly effective. Other than providing instant information to repetitive questions your customers will inevitably have, they save you time, help build trust, and improve your search rankings.
But how are you supposed to pick the right WordPress frequently asked questions plugin when they are so many to choose from?
Because they are so many WordPress FAQ plugins in the market today, we've done the research for you so you can make an informed decision without having to scour the web yourself.
So, let's get started!

Arconix FAQ is one the easiest to use WordPress FAQ plugins around. It helps you create simple, straightforward FAQ pages, without overloading you with unnecessary features and functionality. In fact, you can add frequently asked questions nearly anywhere on your WordPress site by inserting a shortcode into your content or using a widget.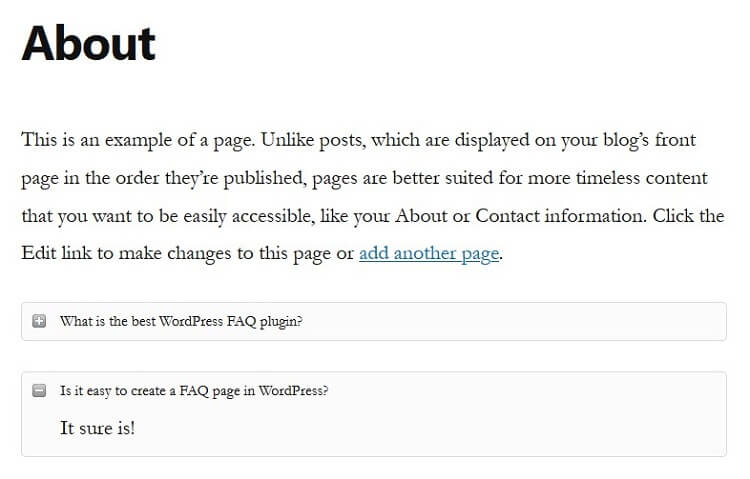 One thing that sets this FAQ plugin apart from the competition is how your frequently asked questions appear on your site for users. Not only can you display them front and center for all to see, you also have the option to show or hide them via an animated jQuery toggle or accordion box. This helps save precious real estate on your site while giving those in search of answers an easy way to access them.
Other features include:
Display FAQs individually or in groups
Load the accordion or toggle as open or closed
Enable the "return to top" link when the FAQs are long
Price: FREE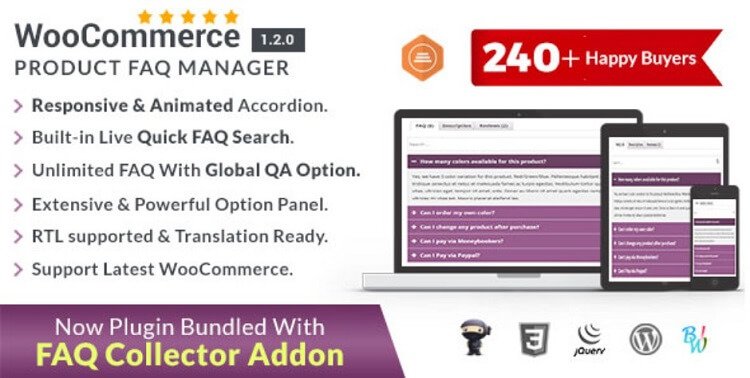 WooCommerce Product FAQ Manager is one of many high-quality premium WordPress FAQ plugins on our list. Despite it's price tag, however, it is very affordable and gives you all the features you need to answer people's questions and convince them to convert. Thanks to its plug and play nature, to get started with your frequently asked questions page all you have to do is install and activate the plugin on your site.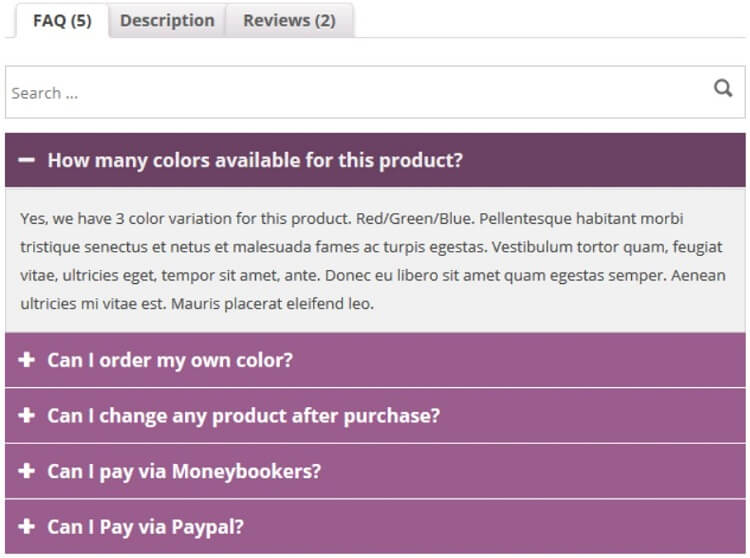 From there, create an unlimited number of FAQs for your WooCommerce shop's products, drag and drop your FAQs so they're in the order you want them to be, and even enable the animated live FAQ search option so people can find answers instantly in a long list of questions.
Other features include:
Dedicated FAQ tab for each WooCommerce product
Easy to use plugin panel for managing your FAQs in one convenient place
6 pre-defined themes to create a branded FAQ section that matches your site
Quick and bulk editing options
Translation ready for your global audience
Price: $21 for a single site license
Get WooCommerce Product FAQ Manager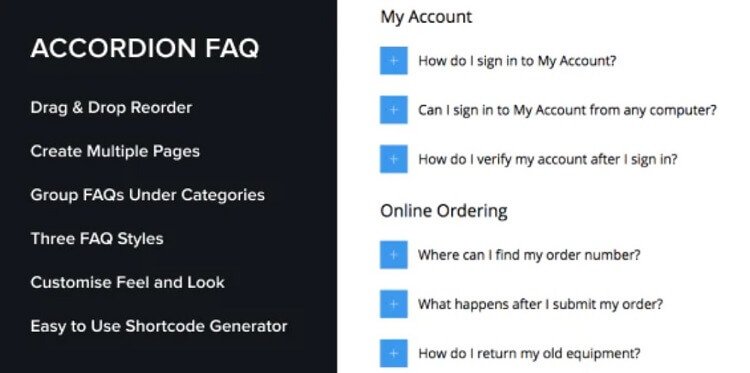 Accordion FAQ WordPress Plugin is a handy and inexpensive WordPress plugin that will help you create a unique and easy to read FAQ page for your site within minutes. This plugin comes with a drag and drop interface for reordering FAQs and categories to meet your needs. And with multiple styles – accordion, list, and block accordion – you can display your site's most frequently asked questions in a way that makes sense to your site visitors.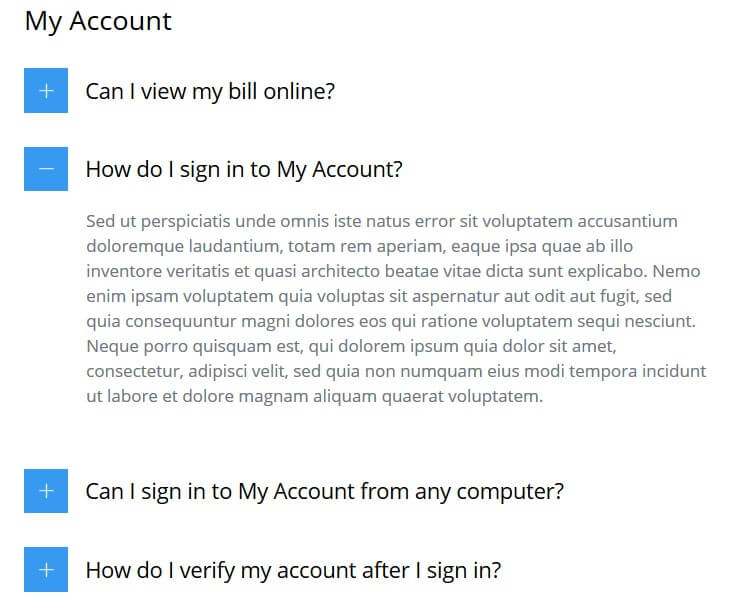 In addition, you can customize the color, border, radius, font size, and icons used to create a standout section of your site that people can find with ease so they can later convert. And with an easy to use shortcode generator, adding a FAQ section to any portion of your website is as easy as cutting and pasting a simple code snippet and publishing it.
Other features include:
Translation ready for those with an international target audience
Customer support for things like setup, product features, and bug fixes
Hover functionality to help people scan through long FAQ sections
Price: $17 for a single site license
Get Accordion FAQ WordPress Plugin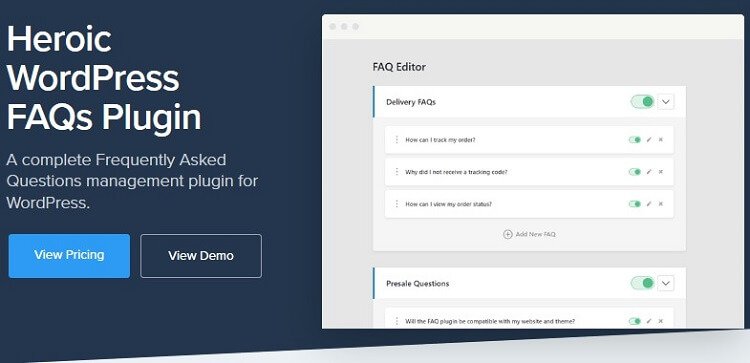 Heroic WordPress FAQs Plugin is a powerful premium frequently asked questions plugin for WordPress that gives you a chance to create a user-friendly and stylish FAQ section to your website. Your FAQ page will be optimized for touch devices and mobile screens, and can even be personalized to match your site's branding. In other words, it will provide a stellar user experience and look good too.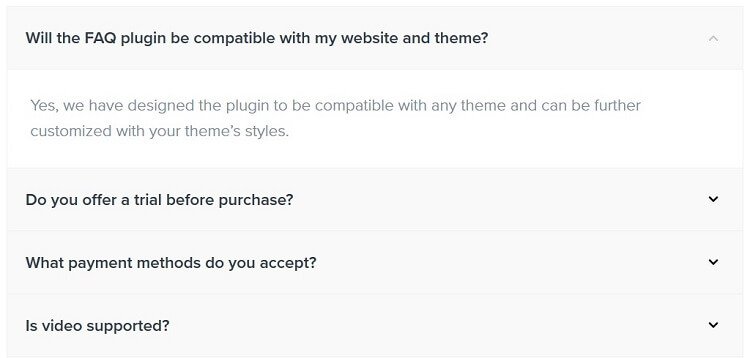 This plugin lets your edit all your FAQs on a single page, making editing a cinch. And with the drag and drop interface, reordering your question and answer pairs is easier than ever. You can also add things like blockquotes, video, lists, and more into your FAQs, so your site visitors leave your page knowing everything they want, plus some.
Other features include:
Simple FAQ configurator for adding frequently asked questions anywhere on your site
5 pre-designed styles with unlimited customization options
Instant WordPress theme integrations with no conflicts
Improved SEO with schema.org
CSS3 animations for an exciting twist on a seemingly boring webpage
Price: $49 for a single site license
Get Heroic WordPress FAQs Plugin

HTML5 Responsive FAQ is another one of those free WordPress FAQ plugins you should consider if money is tight and you need an easy FAQ page solution. This SEO-friendly plugin comes with custom sorting options, an easy to use shortcode generator for adding FAQs anywhere on your site, and accordion styles to show and hide FAQs with ease.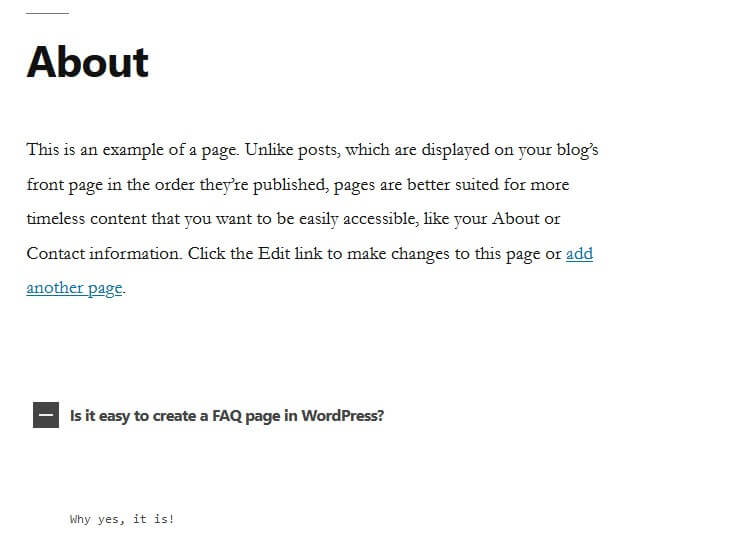 You can customize the heading types of your FAQs and trust that they'll display seamlessly on all device types, no matter the size. Plus, you can add multiple categories to each FAQ set and add a custom title to them too.
Other features include:
Support for Visual Composer and other content builder plugins
Change design, colors, and font styles to match your site's overall design
Configure all FAQs in the WordPress admin (never leave your website!)
Custom sorting options available
Price: Free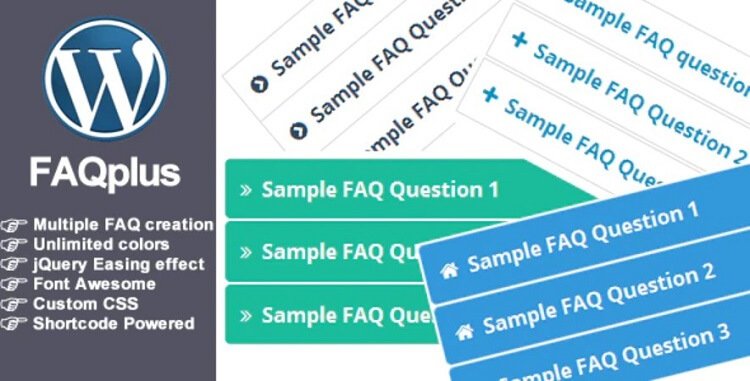 FAQPlus is another premium FAQ plugin for WordPress that comes with all the customization options you could possibly need to create an engaging FAQ page. To start, there are 25+ built-in animations, unlimited color options, and both a shortcode and widget option for displaying your FAQs anywhere on your site.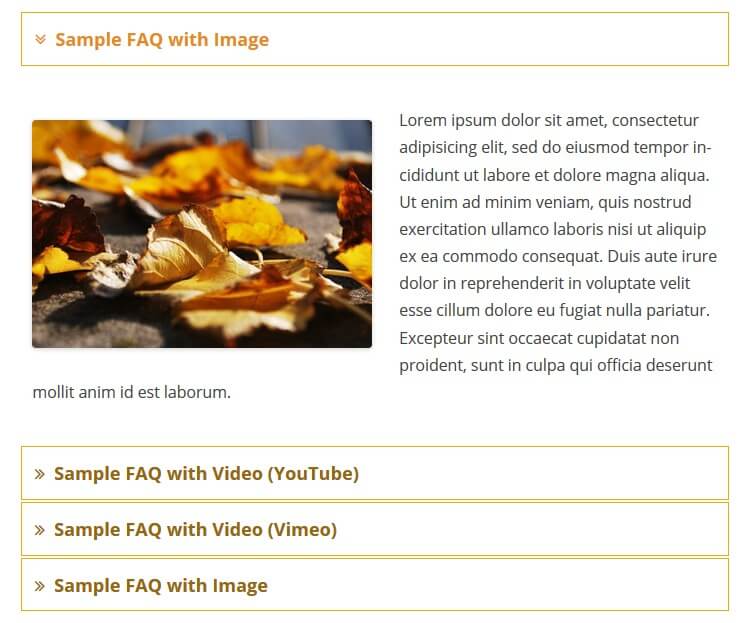 With this plugin you also get access to Font Awesome font styles and support for images, text, and video content. In other words, you can add whatever you want to your FAQs in an effort to help answer your site visitors' most commonly asked questions. And with the drag and drop interface, reordering or adding frequently asked questions is really easy.
Other features include:
Custom CSS support for those with technical knowledge that want to customize their FAQ page
Cross browser support
Compatibility with popular page builder plugin Visual Composer
Unlimited FAQ creation
FAQ dropdown effects, custom icons, and varied color schemes
Price: $25 for a single site license

WP Responsive FAQ with Category Plugin is a great free frequently asked questions plugin. It's highly customizable, responsive and mobile-friendly, and doesn't require any setup or configuration. All you have to do is install and activate the plugin on your site and start creating. And if you happen to use the Gutenberg Editor, you can this plugin with the Gutenberg shortcode block for easy insertion of FAQs anywhere on your site's posts, pages, and custom post types.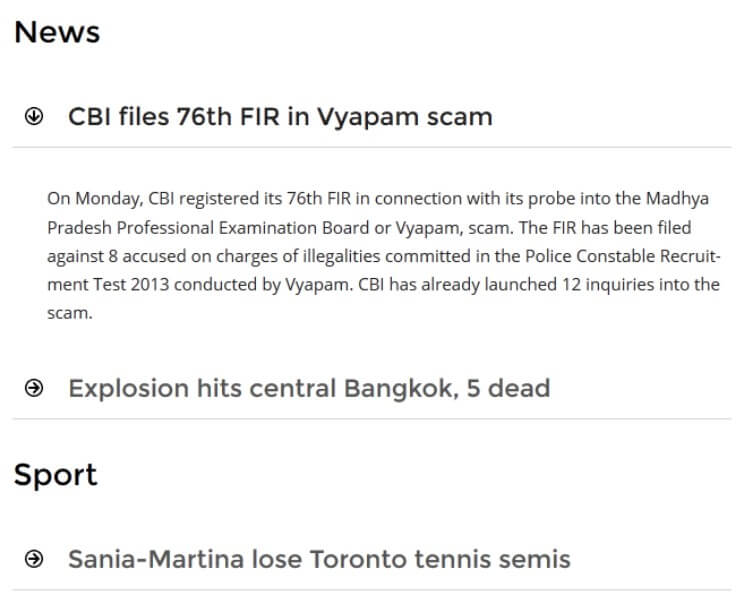 When you add the shortcode to your website, your frequently asked questions will display as a convenient accordion for those that need answers fast. And when you need to make changes to your FAQs, you can utilize the new menu item added to the WordPress dashboard to add, edit, or remove FAQs just like you would a post or page.
Other features include:
Include thumbnail images to FAQ answers
Maintain your high search rankings with SEO-friendly FAQs page URLs
Smooth integration with any WordPress theme
Custom CSS and JS for added customization
15 pre-made designs
Grid display option
Price: FREE
Get WP Responsive FAQ with Category Plugin

For those in need of a painless way to add a frequently asked questions page to a website, Quick and Easy FAQs is the perfect plugin. This solution lets you create all your FAQs in one single place and add them to your website using a simple shortcode. You can list FAQs, separate them according to groups, and even enable a toggle action to make it easier for site visitors to view.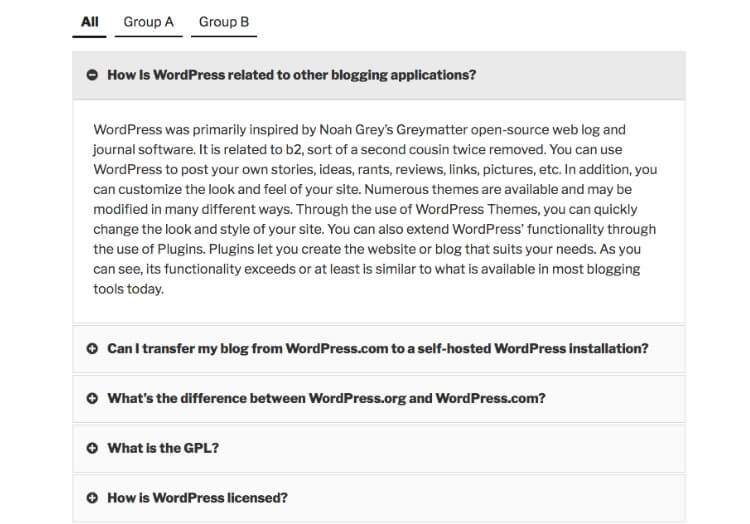 Other features include:
Enable filtering for easier to find answers
Translation ready for your global audience (even RTL support)
Support for Visual Composer page builder
Change the style text, background colors, and borders
Price: FREE

Ultimate FAQ is one of those WordPress FAQ plugins that goes above and beyond the standard feature set. For example, this plugin gives you the ability to create, organize, and even publicize your frequently asked questions within minutes. Plus, it comes with multiple responsive layouts and styles to help you match your FAQ page to your brand and overall web design.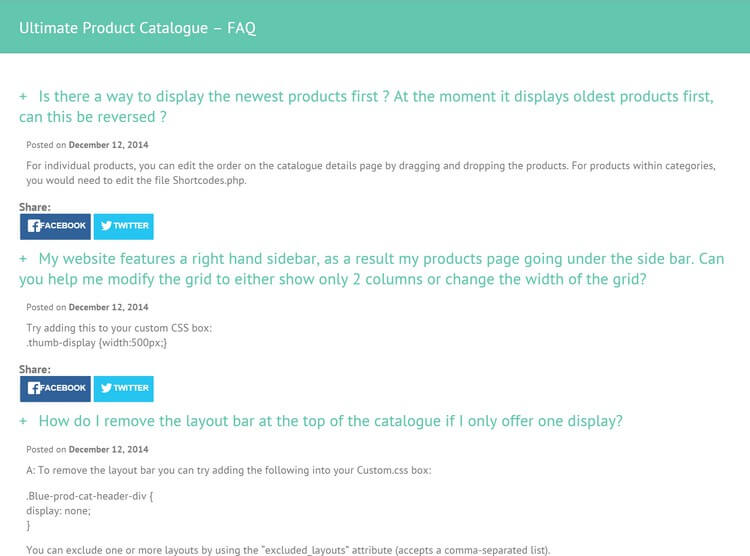 Don't let Ultimate FAQ's extensive feature set make you think it's tough to use, because it's not. All you have to do is insert a shortcode into your site's content. In addition, you can display your frequently asked questions as a toggle or accordion. And best of all, there's the option to add social share icons to your FAQ answers and let your site visitors share your vital information with others.
Other features include:
Full integration with WooCommerce (add FAQs to product pages)
Track the stats of your FAQs to see which questions are being asked and answered the most
Add an AJAX FAQ search form to improve the user experience
Export all FAQs to a PDF and create a user manual
Add an unlimited number of FAQs, complete with tag and category assignments
Price: FREE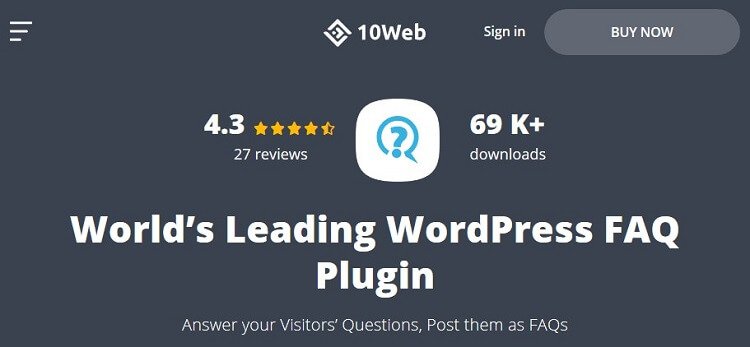 Calling itself the world's leading WordPress frequently asked questions plugin, FAQ Plugin is brought to you by 10Web and comes packed with lots of great features, thus helping it live up to its claims. It comes mobile-friendly and responsive and with 5 default themes to help you design a standout page on your website that people enjoy. And, if you want to get creative, you can custom design your own FAQ page too.
There's a convenient search box making your page more user-friendly. And if you want, you can add Facebook and Twitter social buttons to your page to boost engagement and get more people interacting with not only your FAQs, but your entire site too.
Other features include:
Color changing hover effects
Clean, modern typography and an organized FAQ list
Ability to add author of answer to each question and date
Rating system for feedback (yes/no to whether answer was helpful)
View counts for monitoring engagement and commonly asked questions
Mobile and tablet views to ensure seamless rendering on all devices
Price: $85 for the 10Web bundle that comes with 15 premium WordPress plugins, including FAQ Plugin, 35+ premium plugin extensions, all for use on up to 3 domains.
Wrapping Up
And there you have it! The 10 best WordPress FAQ plugins available today. If you want to make sure your site visitors don't leave your site with unanswered questions, hope to boost conversions and sales, and want to establish your reputation as a company that cares, you should add a FAQ page to your website.
Of course with so many options available, even after we've narrowed things down for you, picking the right one for your WordPress site can still be challenging. So, we've created a brief overview to help you make a final decision:
If you're ready to create another type of dropdown on your website, besides a FAQ one, be sure to check out our guide to creating a dropdown menu in WordPress the easy. After all, the easier it is for site visitors to explore your site and find what they need, the less likely it'll be they'll need to read your entire FAQ section. As a result, you'll see a bump in subscribers and sales.
Also, if you need to easily create other pages for your website, check out our roundup of the best drag & drop page builder plugins.
Have you ever used any of the above-mentioned WordPress FAQ plugins for your website? What's your favorite feature? We'd love to hear all about it in the comments below!