Do you need an easy way to build and customize your WordPress website?
You could just hire someone to build your website for you.
But that can quickly eat into your budget, right?
That's where a drag and drop page builder plugin comes in. It allows you to create your website's pages exactly how you want them without needing to write code.
In this article, we'll compare 5 of the best WordPress drag and drop page builder plugins.
What Is a WordPress Drag & Drop Page Builder Plugin?
Anyone can buy a domain, install WordPress, and create content for it. But it's not so easy to make your website look good.
You need to think about the layout, color theme, font, and lots of other stuff. A good WordPress theme can take out some of the guesswork. But if you don't know code (HTML/CSS), then you're going to find it difficult.
A drag and drop page builder plugin literally turns WordPress into a drag and drop editor.
It allows you to completely customize your website's pages to how you want them. You choose a layout, and then drag elements, such as image, text box, etc., to the area you want them on a page.
But there are a couple of criteria you should keep in mind when choosing a drag and drop page builder for WordPress:
It should be easy to use and include a good choice of design options.
Seeing your changes and designs in real time is also beneficial.
With that in mind, let's get into our list of the best WordPress drag and drop page builder plugins.
The Best WordPress Drag and Drop Page Builder Plugins
1. Thrive Architect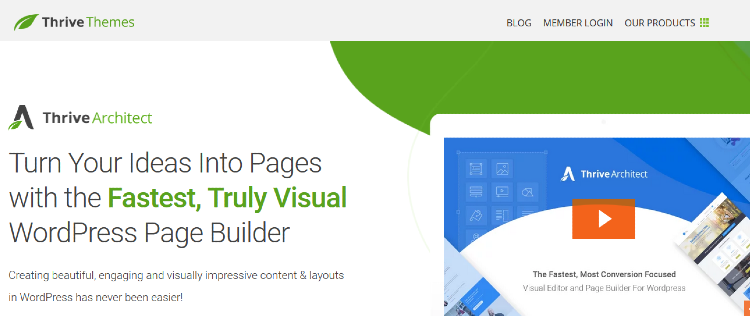 Thrive Architect is a page builder plugin that's developed by Thrive Themes, who also created the first WYSIWYG (what you see is what you get) WordPress editor. That means you see all of your edits in real time.
Its drag and drop editor lets you design and build pages and content for your WordPress website, easily. You can create anything page you need, such as a homepage, about page, sales page, etc.
It also includes pre-built conversion-focused elements, such as customizable buttons, timers, forms, and other features.
If you're looking to customize your entire website, as in the sidebars, 404 pages, sidebars, etc., then you need Thrive Theme Builder. With that, you get the power of Thrive Architect's visual builder, but you can use it for anything on your site.
WYSIWYG editor
Focused more on business and conversion websites
Over 250 landing page templates
Suitable for webinar pages and product launch pages
Mobile responsive
No set layout, easily change the layout with resizable sections
Price: Thrive Architect costs $67 for 1 website or $97 for up to 5 websites (currently reduced from $335). Alternatively, you can opt for Thrive Membership. That gives you access to all of Thrive's plugins and themes for $19 per month, billed annually. That also covers up to 25 websites, and you get unlimited updates and support. There's a 30-day money-back guarantee.
👉 Get Started with Thrive Architect Plugin
read our full Thrive Architect review on wpkube.
2. Divi Builder
Divi Builder is an easy to use WordPress drag and drop page builder plugin built by Elegant Themes. It also works with the Divi theme, as well as other WordPress themes, meaning you can create any type of website.
Like Thrive Architect, it also includes a WYSIWYG editor. You get more than 20 templates, and there are more than 40 content modules that can be included in your layout, including a pricing table, call to action, buttons, and much more. There are also advanced settings so that you can customize everything.
You can also easily undo and redo edits, as well as search through your editing history.
Over 20 template designs
Import or export your layouts easily
Multiple builder modules, row types and section types
You can add CSS code, but you don't have to
Price: To use Divi Builder, you need an Elegant Themes membership. With that, you get access to a ton of other tools and features, too. You have the choice of paying $89 per year, or a $244 one-time fee with lifetime updates and support. Either can be used on unlimited websites.
👉 Get Started with Divi Builder Plugin
3. Beaver Builder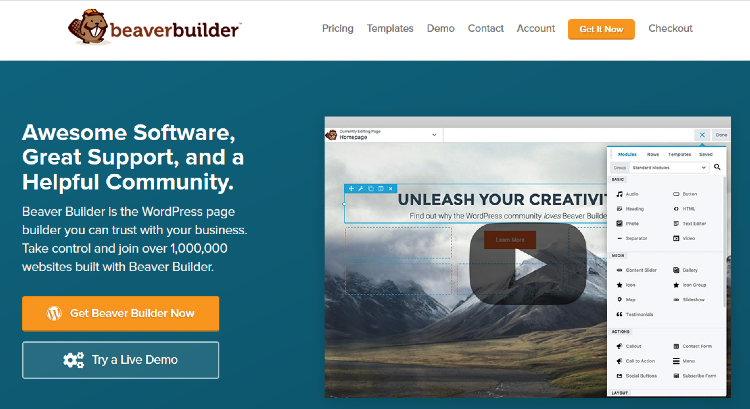 Beaver Builder is a great drag and drop page builder. It's easy to use and will guide you through the interface with a beginner's tour.
It's also fast and has a live editor, so you can view your changes as you make them. You simply drag elements from the sidebar and drop them on your page. Then you can click each element to edit it. You can add backgrounds, buttons, sliders, and much more.
You can use it with most WordPress themes meaning you can create pretty much any website you want. Plus, the top plans include the Beaver Builder theme. What is the Beaver Builder theme? Well, that's needed if you want to not only customize the content on your page, but also the header, footer, and other areas.
Comes with 30+ pre-designed page and content templates
Live frontend editor
Lots of different modules
Supports shortcodes and widgets
Has a live demo so you can try it out
Price: Beaver Builder costs $99 per year for the Standard plan. You can use it on unlimited websites, and you get 1 year of support. If you want the Beaver Builder theme or for it to work on WordPress multisite installations, you'll need the Pro plan for $199 per year. Then there's the Agency plan for £399 per year, which includes white labeling, meaning you lose the Beaver Builder branding. There's a 30-day refund period.
If you want to take Beaver Builder for a whirl first, there's a hosted demo that includes all of the features. Plus, there's a lite version you can use, but it has limited features.
👉 Get Started with Beaver Builder Plugin
read our full Beaver Builder review here.
4. Elementor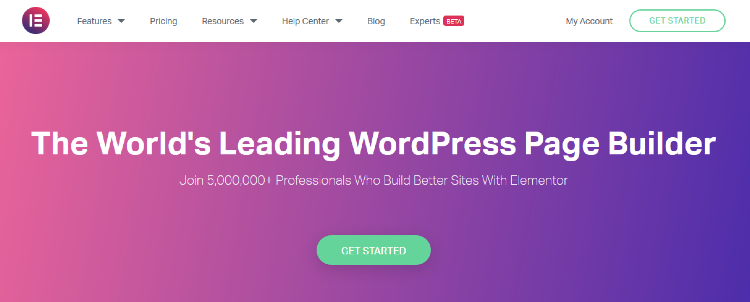 Elementor is a live page builder plugin. It's powerful, fast, easy to use, and it comes with many features. One of the best features of Elementor, though, is that it has a free version (here's a great guide on how to create a landing page using the free version).
You can create sections on your page and add columns. Then you can drag widgets onto those sections to make it look how you want.
It comes with lots of modules, such as icons, sliders, social media, and more. Plus, once you add a widget, you can adjust its settings. You can also add third-party widgets.
There are lots of pre-made templates to choose from. Just choose one you like and start editing it.
Build and customize your website with over 300 element blocks
Undo, redo, and search through version history
Easy to make your website compatible with different sized screens
Comes with hundreds of pre-designed templates
Lets you show a "coming soon" or "under maintenance" page if needed
Customize the header and footer (Pro)
Pro version has extra widgets
Price: There's a free version of Elementor, which includes the drag and drop editor, basic widgets and templates, and you can use it on as many sites as you like.
Elementor Pro comes with everything that the free version has, plus, pro widgets and templates, full website kits, a theme builder and WooCommerce builder, and more. That costs $49 for 1 site, $99 for 3 sites, and $199 for 1,000 sites, all annually.
👉 Get Started with Elementor Plugin
5. Themify Builder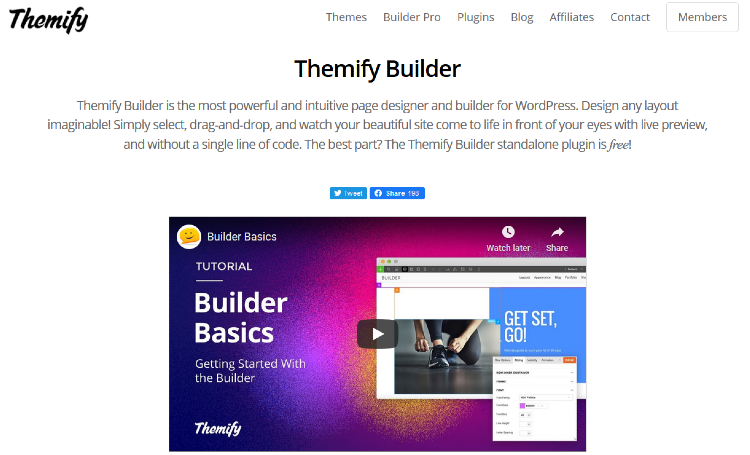 Lastly, we recommend Themify Builder. Themify itself is a theme shop, and you get Themify Builder included with its themes. However, if you have another WordPress theme, you can get the Themify Builder plugin separately.
It's a powerful plugin and it's simple to use once you get the hang of it. It comes with lots of modules to customize your pages and posts with. That said, you need to uninstall other WordPress plugins for some of the modules.
There are also lots of pre-designed layouts to choose from and they're aimed at different niches.
40+ pre-made templates
Edit your pages from the admin area or frontend with the live editor
Learning curve is a downside
Undo and redo edits
Includes add-ons, such as maps, as well as over 25 premium add-ons
Includes animation effects
Price: The core plugin is free, but you have to buy the premium add-ons, which costs $39 for the whole bundle.
👉 Get Started with Themify Builder
How to Choose the Right Drag and Drop Page Builder Plugin
Now that we've gone through the best WordPress drag and drop page builder plugins, it's time for you to decide which is the best for you.
To do that, you need to understand the differences between them and how each can benefit you.
Overall, Thrive Architect is the best choice. With it, you can create anything from a sales page to a home page, or a webinar page to a product launch, and use one of over 250 pre-made templates. You get to see all of your edits in real time, too. It also comes with conversion-focused elements.
That said, Divi Builder can be more cost effective if you're on a budget. If you need a free WordPress drag and drop page builder, then Elementor is the best choice.
We hope this article has helped you. Make sure you check out our article on best backup WordPress plugins so you don't lose all of your hard work. Thanks for reading.