If you want to find your fortune online in 2020, then you need more than a great website.
The right website will give you a hub for building your brand identity and connecting with customers. And email marketing will help bring back people long after they've left your website.
But your social media presence is how you'll attract endless attention to your online business, brands, products, services, and deals.
However, as social media marketing continues to grow as the ultimate form of digital advertising, there are now endless platforms available for companies to start investing in.
So, which one should you use?
The top social media sites for your business will depend on a number of things, including the kind of audience you want to reach and the content that you hope to share.
Here, we'll look at 8 of the most popular social media platforms for your organization to consider using in 2020.
1. Facebook
Let's start with the big daddy of the social media marketing world. Facebook, founded in 2004, has more than 2.38 billion monthly active users. It's the largest social media site on the internet today, and the number of customers using it continues to grow every day.
There are more than 6 million advertisers actively promoting their companies on Facebook right now, and over 90 million small businesses using Facebook Pages too. For many companies, Facebook will be the first site that they embrace as the ultimate solution for social media marketing.
One of the things that makes Facebook such a great option for businesses of all shapes and backgrounds, is that you can essentially build a strategy that suits you. Facebook comes with excellent targeting features that you can use to customize your content to reach the right audience. What's more, there's the option to share everything from text and images, to live videos and slideshows.
One thing to keep in mind before you get started on Facebook though, is that your users are more likely to be interacting with you via their smartphones than anything else. In fact, 94% of Facebook users access the app via mobile.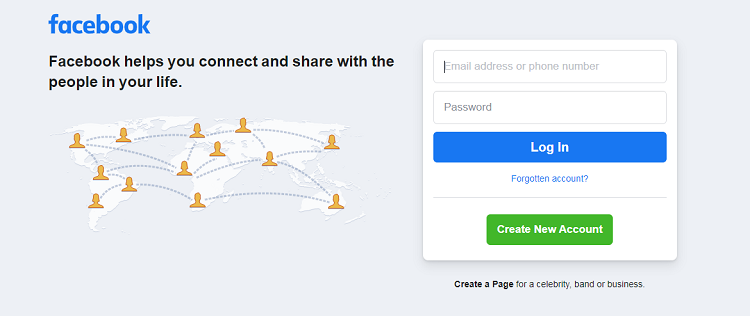 2. Twitter
Another of the best-known social media icons in the world today is Twitter. Founded in 2006, Twitter has a monthly active user base of well over 300 million. The site has earned a reputation for being the go-to place for people in searching of news, trending insights, politics, entertainment, and sports.
Though all social media platforms can be great for getting an insight into real-time information and news, Twitter is particularly well-known for its emphasis on immediate information and the things that are happening in the world right now. Part of the reason for this is because Twitter is defined by its limited character count, which allows for only minimal messages to be shared between users. That means that every update you see on Twitter will be quick, concise, and straight to the point.
If your business is all about sharing fast news in the moment, then Twitter could be the perfect place to start building your social media marketing strategy. Many companies also rely on Twitter as a crucial way of building out their customer service campaigns too.
To be effective with Twitter, you can respond instantly to any queries or concerns that your customers might have and show the world that you value a good client experience.

3. LinkedIn
Founded in 2003, LinkedIn is all about giving people access to the professional side of the web. Did you know, for instance, that 44% of LinkedIn users currently have an income that's above the national average. Additionally, more than 50% of Americans with a college degree use LinkedIn.
That said, LinkedIn is much more than a job search site where people share their skills and publish their resumes. This platform has evolved into a unique professional networking space where industry experts can share content and build crucial relationships.
LinkedIn is the ideal place to start working on your social strategy if you want to highlight your position as a thought leader in your industry. You can also use this social media platform to attract talent to a growing company.
Like most of the top social media sites today, LinkedIn also offers advertising opportunities to help streamline and accelerate your growth. For instance, you can boost your content, send personalized ads directly to user inboxes, and more.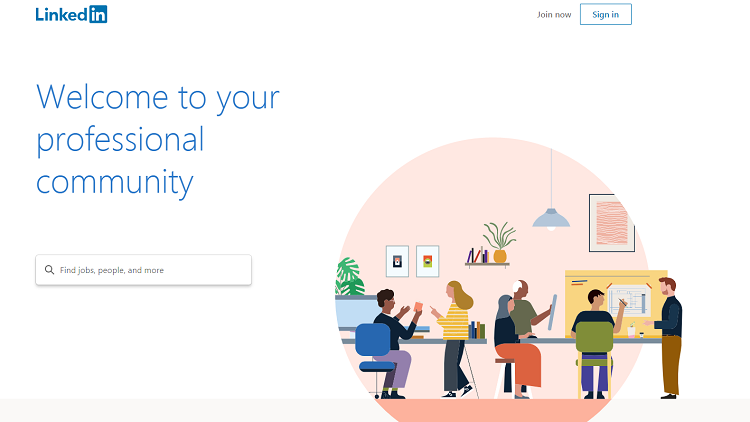 4. Instagram
The internet is becoming an increasingly visual place, helped in part by the rise of platforms like Instagram. Launched almost 10 years ago in 2010, Instagram has achieved a monthly active user base of more than 1 billion people. The photo and video sharing app allows today's users to share a huge selection of content options, ranging from videos and photos, to stories, live content and more.
Instagram also recently launched its own video marketing hub called IGTV, where companies can produce longer-form videos for their followers to enjoy. As one of the most popular social media platforms around, Instagram is also particularly useful for brands, because it comes with access to a host of useful insights and statistics that you can use to transform your business strategy.
For companies that don't have a lot of time to focus on their social media marketing campaign, there's even the option to automate posts through third-party applications.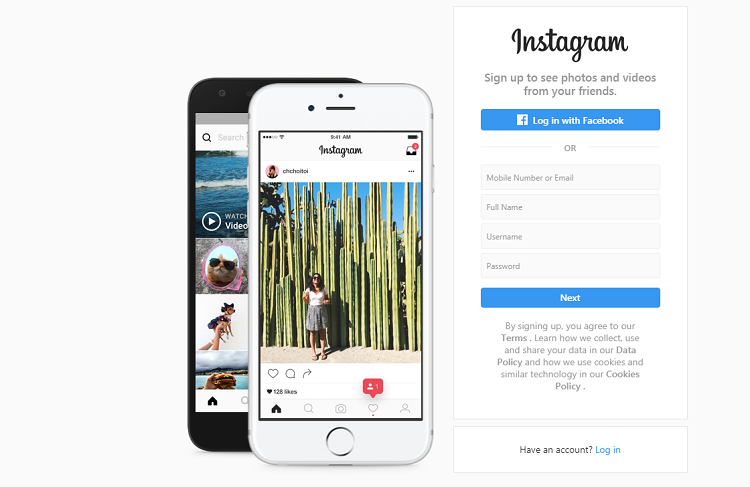 5. Snapchat
Snapchat is another one of the top social media sites online today that focuses heavily on visuals and aesthetic appeal. However, Snapchat takes a slightly different approach to provide followers with consistent content.
Unlike Instagram, where images and videos are always available, Snapchat is all about accessing real-time content that's only available for a short amount of time.
Snapchat is the social media marketing platform that made the Stories format so popular, which eventually appeared on other social sites like Instagram. Today, this platform is particularly well-suited to companies who want to connect with younger audience members and teenagers, as it appeals to groups like Generation Z.
However, virtually any company can use Snapchat to run unique promotional campaigns and last-minute marketing strategies that are all about instant engagement.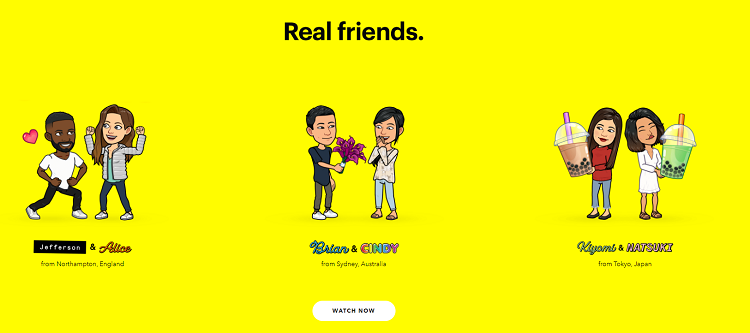 6. Pinterest
Pinterest is a compelling social media marketing platform that was founded in 2010, around the same time as Instagram. Rich visual content thrives on Pinterest, but it's also a place where people can go to find useful information and access inspiration for their future purchases. Although Pinterest isn't quite as popular as Instagram today, it's a great place to reach a very specific group of customers. For instance, the majority of Pinterest users are female. If you have a largely female audience, then Pinterest might be the best social media platform for you.
Pinterest is an environment where people go to discover new ideas and be inspired. This makes the environment very different from many of the other social media icons online today, where engagement is the immediate focus. Additionally, 78% of users say that the content that they find on Pinterest from brands is useful – which is a lot higher than the number on some other sites.
Pinterest is the social site that you want to use when you're looking to inspire your users to try new things and explore different ideas. It's particularly good for people in the fashion, design, and art industries.
7. Reddit
Reddit is more than just a digital forum these days. The site has become one of the most important social media platforms on the web, regarded by many to be the "front page of the internet". On Reddit, users can get together to submit questions, browse through links, and discuss important topics. What's more, people have the opportunity to vote the things that they like (or don't like) too.
Reddit is a fantastic environment for companies to explore when they want to learn more about their target audience and the things that appeal most to them. There are even individual subreddits available that companies can use to find customers that are specifically interested in their niche.
Aside from answering questions and establishing yourself as a thought leader on Reddit, you can also use this social site to find content marketing ideas and gather user persona information too.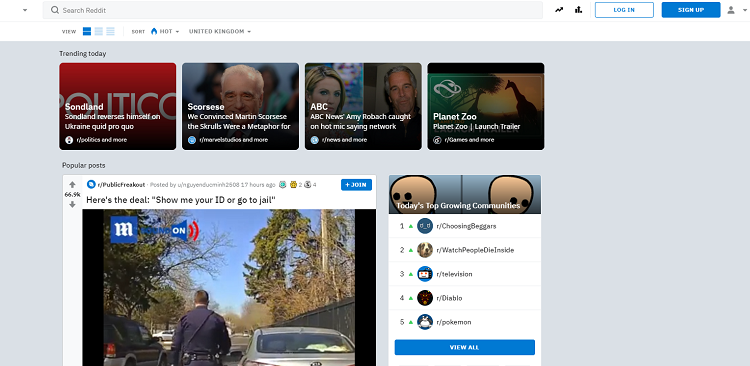 8. YouTube
Finally, YouTube is the go-to video sharing platform where users currently watch more than a billion hours of video every day. If you're running a business that can benefit from sharing immersive video content with your audience in the form of how-to guides, informative Q&A sessions, or even the occasional vlog, then you need an active presence on YouTube.
YouTube is both the second-largest social media site and the second largest search engine after Google. This means that if you can get active on YouTube, you can also improve your chances of being found online. Today, this site is overflowing with exceptional content from independent creators and brands that know how important video can be to strengthening customer relationships.

Which Social Sites are You Using?
Social media platforms come in a variety of different sizes and shapes.
The one that's right for you will depend on the kind of company you're running, the content that you want to create, and the audience that you hope to appeal to. You may even find that using a combination of social platforms is the best way to facilitate your growth online.
Want an easy way to give site visitors a chance to like or follow you on the social media platforms you prefer? Check out this extensive Jetpack review and see how social sharing is baked right into this free plugin.
So, which social sites are you planning on using to accelerate your growth? We'd love to hear all about it in the comments below!