They say pictures are worth a thousand words.
So, what do the images on your WordPress blog say about you?
The photos and graphics you use on your WordPress website are only useful if they're going to deliver context to your content and highlight the quality of your brand.
Unfortunately, finding free stock photos that you can use to transform your digital material isn't always easy. Many professional image websites expect companies to pay through the nose for the images that they want to use, and that makes it extremely difficult for smaller businesses to compete against larger brands.
The good news? There are royalty free stock images out there that you can access without a huge bank account. We're going to show you where to find them today!
What are Stock Images?
Before we jump into finding your free stock photos for you, let's get something straight.
Stock photography is a term used to apply to images available online that are often free to use in certain circumstances. Royalty free stock images can be placed on your blog or website without any need to reference another website or creator.
You may not be able to use stock photos for your product images or packaging, but you can use them to give some extra depth to your marketing content and boost your chances of selling online.
Just make sure you know exactly what you're allowed to use your stock photos for before you start placing them on your website.
With that out of the way, let's get browsing…
1. StockSnap.io
StockSnap.io is a quick and easy-to-use stock photo website that comes packed full of thousands of high-quality photos for your business needs. All of the content you could want has been pre-organized into convenient categories for easier access too. With the simple search function, you can quickly track down the kind of photo you're looking for, or just click on a term like "business."
It's also possible to check the likes, views, and downloads on each photo, to make sure that you're using an image that hasn't been downloaded too many times already.
2. Unsplash
Unsplash is a professional-looking stock photo site that offers the images that you probably wouldn't find elsewhere. These images are free to use however you like. If you've been searching for royalty-free stock images created by generous photographers, then this could be the website for you.
To keep the selection fresh, the website is constantly updating with new stock photos, so you know you'll always have access to the latest options on the market. What's more, because every photo is released under the Creative Commons license, you can modify and distribute the images too.

3. FancyCrave
Another excellent location for free stock photos is FancyCrave, a robust collection of images that are unique, artistic, and brimming with insight. You can really find some inspiring creative content here. Like many of the other companies offering stock images, FancyCrave allows you to browse for what you need by category and preview photo packs before you download them.
While not all of the photo packages are free, there are plenty of non-paid options to choose from if you're on a limited budget. However, we definitely recommend looking at some of the premium photos for your most important posts.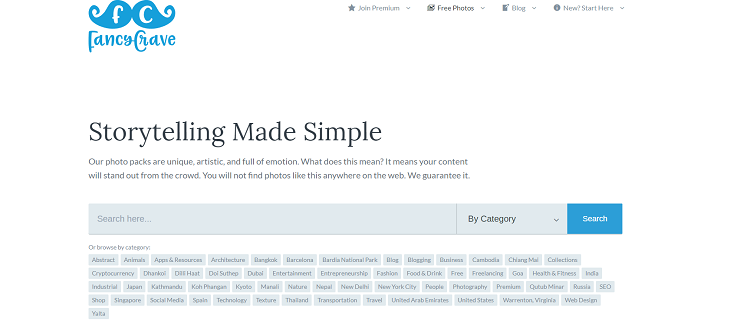 4. Reshot
Reshot is another must-visit location for your stock images. It's full of hand-picked pictures that any startup business owner, marketer, or freelancer can use to add more visual interest to their website. Plus, Reshot gives emerging photographers a fantastic environment where they can share some of their best work and gain recognition.
This free photography platform doesn't have quite as many images available as some of the other photo sites available online today. However, the clear quality of the pictures makes up of the lack of quantity.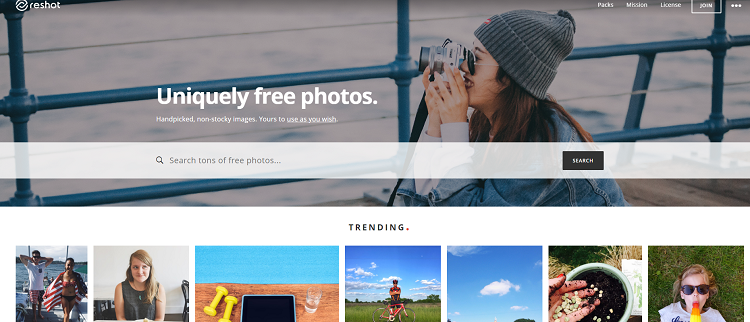 5. Pexels
Pexels is a hub of royalty-free stock images that started out as a strategy to empower creators by giving them access to thousands of free pictures to suit their needs. The great thing about this website is that every image comes fully tagged and easy to find. This makes your life a lot simpler when you're browsing through content for the ideal picture.
You'll find a lot of Pexel's images have been taken from other websites that offer free stock photos. That makes this website a great place to visit if you want to cut down on the time you spend searching. Once you find a photo that you like, you can also choose from a host of size options, including custom sizes for your download.
6. Pixabay
Pixabay is easily one of the best-known locations for royalty-free stock images today. The website hosts more than 1.5 million photos to choose from, which makes it a great choice if you really need to find something specific for your next piece of content. Not only is Pixabay packed full of excellent content choices, but the interface is incredibly easy to navigate and use too. That means that the sheer number of photos isn't going to be difficult to search through.
If you need help cutting down your choices with Pixabay, you can filter your results based on vectors, illustrations, or photographs too. One particularly impressive thing about Pixabay is that it comes with videos that you can browse through as well as images. If you're thinking of getting involved with video content, give Pixabay a look.

7. Gratisography
Choosing free stock photos for your website doesn't have to mean settling for less than amazing quality. Gratisography delivers a new and updated selection of high-resolution image to browse through each week, all of which are covered by the Creative Commons Zero license. This site isn't quite as comprehensive as some of the others that we've mentioned on this list, simply because the photos are taken by a single photographer, Ryan McGuire.
Although there aren't quite as many images to choose from here, the website is excellent if you're looking for pictures that go against the basic status quo. You can use the homepage search bar to find content according to keywords, or just browse through the available categories.

8. Pikwizard
Pikwizard is a site for royalty-free stock images that hasn't been around for quite as long as some of the other alternatives we've mentioned here so far. However, that doesn't make it any less impressive. Despite the fact that the site is still very young, it's already collected thousands of attractive and high-quality free stock photos to share with the masses.
The website is easy to search through, with plenty of useful categories available, and a search function where you can browse according to keywords. What's more, all the images that you'll find on this website are free for commercial and personal use, with no attribution required.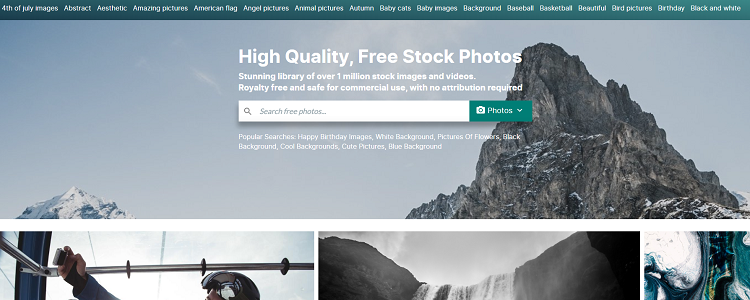 9. Negative Space
Negative Space is one of the more interesting stock photography websites in the market today. This unique website offers up a host of free and ready-to-use royalty-free pictures for your website. The site was created to support a community of photographers who were keen to share their work with the public. Like the other sites we've mentioned so far, this page is very easy to navigate and comes with an in-built search bar and categories section.
The thing that really makes Negative Space stand out, however, is the fact that you can filter your images based on their color, which is great for people who need an image to match a specific brand or a particular aesthetic. All of the images use the CC0 (Creative Commons Zero) license too, so you can use them without attribution.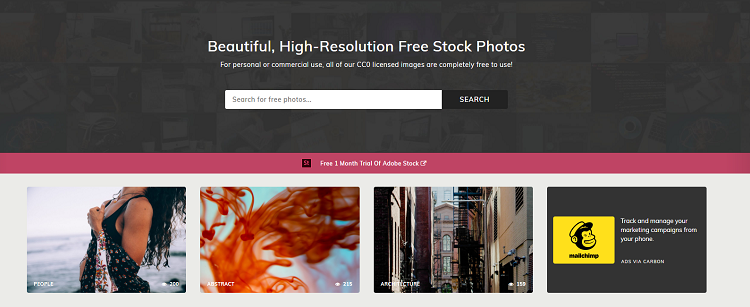 10. Picography
Finally, Picography is a sleek and stylish website for stock images that make it easier for any business to find the perfect photos for their site. You can search through this website in seconds so that you can spend less time searching for pictures, and more time building your digital presence.
Check out some of the most popular trending images of the day to see what people are most interested in or enter your own unique search query. You can also track down specific images using one of the many categories available on the website to refine your search. As usual, all the images are free to use, and they're available in stunning high resolution.
Finding Your Ideal Images
Sometimes, pictures can tell your audience more about your topic or idea than words ever can. When you want to add depth or context to your latest blog post, or simply improve the appearance of your website, the right free images can make a huge difference.
The websites above will give you everything you need to track down royalty-free photos that you can use to delight your visitors and outshine the competition.
Do you want to add amazing images to your WordPress website, but worry about them slowing your site down? Then check out this simple tutorial on how to resize an image for faster loading.
Where do you find your free stock images? Have we left a resource off the list that you think should be included? We'd love to hear all about it in the comments below!