Do you want to start a WordPress blog, but aren't sure what to do? We've got you covered, from start to finish.
So, you've got an amazing idea for a blog.
Maybe you have some expert knowledge that you want to share with the world, or you'd like to provide people insight into the tools in your industry with reviews and guides.
Coming up with a great idea is probably the most complicated step in starting your own blog. However, once you've got your vision in mind, you still need to take some time to set up the perfect blogging environment.
The good news?
WordPress makes launching a website easier for everyone.
By the time you're finished reading, you're going to know how to start a blog for free with WordPress.
And to make things easier on you, we've created a table of contents so you can skip ahead if you want:
For Clarity: WordPress.org vs WordPress.com
Before we jump straight into the process for how to start a WordPress blog, it's worth making sure that you know the difference between WordPress.com and WordPress.org.
WordPress.com is a site that's hosted by the WordPress brand, whereas WordPress.org is self-hosted.
Here's a quick comparison table to make things more clear:
| | |
| --- | --- |
| WordPress.org | WordPress.com |
| You have to pay for a domain name, WordPress web hosting, and any premium themes or plugins. | WordPress.com is FREE, though you will not have a custom domain name. |
| You can use any free or premium WordPress theme or plugin. | Bloggers are limited when it comes to customization. There are only built-in features that mimic the functionality of some plugins. |
| You're allowed to monetize your website and keep the earnings. | You are not allowed to monetize your website. |
| You're responsible for things like site backups, speed optimization, and security. | WordPress.com handles all site maintenance for you. |
In this particular guide, we're going to be concentrating on WordPress.org, because it allows for a much more customizable back-end for your blog.
Now that we've got that out of the way…
Here's What you Need to Start a WordPress Blog
To launch your own WordPress blog, you're going to need:
A website/domain name idea
A plan for the content that you're going to cover
A hosting company (we recommend Bluehost)
WordPress.org
A WordPress theme
Any plugins for extended functionality
Step 1: Purchasing Your Hosting and Domain Name
Sharing your blog with people around the world requires a domain name and web hosting.
Your hosting solution is the engine that keeps your website up and running, while your domain is your company's permanent website address, like meridianthemes.net
With companies like Bluehost, you can purchase your domain name and hosting at the same time. We recommend Bluehost for a number of reasons.
First of all, it makes launching your own website affordable. In fact, all Bluehost plans come with a one year free domain name registration.
What's more, with Bluehost, you get an easy-to-use interface that guides you through the entire process of how to start a WordPress blog.
Lastly, Bluehost is an official WordPress.org recommended host, meaning it's a reliable option that anyone can benefit from using.
Some of Bluehost's best features include:
24/7 customer support
Incredible site speed and uptime
Super-fast page loading
Global CDN services for speeding up WordPress
Free SSL certificates
Easy-to-use cPanel
Get Started with Bluehost
To begin, go to Bluehost and click on the green Get Started button.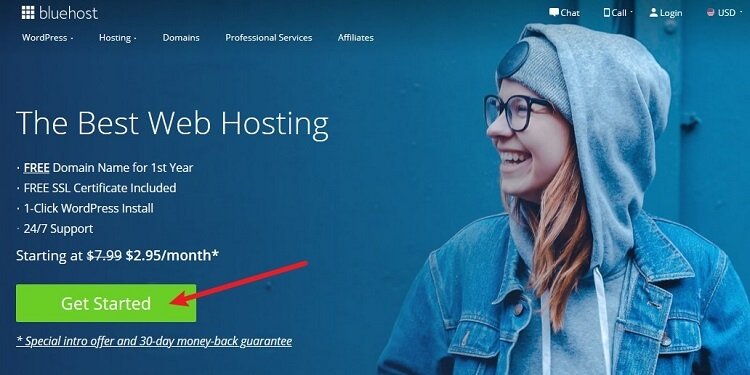 Next, you'll need to choose a hosting plan that meets your needs. If you're just starting out, Bluehost's cheapest hosting plan – Basic – is going to be enough. Then, as your site begins to grow and you find yourself needing more resources, you can easily upgrade to a higher priced plan.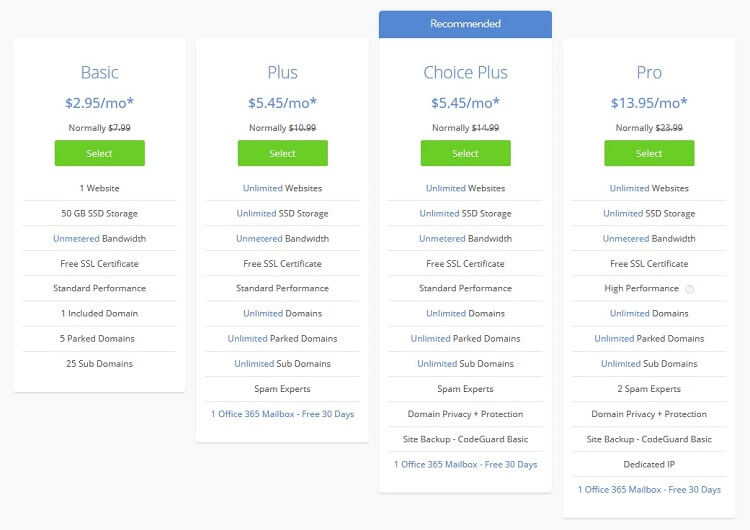 After you've chosen a hosting plan, you'll need to create a new domain name or enter an existing one. For help with creating a new domain name, check out this helpful article on tips for choosing a domain name for your blog.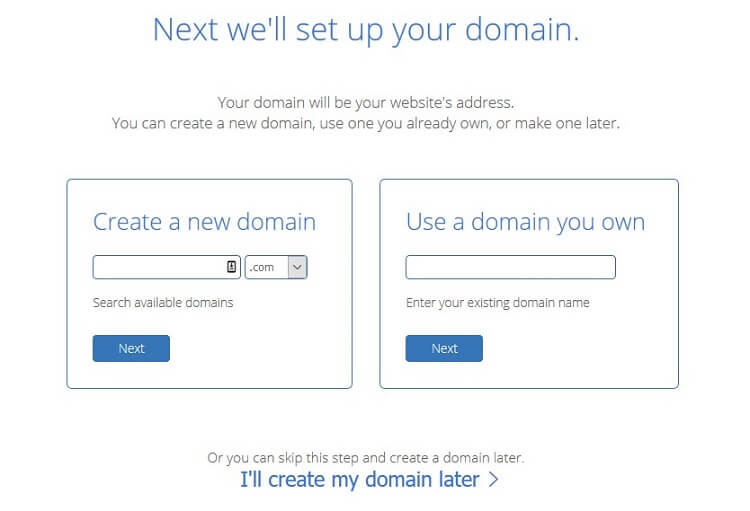 The last thing you'll need to do is fill out your account information and pick any package extras you want. For example, you can decide how long your hosting plan will last and buy domain name privacy to protect your personal contact information.
After you've paid for your web hosting, you'll see a success message and be prompted to create an account.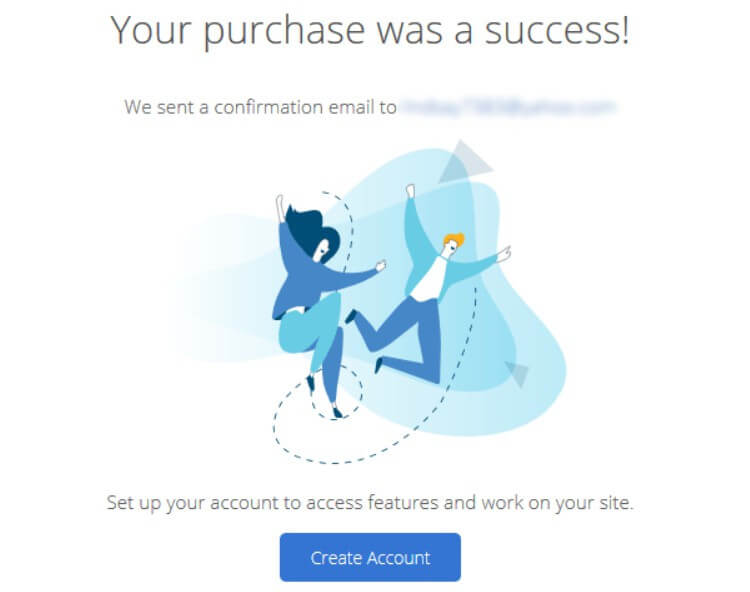 Step 2: Set Up Your Hosting Account
Now that you have Bluehost hosting, it's time to start your WordPress blog. First, log into your hosting account.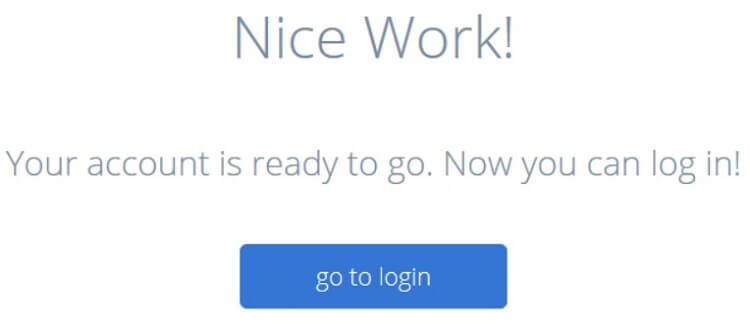 Next, name your website, create a tagline, and decide if you want to start a WordPress blog or an online store.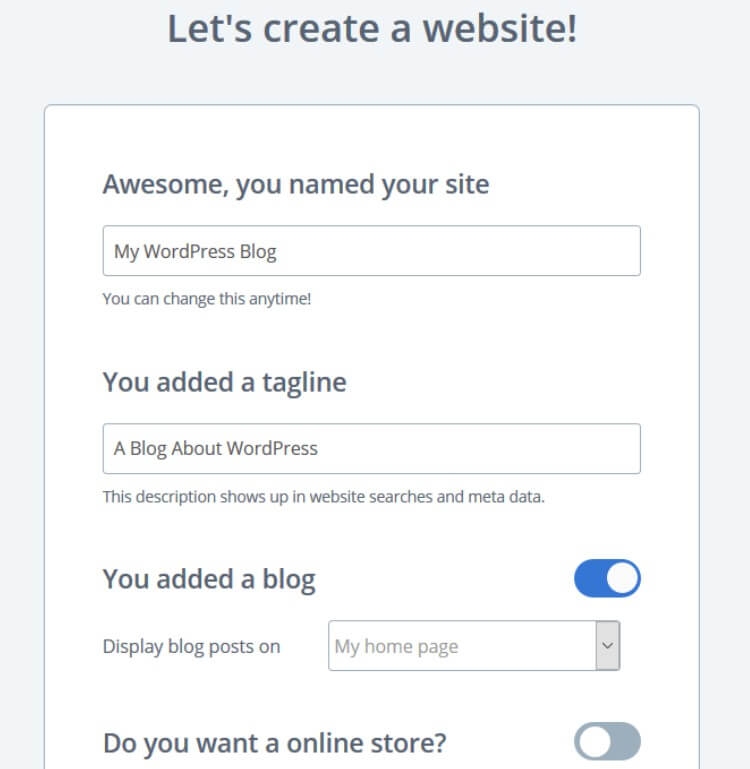 When you choose to create a blog, you'll be asked where to display your blog posts. Select either My home page or A different page.
Then, click Continue.
The next step will be to define your blog's goals.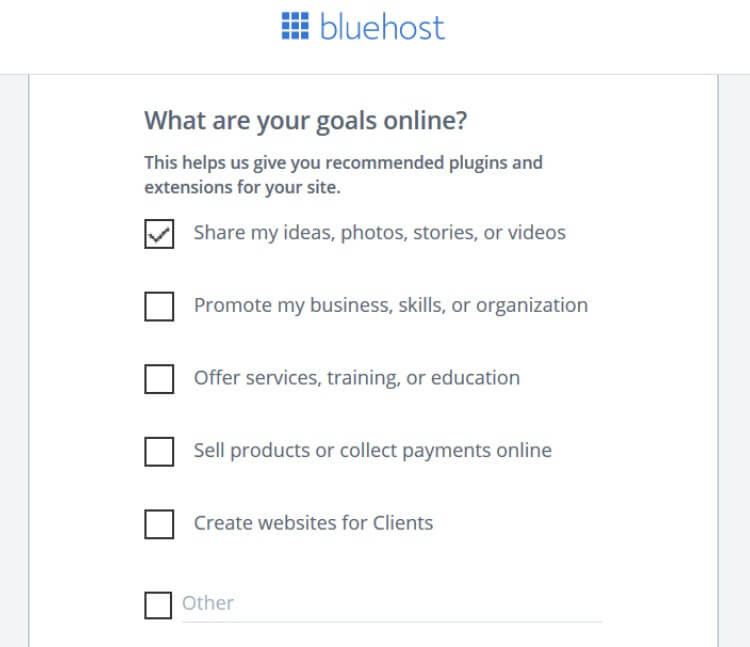 Lastly, you can choose to use one of Bluehost's WordPress themes to start your blog. Or, you can pick another WordPress theme later once you've logged into your website.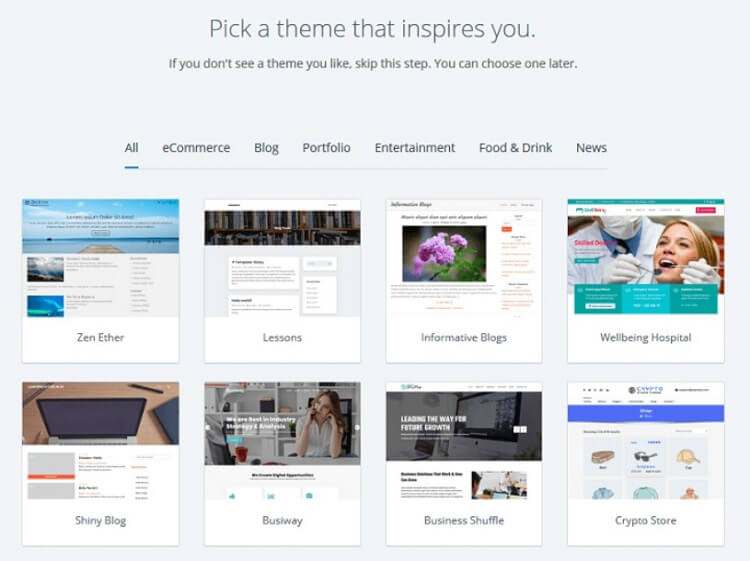 Step 3: Start a WordPress Blog
Once your Bluehost account is set up, and you've decided to start a WordPress blog, you'll need to install WordPress onto your website.
To do this, go to My Sites and click on Create Site.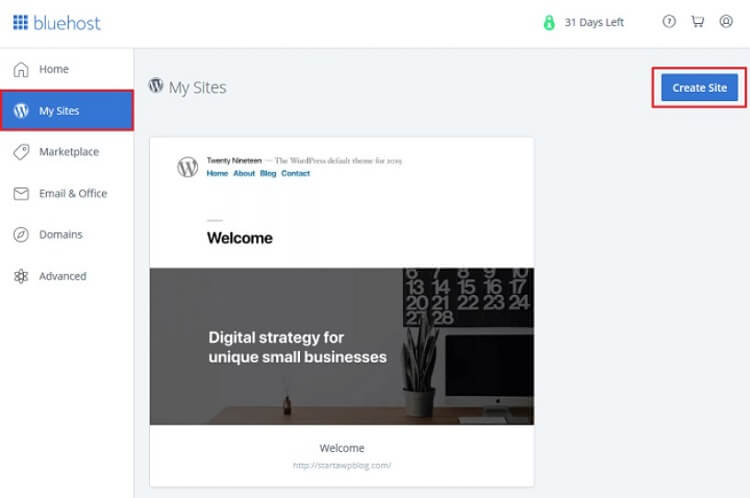 Next, name your site and add a tagline. If you're having trouble deciding on a blog name, be sure to check out this roundup of blog name generators.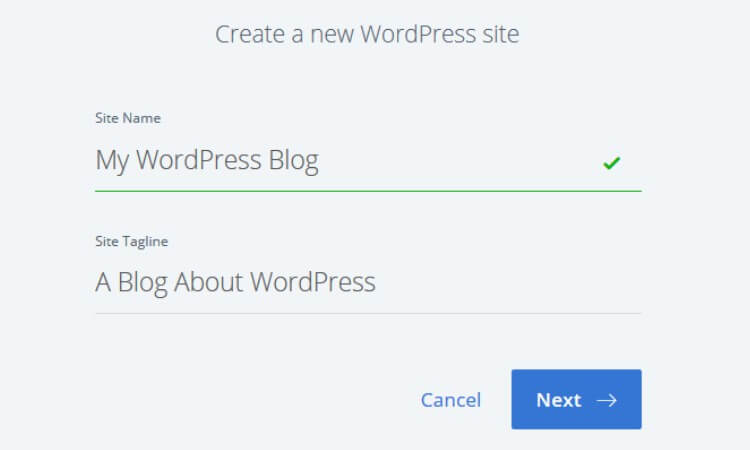 Choose your website from the dropdown and either select or deselct the following pre-installed WordPress plugins: WPForms, OptinMonster, and MonsterInsights.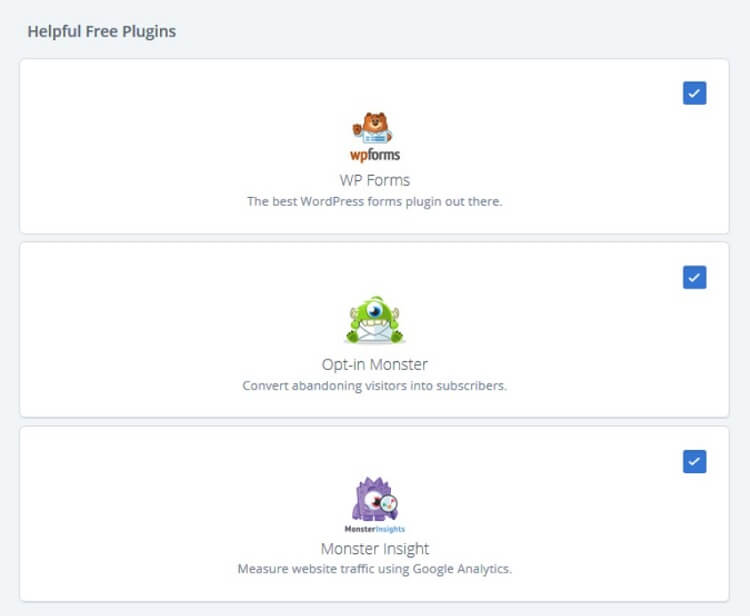 Click Next.
Bluehost will then set up your website for you and you'll be able to log into your WordPress blog.
To help you get started, Bluehost has a neat checklist, complete with essential things you should do when launching a new website.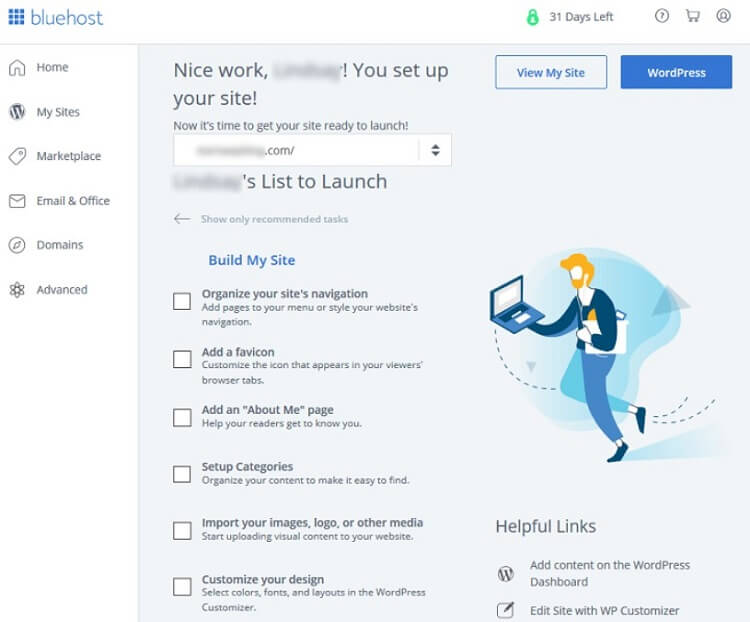 Step 4: Pick a WordPress Theme
If you didn't choose a Bluehost theme, now's the time to do that in the backend of your WordPress website.
There are a lot of great free themes in the WordPress Repository.
If you're willing to invest in the appearance of your WordPress blog by splashing a little cash, you can find premium themes on sites like:
Install your new theme by going to Appearance, then Themes in your WordPress dashboard, then:
Click Add New
Search for the name of the theme you've downloaded
Click Install
Wait for the Install option to change to Activate
Activate your theme for it to go live
Step 5: Install WordPress Plugins
WordPress plugins are tools that allow you to add instant functionality to your website.
Some plugins might come with subscription pop-ups so that your audience can follow your blog with email newsletters. Other plugins allow you to implement things like membership accounts or monetization options to your blog.
There are thousands of free WordPress plugins available online today, both within the official WordPress directory, and from third-party developers.
To add a Plugin to your site, go to the Plugins section of your WordPress account and click Add New
Search for the name of the plugin you want to install and click Install Now
Click on Activate to launch the plugin.
You can also upload plugins via a ZIP file if you bought a premium tool.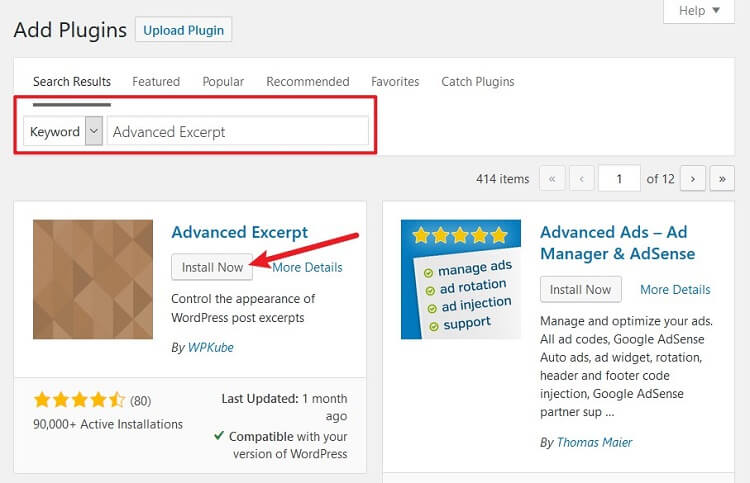 Step 6: Write Your First Blog Post
Finally, your website will be fully set up and ready to go. Now all you need to do is start writing. It's worth doing some research on sites like Buzzsumo.com before you start creating your content, for insights into the kind of trending topics customers in your niche are looking for. You can also check out your competitors for extra ideas.
Once you're ready to write, hit the Posts tab in your WordPress dashboard and select Add New.
Here, you'll find a full content creation environment where you can enter the body content of your blog, format your post with buttons, upload images, and even choose a category for your post.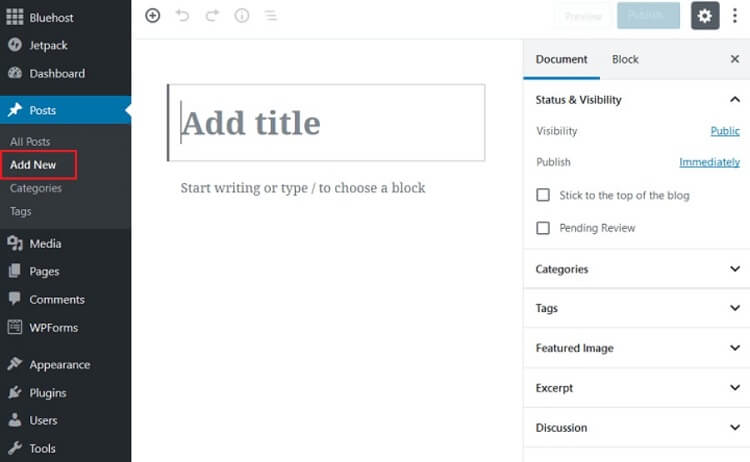 Spend some time working on your post until you're happy, then hit "Publish" to share it with the world.
Go Start Your Blog!
And there you have it! You now know how to start a WordPress blog with minimal fuss and effort. All that's left to do is invest in web hosting and start publishing amazing content.
If you really want to make sure your new blog content ranks well in search results, learn how to create an XML sitemap for WordPress.
Have you ever used Bluehost to start a WordPress blog? We'd love to hear all about it in the comments below!