Want to achieve incredible success and revenue online?
A membership website could be the perfect solution. With membership sites, it's easier for online entrepreneurs to access one of the most compelling holy grails of business: recurring revenue.
All you need to do is convince someone that they want to be part of your community once, and you could keep that individual as a paying customer for months or even years to come.
Creating a membership site can be complicated if you're starting from scratch. That's why so many people prefer to use WordPress plugins instead. A plugin gives you the tools you need to restrict content, create tiered membership levels, and set up one-time recurring billing structures, without excessive coding knowledge.
So, which are the best WordPress membership plugins to invest in for your business?
By the time you've finished reading this article, you'll have an answer to that question.
What to Look for in a WordPress Membership Plugin
Picking a membership plugin isn't always as easy as it seems.
There are a lot of different kinds of add-ons available in the market today. What's more, no matter which plugin you choose, you'll need to spend a significant amount of time setting it up.
Some membership plugins are ideal for selling subscriptions on a single level, while others are more effective at offering diverse membership levels and a range of subscription management features. There are even plugins that provide content dripping so you can slowly release new material to a user over time, which is ideal for webinars and learning platforms.
So, while researching WordPress membership plugins, keep these questions in mind:
How much control do you have over a user's membership with this plugin? How much flexibility can you access when it comes to trial periods?
How flexible are your content restriction options? Can you sell access to posts and pages on an individual basis?
Does your membership plugin allow for drip content, or do you need to release entire batches of material at once?
Does your membership plugin have the right integrations with other crucial tools, or does it lock you into using specific tools?
How do coupons work for your membership plugin? Can you offer specific discounts and money-off options for your customers?
Now, let's start exploring the best WordPress membership plugins in the market so you can start earning money online.
1. Paid Memberships Pro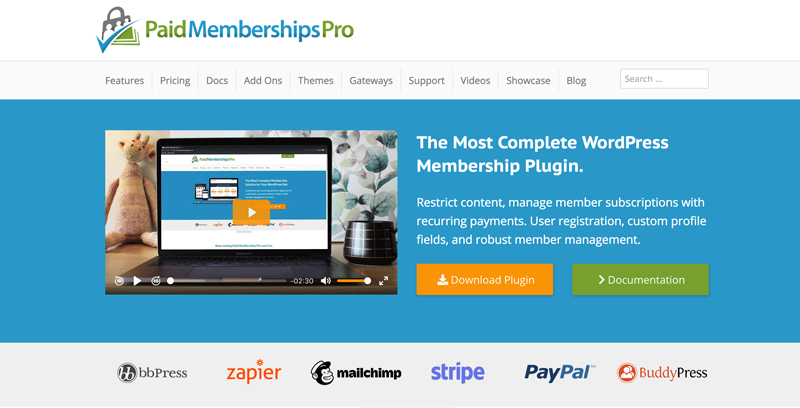 Paid Memberships Pro is an excellent choice for companies and entrepreneurs that want to create membership websites with WordPress.
To start, it comes with plenty of great features. If you opt for the highest-priced tier, then this solution also comes with its own dedicated WordPress theme, which is a nice touch for some users.
Paid Memberships Pro is also an excellent choice for people who want to create unlimited membership tiers and flexible payment levels. You can choose recurring billing cycles, prices, and membership terms. What's more, this solution allows for free and reduced-price trial periods too.
To restrict access to specific pieces of content, Paid Memberships Pro will add a Metabox to your pages and posts which allows for restriction on an individual basis.
Additionally, with Paid Memberships Pro, you can display a small section of your content to non-members, therefore encouraging more people to sign up for your subscriptions.
Pros:
Works with a wide variety of other tools
Free to use on as many sites as you like
Packed with excellent features to explore
Snippets available for non-members
Cons:
Additional plugins required for some crucial features
Not the least expensive option in the market
Price: $297 for up to 5 sites (must renew each year to receive more than core updates)
👉 Get Started with Paid Memberships Pro
See this full review of Paid Memberships Pro for more information.
2. MemberPress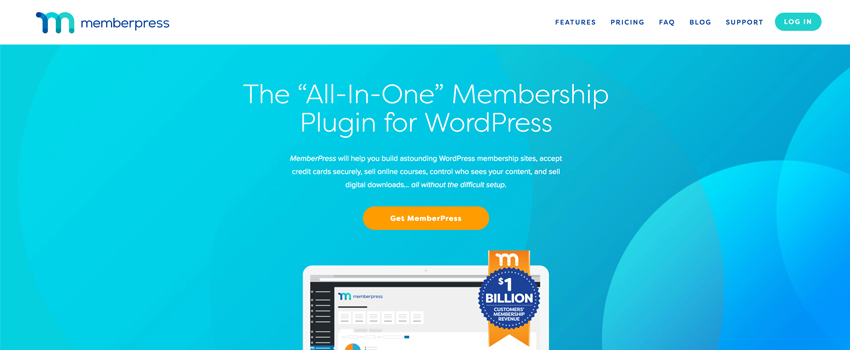 Known for being one of the most popular and well-known tools in the membership website world, MemberPress is an all-in-one system that gives users everything they need to build unique environments and online experiences for users.
MemberPress integrates with leading tools like MailChimp, AWeber, and GetResponse. Additionally, there are plenty of subscription management features available. You can create, update, and cancel memberships at a click of a button. And there's even the option to drip content out gradually to your audience too.
Accessible and easy-to-use, MemberPress works with virtually any theme, so you don't need to spend much time on customization. Additionally, you can access a host of business reports through MemberPress that you can share with your teams. These reports make it easier to track your progress and the health of your business.
Pros:
Compatible with a variety of themes and integrations
Excellent for managing different tiers of subscriptions
Drip content features
Detailed reporting capabilities
Cons:
Need to upgrade to more expensive editions for certain integrations
Price: Starting at $149/year
👉 Get Started with MemberPress
3. Restrict Content Pro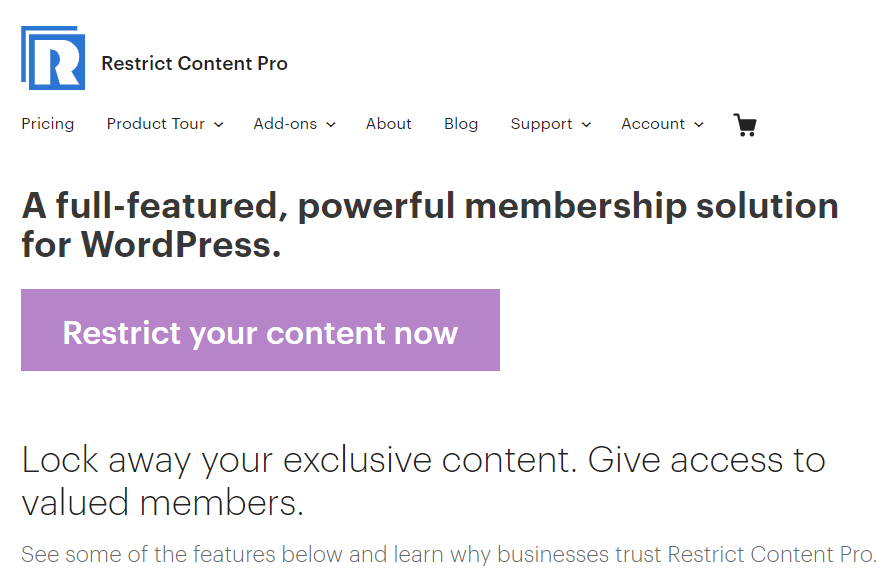 Restrict Content Pro is one of the more established membership plugins in the market today. This tool has been around since 2010, so it's not new to the WordPress environment.
If you're looking for a well-designed and easy-to-use plugin, this is a great choice. However, it's worth noting that Restrict Content Pro wasn't always as comprehensive as it is today. In fact, some customers have complained that it took a while to catch up with its competitors.
The good news is that now this plugin comes with things like easy customization and setup, unlimited subscription packages with as many membership tiers as you need, and more. There's even a range of payment integrations available for tools like PayPal and Stripe.
Another great thing about Restrict Content Pro is that it comes with a host of add-ons that you can explore. The add-ons available differ depending on the kind of plan you have, with better options for premium members.
Pros:
Recently updated to include drip content options
Unlimited subscription packages with membership management
Great all-rounder and easy-to-use tool
Cons:
Some add-ons are only available at a higher price point
A little slower to update than some options
Price: Starting at $99/year
4. WooCommerce Memberships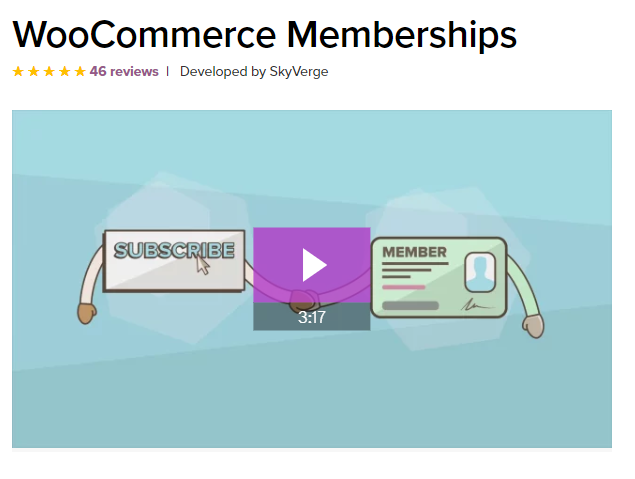 WooCommerce Memberships is a plugin designed by the larger WooCommerce brand. If you already rely on WooCommerce to support your online transactions, then it makes sense to use this add-on too. The critical thing to remember is that you will need a WooCommerce account to access this tool.
Like many of the best WordPress membership plugins we're covering today, this option comes with an unlimited range of membership options to choose from. And when you combine the plugin with WooCommerce Subscriptions, you'll also have additional control over things like free trials, recurring payments, and membership management.
One thing that makes WooCommerce Memberships stand out is the fact that it comes with a host of unique features. For instance, you can provide users with access to a membership as part of product purchase. You can also restrict the view of certain products to specific members only, making it great for early launch parties. There are even options to easily communicate with your members about expiration dates and renewal reminders.
WooCommerce is far from the least expensive option when it comes to membership solutions, but it is one of the more feature-rich options. If you're already running an WooCommerce store and you want to access more subscription options, then this is a great choice.
Pros:
Works great with WooCommerce and other WooCommerce add-ons
Great for rewarding members with discounts
Various unique features help build relationships with members
Cons:
Requires the WooCommerce Subscriptions add-on to add recurring payments
You need a WooCommerce account to use this – and it can be quite expensive
Price: $149/year for a single site
👉 Get Started with WooCommerce Membership
5. MemberMouse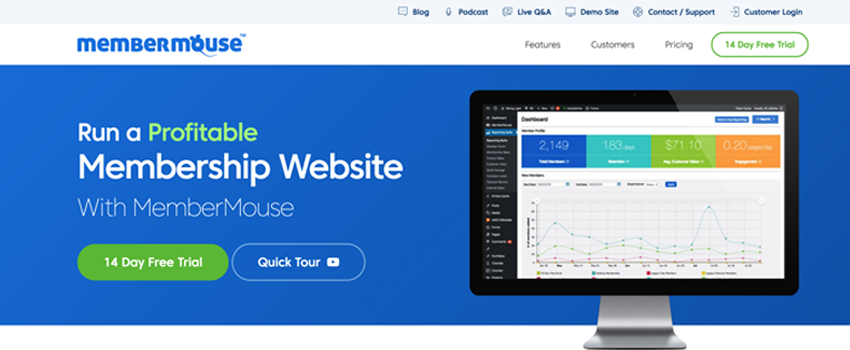 Easily one of the most feature-rich membership plugin options available today, MemberMouse allows users to create both bundles and membership levels.
While you get membership levels with virtually any membership plugin, packages mean that you can sell individual groups of posts and pages on a one-off basis too.
MemberMouse has a lot of other great features to offer as well, including extensive account management. Both you and your members can easily access individual membership information, and you can add custom fields to capture essential member details.
There are also plenty of ways to easily restrict access to specific products and pages.
MemberMouse also comes with access to split testing features so you can make sure that you're getting the most out of your investments. What's more, this tool integrates with a range of email marketing and payment processing tools too. Just remember that MemberMouse doesn't come with a lot of code access for developers, so you can't make any internal tweaks.
Pros:
Plenty of integration options with leading payment processors and email tools
Members can update and change their own information
You can easily drip content and restrict certain pages
Bundles available as well as membership levels
Cons:
Can be quite expensive
You can't tweak the software
Price: Starting at $29/month
👉 Get Started with Membermouse
6. Paid Member Subscriptions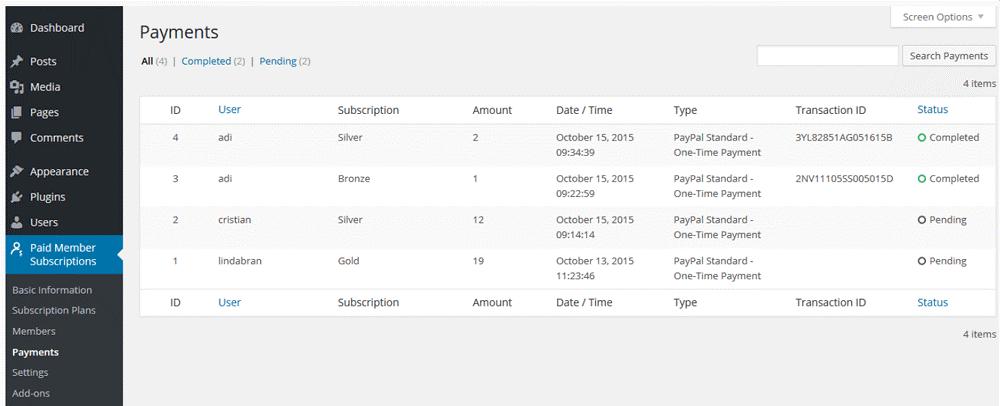 Finally, Paid Member Subscriptions is one of the most appealing and easy-to-use plugins in the market for businesses that want to restrict content, purchasing, and product viewing for specific people. With this WordPress plugin, you can manage subscriptions easily, grant or revoke access to webinars and posts, and set up specific pages based on your customer's plans.
As one of the best WordPress membership plugins on the market, this solution also gives you plenty of ways to change the restrictions on your site. However, if you want to access features like drip content, you'll need to pay for a more expensive plan.
With Paid Member Subscriptions, you can adjust the navigation menu with a filter based on a person's subscription and accept payments with leading tools like PayPal and Stripe. There are also discount codes available if you want to reward your members for their continued loyalty.
Pros:
Simple and easy-to-use interface
Basic free version available
Great for integrations with leading payment processes
Plenty of restriction options available
Cons:
Annual payments can add up for premium options
Drip content requires a more expensive plan
Price: Starting at $69/year
👉 Get Started with Paid Member Subscriptions
Which WordPress Membership Plugin is Right for You?
We've only looked at 6 of the best WordPress membership plugins available online today. There are still dozens of other options to explore, each with their own pros and cons to consider.
Choosing the right membership plugin will require you to think carefully about the kind of features and functionality you need to run the most successful membership site.
If you already have a WooCommerce site and you're looking for ways to access more revenue, then WooCommerce Memberships may make sense for you. On the other hand, if you're looking for a feature-rich way to enhance your site from scratch, you might consider an alternative like MemberMouse.
Just remember, before you decide on any membership plugin, you should consider your requirements carefully and know that there's more to making the right decision than simply using a tool that suits your budget.