The following roundup will show you the top 25 themes for your magazine-style website. Each of the items on the list is specifically chosen because of its design, features and clean code and can do a lot for the looks of your WordPress site and blog. If you're looking for a change or are tired of using the themes given in the free directory, then one of the magazine themes below will be the right one for you.
What The Right WordPress Theme Can Do for You
Many site owners and bloggers wish to turn their platforms into beautiful, professional-looking and stylish magazines, with not just a great homepage but also to have every little detail from the posts, footer and header, menus, images, and formatting in order. Some decide to hire web designers and pay a fortune, while others try to code it themselves. In both cases, they are investing more than they need to.
All that can be done by installing and activating the right magazine theme on your WordPress site. As with anything else in the open-source system, this too is a matter of a few clicks and you'll have a brand new look for your website.
What's more, premium themes (or paid ones) can go a long way in helping you optimize your website, boost performance and enhance the user experience.
What to Look for in a Great Magazine Theme
The theme you choose to have for your WordPress site will be a key element of your brand image. That means it should offer great fonts and colors, visuals and options to play with, so you can set it up in a way that corresponds to your brand.
You want a theme that's created by a reputable source, coded well and kept up-to-date. We take these into consideration when choosing the right magazine themes to include in our roundup.
Last but not least, you want it to be with responsive design, as mobile web browsing overtook desktop a long time ago.
The features of themes vary, and that's what will help you choose the best one for you and your goals. Think about the following questions.
What do you want your site to be able to do?

Will you focus on news or just standard articles?

Are images or video going to be the main type of content you present?

Are you looking for a more minimalist look, or just the opposite, bright colors and a lot of images?

Will many widgets and the possibility to arrange them how you like interest you?

Are you going to include banners on your homepage?

What's the feeling you want to instill in a first-time visitor?
All these and more, are questions you need to answer now so you can understand your requirements for a magazine theme. Once you have a list of items you want it to have, you can check out the list below with the best WordPress magazine themes:
The Best WordPress Magazine Themes
The Essence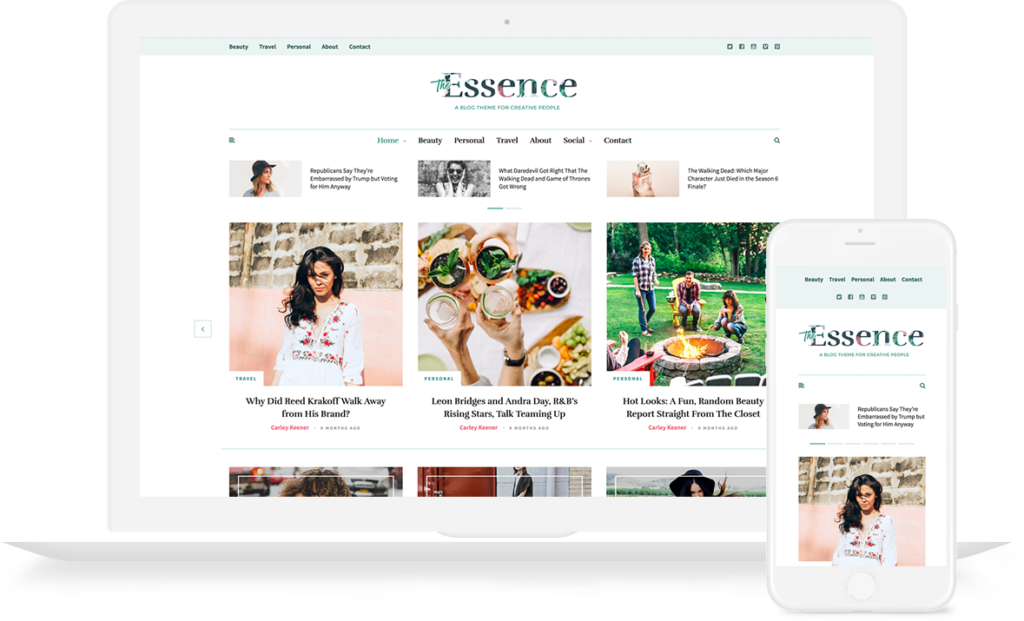 If you're a creative, have an audience of mostly females, or are looking for a clean design for your blog that's also inspirational, then The Essence by Meridian Themes is the right magazine theme for your website.
It's highly responsive and as you can see in the image above, looks great on all devices. The blog layout you see, though, is just one of the 17 that you can choose from. Because social sharing is so important in the blogging world and people want to tell their friends on social media what they saw or just read, this option comes built-in with The Essence.
Wonderwall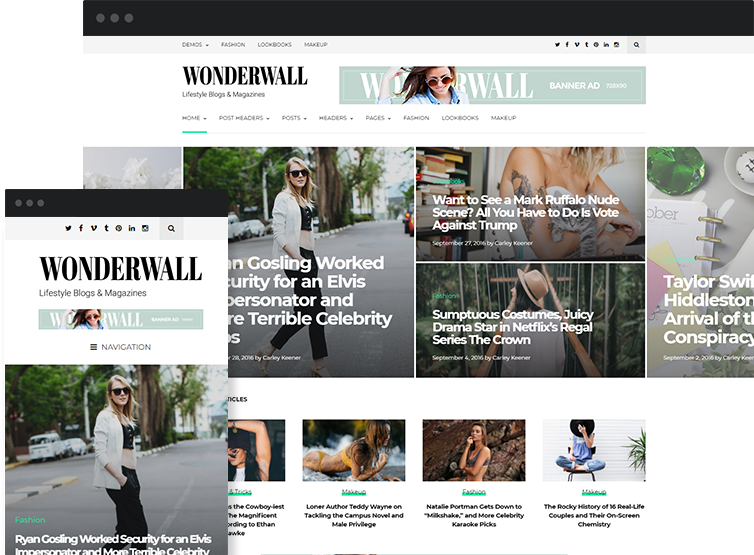 The second magazine theme in our roundup is the stylish and flexible Wonderwall created for lifestyle bloggers. It's perfect for those of you who want to run a magazine, display banners and have a newsletter. There are many homepage layouts you can choose from, and the built-in newsletter can be added to your footer or put in the sidebar. It will prompt visitors to subscribe to your list and will look as stylish as any other element from the page.
This magazine theme, like all other by Meridian Themes, is easy to set up and highly customizable, and you can expect high performance and great support. If you think Wonderwall is the theme for you, then learn more about it here.
Click Mag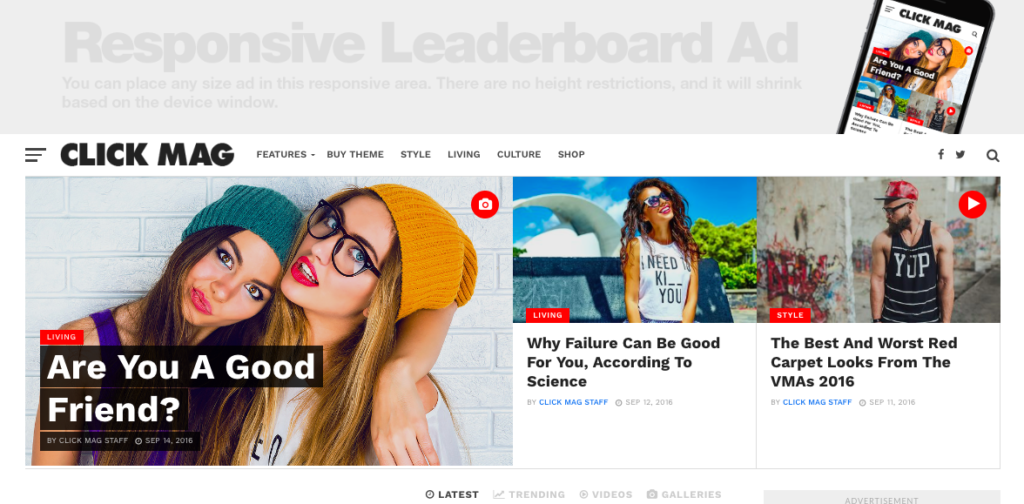 If you're planning to create a viral news or magazine blog, then you might be interested in the great design and options of Click Mag by ThemeForest. Its main goals are to keep visitors coming back to your site and maximize clicks. It integrates perfectly with WooCommerce and your online store will become highly responsive and with beautiful design too.
There are additional elements that will make your content stand out and boost your brand, such as a post slider, reviewer plugin, sticky sidebar, continue reading button, and many more.
Florentine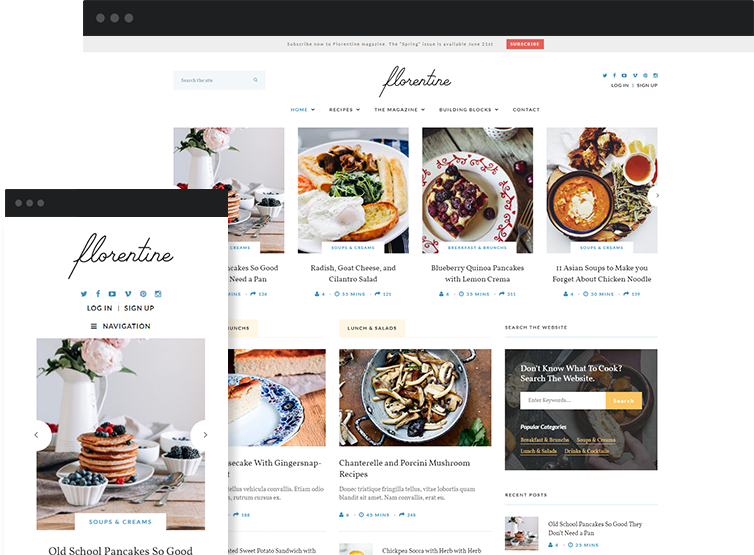 Are you a food blogger wanting to present all your recipes in the most effective and beautiful way? Then Florentine is the theme for you.
Regardless of what device people will use to land on your website, this theme will help your content be responsive and easy to consume. There's a custom post option that will organize your recipes and add formatting. The only thing you need to do is enter the information. And because foodies will be prepping their meals while still on your website to see the next steps, this theme supports a distraction-free viewer. Once they enjoy a recipe of yours, they will also be able to join your newsletter, that will be included in the theme without the need to install another plugin.
Stoked
Here's a WordPress magazine theme for business blogs or fashion sites. What makes Stoked different from the rest of the themes here is its unique navigation structure. The navigation menu is vertical so that the visitor can focus solely on the beautiful visuals and featured images on the screen.
Stoked allows you to display your social media profiles and a stunning opt-in form without the need for a third-party plugin. There's also a footer menu option. You can upload your logo in the header and there are 10 widget locations you can choose from to add elements such as recent posts or About me.
Gameday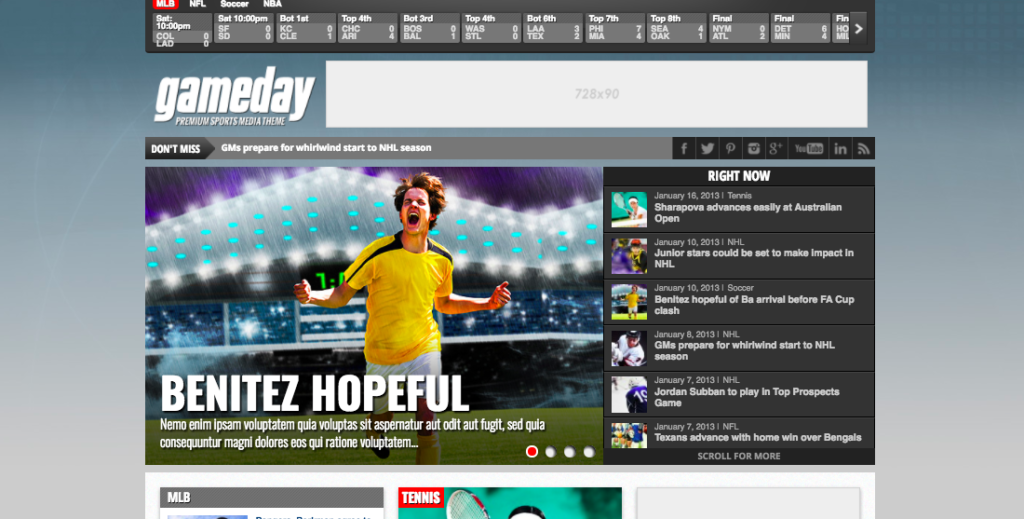 The next item in the roundup of magazine themes is for sports blogs and sites. Gameday is a premium sports media theme that can position you as an authority in your niche.
There are advanced features such as WooCommerce and bbPress, a scoreboard, sliders on category pages, and different ad units. In addition, you get a drag-and-drop homepage and fly-out mobile navigation.
Newsmag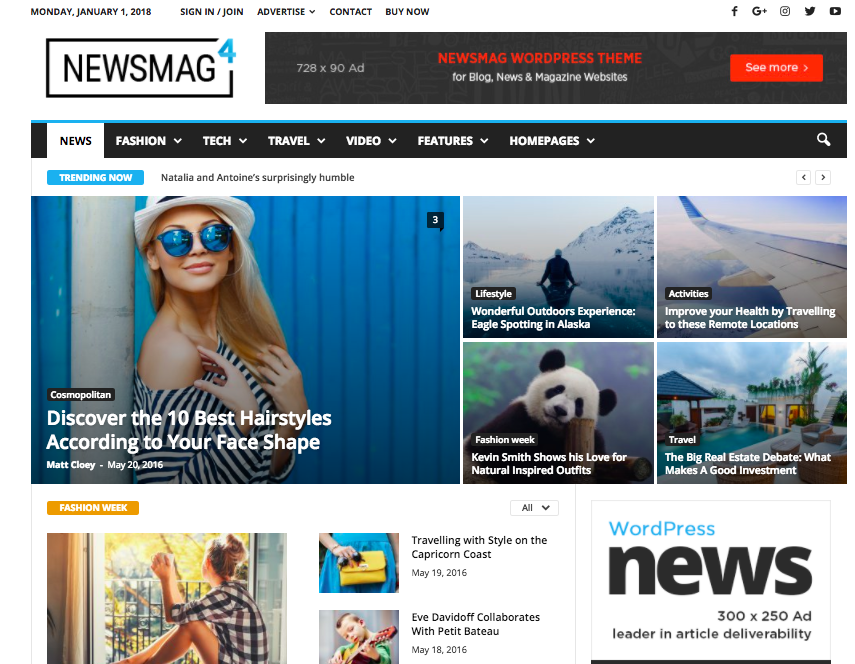 The next product by Theme Forest is Newsmag, the complete solution for almost any magazine site and blog. It's optimized perfectly and is most suitable for newspapers and magazines, reviews sites, and anyone presenting a lot of content in a responsive and modern manner.
Some of its unique features include YouTube videos support, rating system, and responsive Google Ads and AdSense. The customization happens on the front end with a drag-and-drop page builder and you can choose from more than 100 handcrafted elements. The user experience is complemented by a smart ad system and sidebar, custom-made lightbox, video playlists, and a smart list showing your articles.
Strollik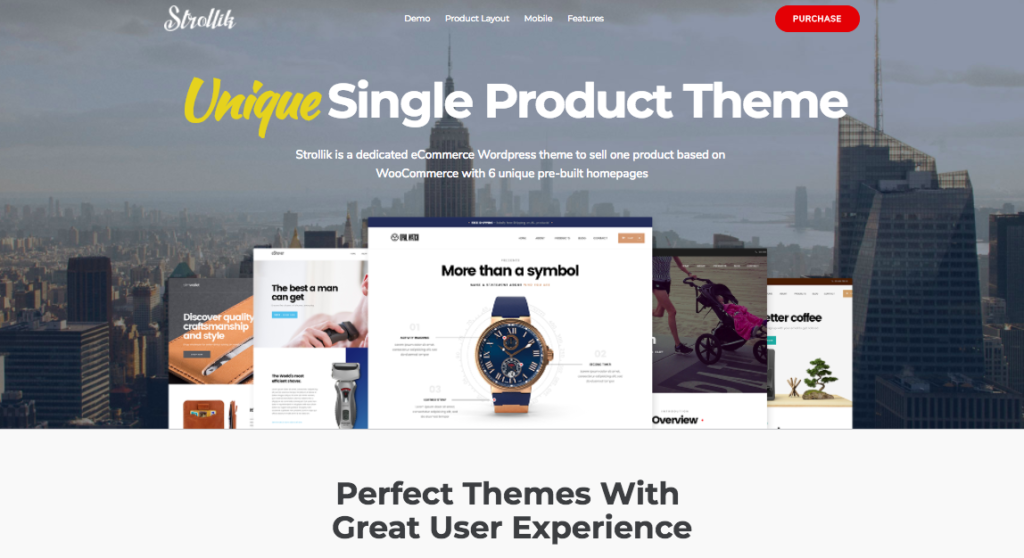 Do you have one product to sell that you want to present as well as possible to potential buyers? Strollik is a dedicated WooCommerce theme that offers you 10 unique pre-built templates and a 360 Product View that turns your product into an interactive experience for the visitor.
Waves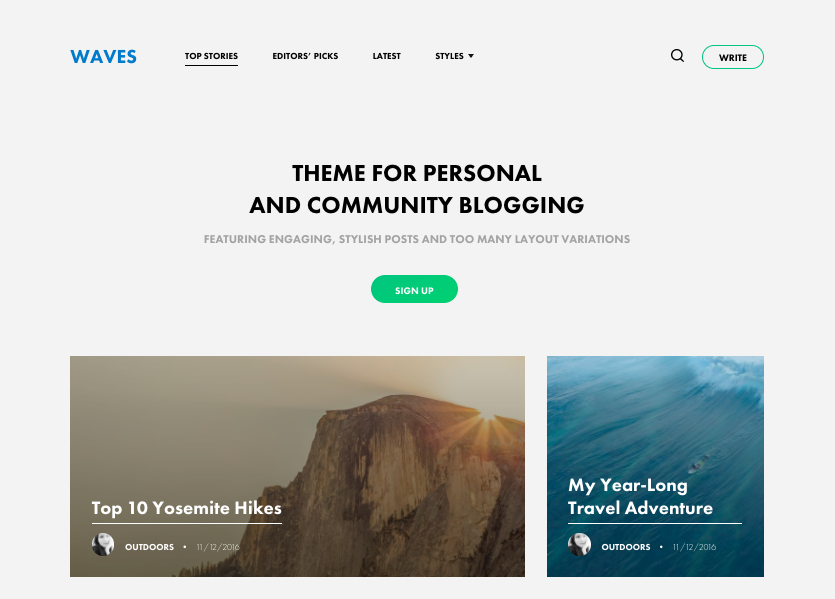 If you like how the online publishing platform Medium transformed the looks of the blogging world, then you'll like Waves too. What makes it simple and gorgeous are the modern blog layouts, focus on readability, fast loading, awesome typography and colors, and more. You can have Top Stories, Editor's Picks and Most Liked, just like any other big publication on the Web today.
Additionally, with that one of the magazine themes we're presenting in this roundup you can have an image or video header, lazy-loading and the option to sign up using Facebook, Google or Twitter. Waves is translation-ready, AJAX-powered and cross-browser compatible and responsive.
Writsy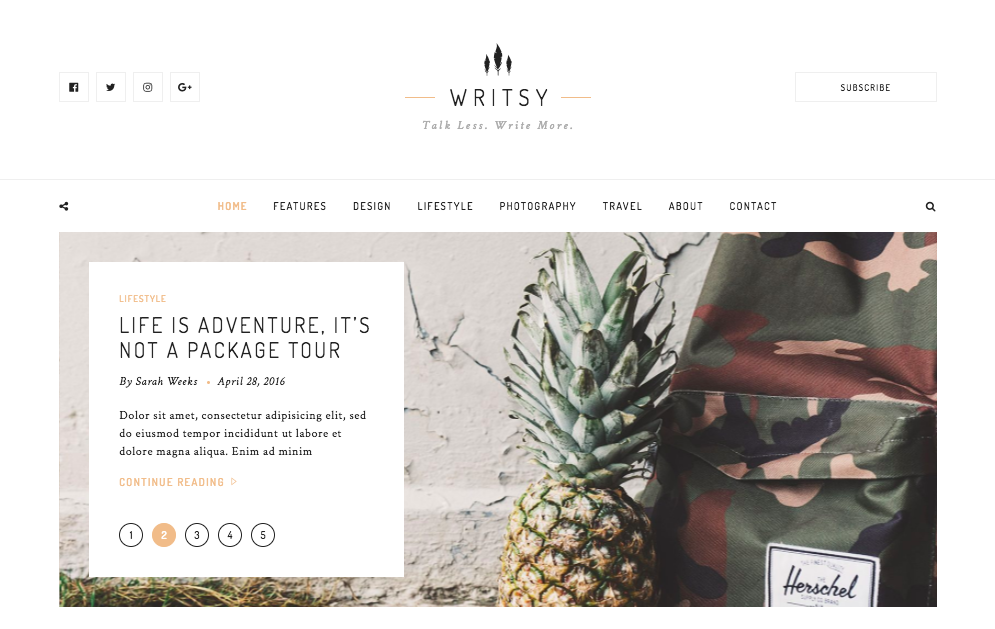 Are you a fan of vintage and clean design? Writsy is the WordPress magazine theme with the best faded vintage concept and is suitable for different purposes, such as a personal blog, photography or travel site, fashion blog, or else.
There are 24 homepage layouts, 6 post formats, 4 custom widgets and 3 blog layouts, so you can make it the way you like. Also, enjoy features like Google Fonts, fullwidth page template, custom meta boxes, sharing buttons and social profile links, Footer Instagram gallery, and more.
Grand Magazine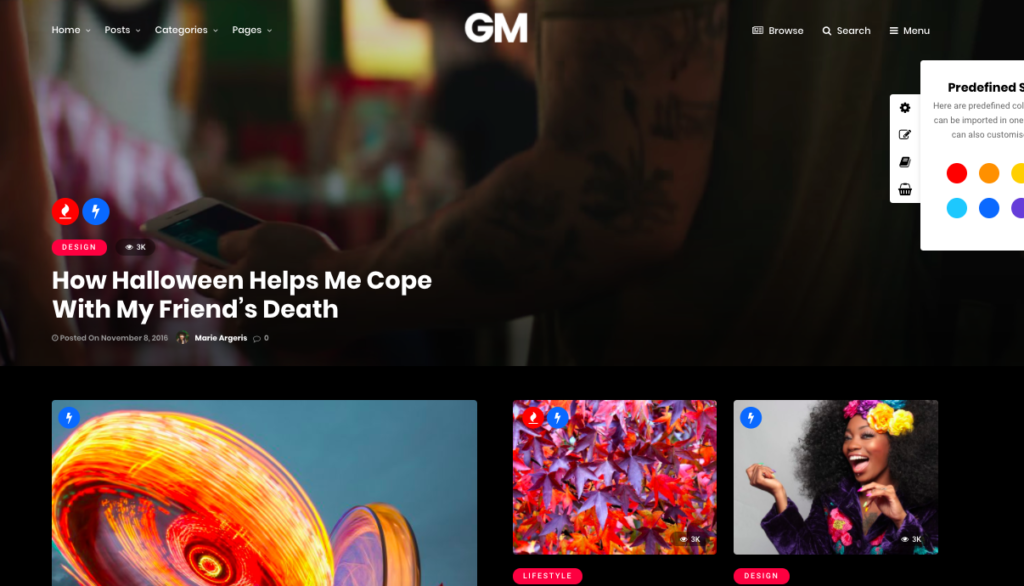 Another viral blog and newspaper theme for WordPress is Grand Magazine. With it, you get more than 40 predesigned layouts for your blog and posts. If you're running a magazine website, you know that visitors want to see what's hot and trending and what other people are enjoying. This theme does exactly that by showing readers which posts have the most shares, views and comments. The live preview is rich in options, with more than 300 elements to choose from to customize your blog.
Motive Magazine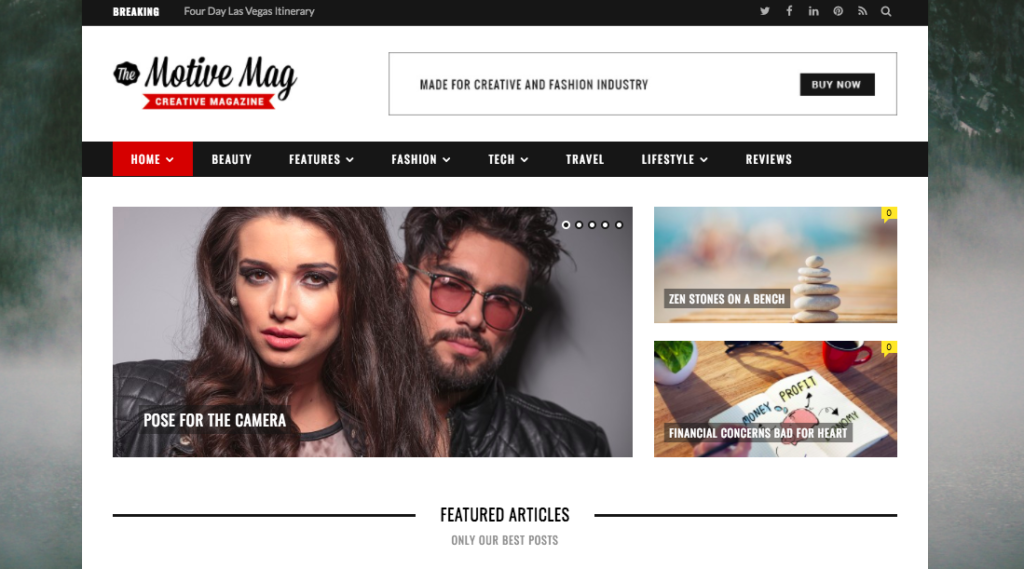 Motive Magazine is one of the top selling themes by Theme Forest. It's ideal for news sites and newspapers. Being optimized, responsive, highly customizable, retina ready and powered by HTML5 & CSS3, makes it great for any type of magazine website you're looking for.
With the flexible page builder of Motive Magazine, you'll be able to create simple as well as complex templates. It supports 3 mega menus and has an integrated review system. The custom widgets and advanced category features provided make it extra practical and with many opportunities to turn your brand into a whole experience for the visitor.
SevenMag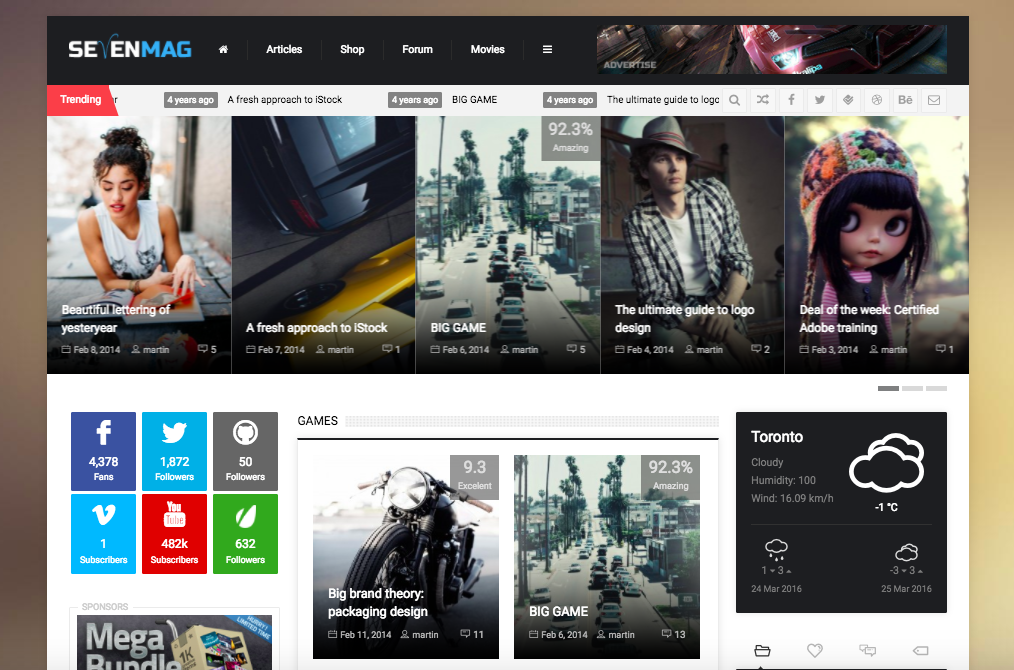 This modern WordPress magazine theme can be used by gamers, reviewers and bloggers, and for news or magazines sites. SevenMag has a powerful page builder, supports schema.org, offers plenty of advanced options and is SEO optimized.
MagPlus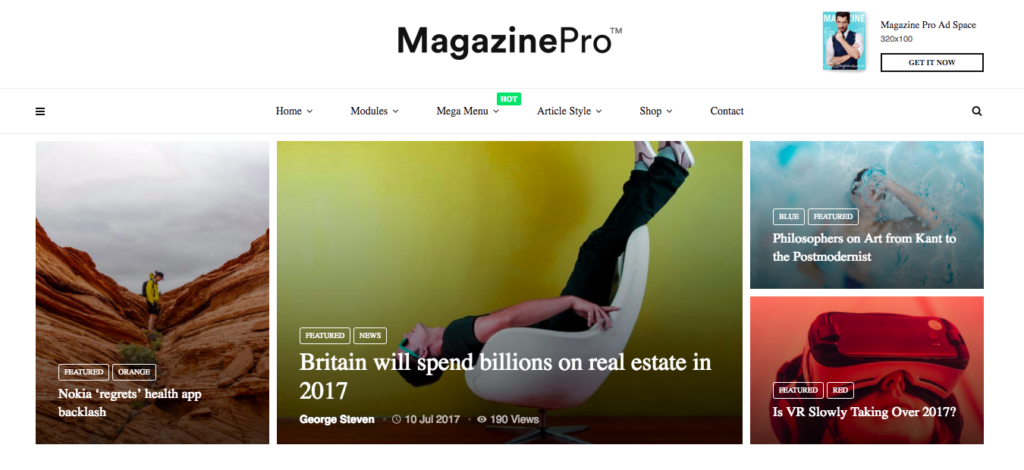 MagPlus offers you a ton of unique elements to choose from. Customizing and building the site of your dreams is easy with the visual composer, live customizer and style editor. It goes together with 40 stunning templates, each of which feels like a different magazine theme.  In addition to that, MagPlus is made for speed and efficiency. It's 100% responsive, supports WooCommerce, AdSense, and AMP.
Venus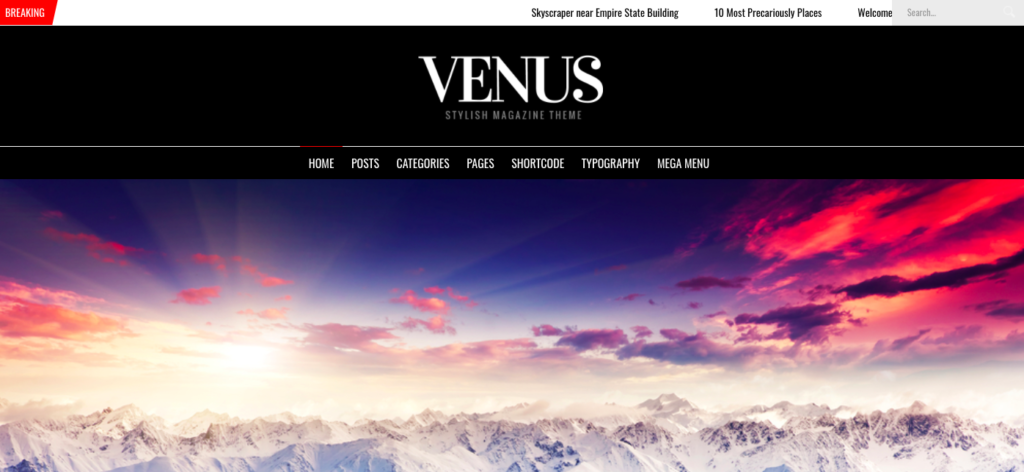 Venus is a magazine theme that's retina and translation ready, includes instant AJAX search and responsive design, and goes together with a review plugin and online shop support. Its clean and minimal design is great for any type of blog, newspaper or magazine website that focuses on content and striking images.
Publisher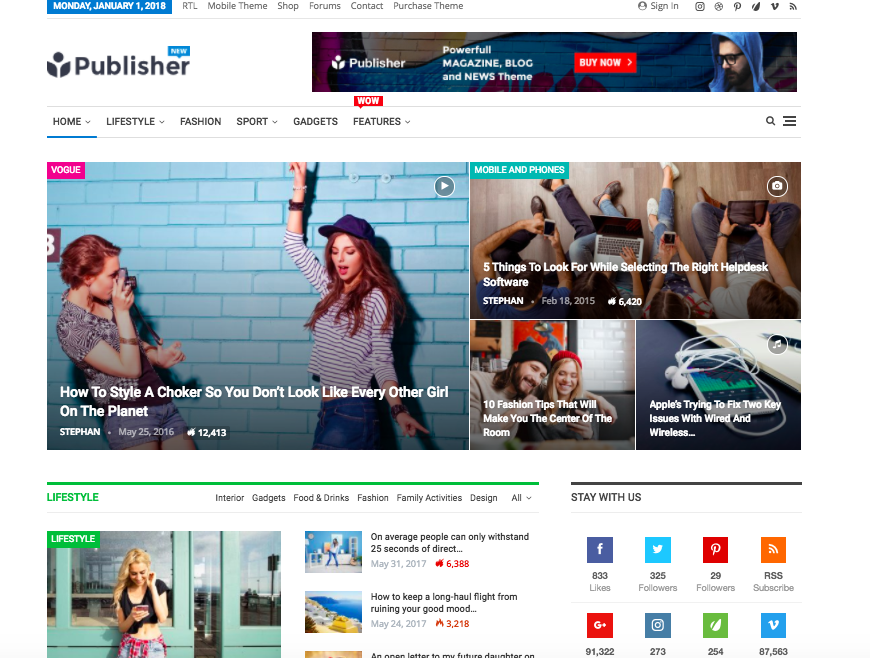 Publisher has built-in support for Facebook Instant Articles and Google AMP. As the name suggests, it's for the publishers who want to present their content in a beautiful way. That's made easier with features for stylish quotes, smart lists, cool newsletter forms, and advanced social counters and share blocks.
NYOOZ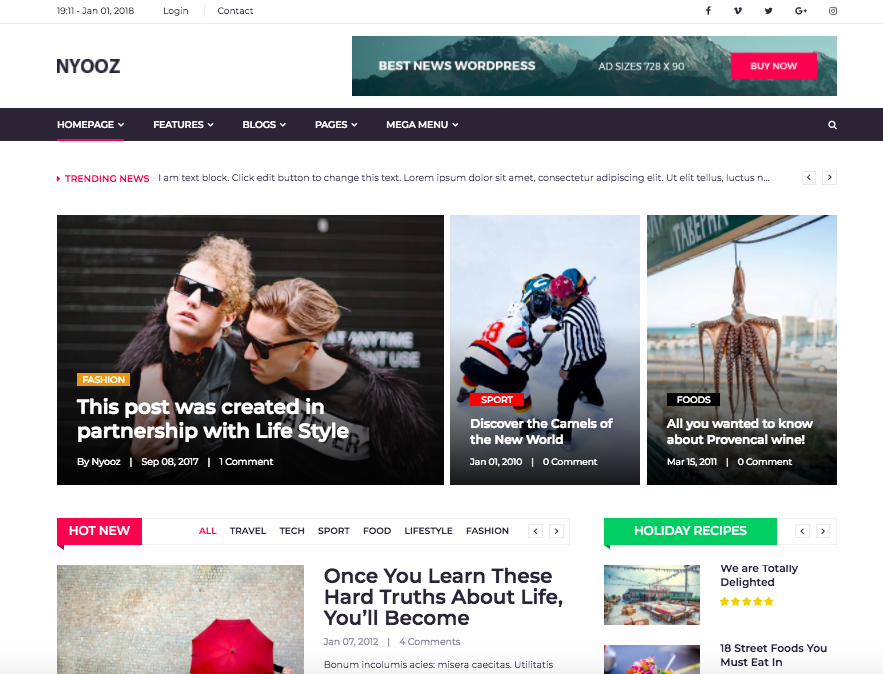 The innovative and creative WordPress theme NYOOZ has great code and features. Whether you're in the fashion, food, travel or automobile industry, you can use this magazine theme and its layouts and additional elements to create a great experience for everyone who lands on your platform.
Daylight Magazine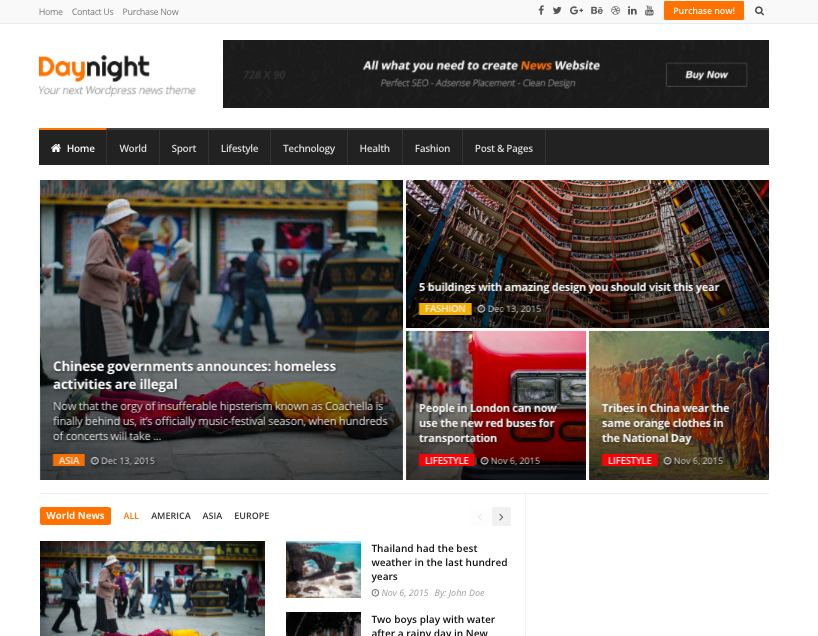 With Daylight you can build a professional newspaper or magazine site to create a brand and build a name for yourself in a niche of your choice. It has the elements necessary for that, such as clean typography, good Google AdSense placement, and more.
Daylight even has a nightshift mode. Meaning, it can be set to automatically get dark during the night. The main purpose of that feature is to help news readers feel comfortable in front of the screen. If they are reading in the evening, for instance, different colors work best to ease their eyes.
Magaziner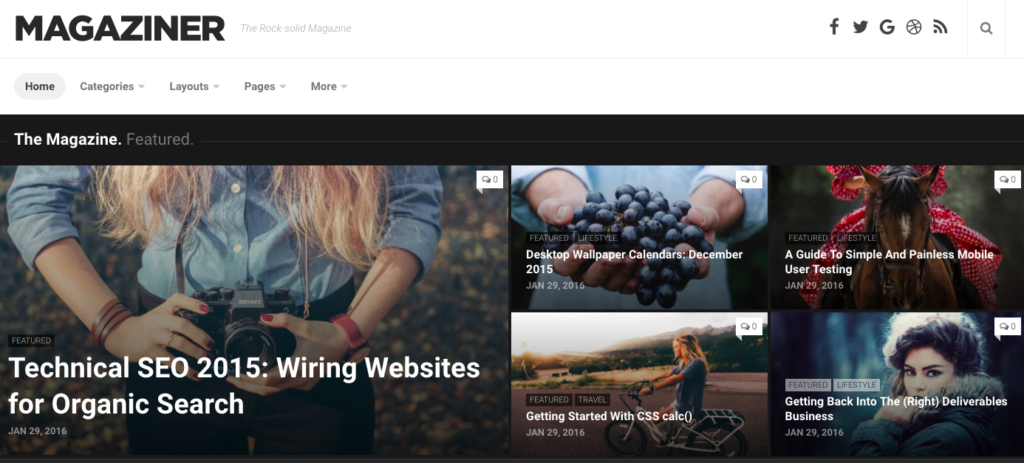 Here's another WordPress magazine theme by Theme Forest, this time with awesome features such as slide-toggle sidebars, a carousel in the footer, better category pages, options for featured images, and more. Magaziner can help you turn boring content into a great-looking magazine.
The Voux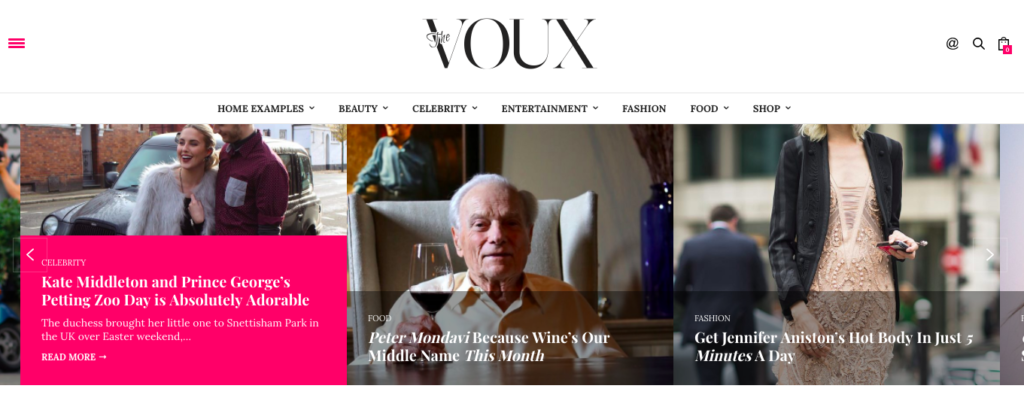 The Voux is stylish, lightweight and professional, and that's why brands prefer it. If your site also has an online store, you can benefit from the full WooCommerce support that comes with a few shop pages. The article layouts answer all your needs and even change along with the content on them.The social sharing experience using The Voux is complete, and you can have infinite scrolling to make the reading experience smooth.
PantoGraph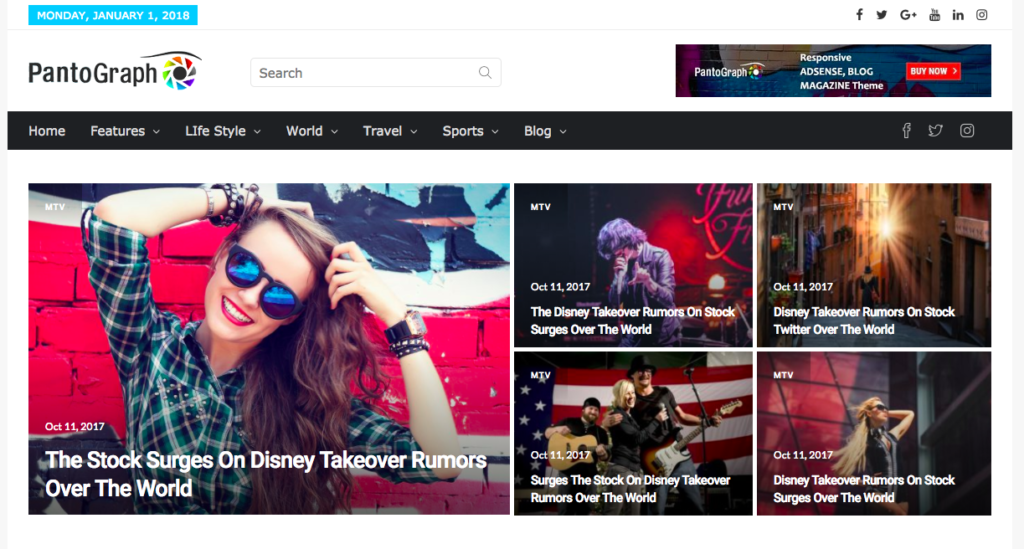 PantoGraph relies mainly on shortcodes (more than 50 of them) and different headers, footers, sidebars and more, to help you create one-of-a-kind magazine site with as many looks for pages as you like.
You can choose from more than 32 post blocks and 10 category templates. Enjoy widgets for video, subscribers, social sharing, and popular posts. Additionally, you get a mega menu that's pretty easy to use and AJAX pagination and load more buttons.
MiniMag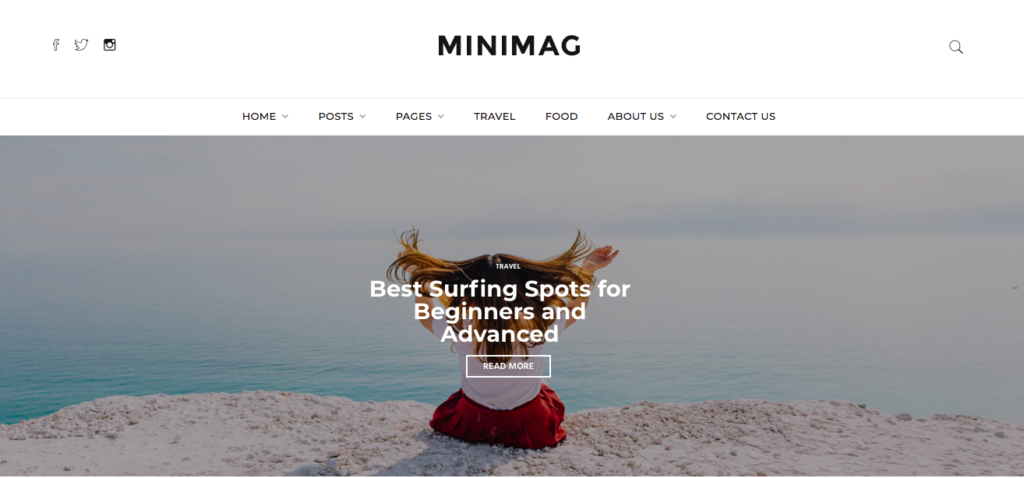 MiniMag is one of those multipurpose themes that can do what you like them to do. This one, however, is super stylish and built for readability. It's powerful and yet clean, and with an admin panel and theme options.  Check out the 11 unique homepage its creators have prepared for you, and get access to the premium plugins Slider Revolution and Visual Composer.
WorldNews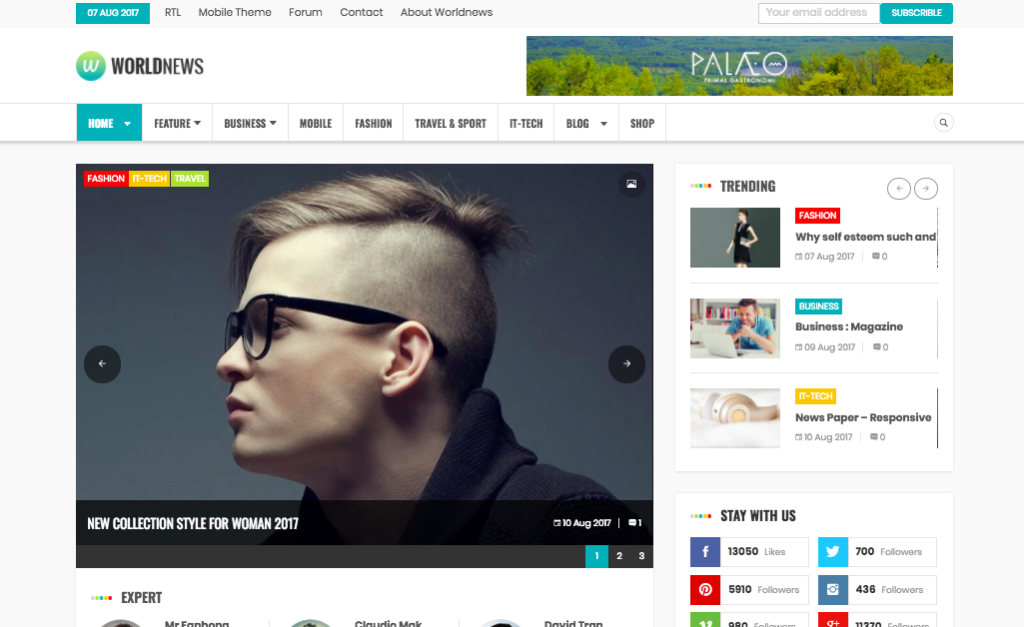 Next on the list of magazine themes is WorldNews, RTL and WooCommerce ready, with unlimited colors and multi menu style. You can choose your grid mode to be with 1 to 6 columns, create your own sidebar and shop style lists. Moreover, you'll get a ton of features including a Master Animation element, sticky menu, flat design style, live search, etc.
Mag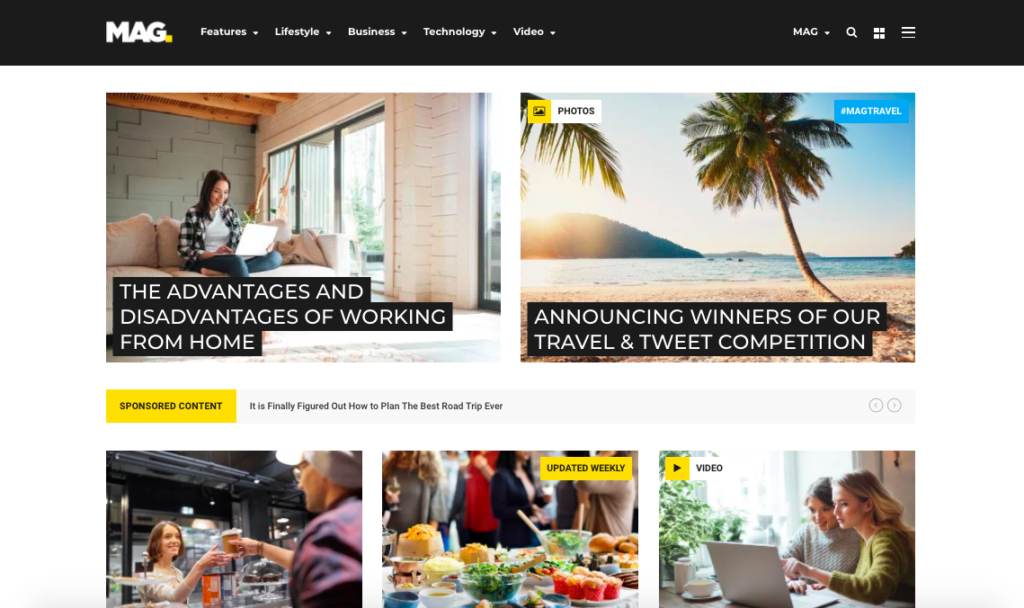 Mag is what we can call the all-in-one solution for magazines. It's for bold brands and publications that have a message to share and who'll make the most of its functionality and flexibility. Add to that its speed, safety, optimization, and plenty of extensions to fit your vision for the blog.
GDN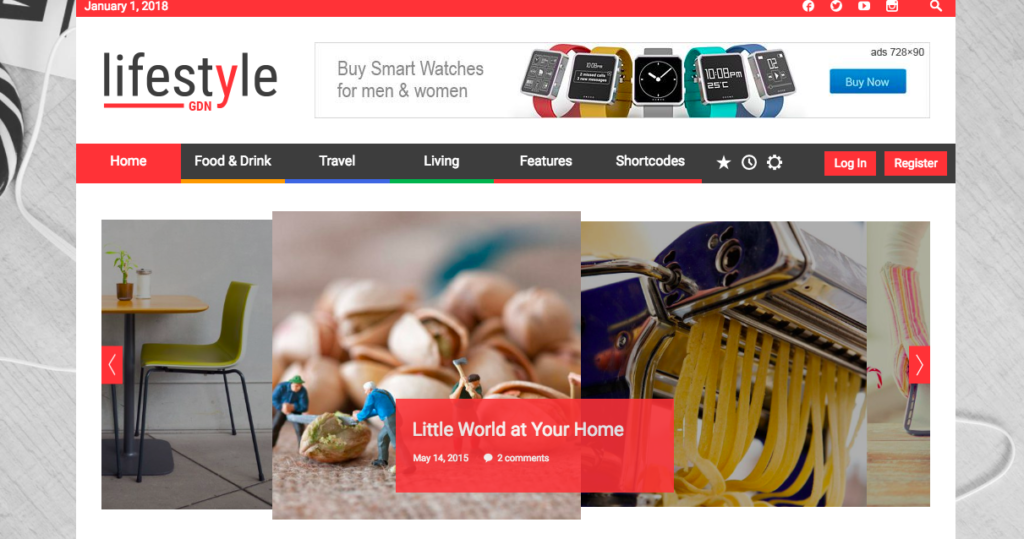 Last but not least, before we finish this roundup of magazine themes for WordPress, we present to you GDN, or G'day News. It's an innovative concept that – according to the words of its creators – is designed for the publisher and created for the reader.
Check out its 13 unique demos to find the one that looks like the magazine you have in mind. Whether you're looking to publish a Lifestyle magazine, want to have a business site or newspaper, or to run a big publication in Tech or Fashion, GDN can be its foundation.
Conclusion
We hope you enjoyed our roundup of the 25 best WordPress magazine themes, and are sure that the right one for you is among them.