Around 96% of the people who come to your website won't want to make a purchase on their first visit. They need time to get to know your company. Plus, they need to trust your brand and learn about what you sell before they're going to hand over their cash.
The good news?
You can keep nurturing your customers over time with the help of some handy email marketing services. Email service providers ensure that you have a long-term connection with the people who come to your website and sign up to learn more about your products.
Using these tools, you'll be able to strengthen your connection with every visitor that comes to your site, and potentially boost your chances of regular revenue.
So, which email marketing service provider should you be going for?
That's what we're here to find out.
That said, if you know what you're looking for, here's a table of contents:
What is Email Marketing?
Before you can choose the best email service provider, you'll need a basic understanding of email marketing, and why it's so beneficial to your business.
Email marketing services can improve your chances of making money online by giving you opportunities to build connections with your target audience.
Using email, you can send deals to your customers that convince them to buy, track their behavior, learn what prompts conversions, and more. Some email service providers even offer automated campaigns that trigger whenever someone abandons a cart on your website or visits a certain page.
Of course, not all email marketing tools are equal. Here, we're going to compare some of the best email service providers to help you make the right choice for your business.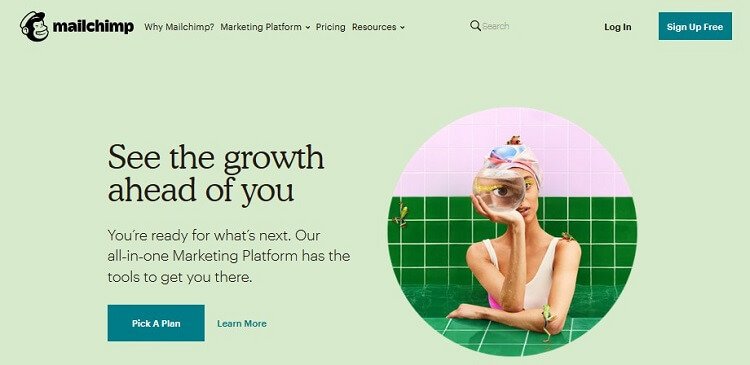 Mailchimp is probably one of the best email marketing service providers in the world. It comes equipped with countless features to help you build deeper relationships with your audience. Whether you're looking for a better way to drive customers to your products on an eCommerce store, or you just want customers to stay tuned with your blog, Mailchimp can help.
Mailchimp comes with plenty of great features. For example, enjoy access to useful customer data and solutions for Facebook marketing campaigns. It even gives you opportunities to build your own landing pages.
Notable features include:
Integrations with hundreds of leading apps and tools like Salesforce and Shopify
Contact segmentation for highly targeted email marketing
Merge tags for personalizing your email messages
Landing page builder for improved conversions
Scheduled delivery times
Autoresponder emails
Price: Get started for free (up to 2,000 subscribers), then upgrade to a paid plan from as little as $9.99 per month.

Another well-known email marketing service provider in the current landscape is Constant Contact. And it is highly sought-after among small business owners.
Not only is it incredibly easy to use, but this fantastic software also comes with a host of great templates to get you started. Plus, it boasts a robust drag-and-drop editing tool. And if you want to create and manage multiple contact lists, it's super easy to set up.
You can connect with your customers on anything from your website to social media to mobile devices, making it great for omnichannel marketing. And if you're looking for a way to boost your chances of sales on your eCommerce site, Constant Contact could be the solution for you.
Notable features include:
Choose from endless amazing templates
Upload your email list from various locations, like Gmail and Outlook
Send automated and personalized messages according to your schedule
Track bounces, unsubscribes, and inactive emails
Monitor campaign activity for better decision-making
Receive excellent customer support
Price: Start with a free trial and then pick from plans starting at $20 per month.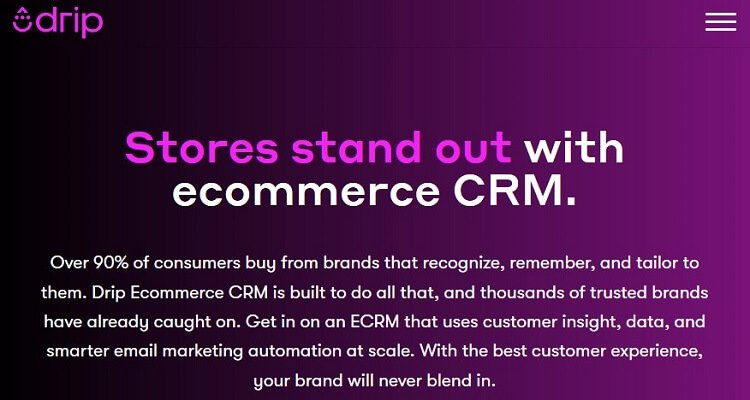 As one of the most powerful email service providers in the market, Drip is excellent for bloggers, site owners, and marketers alike. Anyone who wants to have intelligent conversations with subscribers will love Drip.
Drip works perfectly with WordPress websites. And it can integrate with many of the leading tools that today's businesses already rely on. Additionally, Drip also gives business owners the option to start Facebook ad campaigns and send text messages if they want to connect with customers through multiple channels.
Notable features include:
Segment your email list based on-site behavior for better, personalized messages
Create custom conversion reports and share them with your shareholders
Track your conversion rates and ensure you're getting ROI
Expand your marketing strategy with SMS and social media
Price: Drip is available to use for free for up to 100 subscribers. Beyond that, you can expect to spend around $49 per month on up to 2500 subscribers.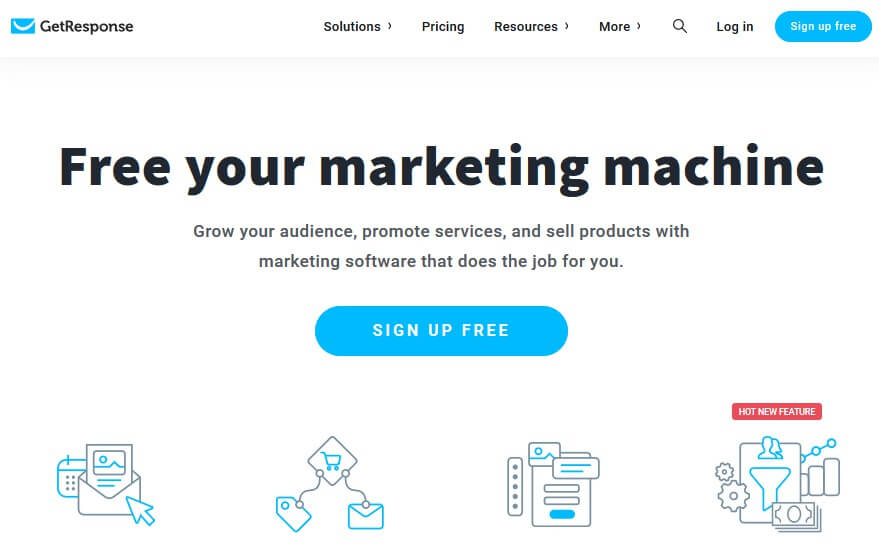 If you've heard of email marketing services before, then you've probably also heard of GetResponse. It's one of the most popular email marketing tools for any business owner. Plus, it delivers a modern and intuitive way to build effective email marketing campaigns. In fact, this solution comes with one of the world's favorite drag-and-drop editors. Because of this, building custom campaigns easy.
What's more, with GetResponse you can also segment your email lists and send campaigns to specific groups. In other words, GetResponse is a quick and easy way to upgrade your sales strategy.
Notable features include:
User behavior segmentation for personalized emails
Customized email autoresponders for cart abandonment
Webinar hosting and creation on your website
A/B testing of campaigns to check that they're producing results
Integration with lead generation and analytics tools like OptinMonster, Google Docs, and Salesforce.
Price: Signing up for a free trial of GetResponse is easy, after that, premium plans start at around $15 per month.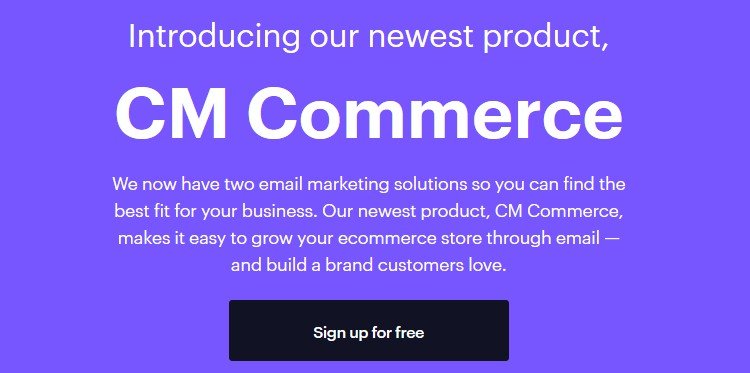 Campaign Monitor is one of the world's leading email marketing services today. Like other popular services, it comes with a fantastic drag-and-drop builder. This means that designing and publishing the perfect email campaigns is simpler than ever.
You can pick from a host of pre-built templates to suit your needs. You can also create campaigns that are branded to match your business or designed to encourage people to convert. With Campaign Monitor you can find endless ways to get repeat visitors engaged with your website. What's more, there are plenty of ways to create subscription forms and landing pages to drive more conversions with Campaign Monitor too.
Notable features include:
List segmentation and automated email newsletters based on user interest
Subscriber activity tracking so you can adjust your marketing accordingly
A/B testing of subject lines, images, and more to find out what subscribers prefer
Integration with leading apps for your CRM and eCommerce
Designing and implementing automated campaigns
Price: You can start with a free trial of Campaign Monitor, but it will only cover a handful of subscribers. Plans start at $9/month.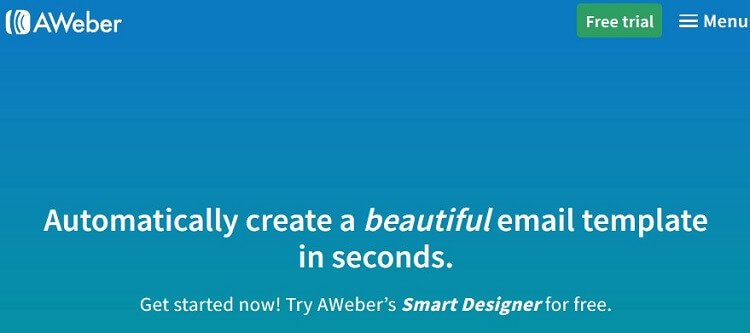 AWeber is a fantastic email marketing service that stands out from the crowd in today's top email service providers by offering incredible access to state-of-the-art analytical tools.
If you need assistance to build a bigger email list and generate leads, then AWeber is the tool for you. With AWeber, you can set up automated sequences that promote product launches, new blog content, and more.
What's more, this state-of-the-art tool is perfect for any business that wants to know exactly which campaigns are driving conversions. There's even access to thousands of high-quality images that you can use to customize your campaigns.
Notable features include:
Tags to organize your emails according to things like open rates and clicks as well as custom subscriber targeting.
Data tracking like performance and delivery rate to ensure that you're always getting the best ROI.
Automatically updated subscriber lists whenever a new blog post is published.
Unlimited email campaigns
Endless split-testing options for send times, email content, and subject lines.
Price: AWeber offers a free trial to get you started, followed by pricing that starts at around $19 per month.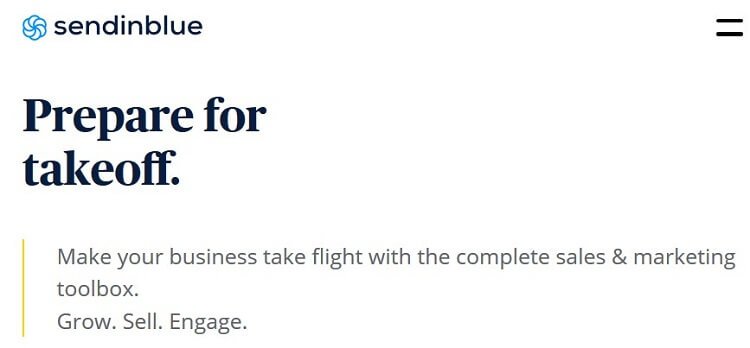 Perfect for the modern small business owner, Sendinblue is one of the best email service providers for those on a budget. Sendinblue can empower your business to strengthen your relationships with customers through both email and other marketing tools. this includes SMS marketing and social media.
To create personalized emails, you'll need to use the drag-and-drop editor. You'll also be able to create custom fields and contact strategies to access the HTML editor. Additionally, you can use one of the free responsive templates to create a newsletter. And you can bet your campaigns will look great on all device types.
Notable features include:
8 automation workflows so people can continue to receive emails at the time that's best for your conversion rate.
Detailed reports, real-time stats, and heat-map tools for optimizing your campaigns.
Live chat software for providing customer service and sending customized transactional emails.
Built-in lead scoring.
Price: Sendinblue comes with a free plan that includes unlimited contacts and 300 emails per day; then prices start at around $22 a month from there.
How to Choose the Best Email Service Provider
Choosing the best email service provider isn't a simple process. You'll need to think carefully about what you need from your email marketing tools.
For instance, if you're a beginner, Constant Contact is a great choice. This straightforward email marketing service comes with a 60-day free trial. Plus it has all the features needed to get started in email marketing.
If you're interested in an email marketing service that's excellent for analytics, then AWeber may be a better choice. It provides plenty of in-depth analytical opportunities. And the state-of-the-art solutions for A/B let you test your campaigns. This way, you can ensure that you're getting the best possible ROI from all your email marketing efforts.
Finally, if you're looking for something that fits almost any budget, then Sendinblue is by far one of the most cost-effective options. It comes with an extensive free option and plenty of low-cost premium packages too.
Are you ready to start your email campaigning efforts? Great! Just make sure you check out this comprehensive guide to GDPR. That way, you know you're always getting explicit consent to market to subscribers.
Which email service provider do you use for your email marketing? We'd love to hear all about it in the comments below!