Are you looking for the best WordPress testimonial plugins to transform your website?
Well, you've come to the right place.
These days, it's not enough to have offer the best products or services to your customers. You also need to prove to them that you deserve their trust. And it just so happens that one of the easiest ways to do that is to collect customer testimonials and display them for potential customers to see.
But why are testimonials so important?
Featuring messages from other happy customers on your page can increase your conversion rate and encourage repeat business. In fact, according to FigLeaves.com, adding reviews to their website improved customer conversions by 35%. Not to mention, 84% of people trust online reviews as much as friends.
If you don't have the developer prowess to create attractive testimonials on your site by yourself, you can always use a testimonial plugin to help.
The question is, which one should you choose?
Picking the right testimonial plugin to help you showcase customer success stories can be tough since there are so many options to choose from. That's why we've examined some of the top free and premium WordPress testimonial plugins to help you decide.
The 7 Best WordPress Testimonial Plugins
Approximately 97% of all shoppers say that reviews influence their buying decisions.
You just can't afford to ignore the power of testimonials as social proof. Fortunately, there are plenty of free and premium WordPress testimonial plugins to get you started.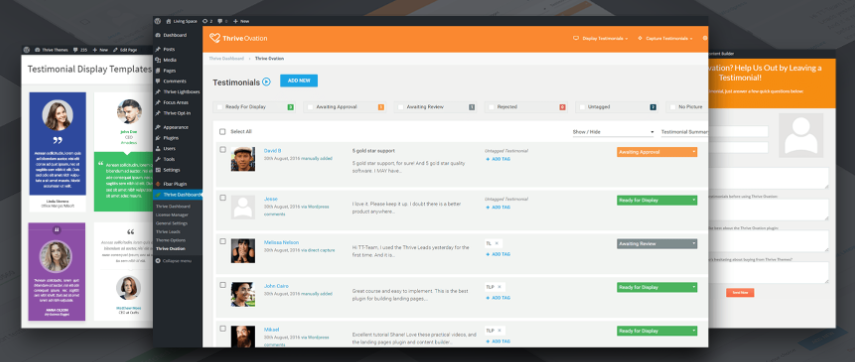 Probably one of the most popular testimonial plugins in the market today is Thrive Ovation because it delivers the ultimate all-in-one review experience. Complete with an easy-to-use interface and plenty of advanced customization options, Thrive Ovation makes transforming your site with different types of testimonials easy. For example, it allows you to convert standard WP comments into reviews if you want to.
In addition, testimonials from your social media accounts can be imported through the Thrive UI, which is great for collecting influencer testimonials. And if you want to get customer testimonials right from you website, there's a form feature available too.
But what's the best thing about Thrive Ovation?
Once you've collected all of your reviews, you can manage them from a central dashboard, add photos, and even sort through testimonials if you need to. There's also an option to sort comments by date.
Price: $39 for a single site license. Or, as part of a Thrive Themes Membership (that comes with all Thrive themes and plugins) for $19/month.

One of the most well known free testimonial plugins in the market is WP Customer Reviews. It's a regularly updated social proof plugin that's perfect for those that need help with how to get customer testimonials.
This free tool allows online business owners to create specific pages on their websites for collecting customer testimonials. This is great if you want to highlight reviews throughout your website (and not just on the home page). Once you collect all the reviews you need, you can display them in a Schema friendly format, meaning that they're also search engine friendly.
What else is great about WP Customer Reviews?
The testimonial forms used to gather reviews are completely customizable, so you can decide what questions to ask customers. Additionally, the built-in spam protection means you're less likely to have to deal with bots.
Lastly, this plugin works with most custom themes and caching plugins, meaning you won't have to deal with compatibility issues.

The best testimonial plugins don't have to be complicated to be effective. The free Testimonial Rotator plugin by Hal Gatewood is an excellent way to manage reviews for your site. You can use it to create a rotator-style solution for your customer comments, that showcase information in an attractive and accessible way. There's also an option to group relevant sets of testimonials for specific product pages.
There are two theme options included in the free version, and a variety of transition effects to choose from. If you need to access additional themes, you can buy them individually from the plugin developer's website. Alternatively, there's the option to check out the instructions that come with the plugin so you can create your own custom theme.
All that said, there is a feature missing that some business owners might need. Testimonial Rotator doesn't include a way to collect testimonials from site visitors.

Strong Testimonials is a highly sought-after free testimonial plugin, with a range of clean and basic templates to choose from. There's also a customizable submission form included so that you can collect new reviews from your target audience.
The great thing about Strong Testimonials?
It's incredibly easy to use, which makes it one of the best solutions for beginners and non-developers. However, you won't have to compromise on advanced functionality either. You can add optional pagination, display your testimonials as a list, add standard grid effects, and so much more. Custom CSS is also an option to transform the look of your pages.
Plus, you get things like:
Starr ratings
Sliders and carousels
Excerpt and 'Read More' link for a case study
Built-in editor for easy testimonial placement
Theme style inheritance
In the end, Strong Testimonials is an all-around great plugin that anyone would feel comfortable using.

Finally, Testimonials Widget is a free plugin that allows users to insert unique testimonials into their website via a sidebar widget or a shortcode. The solution also adapts to the review schema, so that you can display a star rating next to your site when you appear in Google search results.
You'll be able to add reviews to your pages as a custom post type and implement numerous settings that you can then customize. For instance, you can edit the fields, and even include video testimonials, images, and quote testimonials on your site.
Lastly, the default CSS is designed to fit with virtually any theme, meaning you can always customize the CSS however you like if the basic styling options aren't enough.

Easy Testimonials is another popular WordPress testimonial plugin.
Although it's available in both free and premium versions, it's fair to say that its pro solution stands out from the crowd. To start, it has more than 75 professionally-designed themes, as well as advanced transition features and email notifications.
Plus, you can expect features like:
A front-end testimonial collection form plus spam protection
Multiple email notifications
Font options such as Google Fonts
Easy export of review comments
What's more, the plugin uses JSON-LD markup to ensure that your reviews will appear adequately when your site shows up in the Google search results. This means that your customers can see your star ratings long before they click through to your site.
Price: $59 for a single site license.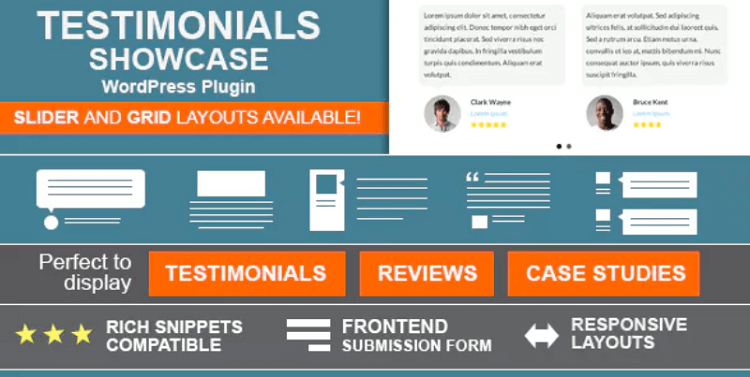 Designed to deliver attractive and memorable reviews for your target audience, Testimonials Showcase is a premium plugin that displays comments as grids or sliders. Five theme options come already built-in, and everything looks clean and professional – so you should find that your reviews work well on any site.
There's a front-end submission form included if you want to get testimonials from your customers. What's more, all of the components of your comments are customizable too. You can even integrate this plugin with Gravatar, so your customers can include photos of themselves. This is helpful because pictures make testimonials seem more "authentic," and purchase likelihood improves by 15% when buyers read reviews they feel are written by real people.
Price: $17 for a single site license.
How to Choose the Right Testimonial Plugin for WordPress
And there you have it! The best free and premium WordPress testimonial plugins in the market.
In a world driven by social proof, it's crucial you implement a strategy for putting your customers at ease. Fortunately, there are plenty of free and premium WordPress testimonial plugins you can use to take your website to the next level.
If you we had to pick one option, we'd recommend Thrive Ovation (premium) or Testimonial Rotator (free option)
If you're in the beginning stages of launching your website, or are working on a site redesign, be sure to check out this roundup of the best coming soon plugins for WordPress.
Which testimonial plugin do you use on your WordPress site? Let us know in the comment section below!