How your site performs is closely related to the theme you've installed on it. WordPress is a powerful content management system, and with some basic SEO knowledge and a good content strategy, you can make your site rank high, build an audience and start earning money on a regular basis.
But WordPress is open-source. That means any developer can add plugins and themes to its directory. By using some of them which aren't created by trusted companies or brands you know, you might be hurting your blog.
One thing most website owners regret not doing earlier is getting a premium WordPress blog theme. Once you do have a product like that, you can see immediate results, such as boosting site speed, better performance, tens of functions you didn't know existed, happier site visitors, and having a more professional platform for your business.
Almost anyone who installs a blog theme from a top provider shares that their overall score improved right away when checking it with a free tool like Pingdom, for example.
A good premium theme can do more than that, actually. It offers a unique experience to mobile users, as today more than 50% of visitors browse from their phone or tablet. Additionally, it's not a theme tens of thousands of other users would be having, as is the case with the free designs offered by WordPress. And because every premium theme has multiple elements, each designed with ease of use and customization in mind, you'll be able to combine them according to the vision you have for your site. This way your readers, users, and clients will have one-of-a-kind digital experience.
The WordPress blog themes you'll see in the list below are all with clean code, from trusted brands, with a great support team behind them, and offer plenty of features to make your blog stand out in a crowded niche.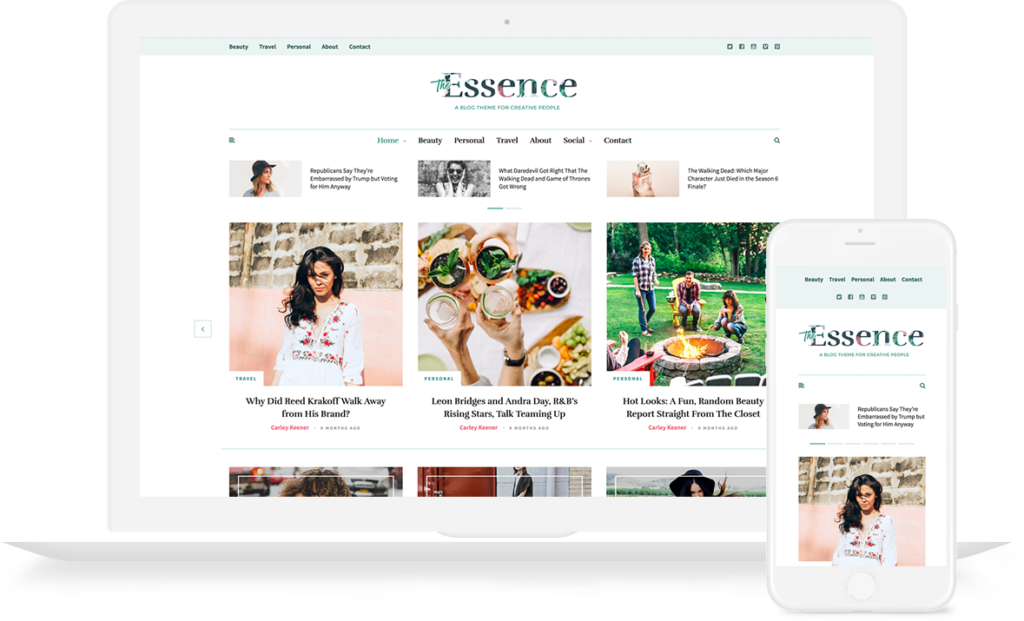 Let's start with a few designs from MeridianThemes. They are an established brand with hand-crafted products for every professional and creative who wants to give a makeover to their website's design.
The Essence is one such example. It's perfect for a magazine-style blog. Its feminine design makes it ideal for a female audience, or niches like Wedding, Food, Fashion, Lifestyle, or else.
Get this one theme for $59. As with any other product from MeridianThemes, you can also get access to all themes for 1 year at the cost of $89 (and use them on multiple sites). Or choose lifetime access and support for the price of $249.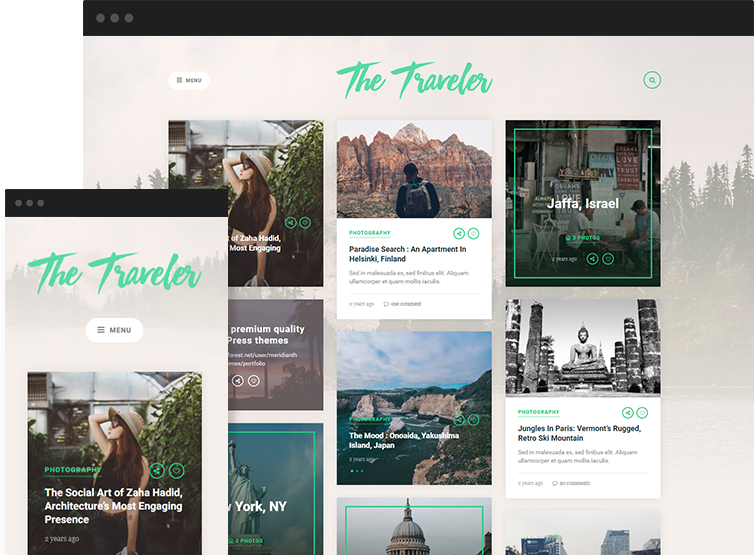 The second one of the best WordPress blog themes on our list is for the travel bloggers, travel enthusiasts, or anyone with a passion for exploring the world and sharing their journey. The grid-based layout of The Traveler gives it an elegant touch and keeps the focus on the images.
You don't need to be a professional photographer to make stunning travel photos, or a designer to be able to share them on your platform and engage people with your content. With an iPhone in your hand, desire to visit new destinations, and a theme like that you have all the visual elements in place to let others experience your adventure through your blog.
Instagram is the social media for that niche, and yet another place where images are the main type of content. That's why The Traveler has an easy option to showcase your Instagram feed on your site. You can use the same pictures on social media and your blog. Once your content and the stories you share together with it start inspiring people, you become an artist.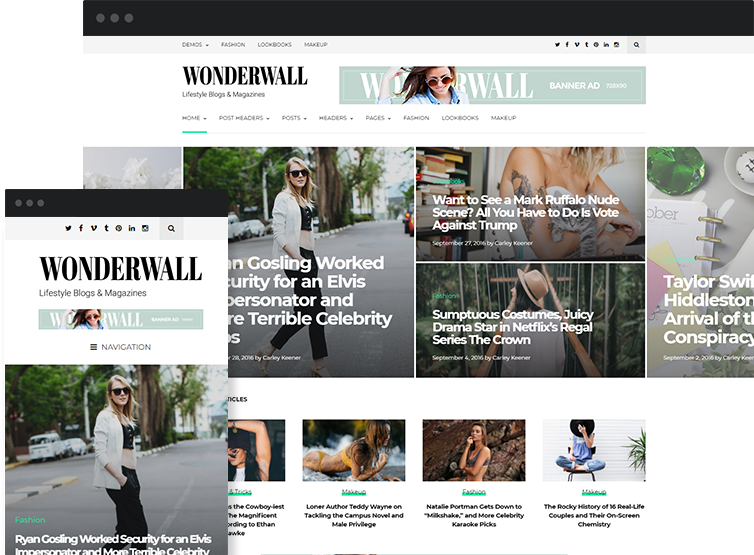 The next blog theme from Meridian Themes is Wonderwall, the ultimate magazine solution. Any publication with content around the topics of lifestyle can become a powerful digital magazine, and a theme like that can help you turn your site into one.
It offers 9 different homepage templates, each of which presents your best content in a way that grabs attention and seduces people to click and read more. The theme is also made with advertising and email list growth in mind. That's thanks to the built-in newsletter subscribe widget, and the banner ad locations integrated in a smart way.
Wonderwall helps you showcase your content in a stylish way while monetizing it without disturbing the reading experience. Place your own ads or use code from third-party platforms by simply using the Customizer you're already familiar with.
Social sharing is key for a magazine and lifestyle blog as people like to have a way to share your content, be given the chance to follow you across different platforms and also like to know how big your audience already is. The stylish social follow buttons with follower counts that Wonderwall gives you let you do that.
You can get the theme for $59 today and upgrade your site with just a few clicks.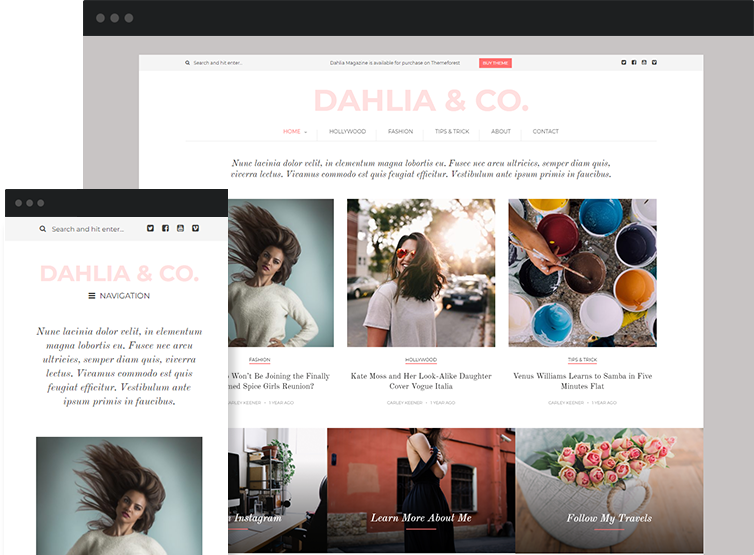 Another magazine theme with great design and functionality is Dahlia. It's for female bloggers or any website with a female audience.
You want your blog to look stylish and keep the unique experience on all devices. You also focus on building your email list while consistently posting new content. Dahlia allows you to do that.
It goes with 5 pre-built homepage templates to showcase your latest and best content only. And because in the world of magazine-style blogs pagination is old-fashioned, Dahlia allows your visitors to be able to see more posts by simply hitting the 'Load More Articles' button.
The 'About Me' widget is minimalist and can improve your brand image while keeping this element consistent with everything else on the site.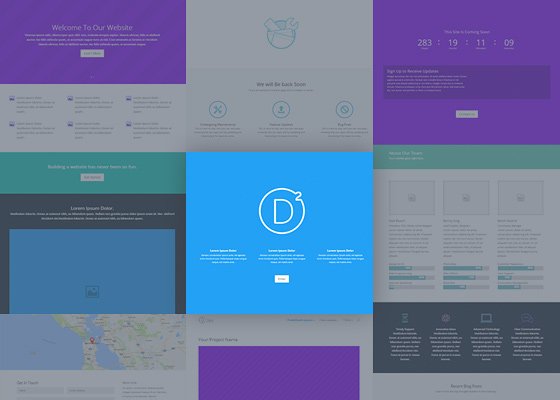 Divi is considered the most popular premium WordPress theme, and the best creation of Elegant Themes. It's powered by the Divi builder, a drag and drop front end editor that allows you to build anything visually. Its real-time design makes it insanely fast, and you can customize literally anything. The 46 content elements the theme comes with allow multiple unique combinations.
The creators have designed 20 pre-made layouts for you too.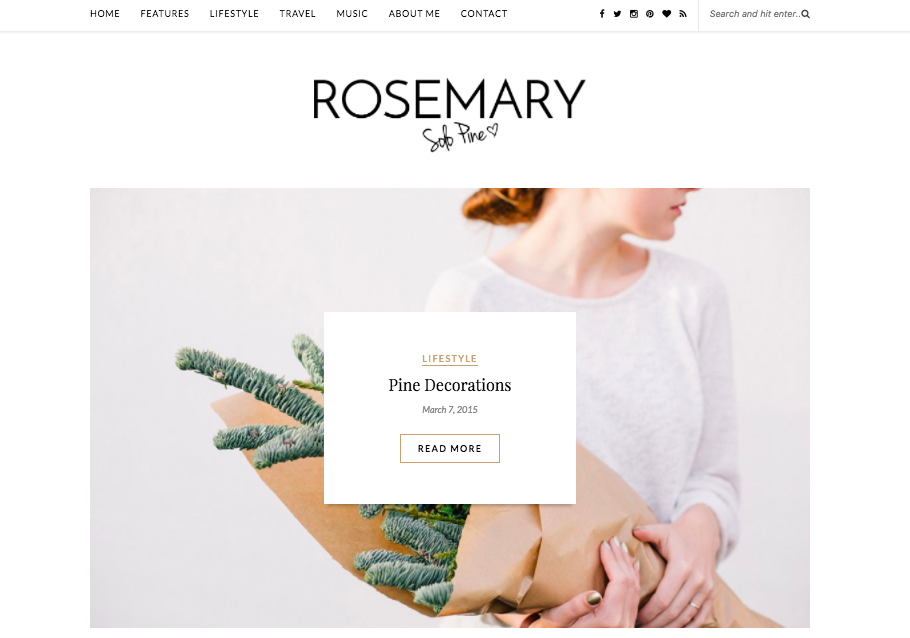 The list of best WordPress blog themes wouldn't be completed without a few designs from ThemeForest, another one of the big names in the industry. Rosemary is an elegant and simple theme, working especially well in fields like Travel, Lifestyle, Music, and more.
With it, you receive 5 blog layouts, a beautiful featured slider you can put on top of the homepage to show your latest posts, and a ton of color options and post formats to make each page as beautiful as the rest.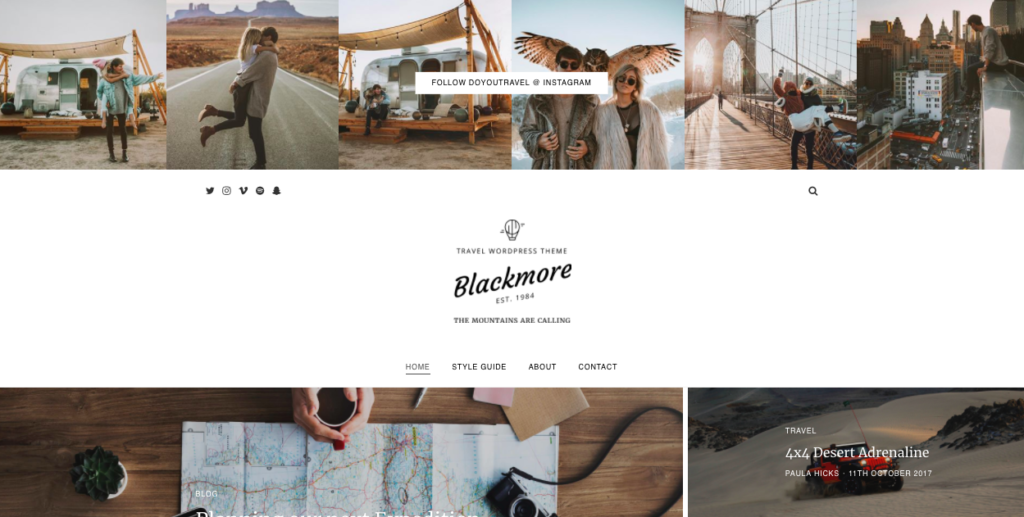 Blackmore is usually referred to as a travel theme but can be used for any blog that has content to offer and wants to look like a professional digital magazine. The focus is on your images, as a picture is worth a thousand words.
The design is clean and modern, you can choose from a layout with left or right sidebar, or let each page present only the piece of content itself by choosing full width.
What's more, you have different featured layouts for your homepage to grab interest with your latest posts. Add to that shortcodes for things such as a spoiler, rows and columns, notifications and alerts, pull quotes, intro text, and more that can make different parts of the page stand out.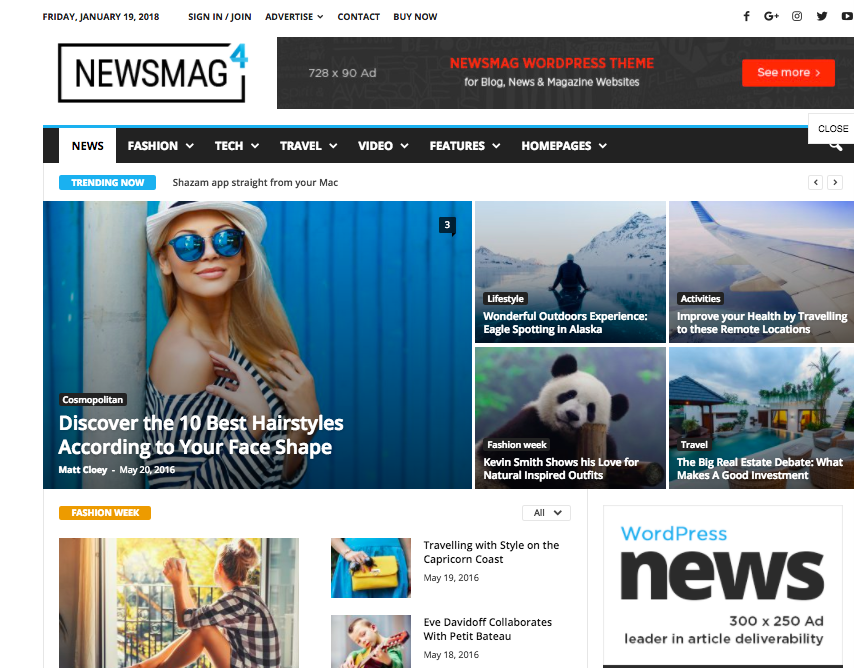 Last but not least, another quality product from Theme Forest that is tailored to those running a newspaper or news blog is Newsmag. It's lightweight and fast, fully optimized and ready to help you build an audience with your content.
If you choose to install that theme on your WordPress site, you'll enjoy working with the tagDiv composer, which is the first page builder designed for sites like that. There are flexible and versatile layouts, premium widgets and an intelligent ad system too. Add to that the built drag and drop gallery, custom-made lightbox, smart sidebar, video playlist and more. All types of content – text, audio, video, and a combination of these – will look stunning with a design like that.
What's the best WordPress blog theme for you?
Are you ready to choose the design that will work best for your site? We hope the list above helped you get a sense of what a good WordPress blog theme looks like, and you're now ready to decide what features you need the most and choose one.