Do you regularly send out invoices to your customers? Do you need a system that brings consistency and organization to your invoicing and payment processes? An invoicing plugin will not only help with all that, but it will also make the process much simpler.
In this article, we'll point you to the best WordPress invoicing plugins so that you can send invoices straight from your WordPress dashboard.
What to Look for in the Best WordPress Invoicing Plugin
There are many invoicing plugins available, and while they all offer similar features, some have extras that could make them a better fit for you. You need to consider what exactly it is that you want the plugin to do.
Do you solely need it to send invoices, or do you also need it to include recurring payment collection, payment gateways, automatic invoicing, and so on? There's a lot to think about, but we'll run through the key features you might want to look for below.
Invoicing
Obviously the plugin will allow you to send invoices, but you should consider whether you want the plugin to have automatic invoicing, or if you want to create and send invoices manually. Also, you may already have an invoice layout, but some plugins offer invoice templates and customization features.
Payment
Once the customer receives the invoice, how do you want them to pay you? Some invoicing plugins integrate with payment gateways, giving you the option of providing a payment method with your invoice. You might also want to include the option of making a partial payment, or if it's a subscription, you should pick one that allows recurring payment collection. Some plugins also let you include late fees.
Records and Taxes
Many invoicing plugins include automatic tax deduction and tax reporting. Plus, you may want to export your invoice record to another platform. Having an easy-to-use dashboard to control all of that is handy.
Price
Lots of invoicing plugins have a free base version, but you'll often need to upgrade to the premium version to make use of extra features. It's a good idea to round up all of the features you need and then work out which plugin will provide all of that for the lowest cost. That said, you shouldn't opt for a cheap plugin over quality and value.
The Best Invoicing Plugins for WordPress
1. Sprout Invoices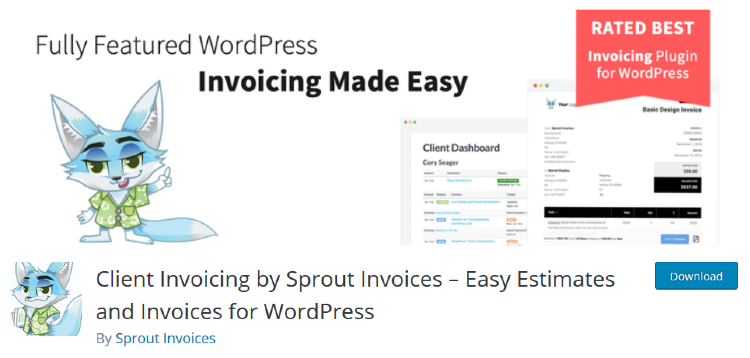 The Sprout Invoices plugin has both a free and premium version with great features that aim to make your invoicing tasks less of a headache. It lets you create estimates and invoices with templates and include your branding. It also integrates with many different payment gateways, including PayPal, Stripe, 2Checkout, and more. Plus, you can allow your customer to pay you via cheque.
You can also integrate it with certain form plugins, such as Ninja Forms, WPForms, etc., to customize your invoices further. Sprout Invoices also supports different languages and currencies, so it doesn't matter where your customer is based.
You can create unlimited invoices and estimates, as well as unlimited customers.
If you want features such as recurring invoices and payments, advanced reporting, certain integrations, and other features, you'll need to upgrade to Sprout Invoices Pro.
Price: You could simply stick with the free version of Sprout Invoices. If you need the extra features we mentioned above, though, you'll need to opt for the Pro version. That costs $59.25 per year for the Freelancer Licence. However, if you need Stripe payments, you'll need to upgrade to at least the Plus Plan, which costs $119.25 per year. There are 2 other plans which offer more features, the most expensive being $449.25 per year.
Unlimited invoices, estimates and customers
Integrates with multiple payment gateways
Customize invoices with templates
Reporting (limited with the free version)
Supports multiple languages and currencies
Recurring invoices and payments (Pro)
WooCommerce integration (Pro)
Stripe payments (Pro)
Client management
2. Sliced Invoices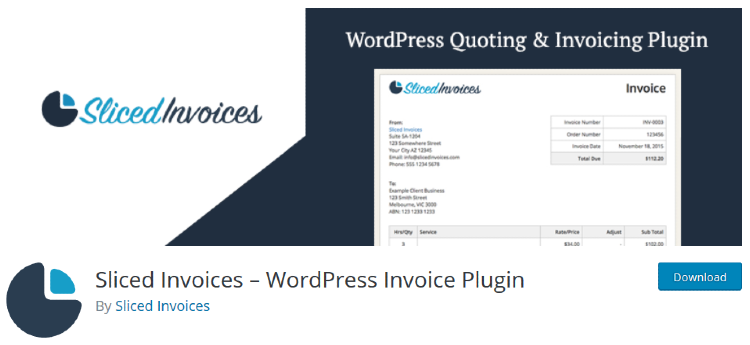 Sliced Invoices is another great invoicing plugin that offers both a free and paid version. It's easy to use but is packed with features, though some of those are paid features. With it, you can design invoicing templates to suit you and it'll automatically add invoice numbers. Clients can also make a payment online once they've received an invoice. You can adjust tax settings, add your logo and business details, and so on.
You can also see monthly or yearly reports with all of your invoices included, as well as export your invoices. It's a great choice if you simply want to invoice your customers through WordPress and accept payment through integration.
Price: The Sliced Invoices plugin is free but limited in features. To get its premium features, you need to purchase extensions. You can buy them individually and they cost from $15 for a single website, from $25 for 2-5 websites, or from $35 for unlimited websites. If you plan on buying more than one, though, we recommend you purchase a bundle instead, which starts at $79.
Customize your invoices and quotes
Flexible tax settings
Clients can pay online through PayPal, or you can use Stripe (pro)
Reporting
Export your invoices
Supports any currency
3. WP-Invoice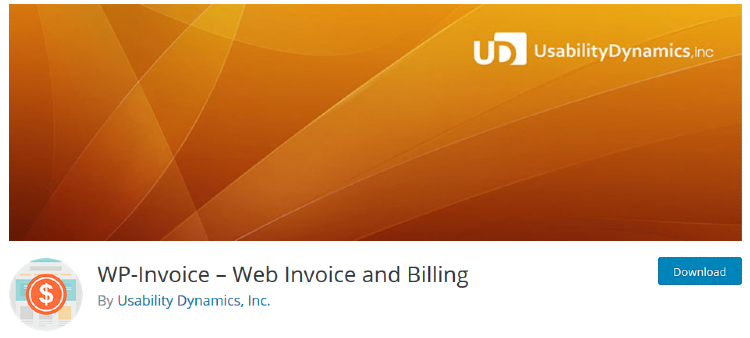 The WP-Invoice plugin is completely free. It lets you generate invoices that are customized. You can add many details to your invoices and the plugin integrates with the WordPress management database so you can easily keep track of everything. Your customers can pay through your invoice, and you can integrate it with Authorize.net, Interkassa, Stripe, PayPal, and 2Checkout.
WP-Invoice doesn't have all of the features that other plugins include, however, it does let you accept recurring payments with the above payment methods and accept partial payments. There are also free add-ons available, such as electronic signatures.
Price: It's completely free. There are no paid add-ons or premium upgrades.
Free plugin
Easy to keep track of everything
Partial payments and recurring payments
Customizable invoices and receipts with templates
Free add-ons
Export and import invoices
Integrates with many payment gateways
4. WooCommerce PDF Invoices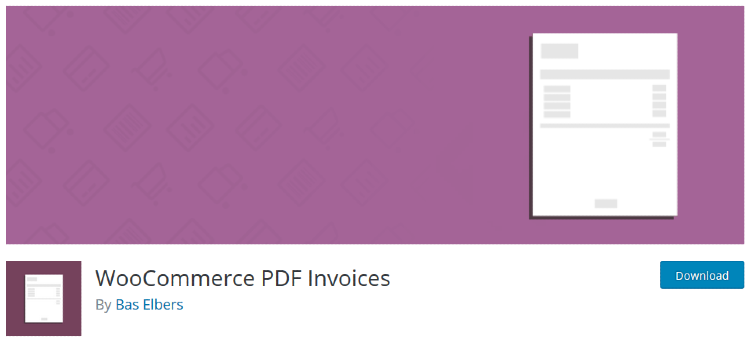 If you have a WooCommerce store, the WooCommerce PDF Invoices extension might be a better answer to your invoicing needs. It has both a free and paid version, and allows you to send a PDF invoice with every order confirmation email automatically, or do it manually. You can create and customize your invoices or you can use the pre-made templates. It also automatically adds numbers to the invoices.
The WooCommerce PDF Invoices Premium version has extra features, including the ability to send credit notes, automatic reminders, and bulk generation of invoices. It's also compatible with WooCommerce Subscriptions plugin emails.
Price: The base version is free. If you want the Pro features, it will cost you $79 per year.
Fully customizable invoices
Send invoices automatically or manually
Bulk generation
Automatic invoice numbering
Supports different languages
Automatic printing of invoices (pro)
Automatically backup your invoices to Dropbox (pro)
5. WPForms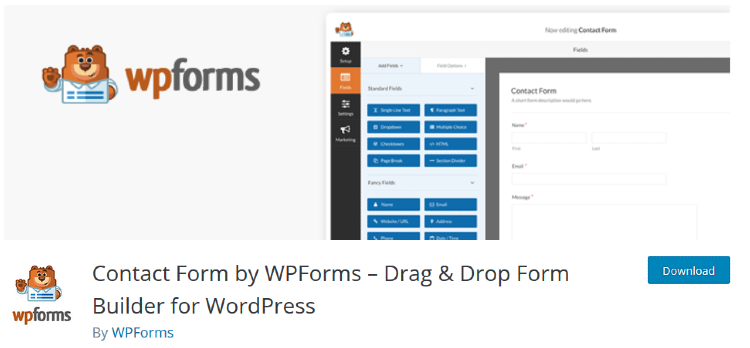 The WPForms plugin is an easy to use plugin that lets you create multiple types of forms. Although that sounds odd in a list of the best invoicing plugins, the reason it's included is because you can create an invoice or payment collection form with its drag and drop builder. You can generate an order form which then lets you send an invoice to the customer through email. It integrates with many payment gateways, such as Stripe, PayPal, or you can accept credit cards.
The beauty of WPForms is its ability to create multiple types of forms, including signup or quotation request forms. It may save you money from buying other plugins for those different needs.
Price: WPForms costs from $39.50 per year for 1 site. If you want to integrate PayPal or Stripe, though, you'll need the Pro plan, which costs $199.50 per year.
Can create multiple types of forms
Drag and drop builder
Generate an order for automatic invoicing
Integrates with payment gateways
6. Invoicing & Payments Plugin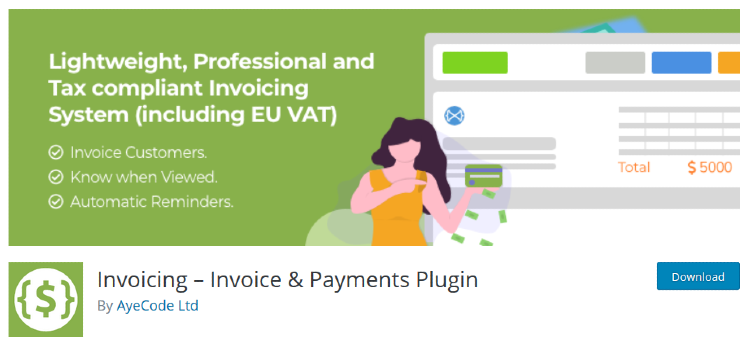 The Invoicing & Payments plugin is a simple solution for creating customer invoices. It's free to use, and there are free and paid add-ons. For instance, with the help of the free Quotes add-on, you can create a quote, and then turn it into an invoice so the client can pay online.
You can accept one-time or recurring payments. It can be integrated with PayPal, Authorize.net, and other payment gateways. You can also manage your taxes, and it has a reporting system.
Price: The plugin is free but there are add-ons available for $19 each. You can also buy them all in a bundle. That costs $49 for 4 months, $59 for 6 months, $99 for 1 year or you can get the Lifetime access for $495.
Base plugin is free
Turn quotes into invoices
Recurring payments
Integrates with payment gateways
Reports and tax management
Which Is the Best Invoicing Plugin?
Using an invoicing plugin can help make your online business run much smoother. However, choosing which invoicing plugin is the best for you really depends on your needs. For instance, do you need it to accept recurring payments, integrate with payment gateways, or help you with tax management? Each of the plugins we've recommended has at least some of those features if not all.
Out of all of the best WordPress invoicing plugins we've listed, Sprout Invoices is the best choice overall. It lets you create unlimited invoices and estimates, and you can integrate it with multiple payment gateways so your customer can pay with ease. Your invoices are customizable, and the plugin supports multiple languages and currencies. On top of that, you have access to reports, client management. The base plugin is free, but if you need recurring payments or want to integrate it with WooCommerce, you'll need to upgrade to the paid version.
That said, if you run a WooCommerce store, you might prefer to use the WooCommerce PDF Invoices plugin due to its bulk generation feature.
Lastly, if you'll be creating multiple form types, such as signup forms for your mailing list, etc, WPForms might be a better fit, and it includes a drag and drop builder.
Have you used a WordPress invoicing plugin? Let us know which one and tell us about your experience in the comment section. Be sure to check out our most recommended free WordPress plugins for businesses, too. Thank you for reading.