Email might not be the newest kid on the marketing block – but it's still valuable.
There are billions of email accounts worldwide, giving your email newsletter 3 times the reach than even the biggest social media channel – Facebook.
And as if that wasn't enough, email messages are five times more likely to be seen than any ad you post on Facebook too. That means that you can use your email content to really speak to your audience.
Of course, making the most of your email newsletter does mean that you're going to need to invest extra time if you want to boost conversions. After all, your email marketing database degrades by an average of 22.5% each year.
Subscribers disappear because they lose interest in your content or they're just clearing out their inbox. So as a business leader, it's up to you to make sure that you're constantly adding fresh new contacts to your campaigns and keeping current subscribers engaged.
So, how do you grow your email list and boost conversions at the same time?
Well, it just so happens we have the top 6 most actionable ways to do just that.
1. Use Something Valuable to Boost Conversions
The first thing you're going to need to do when attempting to boost conversions is offer something of value to attract subscribers.
So, what kind of valuable incentive can you offer your prospects?
The options are pretty much endless. Depending on what you know about your customers, you could give them an eBook, a free download, a discount code, or even a guide on GDPR compliance.
And with so many great email list building plugins in the market, offering a lead magnet is a cinch.
The key to success is being super-specific. Your lead magnet needs to address a problem that your audience is already having and provide a solution. That's how you get them to hand over their email address.
Here are a few tips to get you started:
Don't worry about length: your lead magnet content doesn't have to be long to be effective. In fact, some studies claim that long-form content is less likely to convert.
Know your audience: use your buyer personas to figure out exactly what your customers need from you and then deliver a solution, asking only for an email address in exchange.
Make the benefits obvious: ensure your customers can see the benefits of whatever you're offering immediately. People don't have time to waste. Your goal is to target their pain point and provide an instant solution.
Here's a great example from OptinMonster: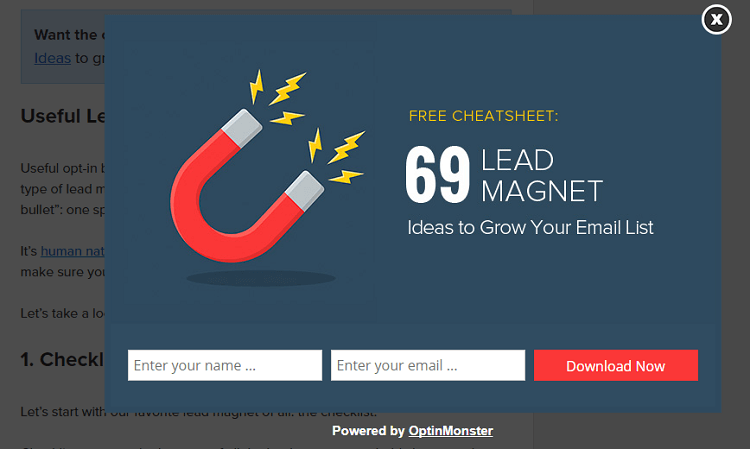 Their popup optin form offers people a cheat sheet that's packed full of useful information. Plus, it gets straight to the point and it's easy to access.
And all you have to do to get it is enter your email address. It's as simple as that.
2. Invest in Evergreen Content
There are tons of ways to boost conversions and grow your email list. But one of the most important is giving people a reason to come to your WordPress site and connect with your brand.
More specifically, using high-quality, valuable content to improve search results, drive traffic to your site, and engage site visitors. Once people know they like what you have to say, they're more likely to subscribe because they want more.
Evergreen content is the kind of material that stays fresh and appealing on your site for as long as possible, if not forever. It doesn't lose its impact over time, which makes it a great way to draw in subscribers.
A reliable guide on your website, a webinar, or something your customers can bookmark and return to regularly will help them to see you as a thought-leader in your industry. And they won't want to lose track of you or what you're publishing.
At the bottom of your evergreen content, always add a compelling CTA to convince customers that they need to be a part of your email list to get more great material in the future.
With your evergreen content, remember to:
Use extensive research to ensure that you're delivering amazing content every time
Tell an important story to develop a deeper relationship with your customers
Make it visual with images and videos that capture and maintain people's attention
For instance, check out this example from HubSpot: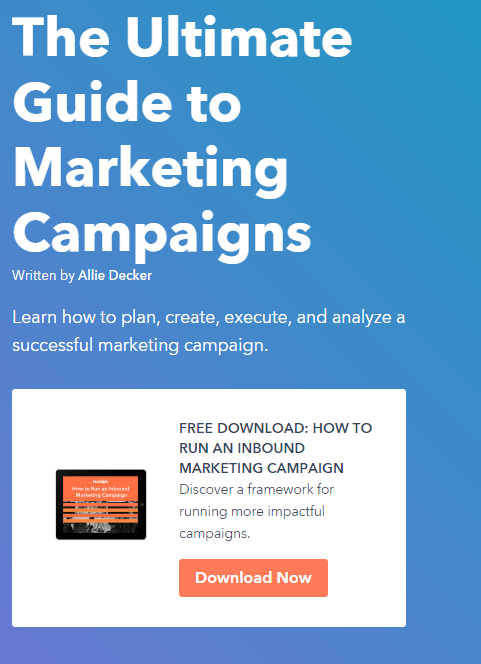 This guide gives customers a quick and easy way to learn something important, while demonstrating Hubspot's thought leadership.
And the best part is that marketing campaigns will never go away. So, this content they're giving away for free (minus a simple email address) is going to be valuable to subscribers forever.
3. Use CTAs on Relevant Posts
Having great content is important when you're trying to grow your email list, but you need something that's going to convince your leads to convert into subscribers attached to that content.
In other words, you have to tell people what action you want them to take next. And in this case, the next step is to subscribe to your email list.
Call to actions (CTAs) are one of the must-have tools in any marketer's kit. They need to appear on every relevant blog post or article that might convince someone to be a part of your email list. And they have to be compelling and clear if you want people to sign up.
Here is some example CTA copy you might consider using to boost conversions:
Click here for more useful tips on [topic]
Sign up to our newsletter for more
Find out more here
Check out how CoSchedule uses their CTA to instantly inform readers of the benefits of subscribing to their newsletter:

To make better-data driven decisions, you can use tools like Google Analytics to track which CTA buttons have the biggest impact on your audience over time. Knowing which CTAs are clicked on the most and lead to the most sales will help your future CTA copy and design.
4. Make People Feel Special
All customers want to feel special – it's only natural.
When your audience subscribes to your email newsletter, it's often because they feel as though they're going to get better treatment as a subscriber than they would without.
Convince your followers to become part of the VIP crew by giving them an exclusive offer right off the bat. For instance, you might tell your leads that they can get a discount straight away when they subscribe to your newsletter, or even free shipping on their next purchase.
Great options include:
First order discounts: give your customers money off their first purchase instantly.
Express or free shipping upgrades: make it easy to for customers to get the items they pay for
Early access and exclusive promotions: let your email list be the first to know about upcoming sales and money-saving opportunities.
Freebies: the occasional freebie, like a download or an eBook, can go a long way in delighting your audience and keeping them subscribed after they join your list
Access to new products: let your subscribers test out new products and tools before anyone else. In addition, encourage them to leave reviews, so you know how to improve your products and services before releasing them to the public.
Take for instance Netflix. They tempt subscribers into their service by offering a 30-day free trial: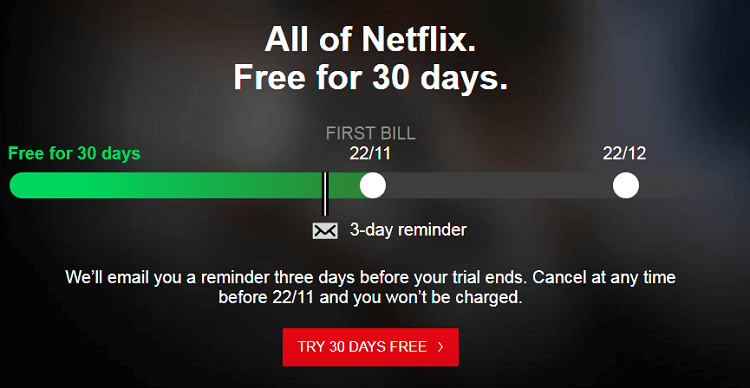 Notice too how Netflix addresses a simple, but important pain point – not remembering to cancel a free trial in time. Some people will hesitate to subscribe if they're afraid they'll forget to cancel a service before the free trial runs out.
Netflix knows this and makes things simple by sending out a 3-day reminder before the end of the trial period. This strategy will surely convert those that were initially unsure.
5. Collaborate with Other Companies
We all need a little help sometimes. That's particularly true when figuring out how to grow your email list as a new and emerging business.
If you're struggling to attract the customers you need to grow your email list, then working with another brand could be your best bet.
You've probably seen countless organizations doing this already when they engage in deals with influencers and affiliate marketers online. However, there's more than one way to get things done with a partnership.
For instance, you can:
Guest blog for other companies: sharing your inspirational content on other blogs helps you to reach new customers and draw them back to landing pages where they can subscribe for your email newsletter.
Run promotions with relevant companies: agree to team up with another business on a prize if your customers give their email addresses to you. You can share the emails you gather between you and your partner.
Host a co-marketing strategy with another business: connect with other companies to run videos, blogs, guides, and other events that capture more attention from your target audience and drive them to your subscription page.
6. Place Opt-In Forms Everywhere
When you're designing a website, you need to walk a fine line between attracting your audience, delivering information, and improving your chances of conversions.
Plugins and extra features can make you more likely to earn audience attention, but they can also slow down your site if you're not careful. However, if you're working on email list building, then you're going to need to take a risk and spend more of your real-estate on opt-in forms.
Just having a single opt-in form on your website might not be enough to collect the level of conversions that you need. Even with engaging CTAs, you'll still need more ways to make it easy for your audience to opt-in.
For instance, Kissmetrics uses a floating form on the side of every page to remind their audience that they can always opt-in: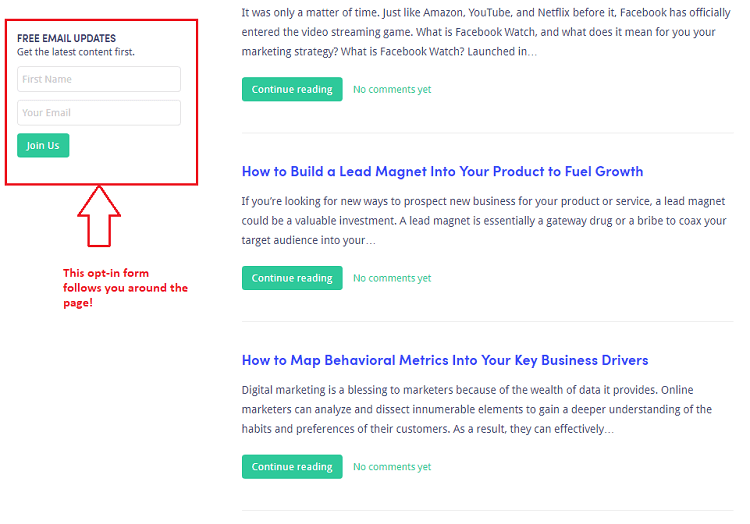 The floating opt-in form follows readers down the page, so it's always there and ready to access when a customer wants it. Floating opt-in forms give you a chance to remain in your customer's direct line of sight, without being too obtrusive.
You can also experiment with various other options too, like opt-in forms placed in the sidebar of your website, or even pop-ups.
Need a great (and free!) opt-in form solution? Check out Optin Forms in the WordPress Repository and start collecting emails today!
It's Time to Start Building Your Email List
Figuring out how to boost conversions fast isn't always easy. You need to think about what's going to appeal to your target audience, and how you can connect with customers, without accidentally scaring them away.
The good news is that the strategies above will help you to capture attention, engage your readers, and drive engagement, all without being too overwhelming.
Once you've started to build your email list, remember to maintain it properly too. Continue serving your customers excellent, high-quality content so that they're less likely to hit the "unsubscribe" button in the months to come.
If you're ready to take your email list building efforts to the next level, be sure to check out the best email service providers in the market to help you manage your growing list of contacts.
Stay tuned to our blog for more tips on how to boost those conversions.