Is your current hosting company just not delivering anymore? Then you just might need to migrate your website elsewhere.
Maybe when you first started your WordPress website, your hosting provider had everything you needed.
However, now that your business has grown, your needs have changed. That's why you need to find a hosting provider that's bigger, better, and more advanced.
Unfortunately, choosing a new hosting company is only the first challenge you'll have to face.
Once you've picked your new partner, you also need to find a way to move from your old host to your new one. That means migrating all your data, plugins, themes, and files. You might even have a massive database of users that you don't want to leave behind.
WordPress migration plugins simplify the leap from one host to another. Without the right migration plugins, there's a risk that you'll struggle to fully clone your website perfectly.
So, which are the best WordPress migration plugins available today?
Choosing WordPress Migration Plugins
The best WordPress migration plugins feature a variety of capabilities.
These tools come with attractive, easy-to-use interfaces, one-click migration solutions, and more. Migration plugins make it easy to back-up and transfer your files.
Other features include:
Support for serialized data
Well-coded and highly performing
Backed-up database as SQL files
Find and replace file path URLs
Migration of entire database or small components
Automatic fixes of all possible problems
Compatibility with a range of operating systems
Remember, before you get started, it's important to know how your hosting works. Some web host providers make it easy to migrate your site. These companies might even have their own migration services to help you out.
Other hosts aren't as helpful.
Additionally, you'll need to check that your plugin of choice isn't going to create any performance issues for your new hosting service.
That said, let's start exploring some of your WordPress migration plugins in the market.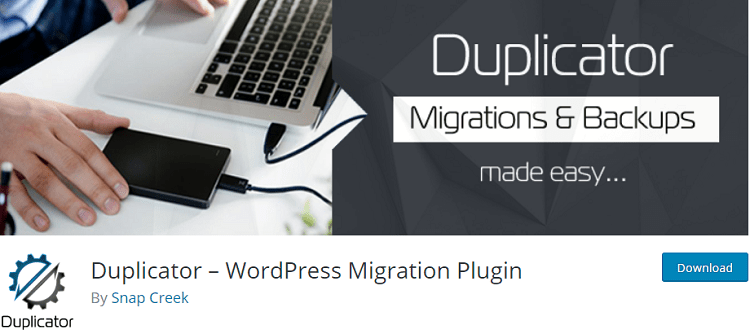 Duplicator is by far the most popular plugin for migration of WordPress files. This plugin quickly and easily transports your exiting WordPress files into a new location.
You can copy, move, and clone your content, moving individual chunks into a new environment. Alternatively, you may prefer to use traditional methods to migrate the entire site at once. Duplicator creates a package for migration that bundles up all site content, WordPress themes, and data files into a zip file. This file can then travel with you to any hosting provider.
Duplicator also helps you to make your own pre-configured sites. There's even Duplicator Pro available, which comes with scheduled backups, cloud storage, multi-threaded support, and more.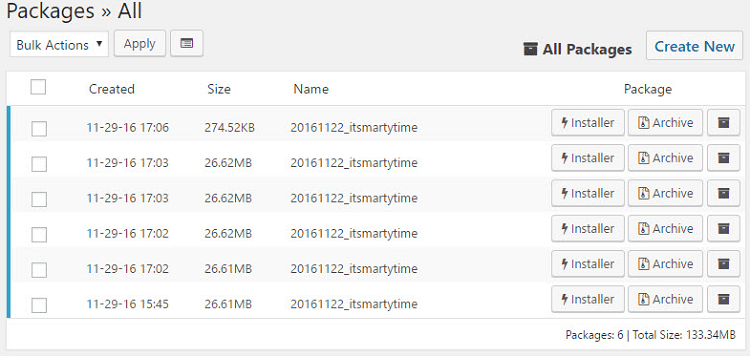 Pros:
Manage your migration to a new host, server, or domain name
Easy step-by-step migration wizard available
Schedule or access automatic backups to save on remote storage
Connect with cPanel hosting dashboard
Support for multi-site migration
Access professional support
Cons:
A little tricky for beginners to use
Complicated process for those with poor internet connections
Best support comes from paid service
Price: Duplicator Pro starts at $59 per year for 3 websites, or you can use the free version for a smaller site.
The JetPack migration plugin is one of the better-known solutions today. This massive suite of plugin technology comes with a host of useful features. Additionally, you can use the Jetpack plugin to help your website load faster, access automatic content backups, and even migrate to a new host.
Many people use the JetPack service from WordPress to enhance the overall performance of their WordPress sites.
Jetpack offers things like high-performance content delivery and constant uptime monitoring. However, there's more to this plugin than meets the eye. The JetPack Backup feature will ensure that you can quickly and easily restore your WordPress backups on a new website.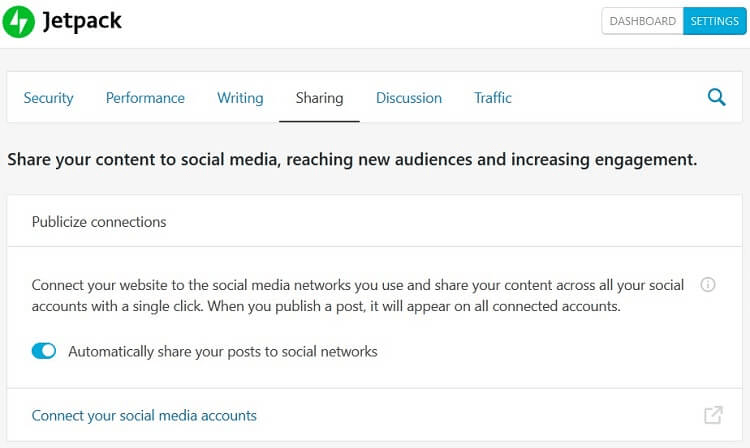 Pros:
Easily back up your content and move it to a new location
Use incremental backups to maintain server resources
1-click site restoration for faster migrations
All your data is stored on the cloud
Inclusion of site security features
Various high-level features like sidebar customizations and custom CSS editing
Cons:
Requires a full JetPack subscription for migration;
Complicated setup for beginners
Price: There's a free version of JetPack available, but you won't be able to use the backup and migration with it. Instead, you'll need either a personal account for $3.50 per month, a premium account for $9 per month, or a professional account for $29.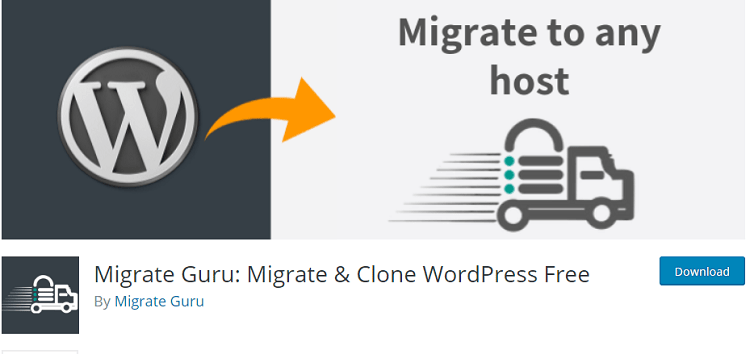 Most WordPress migration plugins can handle the movement of smaller websites with ease. However, Migrate Guru is different. This migration plugin is excellent for multisite support and large file sizes.
Even if you have a substantial multisite network, you can rely on Migrate Guru to make moving easy.
Migrate Guru is one of the fastest and most diverse ways to migrate WordPress sites. This plugin doesn't use any of the power or performance of your website.
The solution is powered by BlogVault. This tool automatically rewrites your URLs, handles serialized data, clones sites, and more without a lot of manual work. There's no need for any pesky add-ons either.
Migrate Guru claims to move websites up to 80% faster than its competitors. Additionally, because everything is done on an external server, there's no risk to your website.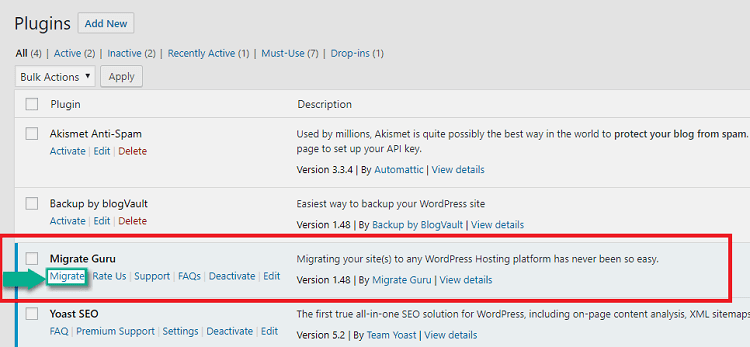 Pros:
Support for virtually all WordPress hosting companies
Work conducted on an external back server
No excess risk to your website during migration
Easy to use the migration wizard to help you get started
Migrates URLs and manages serialized data
Can migrate larger sites and multi-site networks
Cons:
No support to localhost/live website migration
Support is limited for multi-site migrations
Price: FREE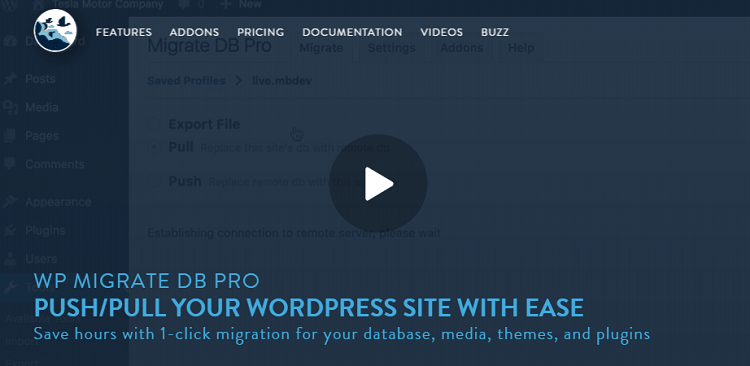 Another powerful WordPress migration plugin to consider, WP Migrate DB Pro, helps you to transfer your website with ease. This product was specially designed to help with moving the database on your WordPress website to another hosting provider. You can either move your entire site, or pull and push media files, plugins, and themes one at a time.
Migrate DB Pro assists with finding and replacing serialized data and SQL files. Additionally, the service helps to ensure that your website information stays complete and uncorrupted. This system will also securely back up all of your information before it migrates it – just in case.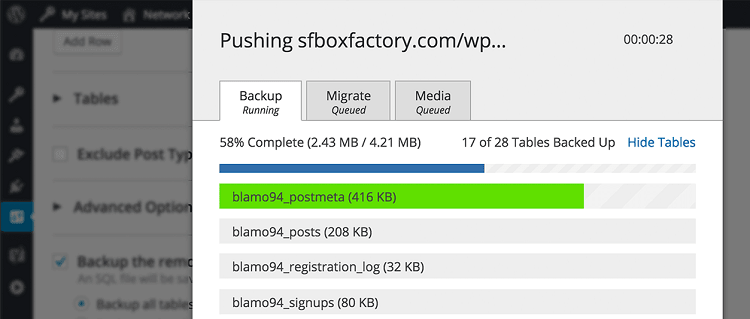 Pros:
Ideal for quickly and conveniently copying WordPress data
Great for developers, with advanced code options
Backs up your existing database before migration
Easily find and replace information in your database
Helpful for large websites and complex hosting
Theme and plugin file add-on available
Cons:
Requires multiple add-ons for complete migrations
Full tool-set only available under a more expensive developer license
Not as easy to use for beginners
Price: $99 for a single site, or you'll need the more expensive Developer license if you want to conduct a full-site migration.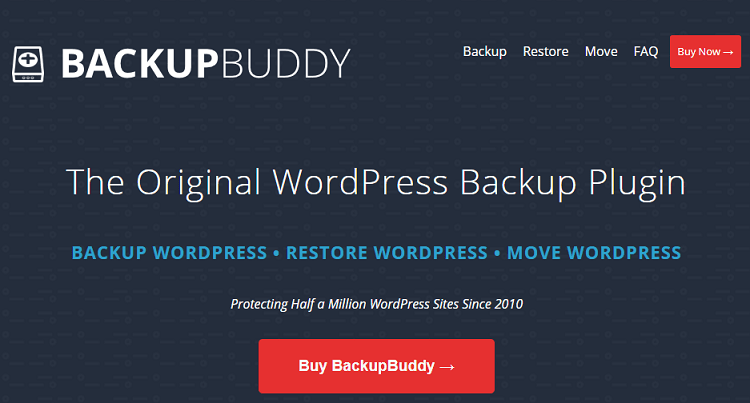 BackupBuddy was created to help with protecting and migrating your website. This app has everything you need to preserve your WordPress site, restore crucial files, and migrate. This migration plugin was designed by the iThemes company. It has supported more than half a million websites since it's initial release.
This app is frequently described as the "original" WordPress migration plugin. BackupBuddy allows you to protect your original files and create backup packages to move to other websites. You can even store your files remotely on a separate cloud storage system.
The dedicated migration feature built into the system makes moving hosts and servers a breeze. You can also adjust your domain and update URLs in seconds. For developers, cloning tools are provided to push and pull information from staging sites.

Pros:
Well-known and popular brand
Comes with an automated and scheduled backup solution
Restore and migrate included in one convenient package
Choose different storage locations according to your needs
Manage your complete backup experience
Use to deploy your WordPress staging site to a large server with a single click
Quickly transfer your website with complete Backup
Cons:
No support for WordPress multisite
It can be challenging to use for beginners
Price: Prices start at $80 for a single license (supports one website).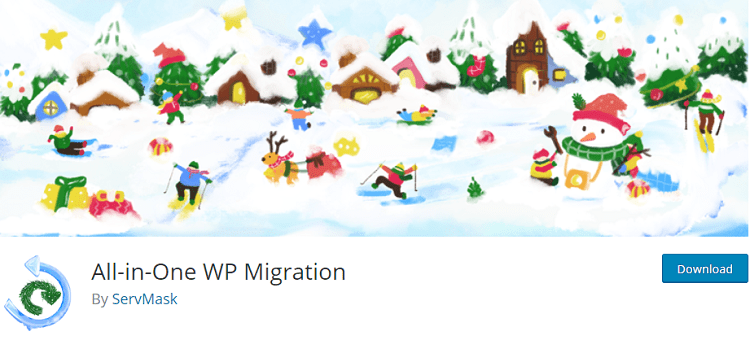 Here's another fantastic and popular migration plugin for WordPress. Designed with a comprehensive selection of features by ServMask, it conveniently exports your WordPress site. That includes the database, plugins, media files, themes, and more, with no need for any advanced technical knowledge on your behalf.
You can quickly and easily upload your site to a different location using drag-and-drop functionality. What's more, this plugin comes with mobile device compatibility. This is one of the few WordPress migration plugins that provides an in-depth mobile experience. It's there in case you need to adjust anything on your back-end when you're on the move.
The All-in-One plugin can apply various find and replace operations to your database. This service also fixes any serialization problems that might take place during find/replace tasks.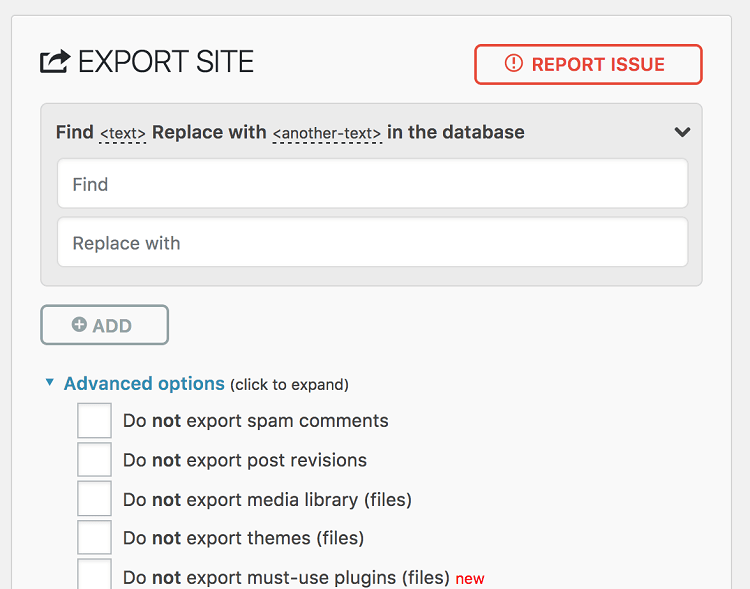 Pros:
Works with plenty of different WordPress hosting providers
Supports a variety of operating systems and PHP versions
Mobile support for managing backups on the go
Bypasses host file size limits with imports of chunks of data
Easy-to-use free version
Access to premium support available
WP-CLI integration is available
Cons:
Requires manual installation of WordPress in a new location
Requires paid extension for multi-side exports
Limited file sizing on the free version
Price: There is a basic free version of this plugin available. However, you'll have to update to the Unlimited extension to remove any size restrictions. The pro version is available for $69 for a lifetime subscription.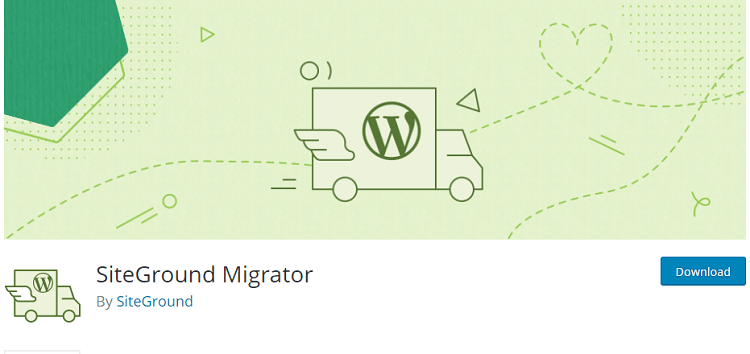 Sometimes, you need a very specific WordPress migration plugin to make your move as simple as possible. The SiteGround Migrator is specifically designed for those moving their hosting solution to SiteGround.
This plugin won't work for migrating localhost WordPress sites or accessing full multisite installations. However, it's an excellent option for beginners who want to move their site to a specific host quickly. You can quickly and conveniently change your site domain, and the process doesn't require any technical knowledge.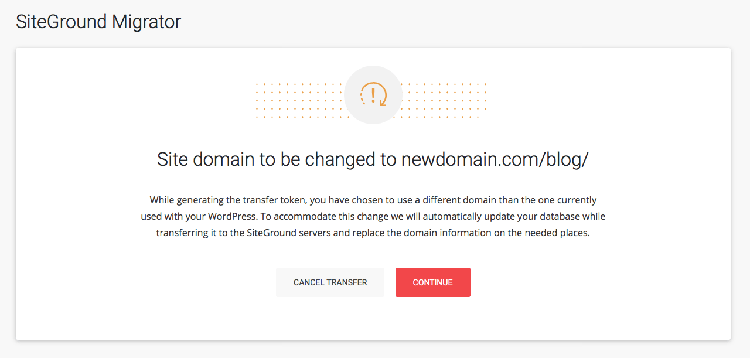 Pros:
Designed specifically for a single migration scenario
Easy to use design
Perfect for beginners
Great for updating domain names fast
Free to use
Ideal for those interested in SiteGround
Cons:
Doesn't support localhost to live site transfer
It doesn't support multi-site
Price: FREE
Which WordPress Migration Plugin Should You Use?
And there you have it! The best WordPress migration plugins around. Now that you've decided to explore a new WordPress hosting solution, finding the right migration plugin is essential.
However, there's no one-size-fits-all solution to choosing the ideal support. For beginners explicitly interested in SiteGround, the most obvious option is SiteGround Migrator. This solution will get you up and running quickly with a popular host.
Alternatively, if you need a migration option with multi-site migration and fantastic cPanel support, then you might prefer to explore the benefits of Duplicator.
If you prefer a WordPress migration plugin that also helps with the performance of your site, consider using Jetpack. This plugin takes backup and migration to the next level. What's more, it speeds up your website and improves the user experience.
Maybe you don't want to migrate your website yet, but you're keen to back up your information just in case? If so, check out some of the best backup WordPress plugins right here.
Which migration plugins have you used before? Do you have any preferences or plugins that you would recommend to others? We'd love to hear all about it in the comments below!