With instances of cyber crime on the rise, it's time to rethink your website's safety by looking into some reliable WordPress security plugins. 
As they say, it's always better to be safe than sorry.
This is especially true when it comes to your site's data and customers' personal information.
As recent as 2018, there was a massive cyber attack on WordPress. It infested 10,000 websites with malware and ransomware and compromised millions of visitors across the globe.
And just think, your website could be next. After all, website hackers will continue to try to break into WordPress websites all across the world, no matter the size or industry.
That's why you should beef up your site's security.
Thankfully, there are many WordPress security plugins that can bridge any gaps in your website's security measures. And today, we're giving you our best picks so you can make sure your site is safe and secure at all times.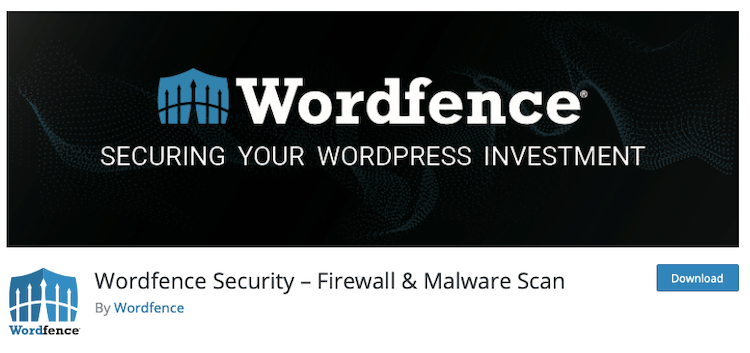 Wordfence is one of the best WordPress security plugins around. It has over 2 million global installs. Plus, it has an endpoint firewall and malware scanner that protects your WordPress site. 
Key Features:
Protection: limits the number of login attempts.
2-factor authentication system: requires a two step process for account authentication and login. Plus, it includes country blocking and real-time threat detection.
Wide range of templates: comes with powerful templates making configuration of security settings easy.
Repair files: repairs damaged files by overwriting them with the original version.
Pros:
Uses login CAPTCHA
Checks if your IP address has been blacklisted for malware
Compares core files and themes and reports any mismatches
Cannot be bypassed and data leaking is nearly impossible 
Automated website checks
Is available as a free and premium plugin
Cons:
Can slow down your website 
Configuration can be complicated for beginners
Price: FREE. Premium version starts at $99/year.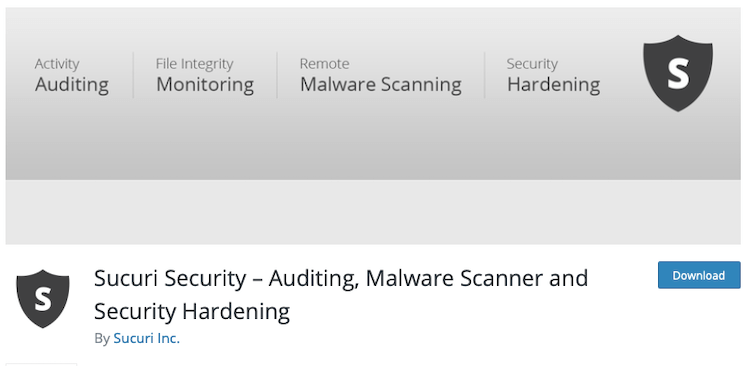 Sucuri Security is a cloud-based security plugin. Its focus is on scanning and monitoring websites for any potential breaches. And the best part is that it's regularly updated and has over 400,000 global users. In other words, it's reliable and super popular.
Key Features:
WAF protection: comes with all-round protection against hacks and DDoS attacks.
Monitoring: identifies indicators of a security breach with various alerts.
Incident response: includes unlimited malware removal after any security breach.
Performance booster: increases page speed with optimized CDN services.
Pros:
Advanced DDoS mitigation
Malware removal and hack cleanup
30-day money-back guarantee
Virtual patching/hardening
Monitor file integrity
Post-hack security options advice
Efficient IP address blacklist monitoring
Firewall available for all plans (PCI and HTTPS compliant)
Cons:
Can sometimes be bypassed
SSL certificate not available on 'basic' plan
Can be challenging to use for beginners
Can be susceptible to DDoS attacks despite protection claims
Price: starts at $199.99/year.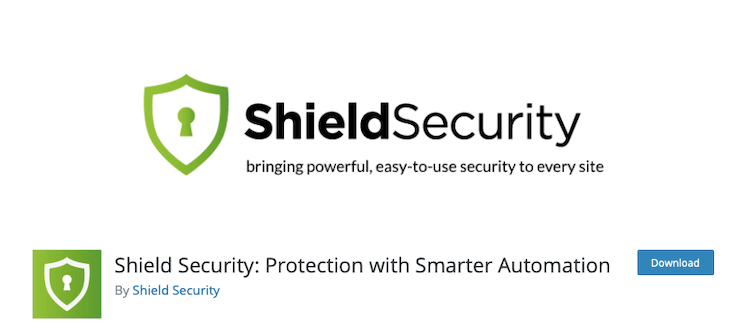 Shield Security has the highest security rating among all the WordPress security plugins. In fact, it has over 80,000 active installations and a 4.9 star rating.
Key Features:
In-built tutorials: helps beginners protect their websites from cyber crime.
Theme vulnerability scanning: includes plugin and theme vulnerability scanning, as well as hack detection scanners.
Content spam: efficiently blocks content spam.
Powerful core file scanner: automatically detects malicious file changes.
Pros:
No constant notifications
User-friendly and easy to set up
Has a free plan
In-built firewall
Has an audit trail and user activity tracking
Automatic IP Address blacklisting 
Limits login attempts to prevent brute force attacks
2-factor authentication for enhanced security 
Cons:
Can slow down your website
Can be vulnerable to DDoS attacks
Scan/detect hacking attacks/scanning plugins and themes are only available on paid plans
Price: FREE. Premium version starts at $1/month.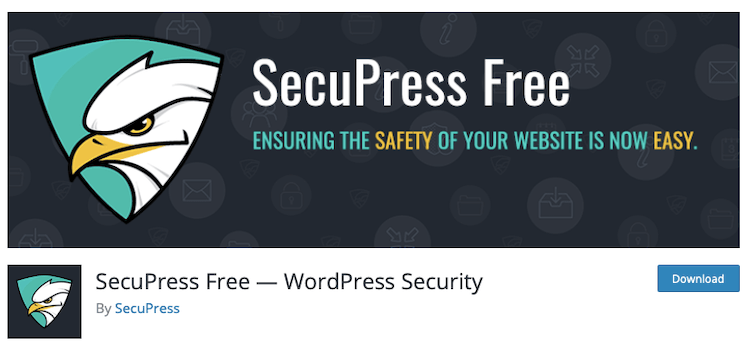 Fully GDPR compliant, SecuPress Free is one of the best WordPress security plugins in the market. And despite being relatively new, it has more than 10,000 active installs.
Key Features:
Protect security keys: a unique feature not found in many WordPress security plugins.
Block bad bots: blocks malicious bots.
Vulnerable plugin detection: detects vulnerable themes.
Block IP address: blocks IP addresses from select countries thanks to the geolocation feature.
Pros:
Prevents brute force login (limit number of login attempts)
Can block malicious IP addresses
In-built firewall
Automated malware scans
In-built security alert system
Generation of security reports
Full scanner to fix security issues
2-factor authentication login 
Regular data back-up
Cons:
Can be difficult to use for novices
Can be breached by DDoS attacks
The free version has limited features
Price: FREE.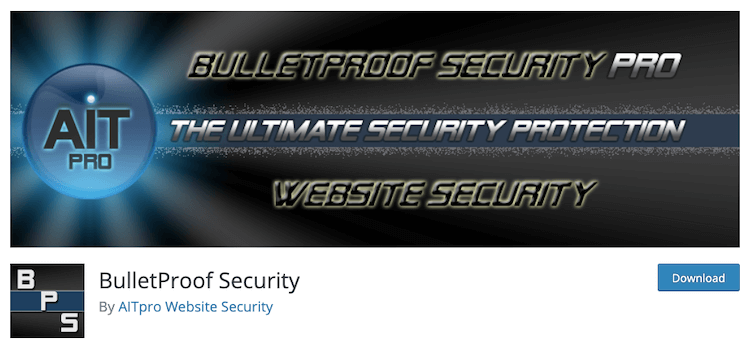 BulletProof Security is laced with features like anti-spam, database backup, login security, and much more. And with over 60,000 installs and counting, it's safe to say it's a reliable plugin.
Key Features:
MScan Malware Scanner: in-built malware scanner.
DB monitor Intrusion Detection System (IDS): IDS for quick detection and taking automated backups, which is perfect for those testing in a staging environment.
Plugin firewall: provides automated whitelisting and IP address updating in real-time.
Anti-spam and anti-hacker: built-in feature for improved security.
F-lock feature: allows read-only file locking.
Pros:
Idle session logout
One-click setup
Login security and monitoring
Full and partial scheduled backups
Real-time file monitoring
Free lifetime customer support for a paid subscription
Cons:
Can be difficult to use for novices
May be vulnerable to DDoS attacks
Price: One-time payment of $69.95, (free upgrades and lifetime support).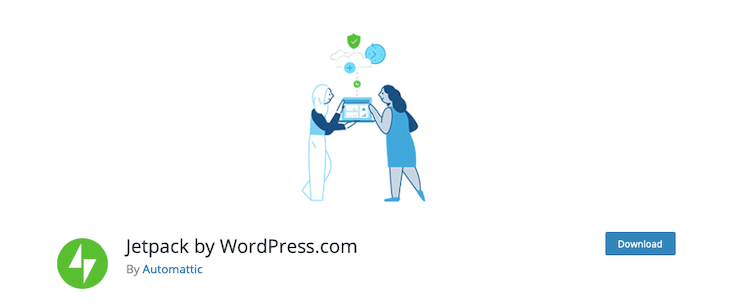 Jetpack is one of the most prominent names on this roundup of WordPress security plugins. It's an all-in-one plugin that caters to all your WordPress related security needs. Furthermore, it has more than 5 million active installations.
Want the inside scoop on everything Jetpack has to offer? Check out this detailed Jetpack review.
Key Features:
Advanced analytics module: get data-driven insights on audience preferences.
Secure login: provides a 2-factor authentication system upon request.
Record-keeping: access extensive records of every change made on your site.
Automatic backup: get daily or real-time data backups.
Pros:
Spam filtering ability
Brute force attack protection (prevents multiple login attempts)
Secure login (optional 2-factor authentication)
Malware scanning, code scanning, and automated threat resolution
Is free to use
Automatically updates plugins
1-click restore, automatic comment filtering, and pingback spam
Cons:
DDoS attacks may breach security measures
Can slow down your website 
Price: FREE. Premium version starts at $3.50/month.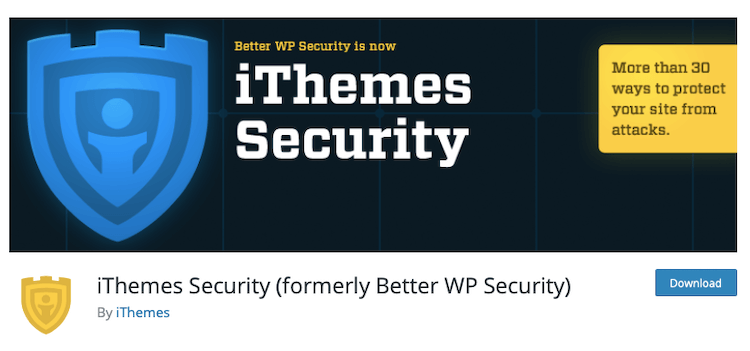 Formerly known as Better WP Security, the iThemes Security plugin can help users locate common loopholes, stop automated attacks, and strengthen user credentials.
Key Features:
Automatic backups: allows you to quickly get up and running in case of an attack.
Create and email database backups: to use for regular backups on a predetermined, customizable schedule.
Ban potential miscreants: can potentially ban users who have broken into other websites (standout feature).
Brute Force Attack protection network: automatically reports and tracks IP addresses with failed login attempts. Plus, it blocks them for a period of time, while also sending you a notification.
Pros:
Google reCAPTCHA (pro version only)
Malware scan schedule (pro version only)
Manage system scans and user banning (pro version only)
Monitors file-systems for unauthorized changes
Provides excellent customer support 
404 detection enabled
Cons:
Can be difficult for beginners 
Protection against DDoS attack may fail 
The freemium plan isn't very powerful
Price: FREE. Premium version starts at $48/year.
Wrapping Up
And there you have it! The top WordPress security plugins in the market designed to keep your site safe.
With so many options out there, it's tough to know which security plugin best meets your needs.
That said, if you're looking for an all-in-one security plugin, then you should opt for a plugin like Wordfence. It comes with all the security features you need and has a longstanding reputation.
On the other hand, you could always choose Sucuri Security if you're after a more security focused plugin rather than an all-in-one module. 
If money is an issue, your best options are going to be ones that are laden with features like iThemes Security or Jetpack.
In the end, it all comes down to your website and what sort of protection you need. Just remember, WordPress security plugins aren't going to protect you 100% of the time. If you're searching for additional ways to protect your website, be sure to check out this comprehensive guide to improving the security of your WordPress site.
Are you using any of the above-mentioned WordPress security plugins to safeguard your website? If so, we'd love to hear all about it in the comments below!