Do you have an extensive email list, but low conversion rates? Is your list growing continuously, but there's no improvement in the reply rate or open rate?
If that's the case, then you need to check your email list.
With the help of email verification tools, you can weed out invalid email addresses and separate them from the valid and deliverable addresses. 
Looking for the best email marketing service for your website or blog? We've put together a list of best email marketing service providers here.
Most email verification tools analyze every email address in your list and help you determine which ones to discard.
That way, you can spend time targeting the prospects that'll engage with your emails and take some action.
That's why today we're going to take a look at the 7 best email verification tools in the market.
So, let's get started.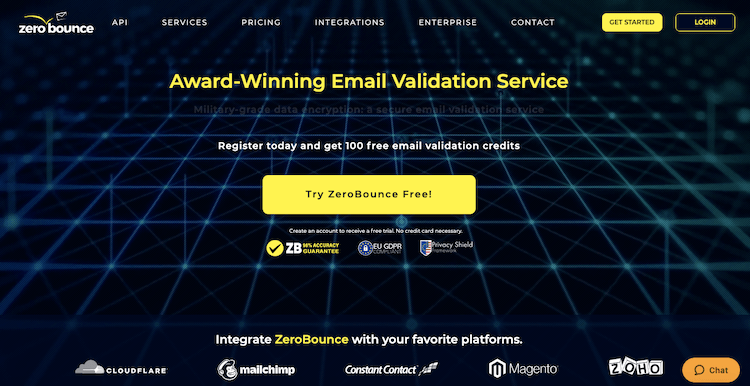 ZeroBounce is an award-winning email verification software platform that guarantees a 98% delivery accuracy.
To starts, it gives you the option to either verify your entire email list altogether or one email address at a time. Not only that, its API provides you with a 360-degree view of your email list, allowing you to validate the right ones and discard the rest.
Its extensive integrations with third-party applications further ease up the process of identifying legitimate email addresses.
Pros:
Encryption and multi-factor authentication
Bounce tracking
Anti-spam feature to stop spam trap emails, known email addresses that mark emails as spam, and domains that don't accept the mail
Robust data analytics
Freemium plan, making it affordable for all
Identifies misspelled email domains
Improves IP rating and ranking
Provides 100 free email credits upon signup
Cons:
Tends to miss faulty emails
Supports only the English language
Price: ZeroBounce offers 2 paid plans and a freemium plan. Both the paid plans, called 'Pay as you go' and 'Subscriptions,' cost $16 and $15 per month, respectively.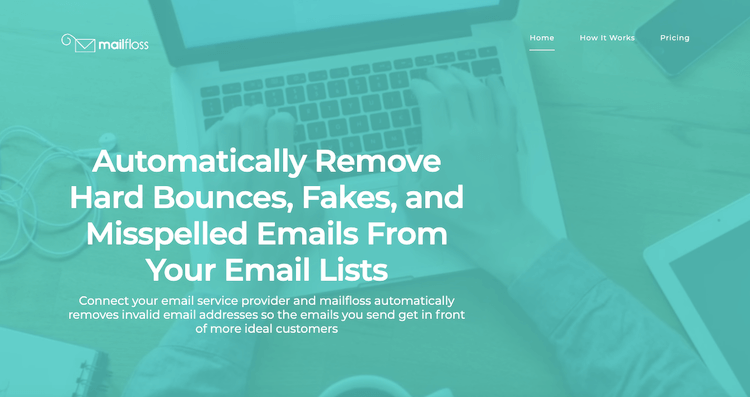 mailfloss focuses heavily on automation to weed out the wrong email addresses and improve deliverability. Moreover, its extensive focus on automation allows you to focus on more important business tasks.
In addition, mailfloss integrates with email marketing services like Mailchimp, Mailerlite, and more. It also allows verification using the copy-paste feature and by uploading a CSV file.
Pros:
7-day free trial
Syntax validation
Disposable and temporary address detection
Spam trap and free and automatic de-duplication
Built-in hard bounce removal feature
Easy and fast set up
GDPR compliance
Whitelist/blacklist options
Built-in auto-unsubscribe/delete and decay protection
500 free email verifications per month
Cons:
Preview option to see the invalidated emails before deletion is missing
Doesn't provide real-time API for email verification
Cannot validate Yahoo! mail accounts
Price: mailfloss offers 3 pricing plans, ranging from $17 up to $200 per month (paid monthly). You also get 2-months free when you pay annually.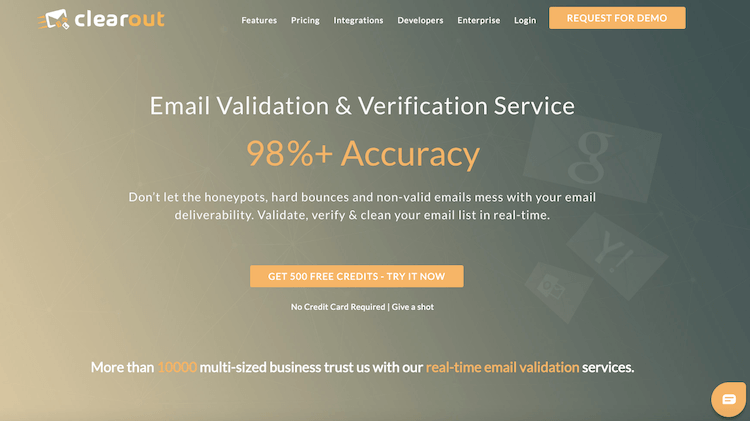 Clearout offers real-time validation, verification, and cleaning of your email list with more than 98% accuracy. It is used by more than 10,000 businesses globally.
With a simple REST API, Clearout can validate emails individually or in bulk. Plus, it provides seamless accessibility so that you can take care of business from any location or device.
Moreover, with extensive integrations with third-party apps like Mailchimp and Zapier, you can manage all aspects of your business from one location with ease.
Pros:
60-day money-back guarantee
24/7 customer support
GDPR compliance
Deliverability score for every email address
Verification of any mailbox error
Extended SMTP validation and spam trap detection
Automated duplicate removal
Built-in syntax validation
Up to 500 free email credits upon sign up
Cons:
Doesn't offer on-premise deployment
Price: Clearout has a unique credit-based payment system. With it, you pay based on the number of emails you've verified. For example, 1 credit is equal to 1 billable email, and the cost of 5000 emails amounts to $25. For more than 5 million credits, contact the sales team for a customized price.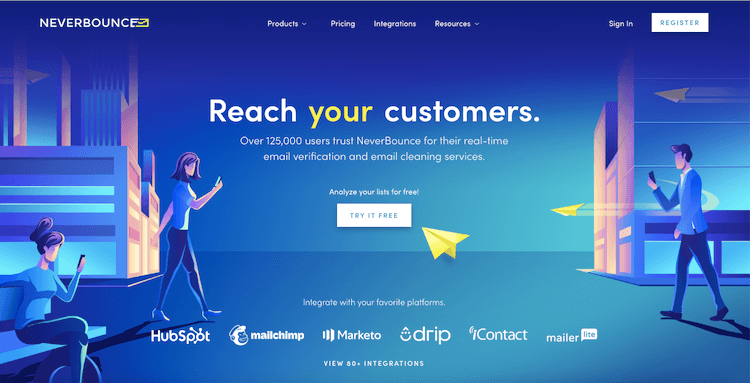 With more than 125,000 global users, NeverBounce provides holistic and real-time email verification and email cleaning services.
It's laced with features like bulk and individual email verification and comes with high automation levels that you can use to ensure daily cleaning.
With an extensive range of integrations like Zapier, AWeber, BombBomb, and more, you can always keep track of the emails that need to be deleted from your database.
Pros:
Discounts for start-ups and non-profit organizations
Custom API makes it very flexible and customizable
1000 free credits upon signup
Built-in de-duplication and syntax removal
GDPR compliance
Automated features
Flexible pricing plans
Cons:
Customer support needs improvement
Price: NeverBounce has two pricing options, 'Pay-as-you-go' and 'Sync.' The former is priced by segments. The price per email ranges between $0.008 and $0.003 based on the number of emails you send. The 'Sync' plan ranges in price between $8 and $799 based on the number of emails sent (paid annually). You can also request a custom plan.
With thousands of satisfied customers globally, EmailListVerify guarantees 99% delivery accuracy and can help you easily identify spam traps, hard bounces, and disposable emails.
With this tool, you can search for bulk email lists or single emails and verify them. It offers a wide range of integrations like Mailchimp, Mailerlite, Constant Contact, and more. Plus, it helps check emails faster.
Moreover, with its 'disposable email cleaner' feature, you can automatically get rid of trash email addresses that are short-lived.
Pros:
1000 free email verifications upon signup
Accepts CSV, XLS, TXT, and various other formats
One of the cheapest plans in the market
Built-in de-duplication and hard bounce checker feature
Built-in syntax error validation and spam trap checker
30-day money-back guarantee
GDPR compliance
Cons:
Customer support is limited
Price: EmailListVerify has two plans: 'pay as you go' and 'monthly subscription.' In the first plan, the prices vary according to the number of emails you check and can range from $0.0040 to $0.0003 per email. In the latter, the price range varies from $139 to $989 per month.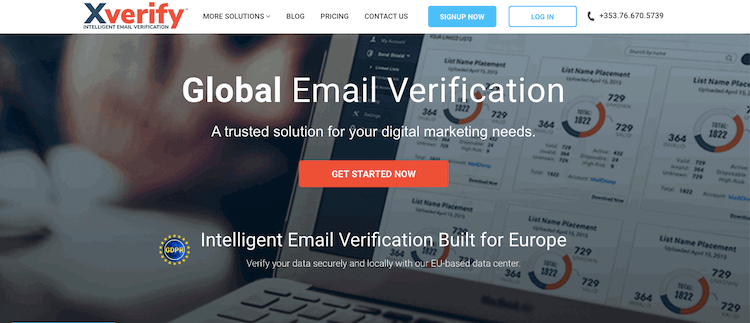 Touted as an 'intelligent email verification tool,' Xverify is a holistic solution for all your digital needs. It helps you eliminate hard bounces, reduce complaints, and increase deliverability.
Its 'Send Shield' technology ensures the highest data security standards. With its built-in data intelligence feature, you can instantly know which email addresses are unsafe to pursue.
Furthermore, it helps you improve the sender score and email deliverability rate.
Pros:
Built-in auto-correction feature
100 free email verifications upon signup
Compliant with the EU-US Privacy Shield Framework
Verify emails directly through a web browser (no need to download software)
Built-in fraud protection
Mobile platform compatibility
Wide range of third-party integrations
Cons:
The signup process is a bit lengthy
Credit card details are mandatory during sign up
Customer support could be better
Price: Xverify prices range from $0.0100 per email to $$0.0010 per email.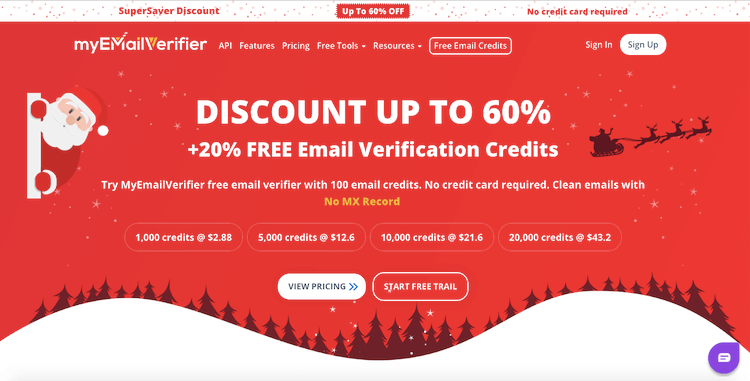 MyEmailVerifier is one of the newest and most user-friendly email verification tools in the market right now. And to start, it boasts a deliverability rate of 98%.
This tool is excellent at identifying email addresses without a valid mail exchanger. It also offers a wide range of integrations like Mailchimp, AWeber, Constant Contact, and more to ensure that you always reach out to the right candidates.
Pros:
Free trial period
Over 100 email credits upon signup
Custom API
Ability to detect temporary unavailability due to SMTP verification
Fast processing capability
24/7 customer support
Affordable pricing
Automatic de-duplication and syntax verification
Doesn't charge credits for duplicate email accounts
Offers hard bounce detection and anti-spam feature
Cons:
Integration options can be limited for seasoned businessmen
Price: MyEmailVerifier pricing starts at $1.44 for up to 500 email credits and can cost as much as $1800 for up to 5 million credits. For an email credit requirement of more than 5 million, you can contact the sales team for a custom plan.
Wrapping Up
And there you have it! The best email verification tools in the market to date, all designed to help you clean up your list and ensure your campaigns are reaching the right people at the right time.
When it comes to choosing the right one for your business, it's best to look at the features that align with your individual needs.
That said, here are some must-have features and which email verification tool offers them:
Are you ready to continue building your email list? Then check out this roundup of the best ways to boost conversions and build your business, so you can beat out the competition and become a success.
Are you using any of the above-mentioned email verification tools? If so, which one? We'd love to hear all about it in the comments below!