Email marketing is still the best way to nurture valuable relationships with your audience.
Social media might be the trendier option right now, but 77% of people say that they prefer to get promotional messages via email.
With the right email marketing campaign, you can show your value to your target audience, strengthen your brand's reputation, and increase your chances of sales. However, email marketing can only work if your subscribers actually want to receive content from your company.
That's why marketers constantly say, "the money is in the list".
If you want to build exceptional return on investment from your email marketing campaigns, then you need to start with a great list.
Looking for the best list building plugin for your WordPress site? We've put together a list of best mailing list WordPress plugins.
Fortunately, we're here to help you do just that.
What is an Email List, Anyway?
Before we cover some of the best ways to develop your email list, let's quickly cover what a "list" actually is.
Essentially, an email list is a collection of email addresses and corresponding information from people who have chosen to subscribe to your newsletter or opt-in to other forms of contact from your business.
Actually having your leads "opt in" to receive content from you is crucial whether you're running an eCommerce site, a blog, or something else entirely. Customers want the option to decide what kind of material they get in their email inbox. If you try sending messages without their permission, they'll just put your company in the "spam" folder.
Ending up in the spam folder means that you're wasting time and money on leads who don't see your copy. It also damages your "sender reputation" which means that you're more likely to be marked as junk by future email service providers.
Now that you know what an email list is, and why you need a legitimate one, let's look at how you can start building.
1. Invest in Email Marketing Software
Paying for a monthly subscription to an email service provider might seem like the last thing you want to do when you're cutting costs – but it will definitely help you to accomplish more with your email list.
Tools like MailChimp, Drip, and Constant Contact come with features that make it easier to organize your lists and connect with your audience. They're excellent when you want to discover how to build an email list fast.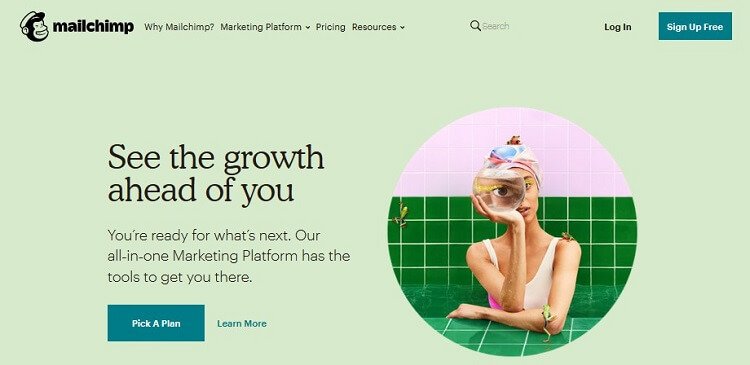 These tools include:
Various sign-up forms for your website
The option to monitor the effectiveness of your campaigns
An ability to segment subscribers based on behavior and other factors
The option to send automated messages based on specific triggers
Unique email marketing templates that capture audience attention
An email marketing service provider makes it a lot easier for you to develop your marketing strategy, without having to start from scratch.
2. Use Personalized CTAs
According to HubSpot, personalized call-to-action buttons or "CTAs" have a 42% higher view-to-submission rate than CTAs that are the same for every visitor. Basically, that's because everyone who comes to your website is looking for something specific.
When you're designing a landing page or blog that's intended to convince people to sign up for your email list, don't just throw a one-size-fits-all CTA in there.
Instead, think about the kind of problems that your customer is trying to solve on that page. For instance, if someone's visiting your blog on "how to build your email list", they'd be drawn to a CTA like "Click here for your list building toolkit".
At the same time, if someone's visiting a landing page for your product, then they may want the option to "Try it for free":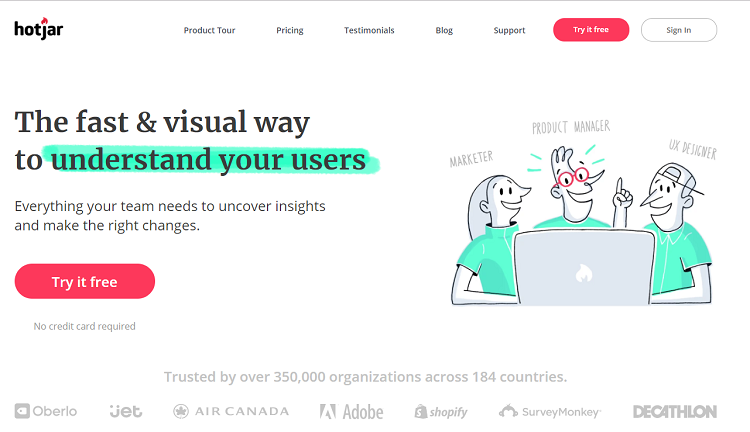 3. Create a Pop-Up or Slide-In
When you're building your WordPress website or wondering how to build an email list, you might be tempted to shy away from popups. After all, they have a reputation for being annoying and distracting. However, they can also grab your customer's attention and drive action under the right circumstances.
The key is to make sure that you're using your slide-ins and pop-ups correctly. For instance, Digital Marketer used a pop-up specifically to appeal to return visitors on their website after they had spent at least fifteen seconds on a page.
Crucially, Digital Marketer also ensured that the pop-up didn't appear when someone visited the site from a link in a newsletter, as this meant that they were already a subscriber: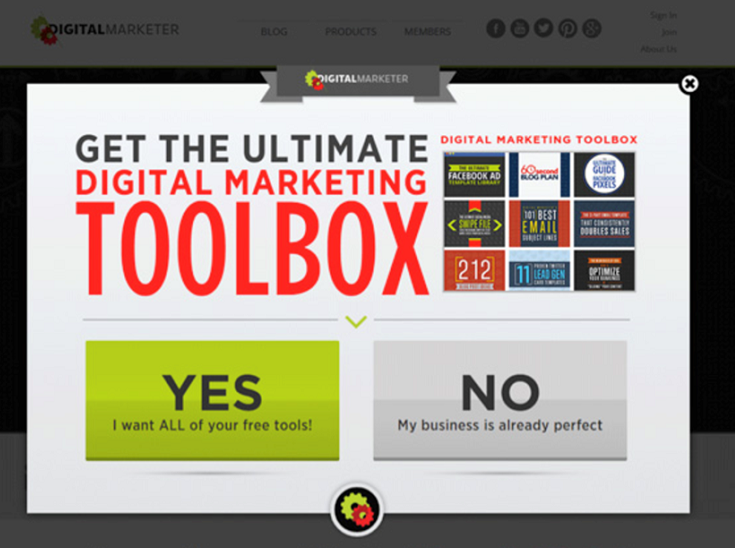 The campaign may look simple enough, but it created 2,689 leads within two weeks, and improved the amount of time that visitors spent on the page by 54% too.
In other words, customize your pop-ups to suit the needs of your audience and you'll experience incredible results.
4. Discover the Power of Incentive
Sometimes, your customers will need a little extra push to convince them that they should do something on your website. That even includes signing up for your email newsletter.
If you want visitors to respond to your email list building strategy, one of the easiest options is to use the power of incentive. A discount, sale, or even free shipping can transform your conversion rates.
If you don't have anything to offer in particular, you can always just show people the value they get from being a part of your newsletter community, like Shop Hereford does here: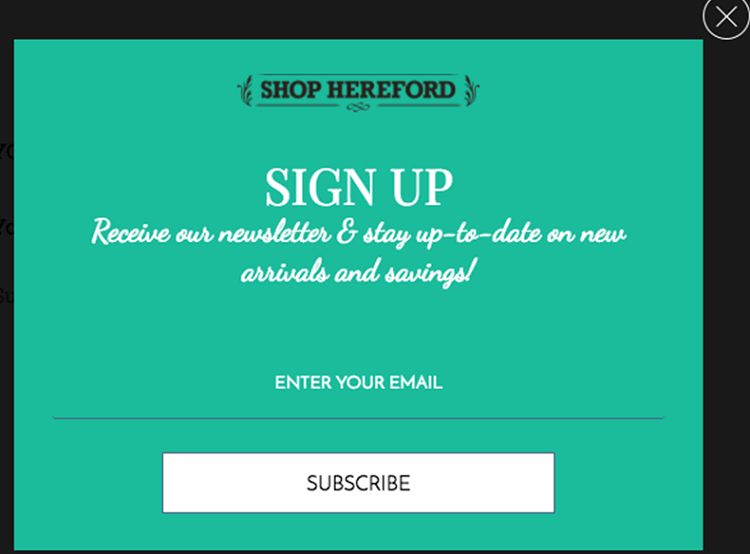 The key is to prove to your audience that they're getting something valuable in return for giving you their email address. For some companies, this could be as simple as letting customers see how great it is to be part of your community. For other businesses, it might be worth offering a free download or eBook to get people into your list.
Some brands are even experimenting with Gamification tools and Wheel of Fortune pop-ups that allow users to spin to win once they've entered their email address. It's up to you to think about what kind of experience will appeal most to your customers.
5. Try Referral Programs
If your business is still pretty new, then customers might not know whether they can trust it. If that's the case, then you can boost your chances of a growing email list by asking other customers to do your marketing for you. Referral programs are a tactic that has helped companies like Dropbox, PayPal, Uber, and other market leaders become industry dynamos.
With a referral program, all you need to do is give your customers something valuable whenever they bring a new customer into your midst. You can add the option to share or forward your newsletter to other people when you're sending your messages, or simply give people a chance to take advantage of a free gift or discount whenever they refer to someone new.
Check out this funky referral pop-up from Koodo mobile for instance: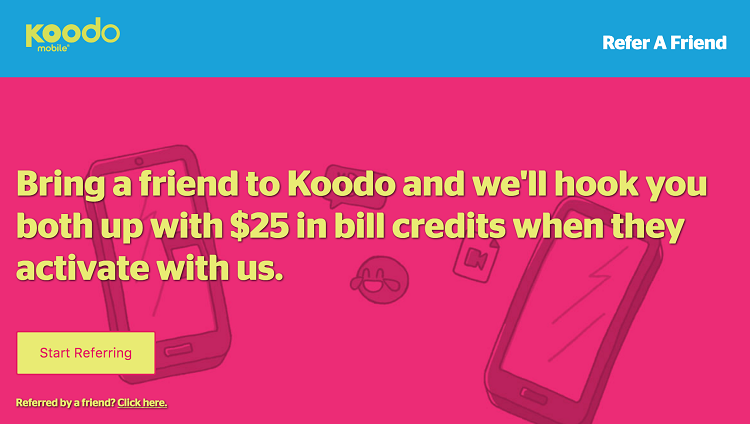 Customers are more likely to instantly trust your brand if they've been referred to you by another happy customer – increasing your chances of conversions.
6. Pitch your Newsletter from Social Media
Finally, you might not have a particularly long list of email subscribers right now, but that doesn't mean you haven't started to develop a following elsewhere.
If you have customers who love to hear from you on Facebook, Instagram, and other social platforms, then ask them to become a part of your email community too.
You can pitch your email newsletter on your social media sites and include a link back to a landing page where people can sign up to hear more from you. Remember to let your social followers know what the value of joining your subscription list actually is, i.e. – early access to blog posts, new sale information, or discounts.
You can also put the option to subscribe at the bottom of your email signature – so that people have a chance to join your list whenever they receive a one-off mail from you. Check out this example from MooseJaw here: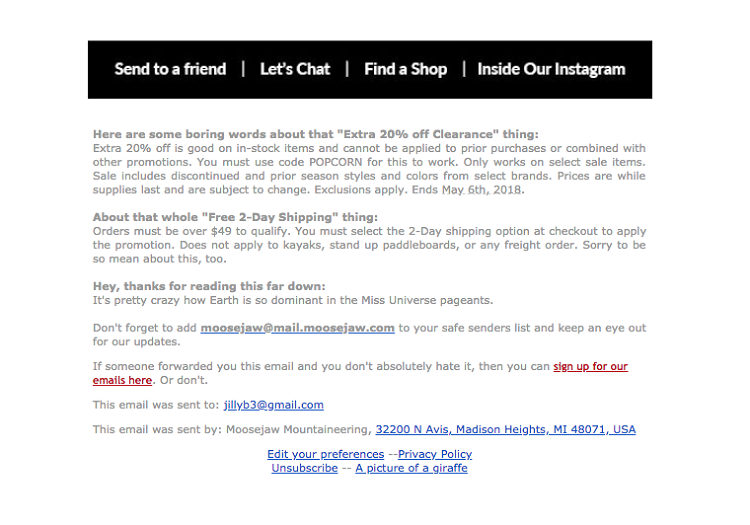 Don't forget to put the option to unsubscribe at the foot of your email too – you don't want to waste your money and time sending content to people who don't want to hear from you.
Building Your Email List
Knowing how to build an email list is crucial if you want a way to nurture your leads and turn visitors into dedicated customers. However, it's important to remember that building your list is only the first step. Once you know how to build an email list from scratch, you'll also need to ensure that you're taking steps to keep that list happy and clean.
In other words, always ensure that you have a schedule of great content to share with your audience, including updates on your blog posts, exciting articles, and discounts or offers. Additionally, make sure that you take the time to clean up your list from time to time, getting rid of people who no longer want to subscribe or hear from you.
Properly maintaining your list will ensure that you're not wasting time and money on customers who simply send your content to their junk folder, rather than engaging with your brand.
And don't forget, email marketing is only effective when you have a strong email list and a reputable email service provider backing you up.
What other tips and tricks do you use to grow your email list? We'd love to hear all about it in the comments below!