Are you under the impression that only small business owners can benefit from using WordPress? If so, you're in for a big surprise when you learn about the big brands using WordPress to power their sites.
For any business hoping to establish a successful online presence, WordPress is often one of the most compelling tools available online.
Although it started as nothing more than a simple way to start a blog in 2003, WordPress has quickly become one of the most convenient and feature-rich site-building services on the web.
WordPress is a full-blown content management system. It can handle everything from eCommerce websites to highly trafficked magazines and even membership sites (provided you have the right plugins).
If you've always thought that WordPress was just for amateur bloggers and hobbyists, keep reading. There are big brands using WordPress all around the world.
And today, we're going to look at just some of the WordPress powered sites you might recognize.  
Reasons Big Brands Are Use WordPress
There are plenty of great reasons why companies rely on WordPress today:
Ease of Use: WordPress is easy to use and accessible (even for people who don't know much about coding). Any layperson can learn how to design a WordPress website that suits their needs.
Extendibility: WordPress integrates with dozens of apps and third-party services to expand your WordPress feature set. You can find plugins for everything from site security to gamification and membership management.
Affordability: WordPress is affordable. Even the premium themes aren't that expensive and offer a lot of value for your money. Not to mention, the WordPress software itself is free to use. All you need to pay for is your domain name, WordPress web hosting, and any added extras (like themes and premium plugins).
Customizable: WordPress is full of customization options. And the best part is, you can customize your site yourself, or hire a professional to help.
Scalable: WordPress is a powerful platform. It comes with built-in privacy and safety features and a highly scalable foundation. You can use WordPress to power everything from small blogs to enterprise-grade websites.
Lastly, WordPress has a great community. People all over the world specialize in WordPress website creation. If you ever have a problem, you'll find endless tutorials, articles, and even online forums to help you.
With so many benefits to consider, it's no wonder that over 34% of the internet is powered by WordPress. Even Reddit has its own WordPress subreddit: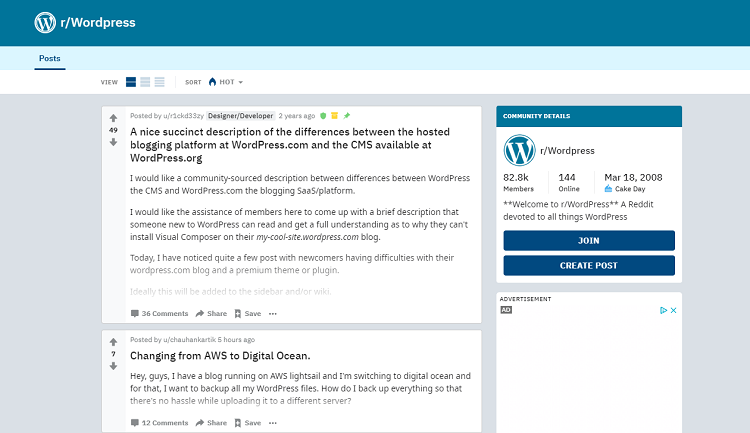 So, what are some of the big name brands using WordPress as we head into 2020?
BBC America is a fantastic website for the popular television network. This company delivers a host of exciting programs to the masses, from special documentaries to sci-fi series (like Doctor Who), movies, and drama shows.
The BBC America site takes advantage of WordPress's blog-style design, with large featured images that instantly capture attention. The dark background helps to draw attention to the content: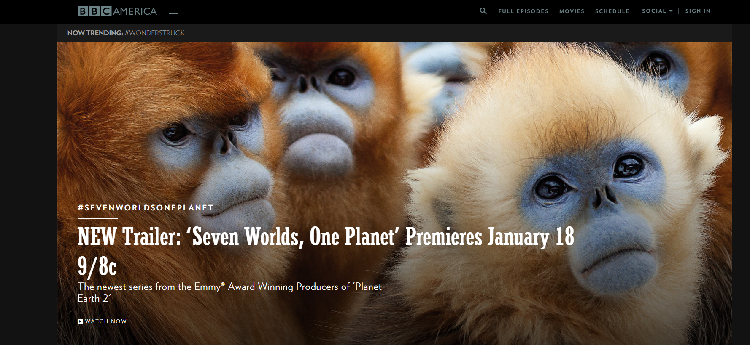 Distinctive WordPress features include:
Blog style layout with large featured images
Consistent dark background theme
Modern and minimalistic design
Rich multimedia content
Simple navigation
Clear header and footer
Social media plugin buttons
Who hasn't heard of Disney?
The Walt Disney Company isn't just one of the most popular animation brands in the world; it's also one of the many big name brands using WordPress today. Similar to BBC America, the Walt Disney website takes advantage of a blog-style layout with large featured images and easy-to-read content cards for each news story.
The soft pastel-like theme running through the website is well-suited to Disney's personality. Additionally, there's a full-page pop-up menu available for navigation.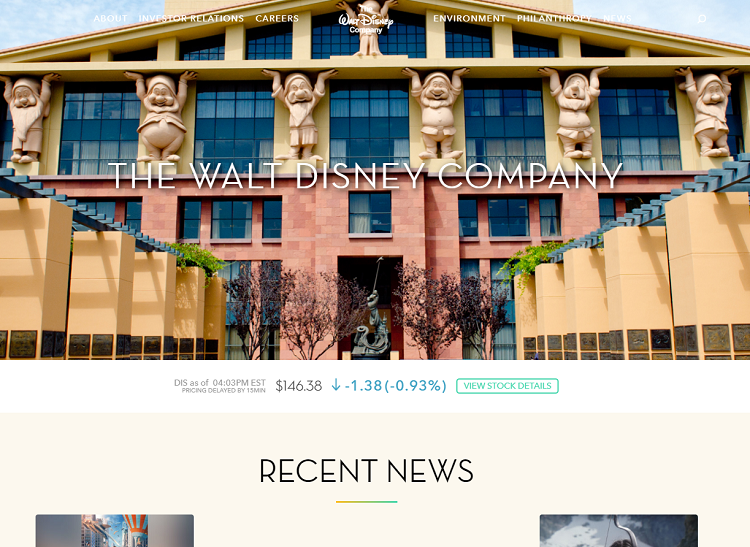 Distinctive WordPress features include:
Custom fonts
Clean page layout with blog grid
Long "About Us" page with video separators
Consistent pastel shade theme throughout
Navigation at the top of the page, or a full menu navigation screen available
"Search" function plugin
Footer with copyright
Links to social media through plugins
Though it's been around for nearly 17 years now, WordPress is still "in Vogue."
We mean that literally. Vogue is one of the big brands using WordPress this year. This popular lifestyle and fashion magazine has used WordPress to create a clean and minimal site. There's a clear and simple navigation bar at the top of the page and a grid layout for the homepage content.
The Vogue brand has even stuck to a minimalist white theme throughout the site, as well as a pinned logo header: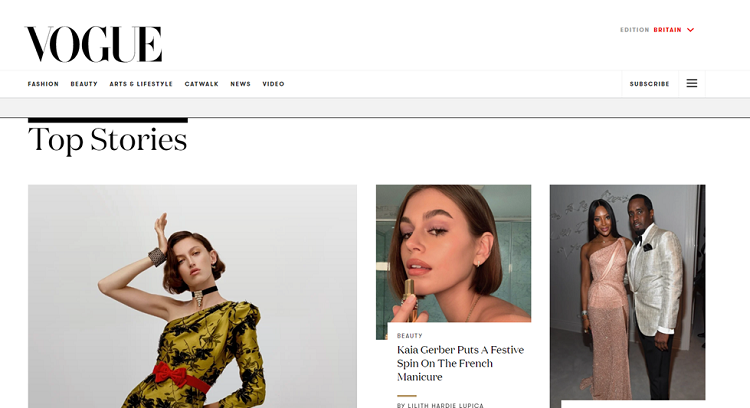 Distinctive WordPress features include:
Clean and consistent theme
Full-width header with custom logo
Multiple expandable posts on the same page
Simple and comprehensive navigation
Social media buttons offered through plugins
Infinite scroll with repeating elements
Subscription forms
Reuters is another well-known publication that makes the most out of the simple tools for site building available from WordPress. On Reuters, subscribers and visitors can check out the latest news on business trends, markets, and even world politics.
You can also switch from one "edition" to another by choosing a location that you want to read about. Reuters has taken advantage of a few plugins to add social media, galleries, and videos to its WordPress site.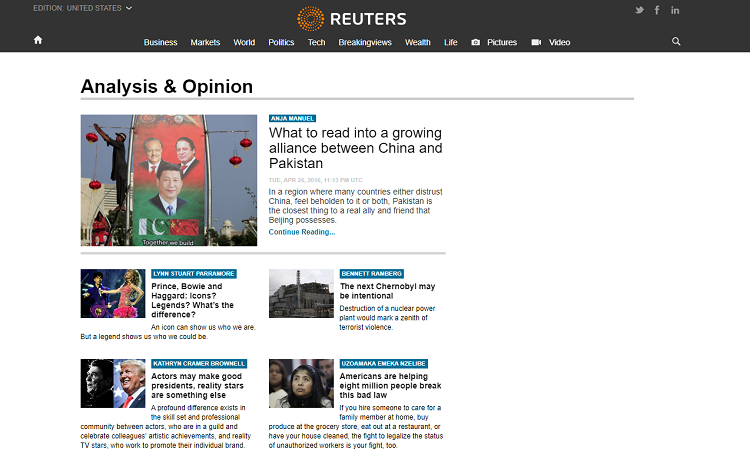 Distinctive WordPress features include:
Simple news-style layout
Grid-based homepage
Old-school theme with a clear logo on the header
Switchable languages and "editions."
Home page button on each page
Video, gallery and social media plugins
Professional images for every blog.
Although not every website in the Sony portfolio uses WordPress, the Sony sub-brand PlayStation takes advantage of WordPress for its blog site. The use of WordPress allows PlayStation to offer gamers an easy-to-use and accessible website, complete with large images for each story and a compressed sidebar.
The appearance is very similar to a magazine, and there's a search function included for greater ease-of-use.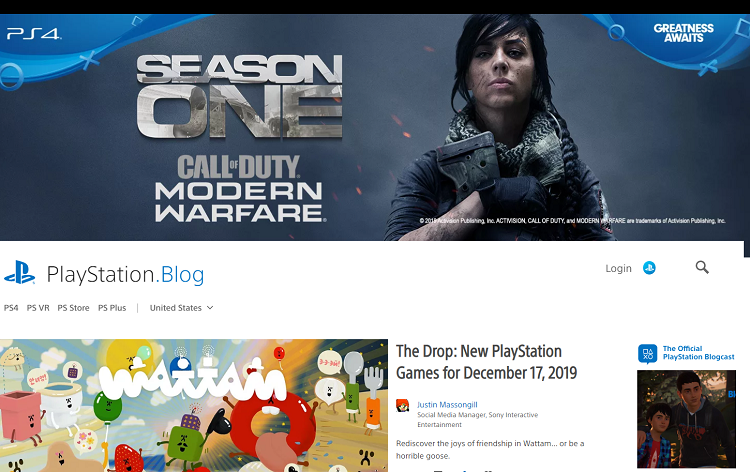 Distinctive WordPress features include:
Basic blog style
Clean black and white theme
Full-screen image backgrounds on some pages
Grid structure for posts
Compressed sidebar
Membership login options available
Search functionality available
Clear footer with copyright statements
Social media buttons included
Many of the big name brands using WordPress right now seem to belong to the entertainment space. Perhaps that's because consumers are so used to consuming entertaining content in the standard WordPress blog format. Take for instance the American Television Channel, or "AMC," that hosts its official website on WordPress.
This site is very attention-grabbing, with full-width images to showcase the latest programs and episodes. The header at the top of the page with the AMC logo reminds you of where you are, while the compressed navigation makes it easy to find what you need.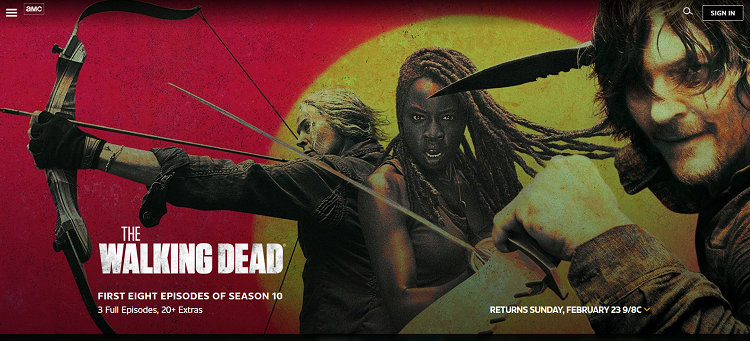 Distinctive WordPress features include:
Consistent header and footer
Large hero images across each page
Scroll-friendly design
Design based on content blocks
Rich multimedia content
Search bar plugin
Membership plugin
Compressed navigation bar
Pinned pop-up at the bottom of each page
WordPress is one of the easiest ways to build a blog or website. That's why big brands using WordPress stretch from entertainment companies to leading educational groups. TED is a popular talk program that brings together valuable speeches from people all around the world.
The TED blog is an excellent place to catch up on the thoughts and insights of leaders from across the globe. TED's WordPress site combines simple navigation with live streaming and large grid-focused pieces of content.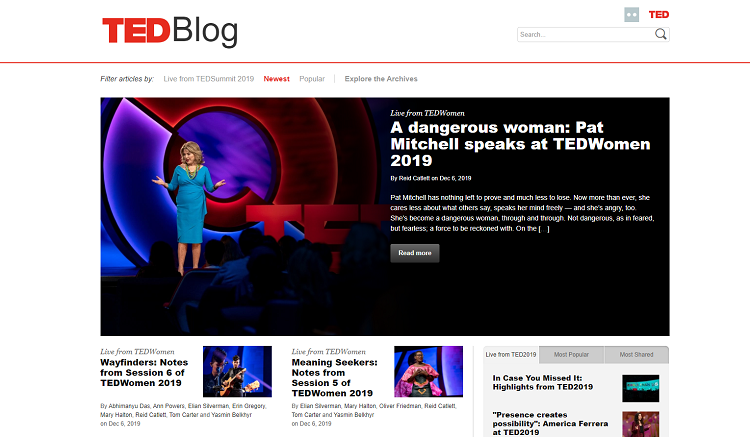 Distinctive WordPress features include:
Customized and branded header and footer
Search function and easy navigation
Plugins for social media sharing
Live streaming plugins
Grid-based content layout
Content archives
Simple sidebar
Clean and classic theme design
The Observer is a publication that showcases stories from people across the globe on a variety of topics. It's a combination between a standard magazine and a forum of user-generated content. This website features some excellent insights into what's possible with a WordPress site.
Big brands using WordPress can access scrolling content carousels, content grids, and even lists of their latest stories in the side bar. The Observer also features its own search function.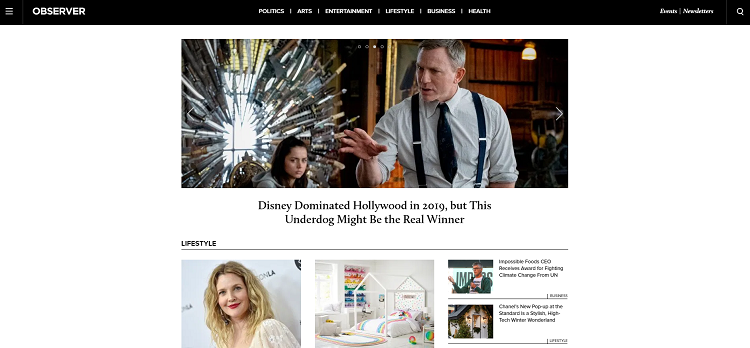 Distinctive WordPress features include:
Simple and professional theme
Grid layout with plenty of content
Scrolling content carousel
Featured posts displayed in widgets and lists
Search function available through plugin
Social media buttons
Consistent branded header and footer
TechCrunch is a technology publication that profiles the latest startups, reviews digital products, and offers an insight into the latest tech news. TechCrunch is also a great example of one of the big brands using WordPress today.
Taking advantage of a classic and straightforward magazine theme, Tech Crunch presents its content in a grid-style format. Through WordPress plugins, WordPress can use popups to present users with information, as well as offer an internal search function. TechCrunch does just that, as well as uses ads on its WordPress site for monetization.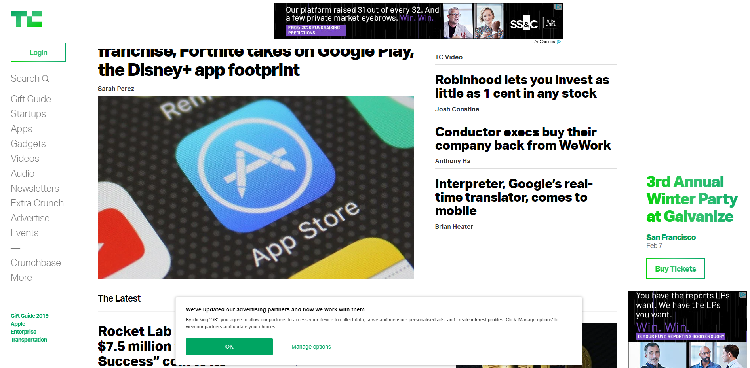 Distinctive WordPress features include:
Simple and easy navigation features
Consistent clear theme throughout
Branded header and footer
Video-based site section
Grid-based content layout
Search functionality via plugins
Ad content for monetization
Subscription/membership available
Finally, it may surprise you to learn that Facebook Newsroom is one of the leading big brands using WordPress this year. Proof that even the world's largest social media sites can benefit from WordPress, Facebook publishes news and announcements in a blog-style format with WordPress.
The website is pretty minimal in style, with a simple navigation bar at the top of the page and an internal search function. There's a branded header and footer and a list of content available through the page, complete with large featured images that are easy to click.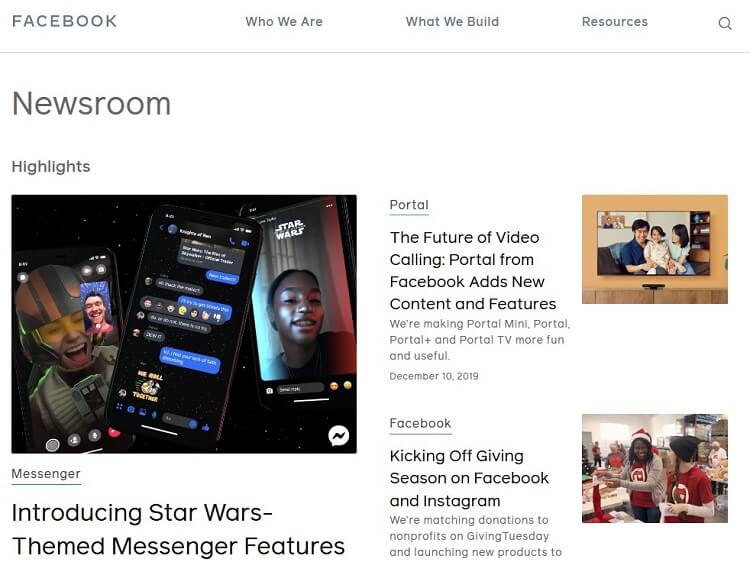 Distinctive WordPress features include:
Basic and simple layout with only 2 main content blocks
Widgets and plugins throughout, including a search function
Minimalist theme and design
Grid resources and galleries
Timeline into the company's history
Simple navigation and menu
Branded header and footer
Custom domain name
How to Tell If a Big Name Brand's Using WordPress?
Want to check whether one of your favorite websites uses WordPress?
Figuring it out is simpler than you might think. You can look at a number of things to determine what kind of CMS a website uses, including:
A WordPress mention in the footer: Some sites still have the "Proudly powered by WordPress" note in the footer of their site
Adding /wp-admin to the domain: If you put /wp-admin on the end of a domain name, and the site is using WordPress, you'll be taken to a page that asks you to enter your login details.
Looking for wp-content in the source code. If you enter the "View" section on Google Chrome, and head into the "Developer" section, you'll see an option to view the source of a website. Here, you can click CTRL + F to search for wp-content.
The easiest option, however, is just to enter the URL of the site that you want to check into a third-party tool like IsItWP.
With IsItWP, just copy/paste the site URL into the search bar and hit "Analyze." The algorithm will quickly tell you if a site is using WordPress or not.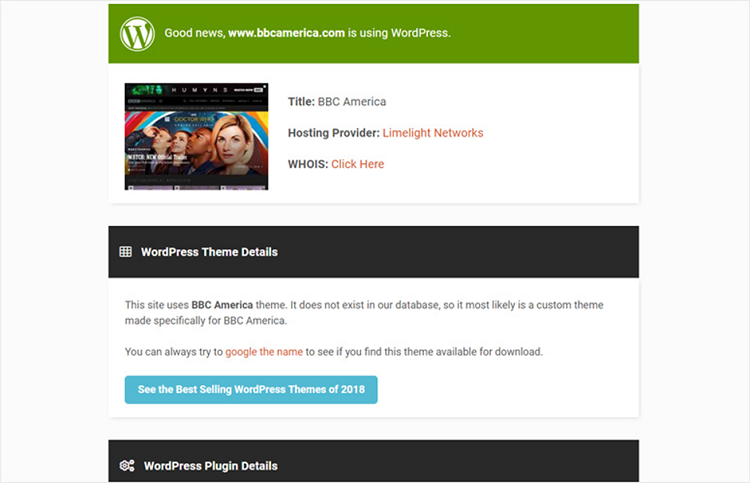 Big Brands Are Still Using WordPress
WordPress might not be the newest or most exciting CMS available today – but it's still the most popular. Offering simplicity, convenience, and cost-efficiency, WordPress gives you everything you need from a site-building service.
Once you've designed your own website with WordPress – the next step is figuring out how to transform yourself into the next big brand. Attracting the right leads to your pages can help with that. Check out our roundup of lead generation tips so you can boost your chances of WordPress success in 2020 and remember to stay tuned for new articles too!
Have we left off any other big name brands actively using WordPress? If so, we'd love to hear all about it in the comments below!