It is crucial to ensure proper presentation of pictures on the website to make them look as stunning as they are.
Improper segregation/organization, outlay, and slow loading of images might irk the users and drive them away from your website.
Hence, it is crucial to have an efficient galley plugin that is capable of creating an intuitive user interface, great options, and stunning layouts of the images.
What Is a Gallery Plugin?
A gallery plugin is meant to help WordPress website owners create stunning galleries of images, videos, and audios or a mixture of all of these in one gallery.
A capable, responsive gallery plugin allows users to upload an unlimited number of images and create stunning galleries within a span of a few minutes.
Moreover, the gallery plugin empowers the user to showcase images, videos, and audios efficiently.
On top of that, this type of content is highly engaging and works wonders in driving more significant user engagements that eventually convert into higher sales.
That's why make sure to add a gallery plugin upon starting your WordPress site.
What to Look for in a Gallery Plugin?
Here are a few essential basic points that you must look for in a gallery plugin to shortlist capable gallery plugins for WordPress:
Easy Installation: Make sure that the plugin is easy to install on your website. With many gallery plugins, you can just paste a shortcode to integrate the plugin. There are some plugins where you don't even need to write any code for easy installation.
Refinement Options: The plugin should be capable of refining the content through categories, tags, image sizes, and post media priority. It helps in more efficient management and consumption of the content.
Customization: Flexible customization options are crucial to meet the branding needs of the website. Make sure that the gallery plugin offers an ample amount of features to customize the grid as per your business requirement.
Responsiveness: Make sure that the plugin is highly responsive to work efficiently on all platforms and devices.
These points will help you get a broad idea of the capabilities of any Gallery plugin.
Best Gallery Plugins for WordPress
Here's a list of some of the best gallery plugins for WordPress, along with their pros, cons, and prices.
Essential Grid
Jetpack Tiled Galleries
The Grid
Portfolio & Gallery Designer
NextGen Gallery by Imagely
UberGrid Responsive Grid Builder
Easy Media Gallery Pro
Nimble Portfolio
Media Grid
Go Portfolio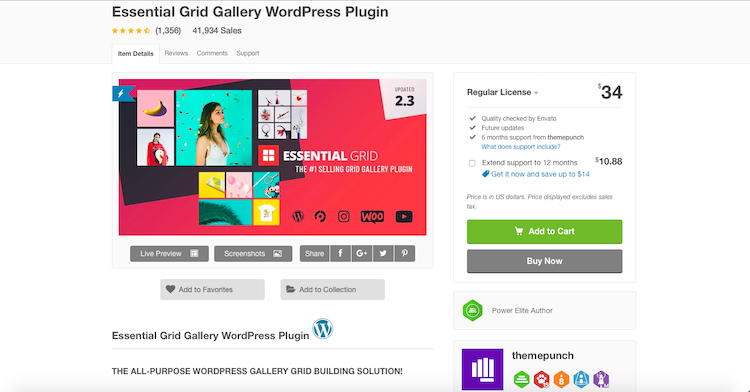 Essential Grid is known as a multi-purpose grid building tool that offers unlimited options. Moreover, the users can leverage the plugin to create stunning masonry grid layouts for portfolios, blogs, stores, and galleries, among others.
Pros:
Easily install Essential Grid to display your content in a masonry grid perfectly
The plugin supports a majority content types, including pages, posts, portfolios, WooCommerce store, and more
It also offers refinement options through the selection of tags, categories, image size, and post media priority, among others
Leverage pre-made skins to customize your gallery grid efficiently. You can further customize through visual skin editor
You can simply paste the easy-to-use shortcode on any page, post or widget area to embed the gallery plugin
All grids are highly responsive, and you can filter them out easily
Cons:
Not easy to handle for a novice
Too many customization options might look confusing to a few users
Price: It costs $34 for a year.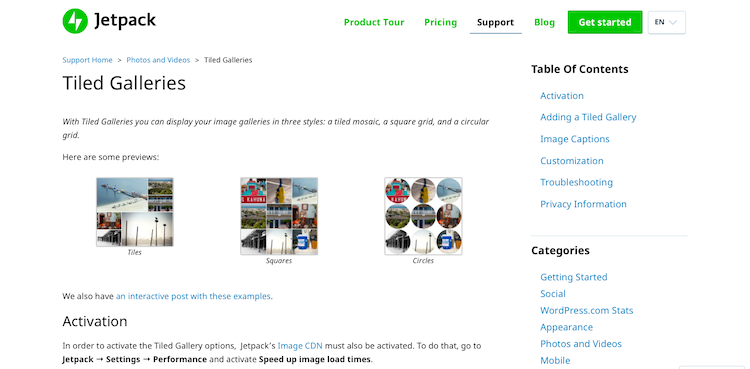 Jetpack Tiled Galleries is a free plugin that offers eye-catching solutions to display images.
Also, WordPress owns the plugin and offers built-in support for tiled and styled galleries. This makes sure that the user can easily add the gallery plugin to a WordPress website.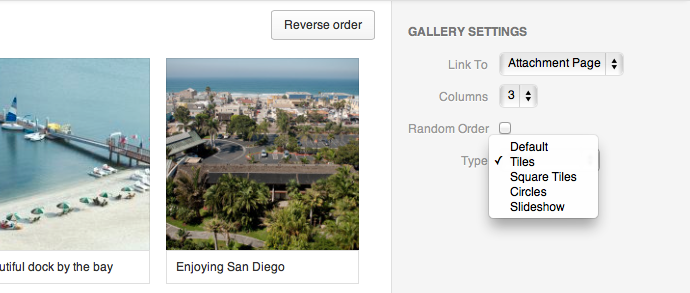 Pros:
Its Jetpack galleries come equipped with different styles, including tiles, squares, and circles. It also offers other customization options including custom widths, multiple column options, and single gallery view among others
Easily inserts galleries posts in a usual manner
If offers automatic styling based on the settings of your Jetpack
Allows you to add a caption for each image that would be displayed every time a user hovers over the image
Tiled Gallery offers different options including Tiled Mosaic, Square Tiles, and Circles
Cons:
Jetpack might slow down the speed of your WordPress website
The plugin is directly linked to your WordPress account, passes a lot of information to it, and results in no absolute privacy
Price: It is available free of cost.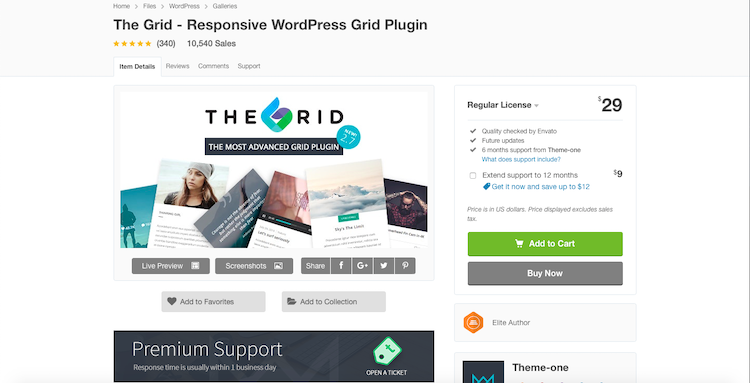 The Grid is one of the most capable WordPress gallery plugins. Users can leverage it to create highly customized photo grids and galleries for staff pages, blogs, testimonial, and WooCommerce store, among others.
Pros:
You can create your own customized grids
Leverage skin builder to create your own skins from scratch by editing fonts, hover state, add animations, select media, resize elements and define excerpts among others
The Grid also offers a live Ajaxed preview, integrated with WPML and support for custom post format
You can easily adjust settings like full-height and the width of the grids, rows, and columns
It also supports several media formats, including Vimeo, HTML, SoundCloud, YouTube, and images, among others
Cons:
Many of its functionalities might look complicated to new users
You need to pay extra for a year-round support
Price: The Grid is available at a fee of $29 that also includes support for six months.
Portfolio & Gallery Builder offers an efficient solution to create responsive and unique photo galleries for your website.
Moreover, Portfolio Designer offers end-to-end solutions to create stunning designs of galleries and portfolios in any layout type.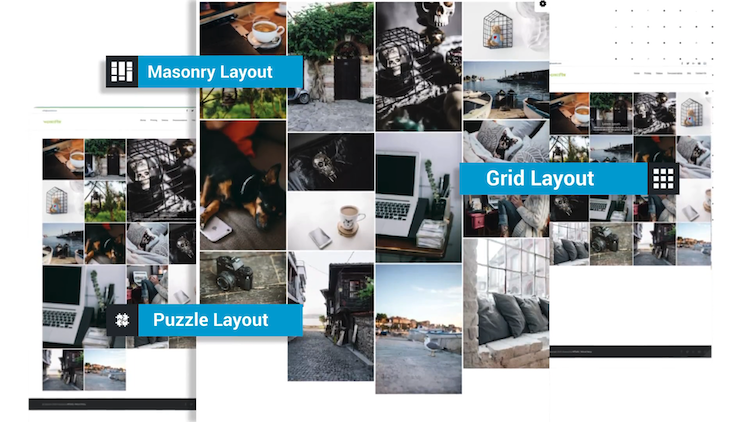 Pros:
The plugin comes equipped with the 4 more most loved layout styles including masonry, justify, gallery, and slider to create stunning portfolios
It is powered by more than 50 predefined effects and animations to display project tiles, links, magnification buttons, or descriptions, among others
It offers three different types of paginations including Standard, Auto Load, and Load More
Users can efficiently export or import page layouts to use in another website
The gallery plugin comes loaded with 4 types of popup boxes including Fancy Box, Lightcase Box, Nivo Box, and Color Box
Support for shortcode is available for easy customization
Comes with SEO friendly and fully responsive templates
Cons:
Customer support is not efficient
Need to pay extra for yearly support
Price: Its license is available for $17.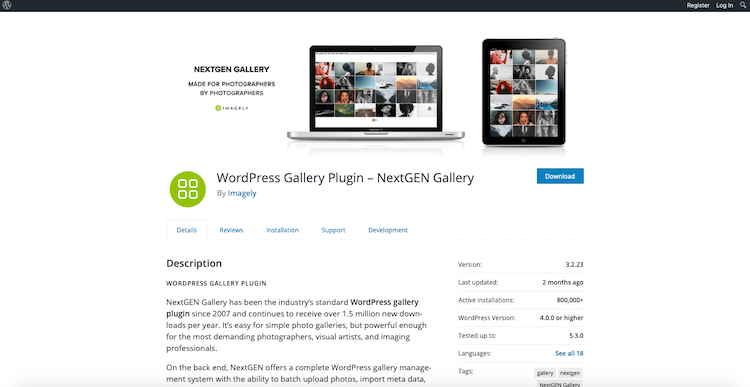 NextGen Gallery is, without any doubt, one of the most popular Gallery Plugins for WordPress. With over one million downloads, the plugin has a proven track record of handling both simple photo galleries and advanced professional requirements. It also enables WordPress users to create stunning albums in a few minutes.
Here's what a basic thumbnail gallery by NextGen looks like: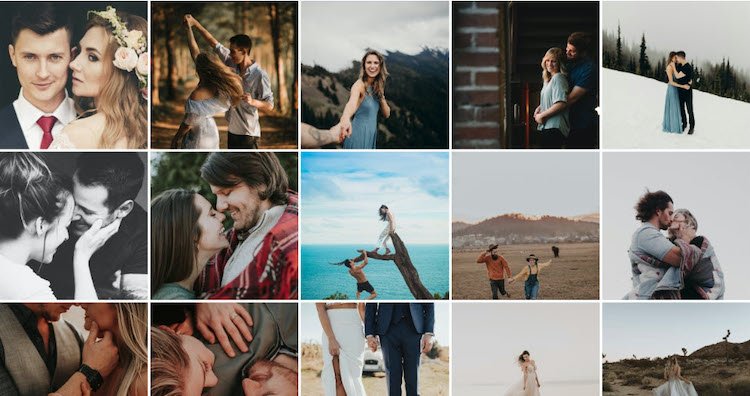 Pros:
Upload pictures in batches for easy sorting and slotting in particular groups
Leverage the Gallery tab from the dashboard to change the size, style, lightbox, color, timing, effects, and transitions while managing all the settings
The WordPress plugin is responsive and offers seamless compatibility with the majority of themes, including MeridianThemes, FancyThemes, and more
Import metadata, edit thumbnails, and customize the lightbox for easy customization
Add watermark, text, or external link to your pictures easily
You can leverage native WordPress functions to efficiently protect the galleries using a password
View images in thumbnails, slideshows, and extended or compact albums
Portray galleries in several customized formats including allow digital downloads, sell pictures online, show price list, and provide offer coupons
Cons:
Sometimes, the sync of pictures take a lot of time
Its free version provides only a limited number of features
Price: The plugin is available free of cost.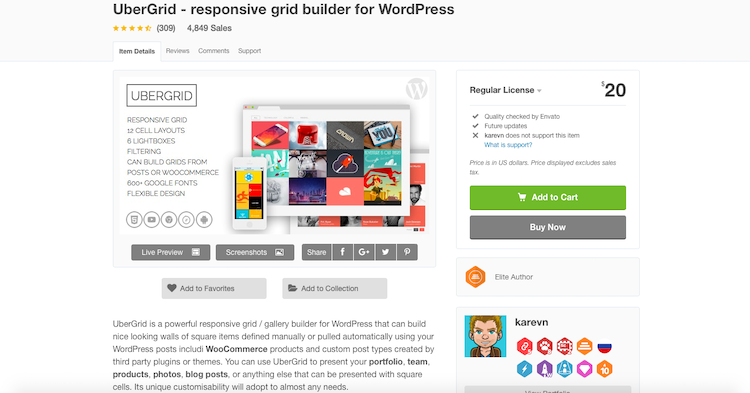 UberGrid is one of the most capable WordPress portfolio plugins. You can leverage this plugin to create beautiful galleries to display thought-provoking images. Moreover, it offers excellent versatility to create stunning square grids for blog posts, portfolios, images, and client logos, among others.
Pros:
The plugin offers robust compatibility with WooCommerce to enable the stylish presentation of products in grids
It offers great customization features through applications of the lightbox, applies filters, and post type grids
The stunning grids are highly responsive and offer customizable design
It allows users to set specific and default block sizes, color, font, and border style
The WordPress gallery plugin offers robust integration with Google Maps
It offers seamless integration with the other five 5 major plugins, including PrettyPhoto, Swipebox, JetPack Gallery, Lightbox, and FooBox. 
User shortcode to post the plugin anywhere within the page or through a dedicate widget on any widget area
No coding is required
Cons:
The overall design looks a bit dated
Its integration with external plugins is not efficient
Price: The basic version is available entirely free of cost. However, if you need more advanced features, the paid plan is $20.
Easy Media Gallery Pro offers one of the most value for money propositions. It allows the user to add galleries, images, image carousels, photo albums, audio, video, and Google Maps, among others.
Pros:
The plugin is capable of optimizing images for SEO by automatically creating alt tags and alt attributes of the image
The versatile plugin supports videos from over 15 sources and audio from 3 sources
The user-friendly interface allows the users to add items through a few clicks
You can easily customize the colors, positioning, and add special effects to images present in the portfolio
It also supports 10 different lightbox styles
The highly responsive gallery plugin also offers the option to add filters to efficient navigation through the website
Cons:
Its free version provides minimal functionalities
Too many ads in the pro version
Price: It offers a free version with limited features. The paid version that comes with advanced features costs $24.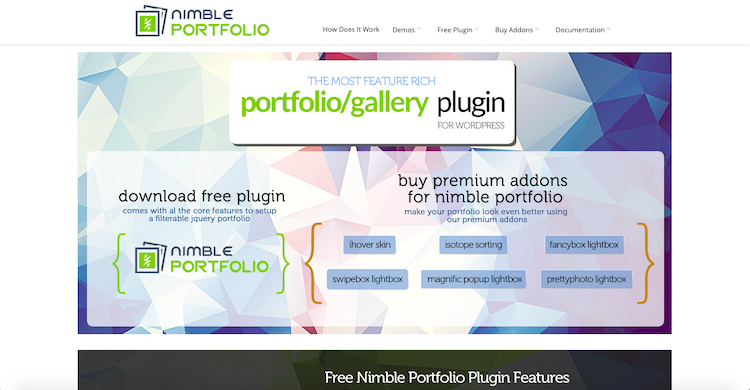 Nimble Portfolio is one of the most capable free gallery plugins for WordPress users. The plugin also enables users to add pages, posts, custom post types, videos, and images to the gallery very easily.
Pros:
Its circular thumbnails make the gallery look stylish and clean to grab more eyes
The fully responsive gallery can be easily filtered to find items more easily
It also allows the user to select the number of columns they require
You can also enhance its capabilities by integrating it with premium add-ons
Offers live chat and email support
Cons:
Features are limited in comparison to other options available in the market
Live chat takes a long time to receive a first response
Price: It is available free of cost.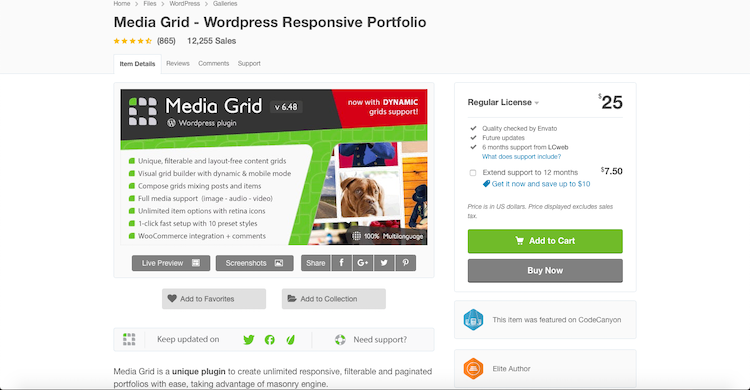 Media Grid is a premium gallery plugin that offers a user-friendly design to enable an organization to build responsive grids by leveraging intuitive visual grid builders. Moreover, it allows easy addition of videos, audio, images, text, and Woocommerce products, among others.
Pros:
It quickly displays an overlay whenever a visitor hovers over the item
Visitors can easily filter the grid to search for specific items that they need
You can also customize the plugin by setting color and border size margin among images along with overlay color
Use ten one-click presets to customize the Medi Grid with just a few clicks
Add your grid to any post, page widget area, or custom post through a small shortcode
Allows you to extend the overlay through the addition of extra overlay styles 
Cons:
Customer support is not prompt or responsive
Not much flexible for many media types
Price: Its regular license costs $25.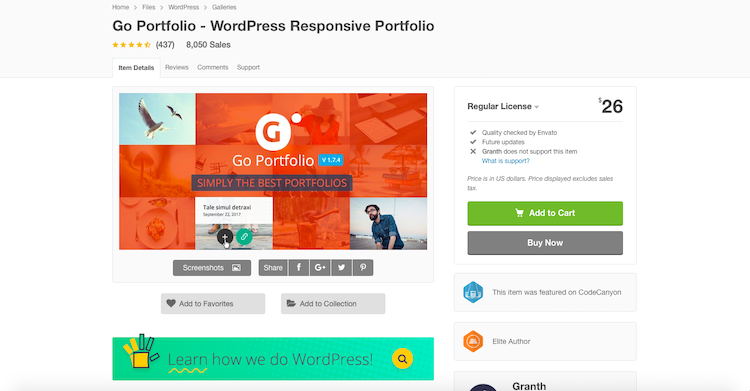 The premium WordPress plugin is perfect for adding stunning and out-of-the-box portfolios. Users can easily add unique and stunning portfolios to the WordPress website.
It also comes equipped with four more different styles that are highly efficient with several numbers of animations, thumbnails, overlays, and visual effects.
Pros:
Add highly responsive portfolios to the WordPress website
The plugin is also capable of working with any type of custom posts
Easily start adding the media just after the installation is complete
Its responsive portfolio works efficiently with videos, images, and audio files to host a meeting that meets all the essential requirement
Users can also leverage its customization features to choose from an endless number of colors and over 600 Google fonts along with sizing and spacing of each image
It also allows the addition of an unlimited number of grids through shortcodes added to the relevant page, post, or widget area
Cons:
Compatibility with the latest WordPress version is not robust
Users have flagged the inefficiency of customer support
Price: It comes at a competitive cost of $26.
Final Thoughts
So, these were some of the best gallery plugins for WordPress.
Gallery plugins can instantly transform the look and feel of your WordPress website. Furthermore, they can make viewing images a breeze.
However, there isn't any definite answer to what is the best option. You can make the right decision by comparing your needs with the functionalities these plugins offer. It would be best if you also considered things like budget constraints.
For instance, Gallery plugins like JetPack Tiled Galleries and NextGen Gallery are available entirely free of cost. Still, most of their functionalities are at par with some of the paid plugins. Hence, if you are running low on budget, then it would be wise to take sides with a free Gallery plugin.
However, if you have the means and are looking for exclusive features and customizations, then paid plugins like Go Portfolio and The Grid are excellent options to choose from.
If you want to spruce up your WordPress site and engage your customers personally, then make sure to check out this list of some of the best WordPress chat plugins for stellar customer support.
Which of the above-mentioned gallery plugins for WordPress are you planning to use? Let us know your feedback in the comment section below!