It is crucial to have a highly functional search system on your WordPress website.
And it's not relevant whether it is a blog, eCommerce website, or a corporate site. The users always use search bars to look for pertinent information.
Irrelevant or slow search results will drive the traffic away from your website and downgrade SERP rankings. Hence, website owners can't afford to expect customer satisfaction with an inefficient search tool.
With users now spoilt with the efficient search console of Google, it is crucial to implement a capable search bar that is efficient and user-friendly.
Moreover, a good search plugin will drive more traffic and sales for the online business while enhancing the default search experience.
So, while creating a WordPress blog or any website, make sure to add a search plugin.
What Is a Search Plugin?
A search plugin can enhance the search capabilities of your website. A well-designed plugin can help users search for relevant content and eCommerce items easily.
Moreover, you can easily integrate a WordPress search plugin into the website through a widget or single line of code. Search plugin vendors incorporate several advanced features to enhance the capabilities of your plugin.
So, even if you don't put a search term correctly, the search plugin can easily churn out relevant results.
What to Look for in a Search Plugin?
Here are a few essential things that you must know before selecting the right search plugin for your WordPress website.
Speed: Make sure that the plugin is capable of churning out results without sacrificing site speed and performance.
Customization: Search plugins that offer highly customizable features to enhance efficiency and speed.
Integration: It should offer robust and seamless integration with other platforms, including WooCommerce, to ensure accurate search results come up every time.
Analytics: Search data of users can help website owners gauge the user behavior and derive strategies based on that. Hence, it should support efficient integration with Google Analytics or offer detailed data reports capturing all the touchpoints.
Best Search Plugins for WordPress
Here's a list of some of the best search plugins for WordPress:
Advanced Woo Search
ACF: Better Search
Ivory Search
Ajax Search Lite
Better Search
Relevanssi
Swiftype Site Search
Reactive Search Pro
SearchWP
Ajax Search Pro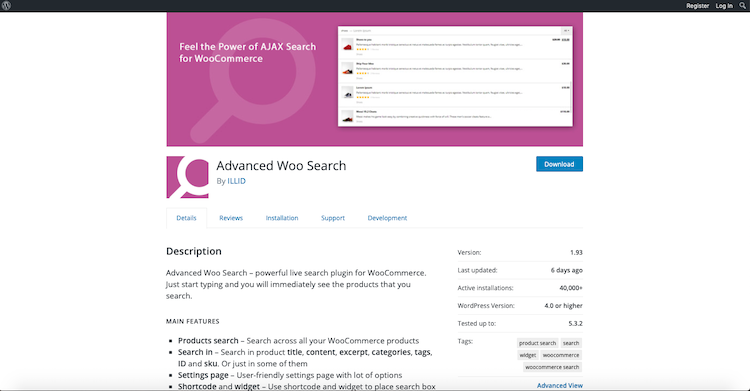 Advanced Woo Search is, without any doubt, one of the most potent WordPress search plugins. It helps you add meaningful search capabilities to eCommerce websites powered by Woocommerce.
Moreover, the plugin enables the user to search all the products efficiently. The plugin is fast, user-friendly, and comes loaded with plenty of amazing features.
Pros:
Offers robust support for Woocommerce products
It provides seamless integration with Google Analytics
Users can simply embed a shortcode or widget to place a search bar within the website
The tool is translation ready; hence, you can use it on global websites easily
Supports smart ordering
Advanced Woo Search supports search in title, excerpts, content, tags, categories, and more
All the search results contain product prices
Search results are smartly segregated based on the priority of the source
Capable of excluding words from the search
Cons:
Renders results at a slower pace for complex keywords
Only suitable for eCommerce websites
It is relatively expensive than other tools available in the market
Price: The best part is that it comes with a free version. However, the paid plans are more capable and come with advanced features. Its Pro version is available for a one-time payment of USD 57.82, with a 30-day money-back guarantee.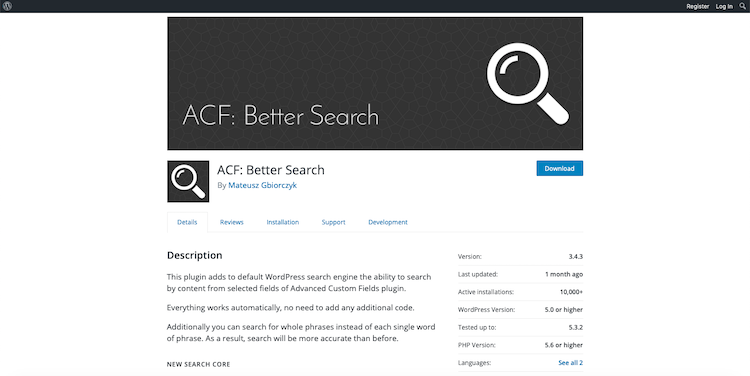 Better Search is a simple and intuitive search tool that comes with powerful capabilities. It is one of the best search tools that can help you enhance the search experience of website visitors.
ACF enables users to leverage the default search engine in WordPress to enable search from the selection of advanced custom fields. Moreover, it allows users to execute search through number, text, text area, Email, and URL, among others. It also comes equipped with a lite mode to make searches faster and efficient.
Pros:
It is capable of searching the entire phrase
It offers support for ten different field types
Provides robust integration with advanced custom fields
Highly efficient and user-friendly
Leverages lite mode to enable faster search
The tool is lightweight and processes search queries lightning fast
Cons:
Lite mode is unable to check field types
WordPress sites need to come equipped with advanced custom fields
Price: The plugin is available entirely free of cost.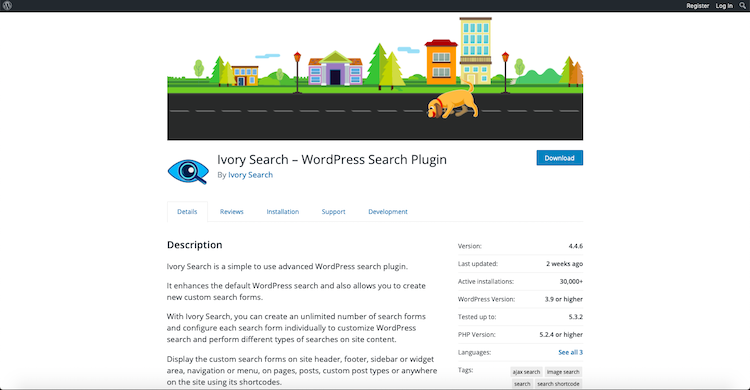 Ivory Search offers a highly versatile and capable search plugin proposition. It comes equipped with advanced features but has managed to keep the design user-friendly.
Moreover, it allows the user to create an unlimited number of custom searches and configure them as per the requirement.
Pros:
Offers greater control over your search queries by allowing the user to look for specific content through content, excerpt, post titles, custom fields, taxonomy terms, and metadata, among others
Excludes posts by defining criteria
Users can also create multiple numbers of search forms
Offers tight integration with popular plugins including WooCommerce and bbPress among others
Support for multilingual search queries
Configure search forms individually and easily display them at any part of the website
Cons:
Some search functionalities show an error
Customer support could be more efficient
Price: It comes with a free version. And its premium version starts at $19.99 per year.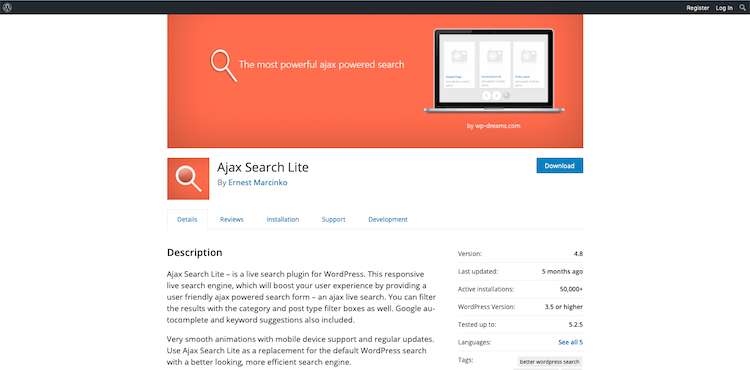 Ajax Search Lite is another highly responsive and capable search plugin on this list.
It empowers the WordPress website with an AJAX-powered search feature. Moreover, its search feature is intuitive and designed in a user-friendly manner. Ajax Search Lite also offers excellent mobile support, a smooth user interface, and high-quality animations.
Pros:
The search tool allows the user to search in custom fields, categories, types, custom post and descriptions among others
Comes with custom filter boxes to search by post types and different categories
It is compatible with QTranslate and WPML
Users can customize the search plugin through 8 built-in templates
Also, it comes loaded with retina ready CSS3 and CVG icons
Powered completely by AJAX
Cons:
You need to pay extra for robust customer support
Tons of options might overwhelm the new user
Cost: It is available free of cost.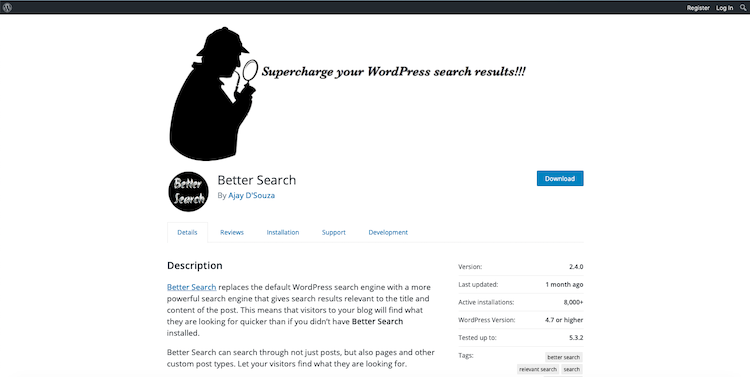 Better Search is a free search plugin that comes with a lot of advanced capabilities.
For one, it offers improved search speed while churning out relevant answers for users. Other than this, it provides an easy solution to search through pages, posts, and even custom posts. It also enables the user to customize search results in several ways.
Pros:
Allows you to select whether the emphasis should be on the content or title in your search results
Users can leverage tons of actions and filter for highly customized search results
Analyze heatmap of popular searches to know what is working and what's not
Offers robust support for cache plugins including WP Super Cache and W3 Total Cache, among others
Comes equipped with profanity filter and custom CSS support
Is translation-ready
Also offers easy set-up and a smooth user-interface
Seamless integration with WordPress themes
Cons:
Customer support is not reliable
Unable to show shop categories in the search result
Price: It is available entirely free of cost.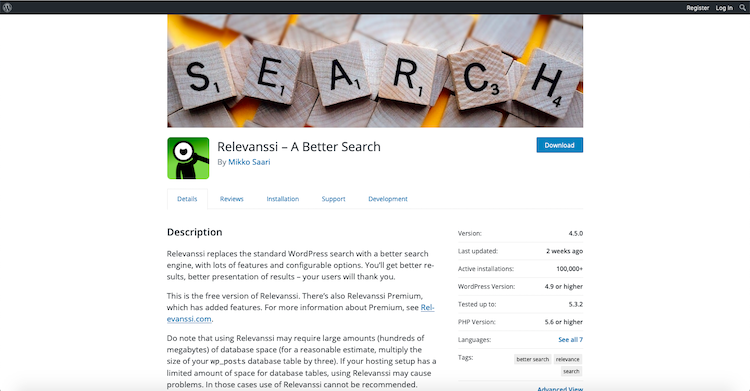 Relevanssi is a configurable and feature-rich search engine. The powerful search plugin offers fuzzy matching and phrasal search.
The best part is that you can customize the search by deciding the weight of tags, comments, and titles. It also highlights the search results for easier readability.
Cons:
Offers "Did you mean" type questions depending on search results to boost user engagement
It can sort search results based on relevance instead of dates only
It's multisite friendly and capable of delivering fuzzy matching
Its Search Result Throttling feature enhances the performance on massive databases
Leverage Simple Filter Hook to eliminate the inclusion of a particular type of content
Cons:
Unable to deliver flawless performance with WooCommerce
Costlier than other search tools
Price: For basic requirements, you can use its free version. The paid Pro version costs $120 per year.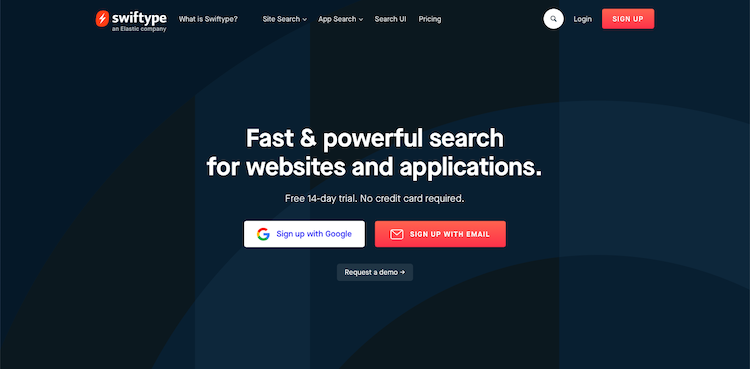 This WordPress search plugin offers great customization options, along with an impressive user interface. Moreover, with Swiftype, there's no need to know coding or any programming language since it's pretty easy to integrate it with your website.
Pros:
Leverage its intuitive dashboard to use all the tools required for search customization from one place
Its automatic updates feature enables automatic synchronization of the search results whenever a change is made in the content
You can also leverage its Search Analytics to understand the behavior of website visitors on a regular basis
Also, it offers support for 13 different languages including French and German
No programming required
Cons:
It doesn't search pages of the website
Comes with a hefty price tag
Price: Its standard plan costs $79, and the pro plan is $199.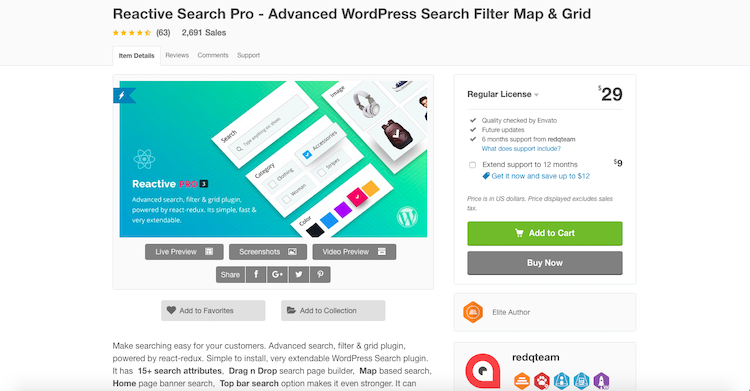 Reactive Search Pro is, without any doubt, one of the most capable WordPress search plugins on the internet. It enhances not only the search experience of users, but also extensive third-party integrations. Moreover, the tool comes loaded with over 15 search attributes, including Range box, Color Picker, Min-Max button, and more.
Pros:
Its Map AutoComplete feature assists the user to complete search queries faster
Users can easily look for all the information from any location through Geo-Box data
Search results appear faster through Code Splitting and Lazy Loading capabilities
It offers seamless integration with WPML, WooCommerce, and Grid Builder
Build pages through its drag and drop feature
Offers dedicated customer support and in-depth documentation of the plugin
Provides Google Maps integration
Offers over 15 search attributes and is translation ready
Cons:
The documentation needs to be updated more frequently
Facing some bugs with search results
Price: The premium search plugin costs $29.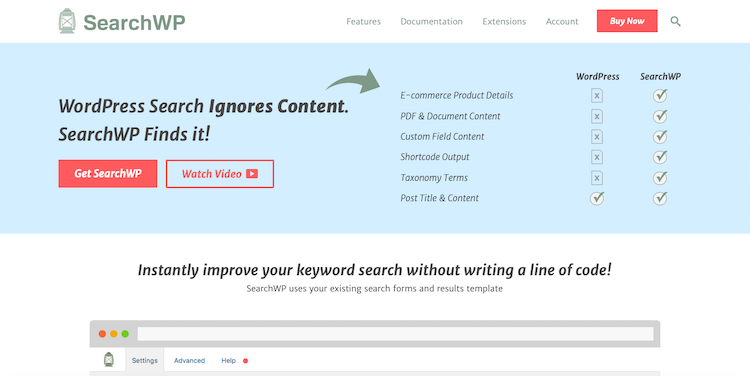 SearchWP is one of the best premium search plugins for WordPress websites. Its advanced features and intuitive user interface make it a great value for money proposition.
Moreover, it offers easy set-up with no need for lengthy configurations. Users simply need to install and activate the plugin to get it going on the website.
Pros:
It is capable of searching custom fields, eCommerce products, and PDFs or other documents present on the website
Offers visitors insights and search stats to gauge the response of users
Highly customizable algorithm
Individual customization of different searches is possible
Easily search eCommerce orders and products
Leverage Keyword Stemming to derive more relevant results from unmatched keywords
Cons:
Not compatible with WP-CLI
Complex multi-site integration
Price: Its pricing plans start from $99 and range up to $199.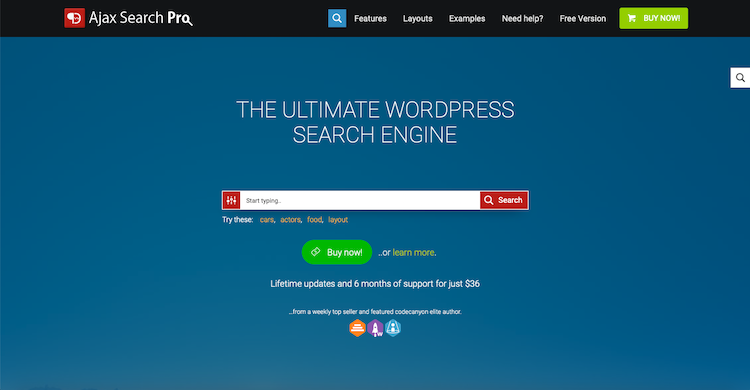 Ajax Search Pro is versatile, feature-rich, and highly customizable. Moreover, it offers over 60 customizable themes, making it compatible with all types of websites.
On top of that, its beautiful search forms, clean back end, and the intuitive user interface make it one of the preferred choices. The tool also offers a highly effective and engaging search solution for the website with live AJAX search capabilities.
Pros:
Robust integration with Google Analytics
Its Compact Layout Mode offers a minimalistic design
It receives constant updates
Also offers a robust customer support
Equipped with smart image parsing
Allows you to import and export search settings efficiently
Customizable search with custom field filters
Cons:
Difficult to resolve bugs
It is known to increase the load on the webserver
Price: It costs $36 per year with all the features.
Executive Summary
So, this is it! These were some of the best search plugins for WordPress available on the internet.
The best way to choose the right option would be to compare your requirements with the features of each search plugin.
There are several plugins, including ACF: Better Search and Ajax Search Lite that are available free of cost and offer robust search capabilities. You can use these search plugins for WordPress if you don't want to spend any money at this point in time.
However, if you are looking for highly customizable and capable premium search plugins, then SearchWP and Ajax Search Pro would be great options. With paid tools, you would also get great export and import capabilities.
Therefore, it's essential to think wisely before making the final decision.
If you want to provide further assistance to your website visitors, then you might want to add a FAQ section as well. Check out this list of top 10 WordPress FAQ plugins for 2020.
Which one of these search plugins for WordPress are you planning to use? Let us know your feedback in the comment section below!