Most websites today come with live chat support.
Because of this, customers today are spoiled. With companies willing to cater to their every whim, online consumers have become impatient.
And don't think people won't think twice before abandoning your website if they don't get a quick and feasible resolution to their queries and problems.
With consumers demanding immediate support, those with WordPress sites need to think about the types of plugins for WordPress that can help them give their loyal customers what they want.
Today we're going to take a look at the best WordPress chat plugins in the market so you can give those with questions and concerns the customer service they deserve.
Benefits of Using WordPress Chat Plugins
Here are some of the essential benefits that WordPress chat plugins offer website owners and their customers:
Convenience: dialing a number and waiting for a response is a huge inconvenience. Apart from that, live chat support allows customers to multi-task and get a quick answer to their queries. With chat support, both parties can maintain the record of previous chats for reference and better delivery of service. Customers can also leverage chat support to get instant assistance on the same platform while shopping.
Time Saving: live chat support has cut down resolution times significantly. Unlike phone calls, live chat allows operators to check customers' browsing habits, profile, and items in the cart right away. This helps chat operators offer a fast and quality response.
Increased Customer Engagement and Sales: live chat support enables operators to assist customers in real-time while they are shopping. Adding to that, one chat agent can interact with multiple customers at a time, reducing the customer queue, and resolving more queries in a day. 24/7 support also enables constant contact with customers that result in a boost in sales.
Increased Customer Loyalty: live chat support leads to more satisfied customers. The convenient and efficient customer experience ensures that customers come again and again to the same website.
If you're building a new WordPress website or optimizing an existing one, then make sure to add one of the following WordPress chat plugins.
Best WordPress Chat Plugins
Here, we have collated a list of 10 WordPress chat plugins that can help you drive better customer engagement and achieve better loyalty and sales.
In this article, we'll talk about some of the most prominent features of these WordPress chat plugins, along with their pros, cons, and pricing plans.
So, let's get started!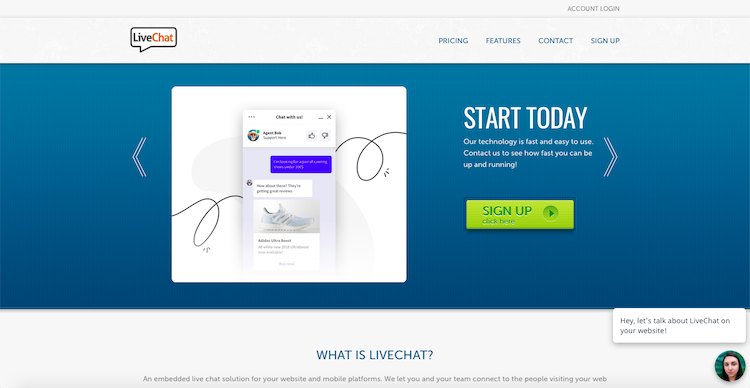 LiveChat is an easily to use chat solution for WordPress. It offers a plethora of cool features that enterprises can leverage to deliver a delightful customer support experience.
Pros:
Customers can leave feedback and give a rating to your agent after the chat ends
Customers can share the service on social media directly from the chat widget
Allows you to engage customers directly by approaching the customer first
Customize the chat window to match your brand
Control conversations from a single dashboard
Support for WordPress multisite
Access customer wait times and previous chat history
14-day free trial
Integrate with MailChimp or SalesForce to generate leads
Cons:
Lacks greeting automation, which can improve the rate of chat triggers once the user is leaving the website
Price: Starts at $19/month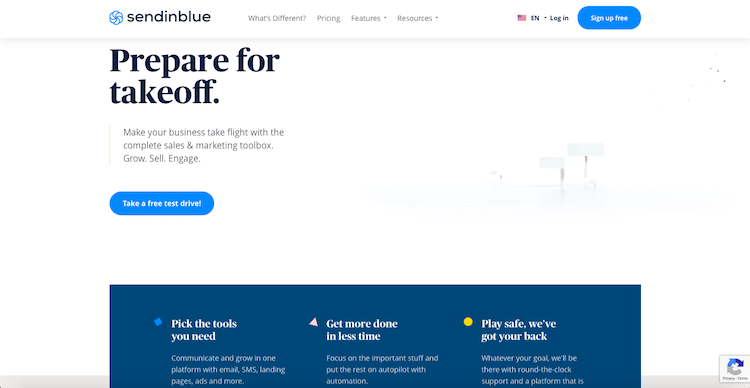 SendinBlue offers the most straightforward live chat set up. Users just need to embed a code into the website's footer to activate the live chat feature. Moreover, it's a multipurpose tool that is capable of handling more than just the live chat feature. For instance, you can use it to scale up your email marketing and SMS marketing efforts as well.
Pros:
Plenty of built-in features like CRM, SMS, email marketing, landing page creation, segmentation, and end-to-end marketing automation
Integrates efficiently with marketing automation tools for generating more leads
Set up and manage Facebook ads
Organizes your workflow efficiently
Comes as a free version, which is perfect for new website owners
Cons:
Chat is only available on the highest paid plan.
Price: FREE, but to access live chat feature, you'll have to pay $66/month.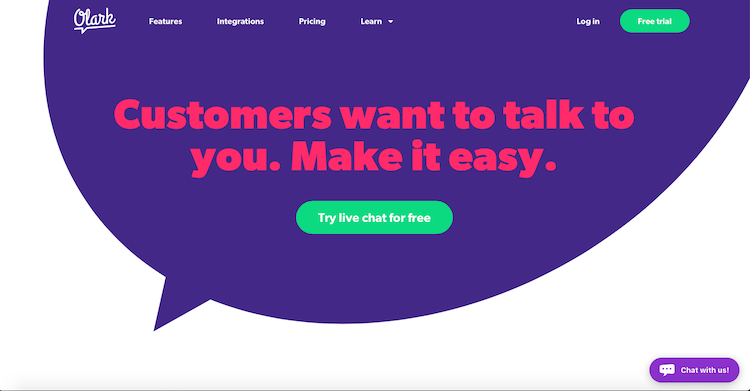 Olark provides the option to integrate the live chat feature using a plugin or by embedding a simple code snippet to your website. The user-friendly live chat feature helps enhance the customer experience and increase your sales prospects.
Pros:
Users can track operator responsiveness, customer satisfaction, and chat frequency
Easily integrates with other leading CRMs, including Salesforce, Highrise, and Nutshell
Admin can hide or show the chatbox, assign chats to different stakeholders, and send messages automatically to the customer
Access detailed transcripts of previous chats and search through history
Access to users' shopping carts
Allows grouping of chat operators for more effective dissemination of tasks
Cons:
You might need to type some commands manually
Reviews suggest that there have been some stability issues
Price: Starts at $19/month, unless you opt to pay for a one or two year subscription, in which you get a discount.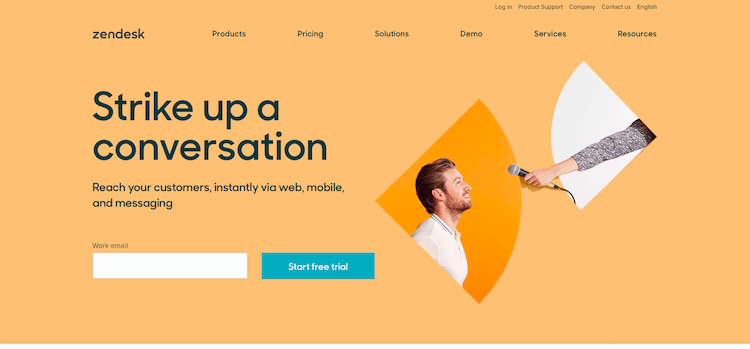 Zendesk is one of the leading helpdesk support vendors. They have recently entered the market of live chat support after acquiring the live chat support enterprise Zopim.
Pros:
Works efficiently with third-party services like SalesForce
Offers AI-powered chatbots that are capable of responding automatically in the absence of chat operators
Comes bundled with iOS and Android applications to enable WordPress website owners to answer customer queries on the go
Website owners can easily monitor the number of queries with their categories
Create beautiful chat widgets using stunning templates and customization options
Manage all chats efficiently through its Zopim Dashboard
Cons:
Its status goes idle if the chat operators work outside the browser window
Only the Professional plan offers the reporting feature
Price: Starts at $14/month.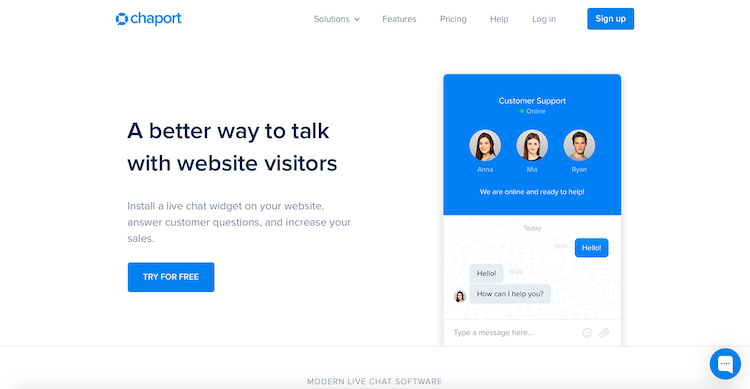 Chaport offers free live chat support. Its free version covers all the basic requirements and is perfect for a small website or online business in need of a chat solution.
Pros:
Its free Forever plan offers unlimited chats, notifications, history, and unlimited chat operators
Offers up to 5 online chat operators simultaneously
Comes with live chat support for smartphones and tablets.
Chat operators have access to useful features like visitor notes, saved replies, file sending, and auto-invite
Live chat support through stunning multilingual widgets with a host of other customization options
Provides analytics and reporting features
Allows third-party integration with Zapier
Cons:
No option of integration or reporting with the free plan
Third-party integration is not foolproof
Price: FREE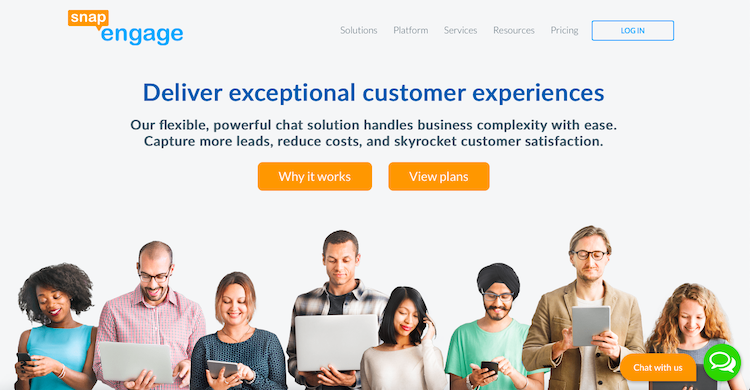 SnapEngage is one of the most preferred live chat solutions for businesses in all industries. It offers multichannel solutions across multiple platforms, including Twitter, Facebook, WeChat, and SMS.
Pros:
Seamless integration with leading CRM tools
Customizable chat widget features help with branding
Customer chat with operators via SMS messaging
Automated chat invitation to boost customer engagement and convert leads into clients
"Call-back request" feature allows customers to request a call back automatically
Cons:
It's relatively expensive compared to other live chat support options available in the market
Lowest paid plan requires 3 users
Price: Plans start at $16/month.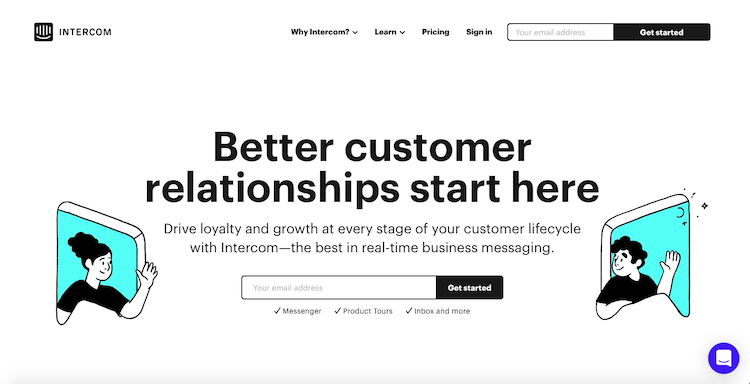 Intercom is a capable live chat support tool that also assists in capturing leads and boost conversion rates through robust customer engagement. It offers a user-friendly interface and easy integration.
Pros:
Integrates with third-party CRMs and email marketing tools
Integrates with Google Analytics to monitor customer engagement
Operators can automate workflows to enhance user engagement
AI-powered chatbots engage customers like real chat operators
Website owners can use this live chat software as an efficient onboarding tool or support assistant
Easily integrates with email marketing services
Cons:
Operators can only gain access to user threaded messages if they are not in the users' profile
Price: Plans start at $38/month.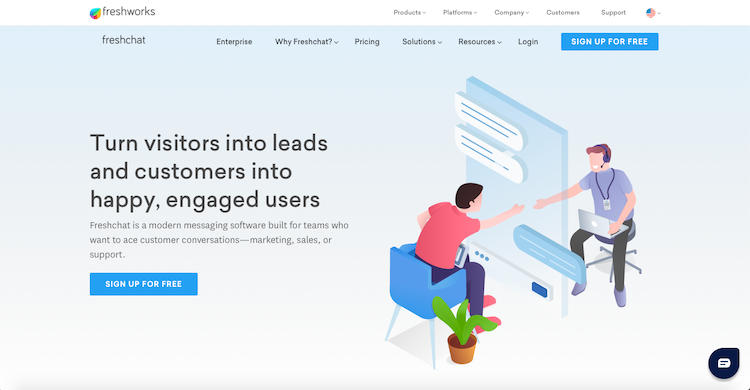 Freshchat was originally designed to be a conversation and messenger application. But thanks to its advancements, it now offers several unique features that make it more desirable than some of the leading live chat support vendors.
Pros:
AI-powered bots can initiate real-time chats with customers
Chat feature allows support to connect with support tickets on Slack or Zendesk channels
Chat users can leverage saved responses, labels, desktop notifications, and labels
Comes with free live chat support for up to 10 operators
Operators can view customer timelines and live profiles
Live chatbots are customizable to optimize chats
Cons:
Freshchat's trademark pops up in each chat notification
Doesn't support the Safari browser
Price: Free, or premium plans starting at $15/month.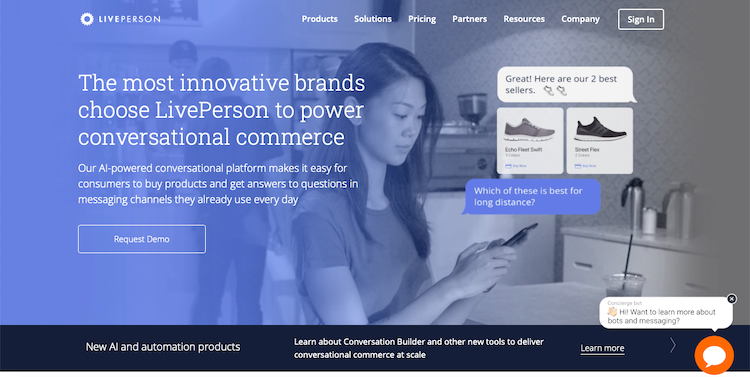 LivePerson is a powerful and engaging chat solution that offers a plethora of features to make an incredible live chat experience. Its intuitive user interface encourages customer engagement and boosts sales with ease.
Pros:
Integrates with Facebook Messenger, SMS, and WhatsApp
Website owners can use chatbots to create an automated workflow
Store customer information in third-party applications
Highly customizable live chat widgets for brand matching
Cons:
Limited reporting
Chat window does not reflect customer information
Pricing isn't transparent
Price: Pricing plans are not available on the website. You need to contact their sales team for custom pricing.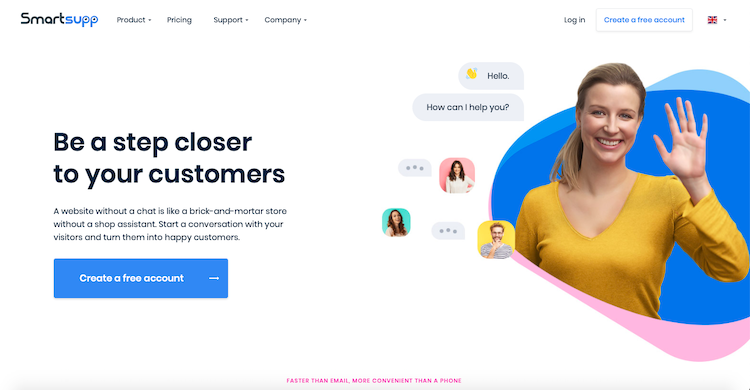 Smartsupp is one of the most affordable live chat solutions in the market. Its features help website owners track the movement of potential customers and boost customer engagement or sales.
Pros:
Record and track users on your website
Track chat conversations, even in Google Analytics
Add the pictures of chat support agents in the live chat widget to help users know who they are talking to and humanize the entire process
Customizable chat widgets can easily adapt the look and feel of your brand
Video recording of the website's visitors
Free plan available
Cons:
Limited customization options
User interface looks a bit dated
Price: Plans start at $10/month.
Best WordPress Chat Plugins: Wrapping-Up
So, that was the list of some of the best WordPress chat plugins.
However, before making the final decision, be sure to think about the following:
Make sure that the offered features meet your needs
If you have a small website, then look for free plans. Many vendors offer free plans with all the basic features, including Smartsupp and Freshchat
Compare pricing against features to pick the vendor that offers the most value for your money
Make sure that the live chat software integrates with third-party marketing automation tools
With these points in mind, you can make a more informed decision.
Some businesses fail to succeed due to shoddy customer support. Therefore, if you want to satisfy your customers with stellar customer support, make sure to install one of these WordPress live chat plugins today.
And don't forget to secure the website your customers frequent by using one of these 7 best WordPress security plugins.
Have you used any of the above-mentioned WordPress chat plugins? If so, we'd love to hear all about it in the comments below!