Some of the most popular site builders for WordPress are missing one very important element. They still require you to seek out, buy, and develop a WordPress theme. Yes, visual site builders like this make your job easier with drag and drop elements and sleek theme integrations, but shouldn't a true website builder offer full customization control without having to pay for extra elements like a theme?
That's where the Oxygen 2.0 builder comes into play, as a complete site builder, without the extra theme requirement. In this Oxygen 2.0 review we'll cover what it means to be a "true" site builder. In addition, you'll learn about the impressive features from Oxygen 2.0 and how you can go about making any type of website style with it.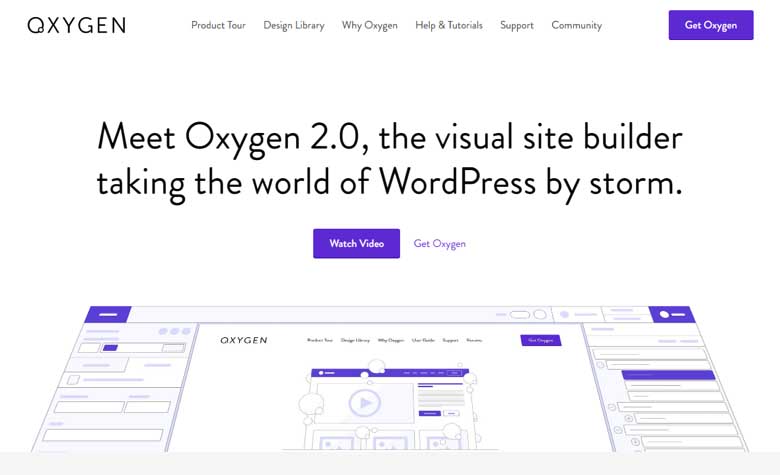 A True Site Builder?
If you've worked with some of the popular site building solutions like Elementor Pro and Beaver Builder, you know that they're simple to use and intuitive. However, these options only focus on the drag and drop elements and modules you would need for customizing an already pre-built theme.
There's nothing wrong with that, but it definitely leaves something to be desired.
A true site builder like Oxygen 2.0 makes sure that you don't have to test out dozens of themes before deciding on one. It also has the essentials of pre-built draggable modules and direct access stylesheets and selectors.
In short, developers of all skill levels can jump right into the Oxygen 2.0 interface, install a demo, and have a fully functional website with seconds. After that, making pages is completed through a powerful visual interface, completely skipping the need for a theme that would work with PHP theme files to get the same result. As a result, your workflow is faster and easier, you're working with fewer files, and both advanced users and beginners can create beautiful websites.
Oxygen 2.0 Review: The Building Process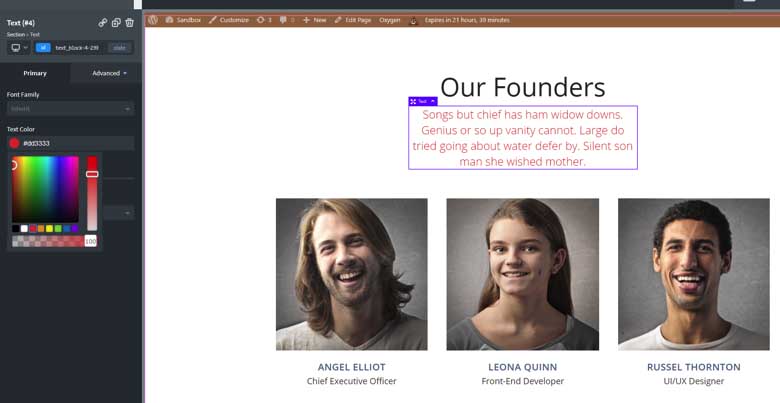 Oxygen 2.0 installs just like any regular WordPress plugin. It takes a few seconds and there's no need to even go to the Themes section in the WordPress dashboard. After the installation and activation, the Oxygen 2.0 guide asks if you'd like to develop a premade website or a blank installation. I figure most people will be interested in Oxygen because of its premade demos and design elements, so for this review we're going with the premade website. However, it is nice to see that professional developers can start with a blank installation for full control.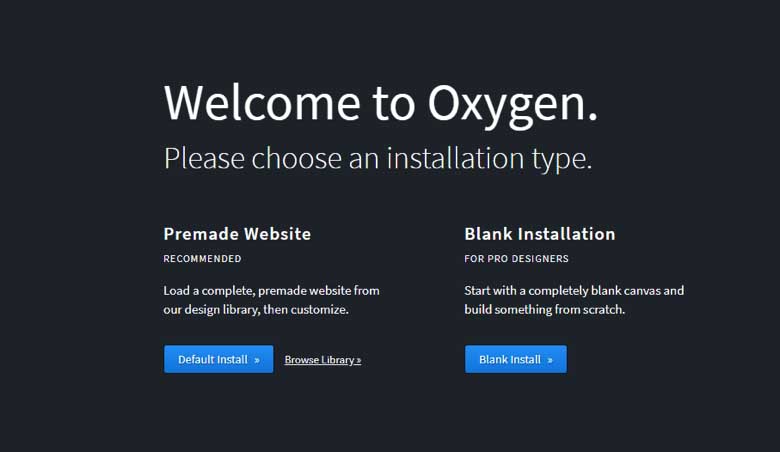 Much of the default settings and pages for Oxygen 2.0 are nicely consolidated in the WordPress dashboard. If you're trying to build an individual page you can do it like you always would in WordPress, only with a visual builder.
From the Oxygen Home Page, it asks if you'd like to add new pages, customize sitewide templates, or access the design library. This library has several full site templates (with more coming in the future).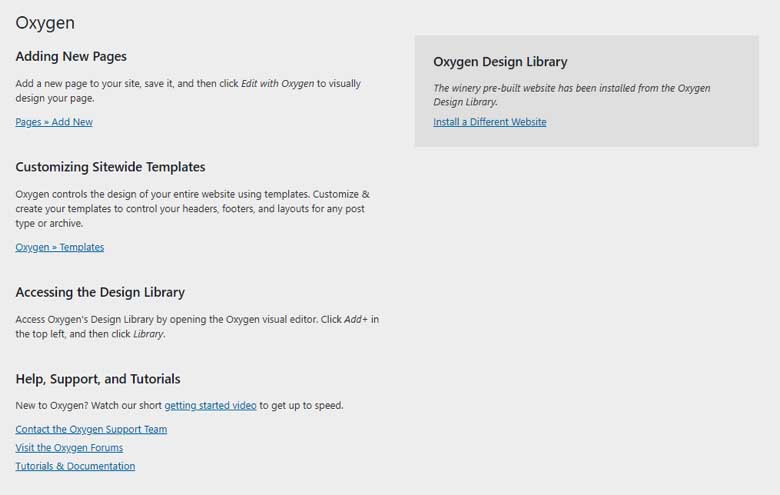 As of right now, I see some great designs for real estate, small business, tech, and even a winery business. Essentially, these are the premade designs that are replacing what you would typically think of as a WordPress theme. The main differences include not having to pay extra for a theme and being able to implement a complete site design with minimal work.
For this Oxygen 2.0 review I chose the default design, which is a clean, modern design useable for a wide range of businesses.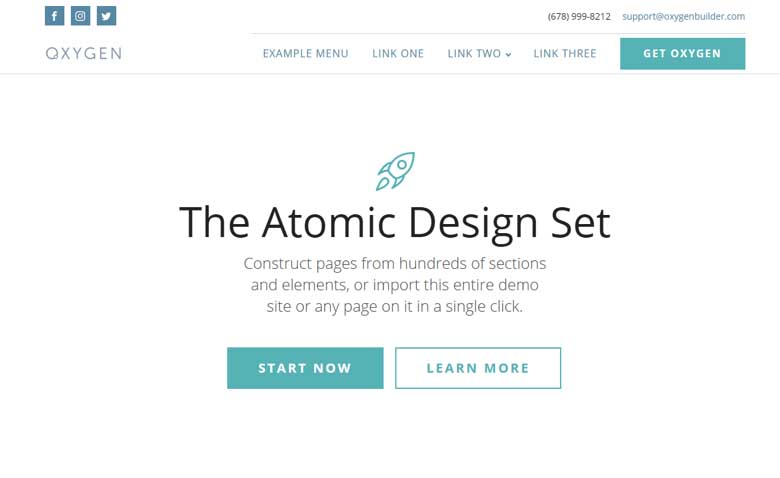 Once you have a design implemented you'll have to set your front page and blog page settings. Dozens of other pages are generated for you to get started with, and all of this is managed through the frontend visual builder. All you would have to do is go to the page of your choice and click on the Edit with Oxygen button. The Our Services page I'm showing in the screenshot below is actually one of the pages pre-designed by the Oxygen builder. But you still have the opportunity to start a page from scratch and drop the builder modules in as you please.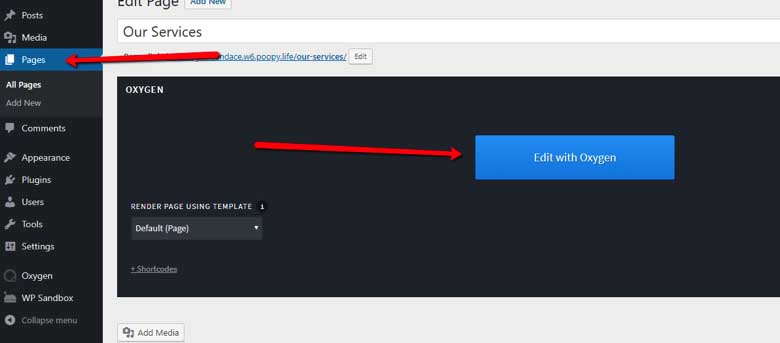 Once the Oxygen 2.0 builder appears you have several options for designing the website. You'll most likely see all sorts of pre-built modules that might work out well for your company. If that's the case, simply click on the modules to edit the text, images, and whatever else you think needs tweaking.
You're also able to start from scratch and insert the page builder modules one-by-one. Regardless of your design strategy, the modules are located on the left side of the builder. As you can see, they're broken up into four categories: Basics, Helpers, WordPress, and Library.
The Basics are your standard web page elements like links, rich text, images, and icons. The Helpers are more specialized for items like countdown timers, pricing tables, and testimonials. The WordPress category is there for handling anything from widgets to menus.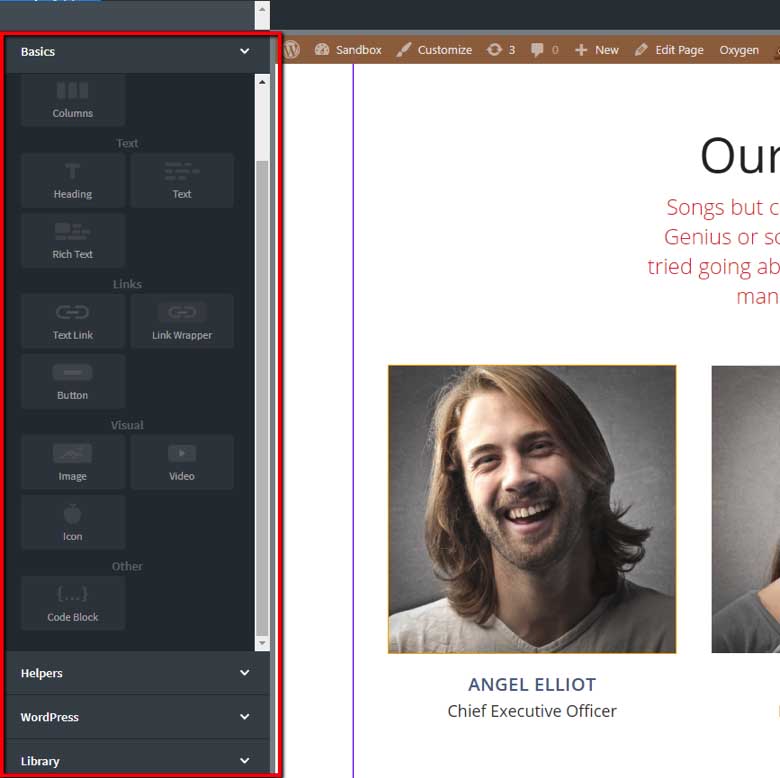 Finally, the Library section offers some incredible design sets for certain industries and businesses. For instance, I could click on the Dentist design set and insert fully designed pages for things like pricing, call to actions, services, and showcases – all for dentists.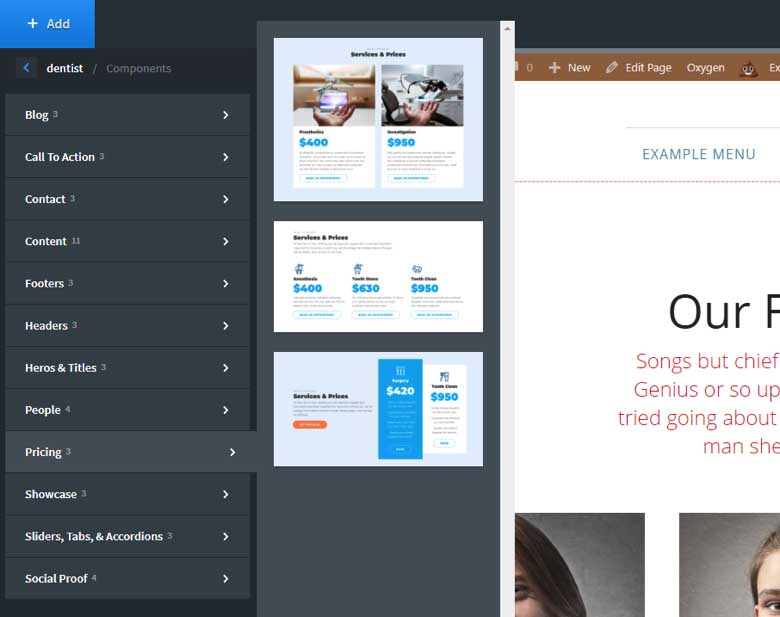 As an example, the template I installed already provided several design modules, a few of which highlight people in the business. This involved pictures, social media links, and some information about each person. Obviously, the demo content isn't going to work for my business, so I would drag and drop any of the items to situate it the way I like. I could also replace the images with one click, and adjust the typography if needed.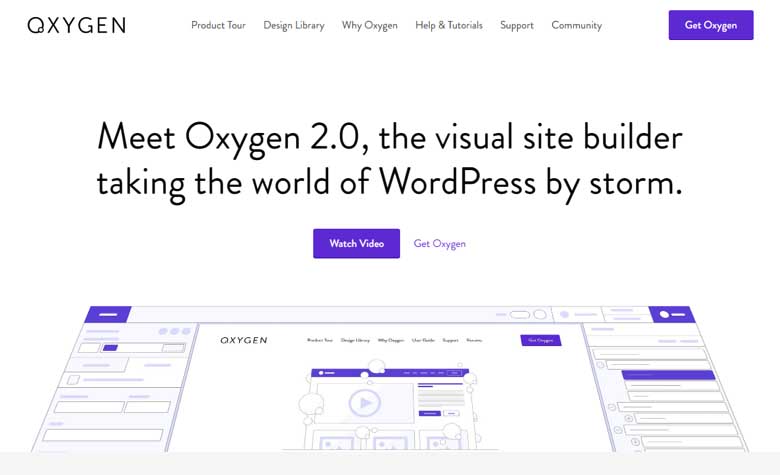 I added a few of the modules in a row to display what some of them look like. For instance, you can see a testimonial row that makes it easy to adjust the text and add a photo. The progress bar includes some quick settings for changing the colors and how much progress I wanted to display. After that I inserted a pricing table.
A great part of Oxygen 2.0 is how rapid the design process is. You start with the predesigned pages and design sets, move around quickly with a sleek designer, and can choose from a large collection of modules, most of which look beautiful compared to some of the other builders I've worked with.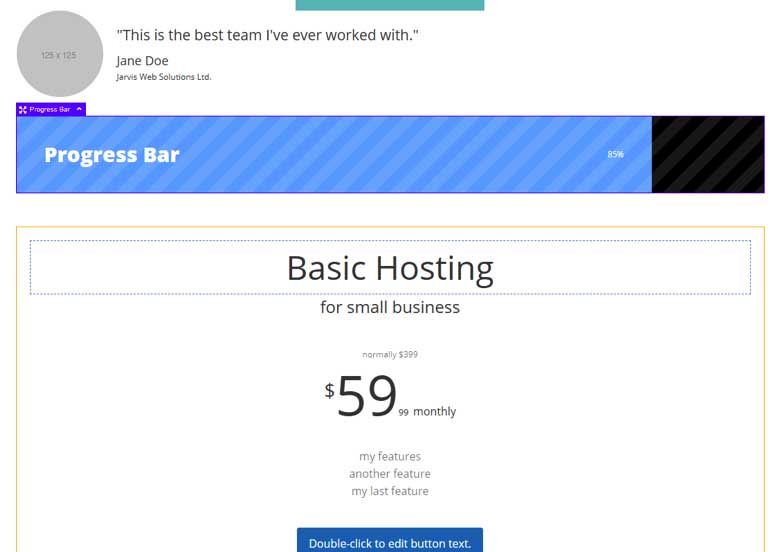 Standout Oxygen 2.0 Features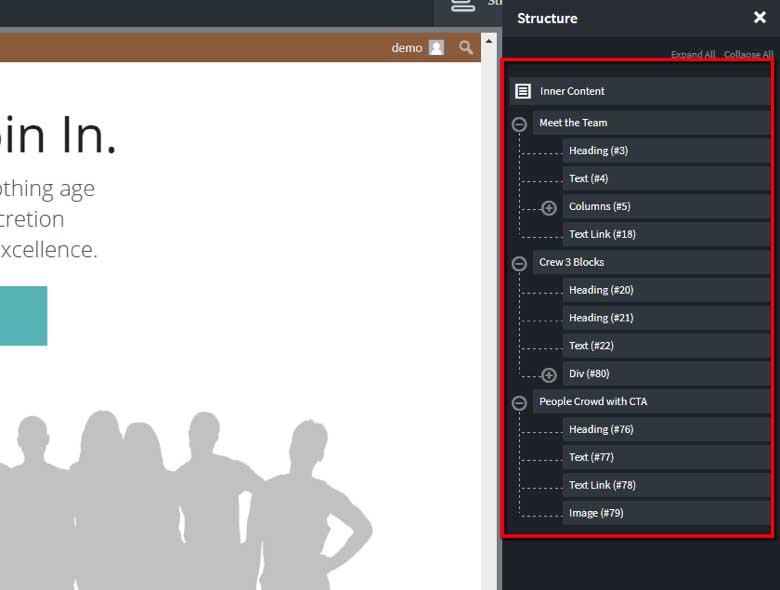 Although the Oxygen 2.0 feature-set is filled with little gems to play around with, we've landed on a a few standout features that make Oxygen 2.0 unique, and are sure to bring your development game to the next level.
Some of our favorite features include:
A flexbox layout engine – An interesting new feature that makes it easier when aligning elements on your pages. This is pretty huge, since most of the time page builders are finicky when you're trying to get the perfect layout for an element.
Repetitive styling tasks – This is a tool that lets you utilize classes when you need to repeat certain styling tasks to create a consistent look across your site. It's completely unique to Oxygen 2.0. There's nothing this advanced in competitor's page builders. View a demo here.
A beautiful visual editor – The visual editor works with prebuilt layouts and modules for rapidly adding and editing content to your website.
A header builder – These are sticky and responsive headers that you build right in the Oxygen 2.0 builder. You can create multi-level headers with items like logos, sliders, and much more.
Templating – Most developers will enjoy the fact that you can create templates from Oxygen that apply to several parts of your website. A template can be applied to your entire site or only a few areas. Whether you're only making a header/footer or a full page template, it's all rather easy to walk through.
What to Expect in the Future
The Oxygen 2.0 builder is still in an introductory sale phase, but the developers are working hard to get the word out and finish the project soon. Upon the official release of Oxygen 2.0, we can expect far more video tutorials and how-to guides to walk you through the builder. I've noticed quite a few YouTube videos about it already, so the team is doing an excellent job of creating online content for the users to get for free.
In addition, Oxygen 2.0 will be released with many more design sets, meaning that you have a better chance at finding the perfect designs for your online business. And it certainly helps out developers with clients from multiple industries. The current design sets are modern-looking and ready to implement on any website, so it'll be exciting to see just how many more of these the developers come out with.
Finally, the Oxygen 2.0 team has stated they plan on working out any of the remaining bugs and polishing the already excellent user interface.
Oxygen 2.0 Review: Customer Support
Page builder companies have lots of users to help out, so it's good to see that Oxygen has taken the initial steps to already posting videos, documentation, and articles in several places throughout the internet. Oxygen has a great website, with full documentation for topics like visual editing, templating, and plugins. The Learn section of the website details all of the user communities and articles you have at your disposal. For example, there's a live Slack chat for developers and users, along with a Facebook group to chat with other people working on the same platform.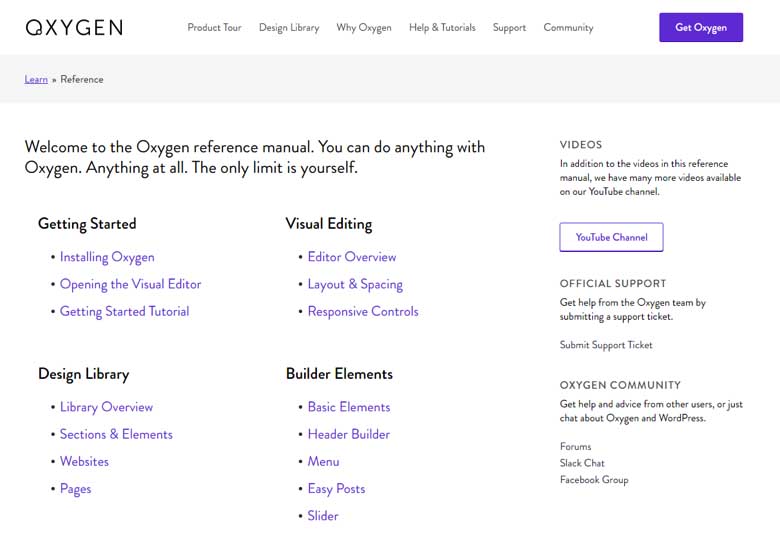 There's even an active user forum with feature requests, general discussions, and freelance work.
As for direct customer support, you can send in an email to a support team that's knowledgeable and responsive in my experience. I haven't noticed any chat box or phone support, but all of the documentation, videos, and ticketing support seems like plenty for a website builder.
How to Get the Oxygen 2.0 Builder
Currently, the Oxygen 2.0 is sold on the Oxygen website for a one-time $99 introductory offer. It's recommended that you try to get your hands on it during this offer, since the pricing is expected to go up in the near future.
The Oxygen 2.0 website has tons of resources, videos, and information in the community. This way, you're able to take a product tour, ask questions, and get a good feel for how the builder works and if it's the best option for your website development.
Therefore, I recommend you check out the website, and let us know in the comments if you have any questions about this Oxygen 2.0 review.