Imagine coming up with a great idea for a new product.
Like something you'd be proud to bring on Shark Tank.
Maybe it's an app, a box service or some crazy household item that is just calling out for QVC.
You've put together a prototype and maybe even secured some sort of funding. All of the pieces are falling into place, but you're not quite ready to create a website because you don't want to get too many orders and not have the resources to deliver.
That's perfectly fine, but building buzz is a huge part of making it big with your new product, so why not utilize a coming soon plugin or theme as a placeholder?
This way, your business idea gets into the market, with people clamoring for more information and looking for ways to signup as the first buyers. It's similar to getting the word out with Kickstarter except the coming soon website would highlight a countdown timer, email subscription form, and maybe some social media buttons.
You don't have to put in much work with a coming soon theme or plugin, yet it manages to build a following in the background. Sounds pretty good right? Well, it's inexpensive and easy too. Simply check out the following plugins and themes below.
Best Coming Soon Plugins

Price: Free 
The Fancy Coming Soon & Maintenance Mode plugin is a solid plugin for quickly getting a coming soon page on your website. All of the options are managed with the WordPress Live Customizer, and the whole point is to collect emails from visitors as you work on your site in the backend.
PROS
You can still modify your real site on the backend
The plugin doesn't break away much from the standard WordPress customization tools, making it easy to understand
MailChimp integrates with the plugin
The design is simple, yet impressive
Place social media buttons on the coming soon page
CONS
It's a new plugin, so you don't have access to many reviews or suggestions for improvement

Price: Free
The Launcher: Coming Soon & Maintenance Mode plugin is the closest thing you can get to a full coming soon theme without having to go out and buy one. Three default templates are packaged in, and there's even some translation ready tools so everyone can understand what's on your page.
Pros
Integrates with Feedburner, MailChimp, Aweber, Get Response, Campaign Monitor, and Mad Mimi
The contact form is easy to customize
A counter comes along with the plugin
The frontend editor is great for quick customizations
Display your tweets on the page
Cons
The plugin can seem like it's not working if you don't setup everything in the options panel
There have been reports of bugs when modifying CSS
Price: Free
Consider the Minimal Coming Soon & Maintenance Mode plugin if you're interested in one of the more basic options. The ratings are incredible for this one, and it's truly only a two or three click process.
PROS
Change around the background color, cover image and fonts
All elements on the coming soon page can be modified
Add your own Custom CSS and HTML
The page is only visible to users who are not logged in, allowing you to build your site on the backend
You get both translation options and Google Fonts
Integrate with MailChimp
CONS
No current downsides to this one

Price: Free and $15 for the premium version
The Maintenance plugin has a decent amount of features in the free version. For example, the plugin is responsive and you receive a fullscreen background image. We like it best if you'd like a sleek login form with validation.
PROS
The free version is basic, but includes color, logo and font customization
The premium version has a countdown timer
The premium version has background videos and galleries
The premium version has social media buttons
The premium version is pretty inexpensive
CONS
I wish the free version had an email subscription form, because you can find this in other free options (it is included in the premium version)
Some recent reviews report conflicts with other plugins and themes

Price: Free, and $29 for the premium version
Most people go with the Easy Coming Soon plugin when they have no interest in writing any code. All of the customizations are made with the WordPress customizer, making it ideal for beginners.
PROS
Collects emails and lets logged-in users see your website
Social connectivity is provided
Add Google Analytics tracking
Change around background colors, background images, font colors and font styles
The premium version has multiple demos
Get a progress bar and countdown timer with the paid version
CONS
$29 isn't exactly reasonable for such as simple premium plugin
Most of the support for email marketing integrations open up with the paid solution
There's not much customization/branding for the email notification that goes out when people subscribe

Price: Free, and starting at $14.95 for the premium option
This is an impressive coming soon plugin because the premium features are pretty amazing, but you get just about everything you need without paying a dime. The professional look is completely responsive, and you have the opportunity to change around CSS.
PROS
Add your own logo and use translation files
Collect emails and manage the people who subscribe on the backend
Social media support comes with the free version
Export email addresses to major email list builders like MailChimp
The premium version has impressive features like a fullscreen video, auto-syncing to MailChimp, extra social icons and bonus backgrounds.
CONS
One of the best by far, but some users report problems with caching plugins

Price: Free, and starting at $29 for the premium solution
Although we don't like the premium pricing, this one hits all the marks, with email collections, social media, clean templates and the ability to keep out users who are not logged in.
PROS
Change around background colors and images, logos, and fonts
Customize your CSS and HTML
The plugin integrates with BuddyPress
You can stretch the background image to cover the entire screen
Shortcodes are packaged into the premium version
CONS
Pricing for the premium version is high
The premium version has integrations with MailChimp, AWeber, Get Response, Constant Contact and Campaign Monitor, but this should be in the free version
You can't get template responsiveness in the free plugin
Best coming Soon Themes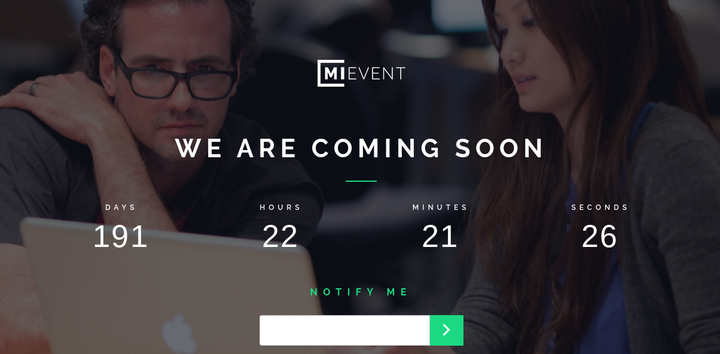 Price: $44
Here's a one page, responsive theme for concerts and conferences. You can really use it for anything, considering the design has tools for countdowns, email subscriptions, and changing the background.
PROS
20 awesome demos are packaged into the theme
A registration form is included with tons of customization tools
Change around colors and use powerful shortcodes
Post a schedule and manage it on the backend
Sample data is great for launching quickly
Display event speakers and pricing information
CONS
There's lots of hard coding, making customization a little trickier than one might assume
Quite a few features are packed into the theme, making it somewhat intimidating for a quick coming soon page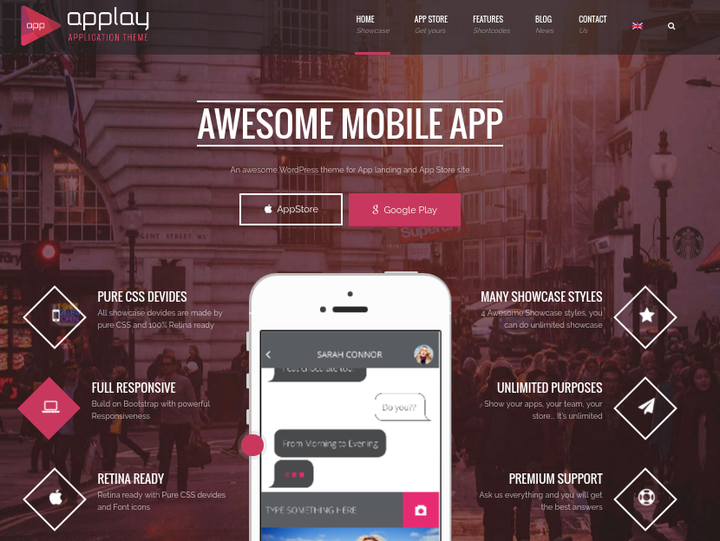 Price: $59
If you're selling a new app and would like a way to talk about it before the release, the Applay theme is your solution. About six demos come along with the theme, and the featured slider (and the entire theme) is completely responsive.
PROS
Include links to Google Play Store and iTunes
The display is pretty wonderful, with a demo of your app in the middle, and little icons on the sides of the app screen that explain features
Include social media buttons and images of the developers
Feature an entire app store with all of the apps you've created in the past
CONS
The theme is limited to mobile app coming soon pages (you could get away with other types of technology)
The $59 price tag seems high for a one-dimensional theme
It's not clear whether or not you can collect email addresses with the stock theme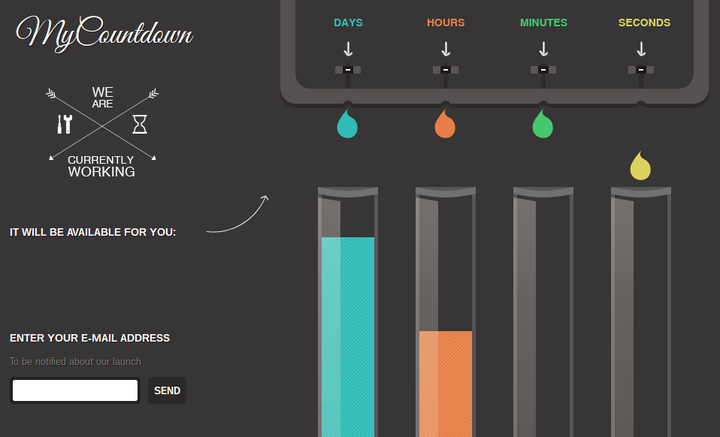 Price: $34
The MyCountDown theme comes from the folks at TeslaThemes, and it's one of the more playful solutions out there. Not only does it have a retro design, but a counter animation is shown with water dripping into vials.
PROS
Customize your logo
Collect email addresses
Share feeds from your social media accounts
The theme has one of the coolest countdown timers on the market
Share news from your blog, and include a contact form
CONS
The color options are limited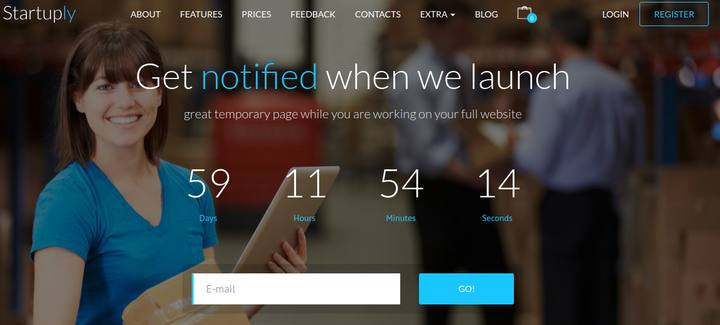 Price: $49
Consider the Startuply coming soon theme if you're a more general business that's looking for impressive customize tools and several demos to choose from. The unlimited colors and layouts are great, and the over 77 shortcodes are rather neat as well.
PROS
You get seven home and three coming soon pages
Twelve forms are packaged into the theme
MailChimp and several other options integrate with the theme
Setup recurring payments
Choose from over 2700 icons
You receive a countdown timer
CONS
Although it's pretty easy to navigate around, there's lots to work with, making it somewhat confusing
Not all the coming soon pages have social media buttons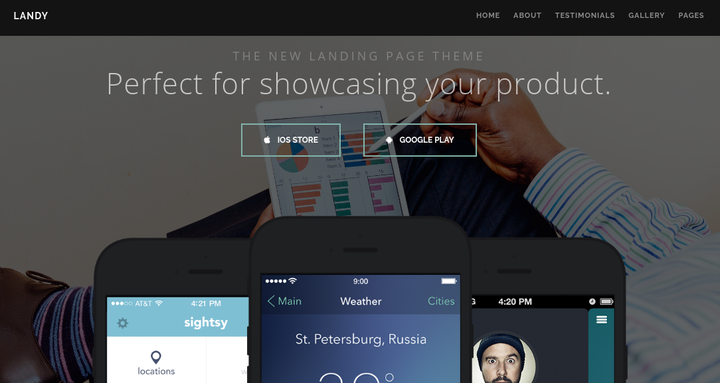 Price: $39 
The Landy WordPress theme helps with generating a coming soon page with a fixed header and over 14 homepage layouts. This is more of a landing page theme, but that could be a bonus for those who may need additional landing pages in the future.
PROS
The theme is responsive and allows for buttons and widgets in the header and footer
You receive parallax effects to grab attention
It's a solid theme for showcasing a new app
Change everything from fonts to testimonials
Collect email addresses and send people to social pages
CONS
It seems like the demos are more catered to technology companies
Once again, there's an incredible number of options on this one, making it intimidating for beginners
Which Coming Soon Themes and Plugins are Best for You?
Now that you've had a chance to review the best coming soon page plugins and themes, it's time to select one for your business.
Our favorite free themes include Fancy Coming Soon & Maintenance Mode and Minimal Coming Soon & Maintenance Mode. They both work great and don't require a development degree.
In terms of themes, the Launch theme is so fun and attention-grabbing that it's hard to pass up. Applay is by far the best for selling an app, while the Startuply is a good choice if you're pressed for cash.
There you have it! If you have any questions or suggestions about the best WordPress coming soon themes and plugins, drop a line in the comments section below.