Stoked is a blogging theme with a unique navigation structure. It's the perfect theme for people who:
Put a special emphasis on visual imagery and featured images
Want a stylish theme with a vertical navigation menu
Blog about fashion or lifestyle topics
Give Users the Full Experience on All Devices
The Stoked WordPress theme delivers a fully responsive interface for all visitors. Tablets and phones show the theme without any problems, and the theme looks great on a regular desktop or laptop as well.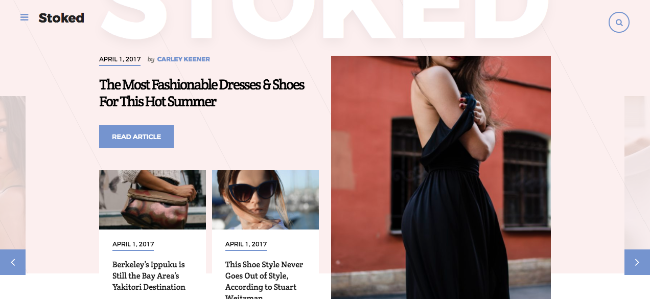 Select from Four Beautiful Homepages
If you don't like the default Stoked theme homepage, simply change it out for a new one. The customization settings are easy to access and control, allowing you to adjust the homepages without any knowledge of coding.
For example, some designers might want a large slider towards the top of the homepage, while others might require more of a gallery look with images and links to the blog articles.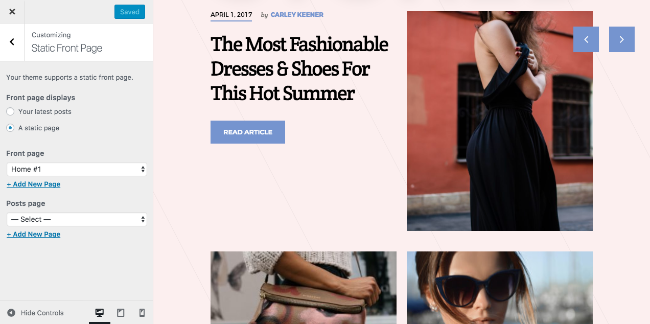 Display Your Articles With No Coding At All
One excellent aspect of the Stoked theme is how the demos look exactly the way they're advertised. You don't have to think about any complicated coding, since your regular blog articles are stylized and displayed on the homepage for you. Feel free to move these around or organize them however you want.
For instance, the latest articles may seem most appropriate towards the top of the page, while categorized posts could go towards the bottom.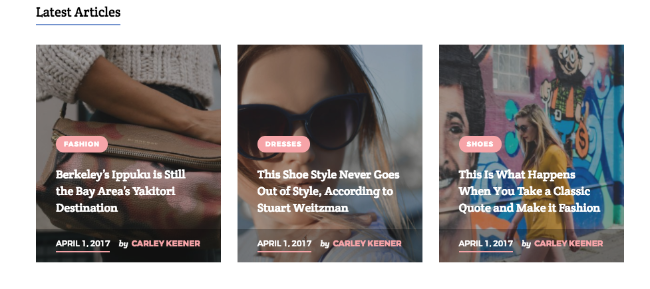 Insert a Built-in Email Subscription Form
We know the importance of building an email list, so there's no reason to go searching for a plugin or designer to make your subscription form look nice. An email subscription form is provided as a widget, so you can move it around and design the module to match your own brand.

Engage Socially
If you don't have social media accounts, no problem! Simply remove the social media buttons from the theme. But, if you're like most bloggers, Facebook, Twitter, YouTube and other social links are extremely important. Once again, there's no need to install a plugin, since these elements are already included.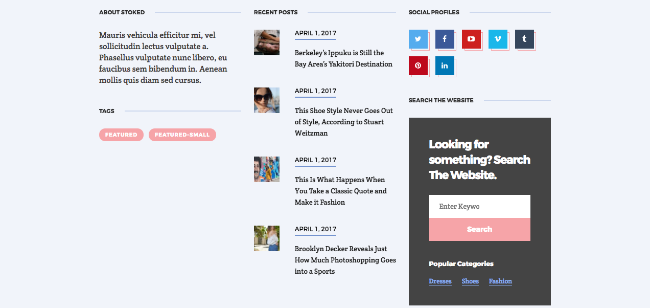 Choose From Two Menu Locations
The Stoked theme comes with two menu locations, a footer menu and a convenient side panel that doesn't obstruct your content. The side panel is perfect for your main navigation that appears when a visitor clicks on the hamburger menu and works beautifully on mobile devices. The footer menu makes it possible for your visitors to navigate your site without having to scroll back up.
Header With Options to Upload Logo and Retina Logo
The Stoked theme comes with the option to upload your logo in the header as well as the ability to upload a higher resolution logo suitable for Retina displays.
Plenty of Sidebars and Widgets for Extra Information
If you want to add an About me widget or show a list of your recent posts, the Stoked theme makes it easy to do so. You can choose from 10 different widget locations and a number of custom widgets to display your Instagram feed, information about yourself, post lists, and more.
Customize Your Site
Finally, if you want to upload your logo, you can make use of the WordPress' Live Customizer to drag and drop your logo. You can preview the results in real-time. And if you want to tweak the colors, fonts, and truly make your site a reflection of your brand, use the Meridian Styler and change any element on any page.