Elegant Themes offers an impressive range of WordPress themes and plugins. It currently serves over 700,000 customers, and it's widely known for its Divi Theme and Divi Builder.
The package doesn't end there, though. As you can read in this Elegant Themes review, it has a ton of theme options, as well as some of the best WordPress plugins available.
It doesn't matter what niche you're in, Elegant Themes has something for everyone. Its all-in-one Divi theme has over 1,000 different layouts to choose from in many different categories. There's also its dedicated magazine theme, Extra. Plus, you're able to integrate with WooCommerce.
Additionally, its email opt-in plugin Bloom is one of the best mailing list plugins, and Monarch is one of the best social media plugins available.
All of the themes and plugins are regularly updated, and you get premium customer support in case you run into any issues.
What Does an Elegant Themes Membership Include?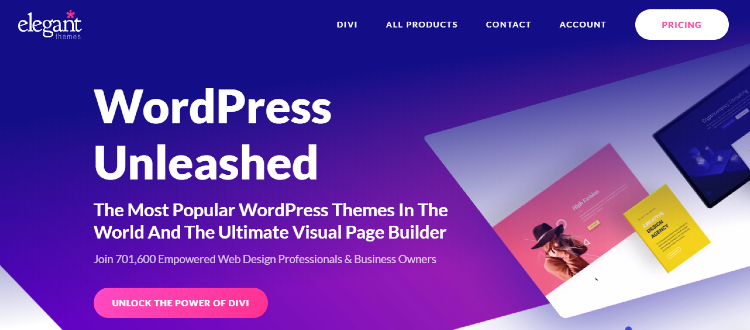 An Elegant Themes membership grants you access to all of the themes and plugins available, but let's talk about what that is exactly.
Themes
Elegant Themes has many WordPress themes up its sleeves. They all offer great functionality and have outstanding reviews, but its main focus is on those we mentioned previously, especially its Divi theme.
That's because, with the Divi theme, you can make pretty much any website you like. There are more than 10 theme categories with over 1,000 different layouts, so you're sure to find something suitable. Plus, once you've picked a layout, you can customize it with the visual drag and drop editor.
Plugins
Elegant Themes has some great plugins. The Divi Builder is one, and that lets you build and customize your website to how you want it. It's an easy-to-use drag and drop visual editor, too, so you can see your changes as you make them. Divi Builder is built in to the Divi theme, but it can be used on other WordPress themes, too.
If you need a social media sharing plugin, then Monarch is a great one to turn to. While its Bloom plugin lets you integrate an email opt-in form so you can start building your email list.
Elegant Themes Pricing
There are two plans you can choose from, and both offer the same features. There's no limit to the number of websites you can use it on. Plus, as a member, you also get all product updates and 24/7 support.
Yearly Access: Costs $89 per year
Lifetime Access: Costs $249 as a one-time fee
Lifetime Access works out much better in the long run, but both plans include a 30-day money-back guarantee in case you don't like it.
Elegant Themes Coupon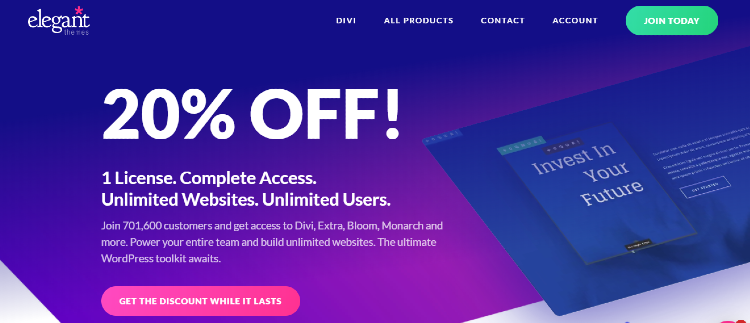 Elegant Themes can do wonders for how your website looks and functions with its many themes and plugins.
Although it comes at a cost, the value outweighs any reason not to invest in Elegant Themes. Still, we can make that investment easier to swallow with a special 20% discount for our readers.
To get this exclusive discount, all you have to do is click this Elegant Themes coupon link. It'll automatically apply the discount for you, so there's no coupon code needed.
Get 20% OFF ElegantThemes Today!
Remember, choosing Lifetime Access means you'll never have to worry about building new websites and making sure your current ones are regularly updated. With the 20% discount, you pay just $199, so make use of the discount now.